Angels sweep Sox with 15th win in 18 games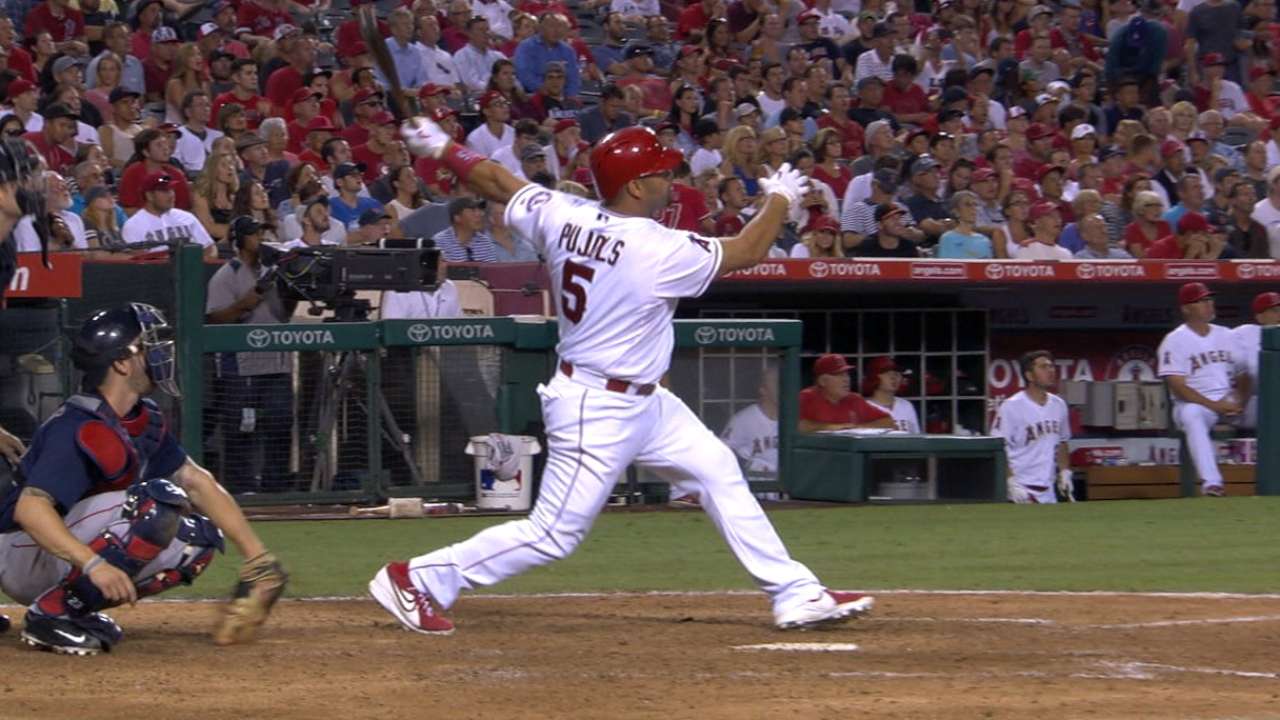 ANAHEIM -- In little more than three weeks, the Angels have gone from perpetually mediocre to one of the game's most dominant teams. Their surge continued amid a doubleheader sweep of the Red Sox on Monday, winning 11-1 in Game 1 and 7-3 in Game 2. They've now won 11 of their last 13 games -- including all four against Boston in this series -- and 15 of their last 18. In the latter span, dating back to June 27, the Angels have outscored their opponents, 101-43.
Albert Pujols hit three solo home runs Monday, two of which came in the nightcap, to move past Hall of Famer Mike Schmidt for 15th on the all-time list with 549. The Angels (52-40) distanced themselves with seven runs against Eduardo Rodriguez in the second inning in Game 1, then plated four runs against knuckleballer Steven Wright in the third inning in Game 2, on a run-scoring walk by Pujols, a two-run single by Erick Aybar and an RBI infield single by Daniel Robertson.
Andrew Heaney cruised from there, giving up only a David Ortiz two-run homer in seven innings. The 24-year-old left-hander scattered five hits, walked none and struck out four to move to 4-0 with a 1.57 ERA in five starts since being called up to fill in for an injured Jered Weaver. Hector Santiago got the win in Game 1 by giving up just one run in five-plus innings, dropping his ERA to 2.30.
The Red Sox (42-51) have lost six of their last seven games.
"I don't know if you're ever playing to your maximum potential, but we're doing things better in the last three or four weeks than we did at any point in the season," Angels manager Mike Scioscia said. "That's great to see."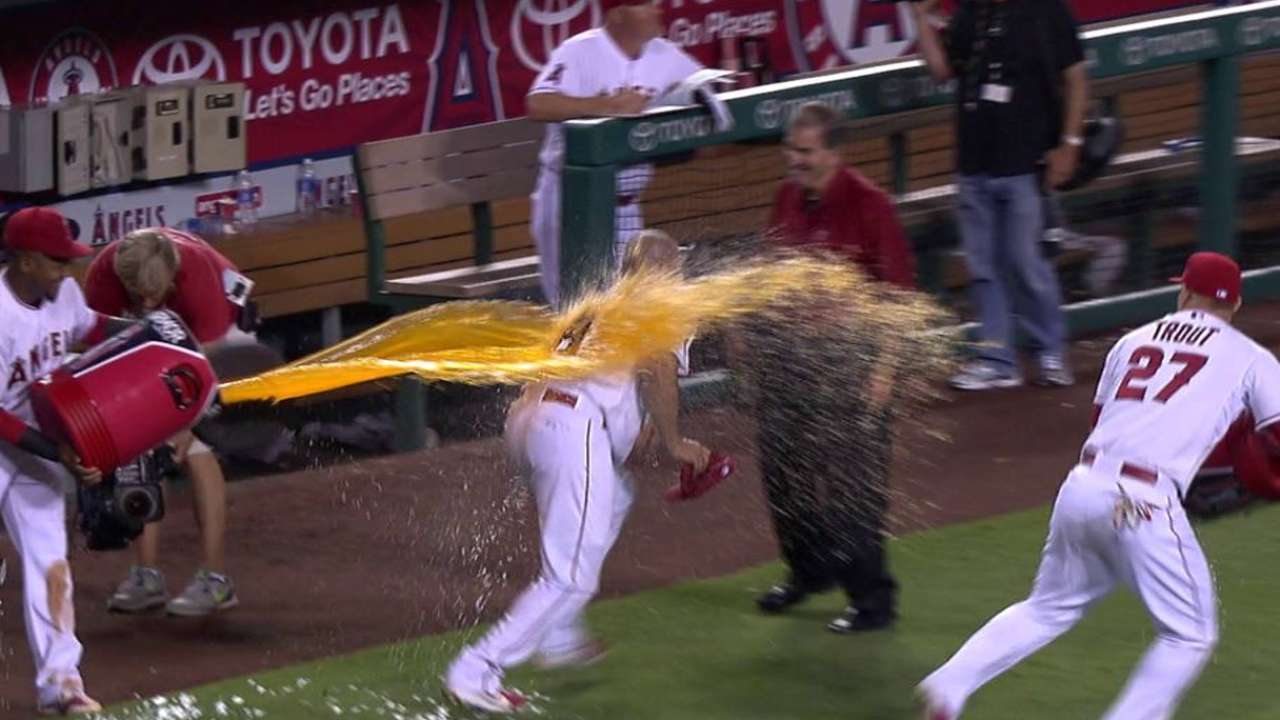 MOMENTS THAT MATTERED
Bash Brothers: The new Bash Brothers, anyway. Pujols moved past Mike Trout for the Major League lead in homers with a leadoff shot in the second, then Trout came right back with a solo homer in the fifth, then Pujols countered with a solo shot in the seventh, making him the Major League leader -- for now -- with 29 home runs. Trout and Pujols have combined for 57 homers so far. That's 15 more than any other duo in the Majors and the same amount as the entire Atlanta Braves team.
"I can speak for Mike because we talk about it every day -- our goal is to win, man," Pujols said of Trout. "He's a special player who wants to get better. Myself, I want to get better. I want to pass him my experience, what I see, and help each other out." More >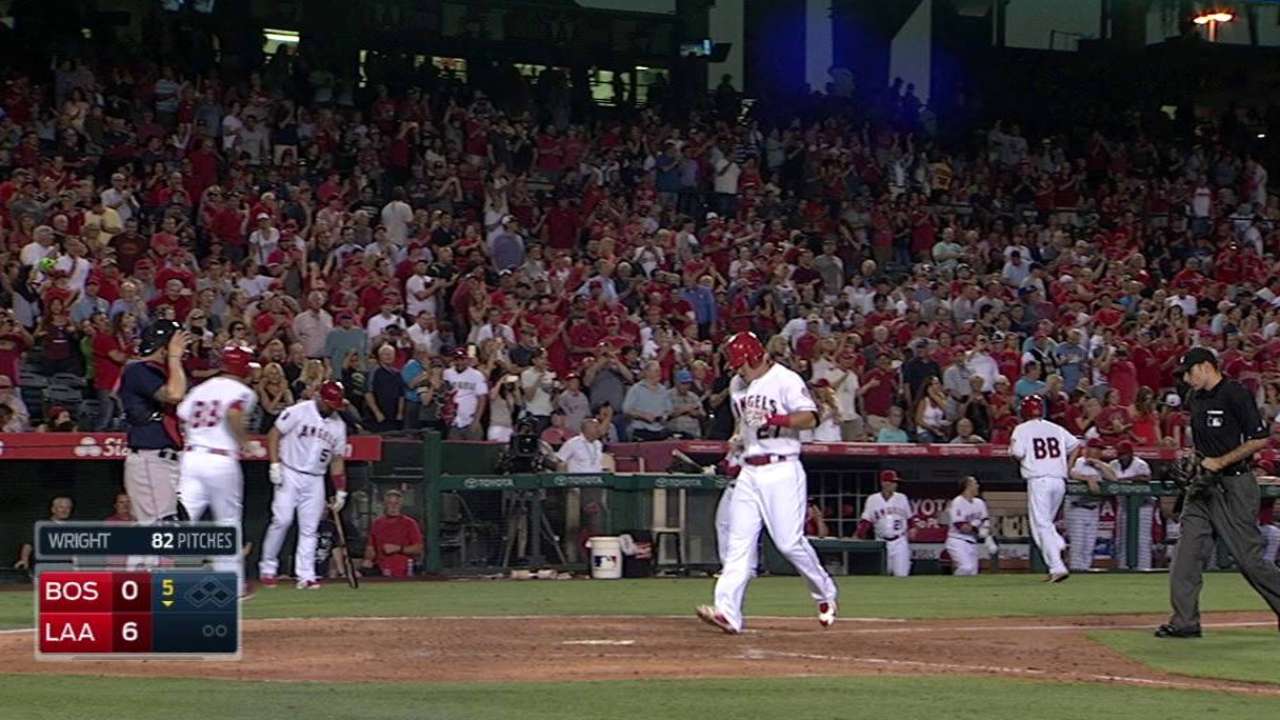 Wild Wright: The third inning proved to be Wright's undoing. After getting two quick outs, the knuckleballer faced eight more Angels batters before getting out of the frame. In that span, only one ball left the infield. Wright walked three, allowed two infield singles, hit one batter and threw one wild pitch. The Red Sox's knuckleballer finished the night allowing six runs on six hits in five innings.
"It is always tough. It doesn't matter who you are throwing in front of. I felt good out there, and that one inning kind of got in front of me," Wright said. "I had two outs. I shot myself in the foot. Had I been able to limit that inning, I probably would have been able to go deeper and give the team a chance to win." More >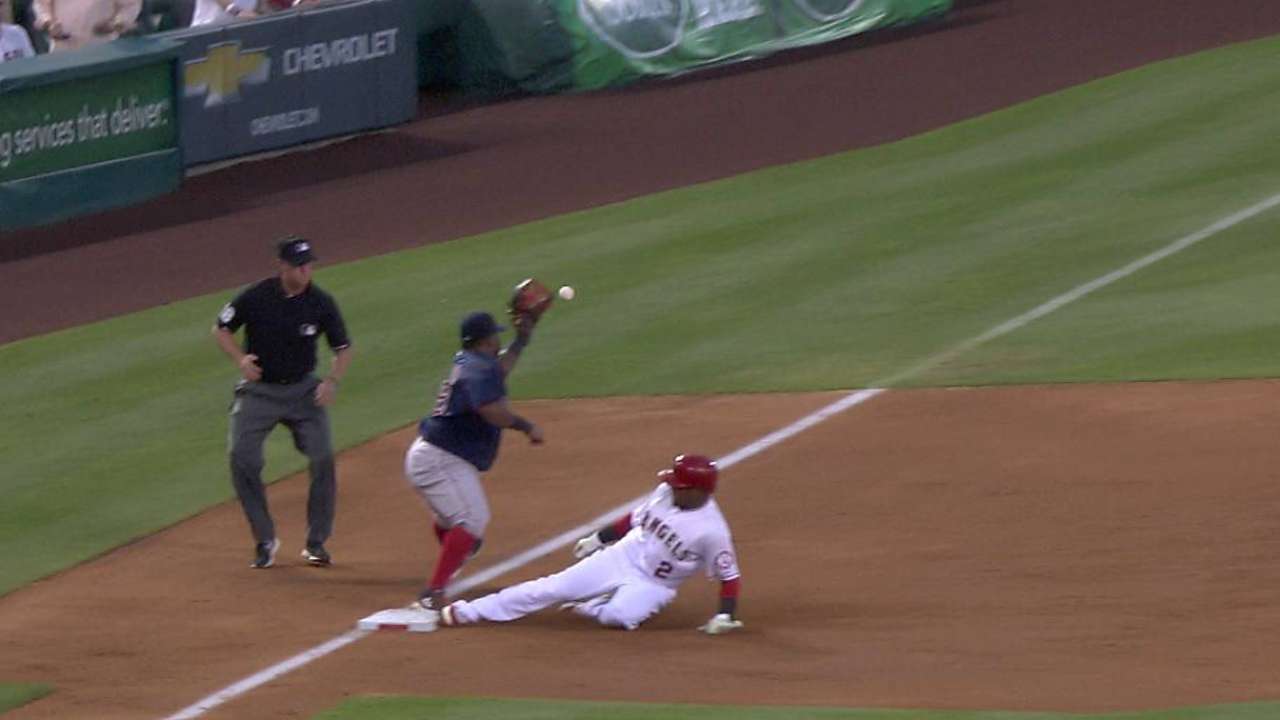 Heaney delivers: The 24-year-old left-hander needed a strong start to solidify his place in the Angels' rotation, and he delivered. Prior to giving up Ortiz's home run, with two outs in the sixth, Heaney let just two runners get into scoring position. In five starts, he's allowed just six runs on 24 hits and four walks in 34 1/3 innings, striking out 27. After the game, Scioscia confirmed that Heaney will remain in the rotation when Weaver is activated off the disabled list.
"It's good," Heaney said of his success with the Angels. "I got an opportunity to come here and fill a spot for the time being. Just to help the team win is always good." More >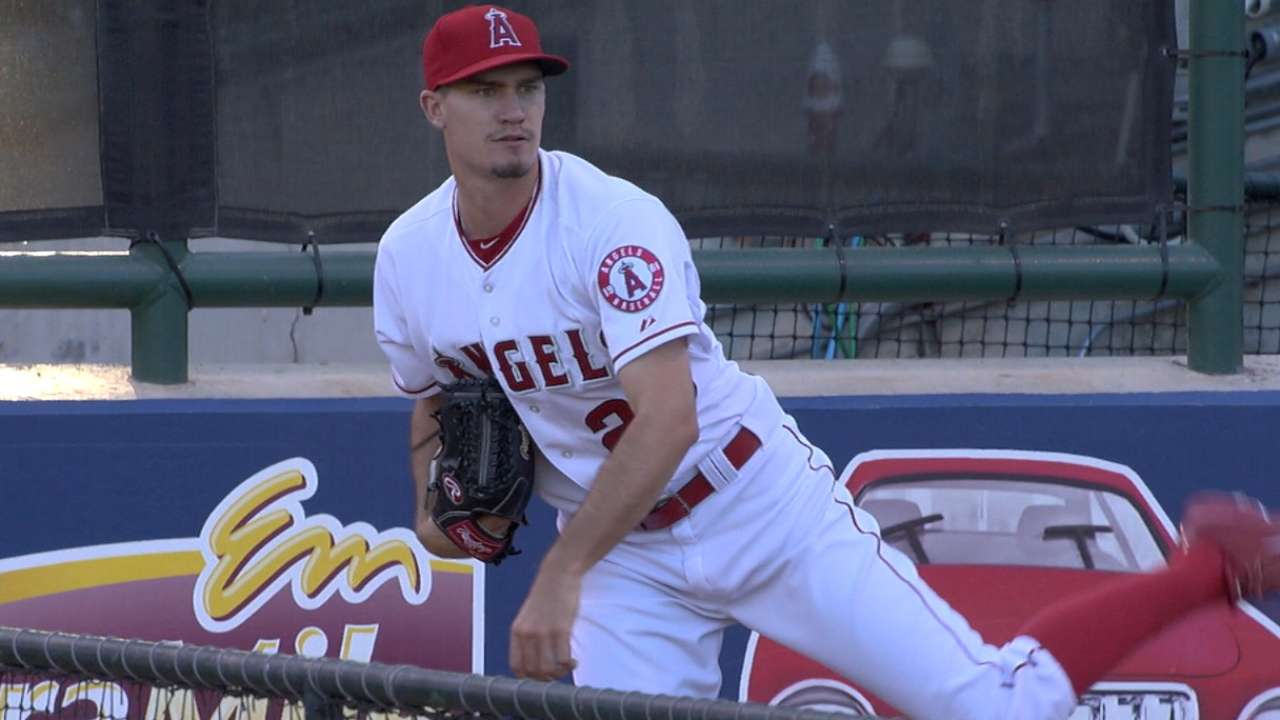 Boston's offensive woes Despite Ortiz's two-run home run in the sixth inning, the Red Sox lacked power throughout their four-game series against the Angels. Boston managed just four total runs and went 2-for-19 with runners in scoring position.
"We fully expected to come in and put together a better series than what played out," Red Sox manager John Farrell said. "Tonight, after a tough first game, I thought we came out and swung the bats well. Balls were hit right at some people. In the end, this is a disappointing series all the way around."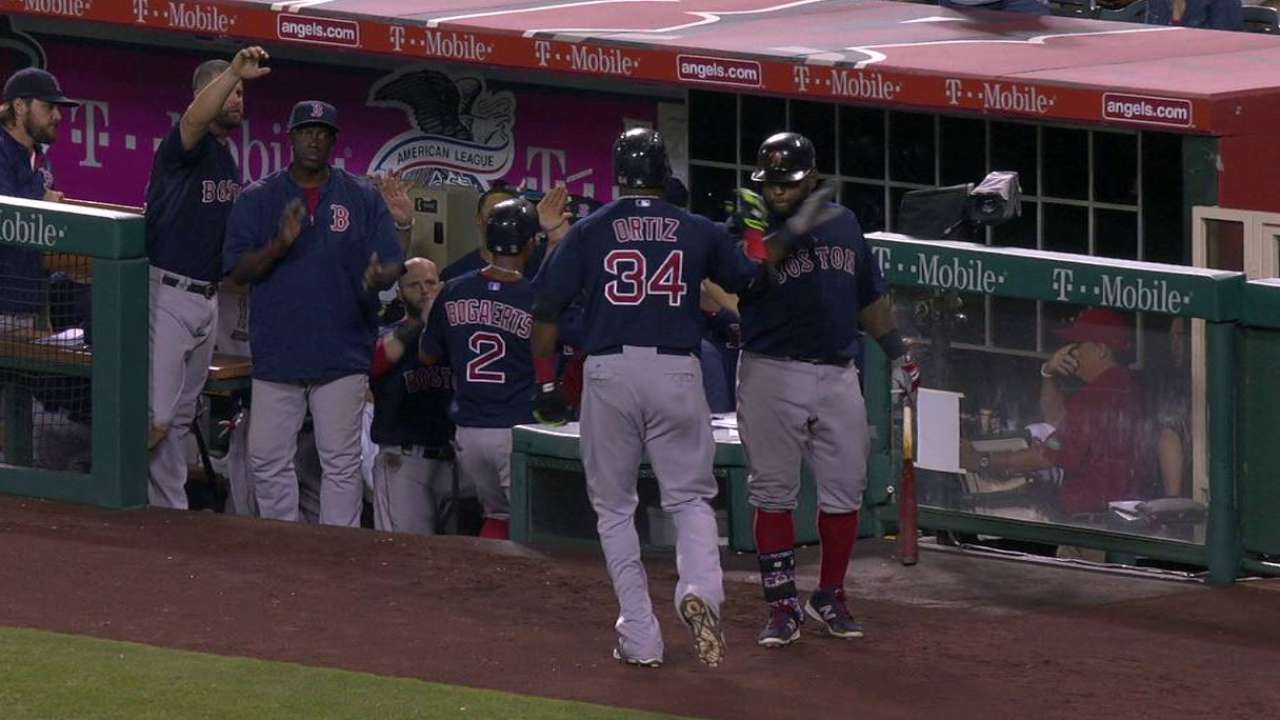 QUOTABLE
"At the end of my career -- and I'm going to continue saying this until the last time I wear a uniform -- I'm going to have time to think about it. It's hard for me to think about it, who I'm passing, who's in front of me, because that's not my main focus. Arte [Moreno, the Angels' owner,] brought me here, to the Angels organization, for one thing only, and that's to accomplish a championship for our fans. I'm going to try to do my best." -- Pujols, on passing another Hall of Famer
SOUND SMART WITH YOUR FRIENDS
Pujols is on pace for a career-high 51 home runs and Trout is on pace for 49, which would be 13 more than his previous career high. Only five other pairs of teammates have combined to hit at least 100 home runs in a single season: Mickey Mantle and Roger Maris (115, 1961 Yankees); Barry Bonds and Rich Aurilia (110, 2001 Giants); Lou Gehrig and Babe Ruth (107, 1927 Yankees); Ken Griffey Jr. and Jay Buhner (106, 1997 Mariners); and Alex Rodriguez and Rafael Palmeiro (100, 2002 Rangers).
WHAT'S NEXT
Red Sox: Brian Johnson, the Red Sox's No. 5 prospect according to MLB.com, will make his Major League debut at 8:05 p.m. ET on Tuesday in Houston. He went 8-6 with a 2.73 ERA in 16 games for Triple-A Pawtucket, last pitching on July 6. He's filling in for Clay Buchholz, who is on the 15-day disabled list with a strained right elbow.
Angels: Matt Shoemaker takes the ball when the Angels open a three-game series against the Twins at 7:05 p.m. PT on Tuesday. Shoemaker, hoping to keep his spot in the rotation, has given up six runs in 17 1/3 innings over his last three starts. The 28-year-old right-hander threw an inning out of the bullpen on July 12, but hasn't started since July 8.
Watch every out-of-market regular-season game live on MLB.TV.
Alden Gonzalez is a reporter for MLB.com. Read his blog, Gonzo and "The Show", follow him on Twitter @Alden_Gonzalez and listen to his podcast. Quinn Roberts is a reporter for MLB.com. This story was not subject to the approval of Major League Baseball or its clubs.