Trout stuns Red Sox with walk-off homer
ANAHEIM -- The moment found Mike Trout again, and once again the 23-year-old Angels superstar delivered.
Three days after becoming the first back-to-back All-Star Game MVP, Trout hit a walk-off home run against Red Sox closer Koji Uehara with two outs in the ninth inning, sending the Angels to a 1-0 win to begin the second half of the season, adding to the growing legend of baseball's best all-around player.
"I was just trying to keep my approach; just control my emotions," Trout said after belting his 27th home run on an 0-1, outside-corner fastball. "If I went up there trying to [hit a home run], it probably wouldn't have happened."
The Angels entered the All-Star break with seven wins during a nine-game road trip in which they scored 65 runs, but Red Sox lefty Wade Miley shut them out through seven-plus innings in the first of a four-game series. The 28-year-old left-hander didn't allow a baserunner until Chris Iannetta drew a one-out walk in the sixth, and Kole Calhoun's leadoff double in the seventh was their only hit until Trout's homer.
C.J. Wilson nullified Miley's gem by scattering five hits and three walks over eight innings to lower his ERA to 3.59, then spent most of his postgame time talking about Trout.
"If I was not a Major League Baseball player, I'd just try as hard as I could to trade for him in fantasy leagues," Wilson said. "He's just really, really good."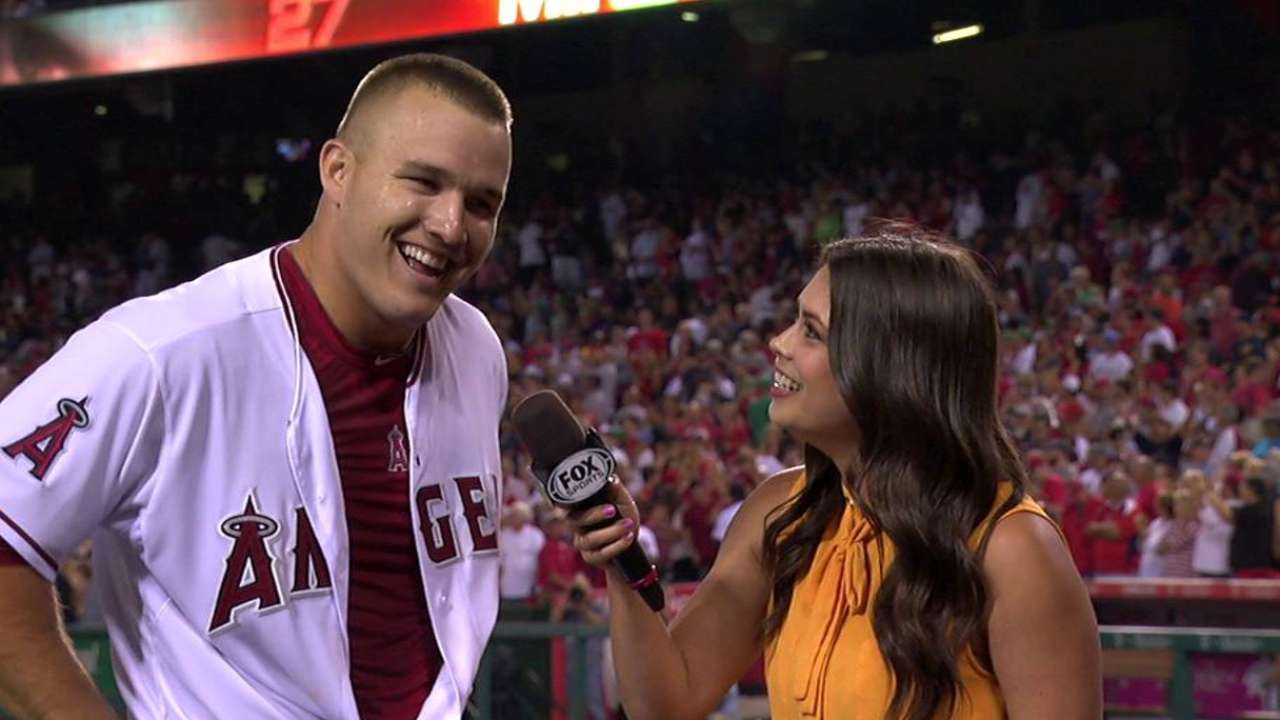 • Gnarly Angel: Walk-off is Trout's ASG encore
MOMENTS THAT MATTERED
Damage control: The Red Sox had one baserunner in each of the first eight innings, but Wilson kept them off the scoreboard. With a runner on second base and one out in the seventh, he got Shane Victorino and Ryan Hanigan to fly out. With a runner on first and two outs in the eighth, Wilson got David Ortiz -- who had two singles and a lineout in his previous three plate appearances -- to fly out on his 111th pitch.
"C.J. got some big outs, and he got some tough right-handed hitters, too," Angels manager Mike Scioscia said. "There are some guys in that lineup that will let you know if you're missing spots, and he just got some big outs." More >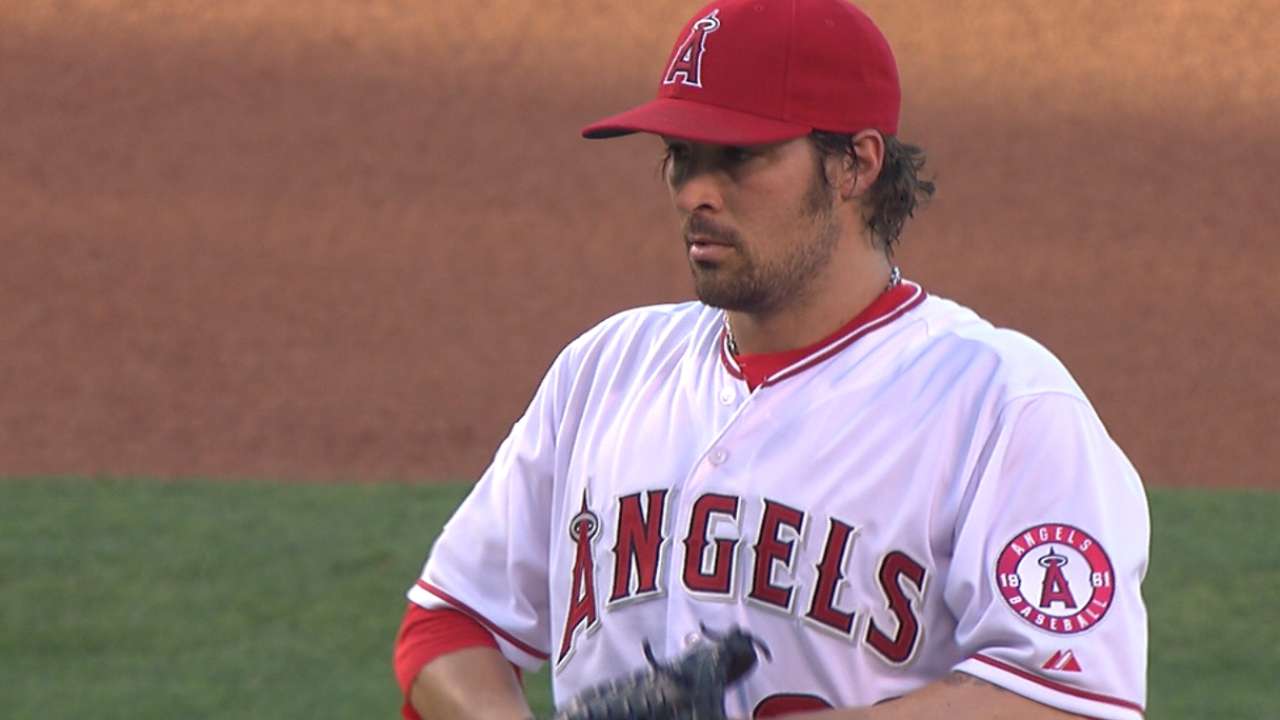 Magnificent Miley: Miley mowed down Angels hitters the entire night, not allowing a hit until Calhoun's double opened the seventh. The left-hander was perfect through 5 1/3 innings, before allowing a walk to Iannetta. Miley finished the night having allowed just one hit and two walks in seven-plus innings. He also struck out six.
"He was outstanding. It was a well-played game. He was aggressive, threw strikes and came back when he got behind in some at-bats," said Red Sox manager John Farrell said. More >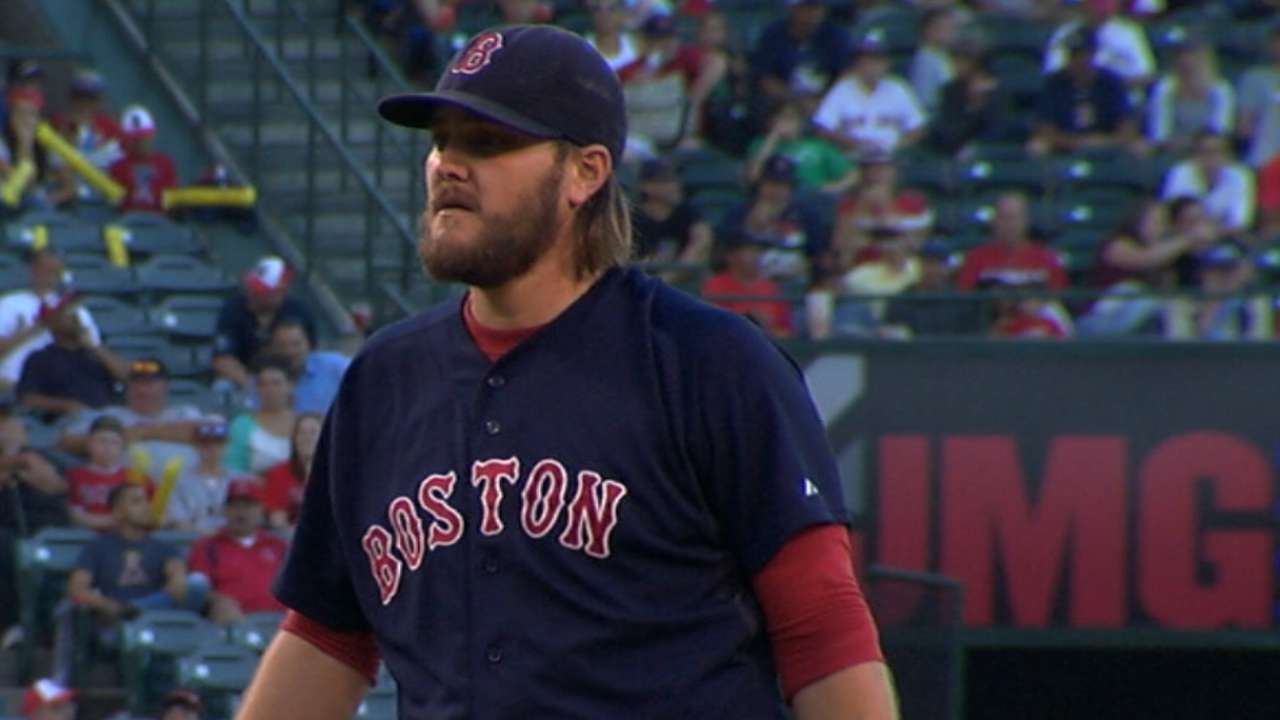 Cannonball: With the potential go-ahead run 90 feet away, Red Sox shortstop Xander Bogaerts made a spectacular throw across his body to just nab Erick Aybar at first base to end the seventh inning. Bogaerts slapped his glove in excitement after the play and got hugs from Miley and first baseman Mike Napoli as he made his way back to the dugout.
"That play he doesn't make a year ago. It is tied. He ranges far to his right and gets a speedy runner. That is an outstanding Major League play," Farrell said. "The reaction, confidence and speed with which he is playing. He is doing an outstanding job on both ends of the baseball. You saw his excitement, and it was a pivotal moment."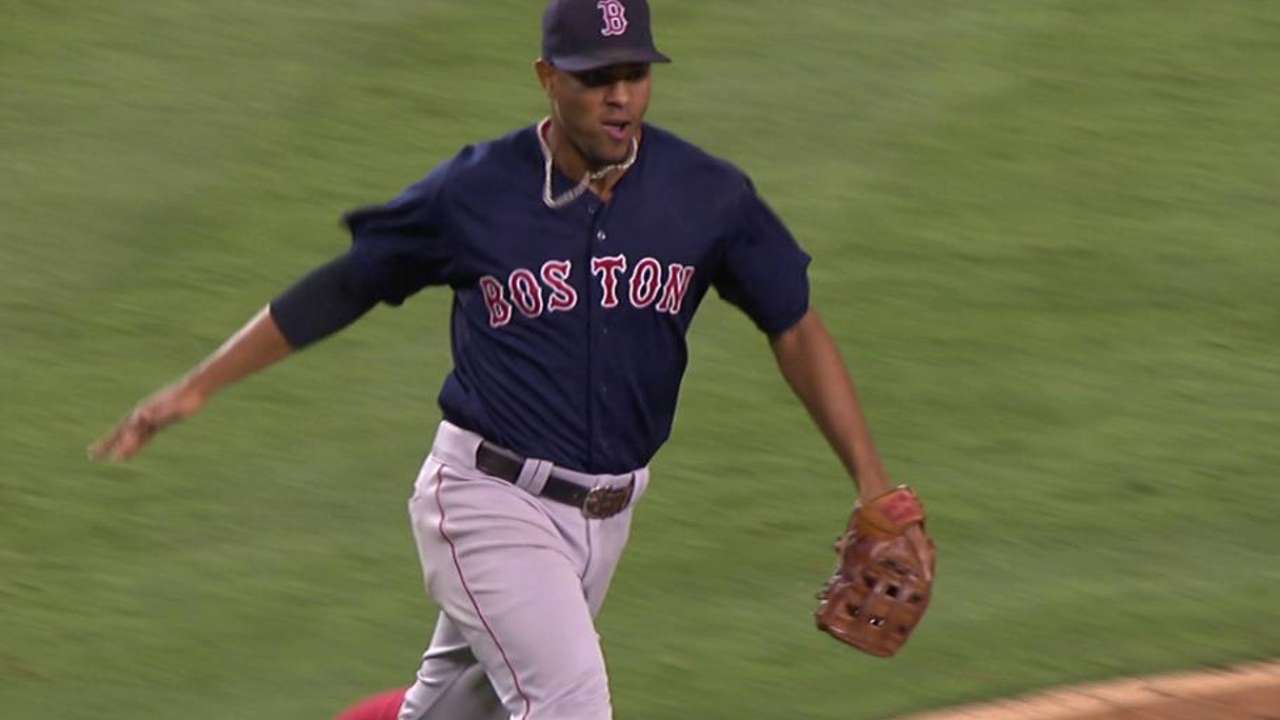 QUOTABLE
"He's one of the best players in the world, but he's earned that. He's earned that title. This is not his first good season. He's in the middle of his fourth amazing, great season. … Trout's one of those guys where it really is hard to put into words how good he is at baseball. It's fun to watch." -- Angels closer Huston Street, on Trout
"Keep the ball in the yard. I thought he hit a weak fly ball to right field in the seventh, and it almost went out. He's the best in the game right now. You just have to keep him at bay as best as possible. " -- Miley, on Trout
SOUND SMART WITH YOUR FRIENDS
Trout is the sixth player to homer in his first game after being named All-Star Game MVP. The others were Tony Perez (1967), Frank Robinson (1971), Bobby Bonds (1973), Gary Carter (1984) and Alfonso Soriano (2004). Trout has three walk-off hits in his career, and they've all been home runs.
UPON FURTHER REVIEW
With one out in the bottom of the eighth inning and Angels pinch-runner Taylor Featherston at first base, Iannetta belted a sinking fly ball to right field that Victorino caught and promptly threw back to first base to try to double up Featherston, who was ruled safe. Farrell challenged the call, but it was confirmed by the Replay Command Center in New York.
WHAT'S NEXT
Red Sox: After a rough first half in which he went 5-9 with an AL-worst 5.90 ERA, Rick Porcello gets a chance to come out of the All-Star break on a positive note at Angel Stadium on Saturday. In his last start, Porcello allowed two runs on eight hits in six innings for a win vs. the Marlins.
Angels: Garrett Richards gets the ball for the second game of this four-game series. The 27-year-old right-hander gave up four runs on 12 hits in 5 1/3 innings in his last start, against the Mariners on July 9, and will take the ball on eight days' rest. Richards has a 2.04 ERA over his previous five starts.
Watch every out-of-market regular-season game live on MLB.TV.
Alden Gonzalez and Quinn Roberts are reporters for MLB.com. This story was not subject to the approval of Major League Baseball or its clubs.