Red Sox's revamped lineup backs Buchholz's gem vs. Phillies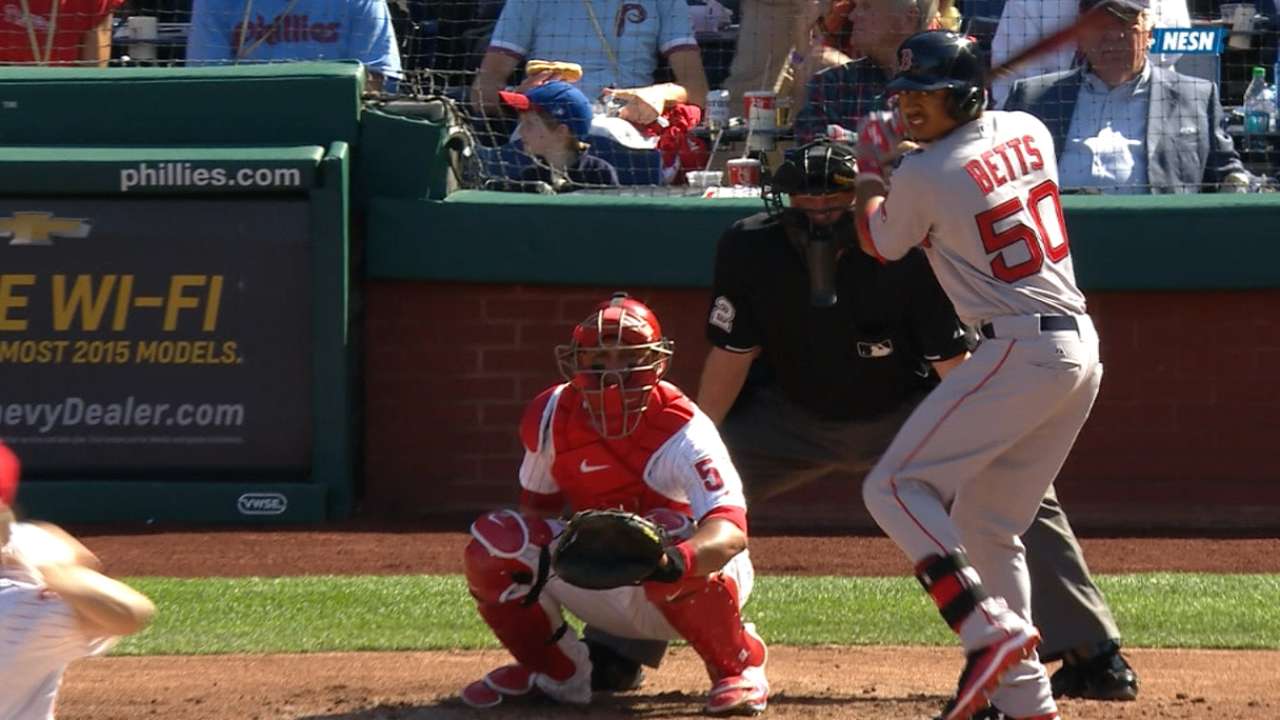 PHILADELPHIA -- The Red Sox looked just fine without Cole Hamels in their rotation Monday in a convincing 8-0 victory over the Phillies at Citizens Bank Park.
Dustin Pedroia homered twice and Mookie Betts and Hanley Ramirez each homered once in five innings against Hamels, who has been linked to the Red Sox in trade speculation since the offseason. Ramirez tied a bow on the afternoon when he hit a broken-bat grand slam against Phillies left-hander Jake Diekman in the ninth.
"We know just getting out of the gate is important to us," said Red Sox manager John Farrell. "One game does not make for that. Still, we understand the importance of April. Teams that have been successful here and gone deep into a postseason have gotten off to a good start, and we know that's important to us."
Red Sox right-hander Clay Buchholz looked every bit an ace against the Phillies. He allowed three hits, walked just one and struck out nine in seven scoreless innings.
"It was good," Buchholz said. "There was a lot of building up to this moment. I felt good all spring. It's just another step, I guess. I was a little more anxious today than I have been for [other] first starts given all the attention to it. After the first couple pitches, it felt like a normal game."
"Any time you start the season, you want to get that first one, not only for your teammates, but for the organization," Hamels said. "It's not the case. It definitely didn't go the way we envisioned. I know I'm one of the big culprits of that."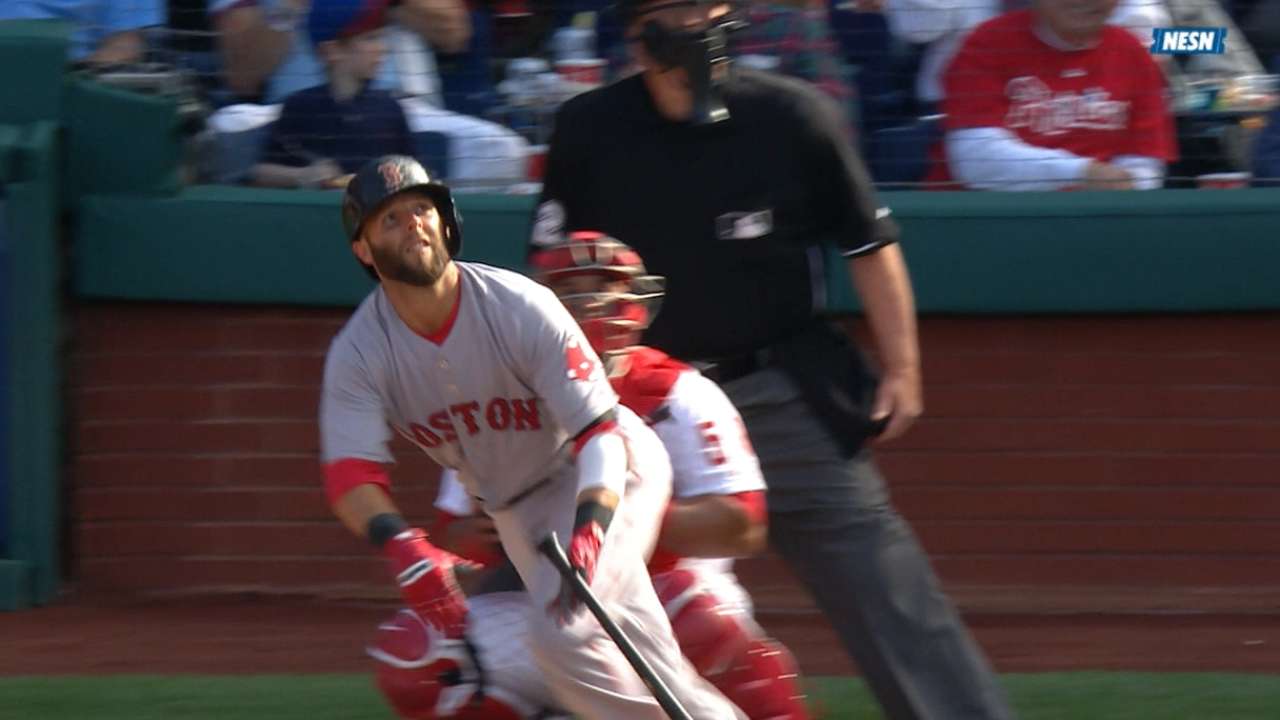 MOMENTS THAT MATTERED
Pedroia's pop returns: Playing through a barrage of hand injuries, Pedroia's power went in decline for three straight years, culminating with seven home runs in 2014. Healthy again, Pedroia looks ready to do some damage. The sparkplug second baseman clocked two homers against Hamels, the first coming on his first swing of the season.
"Sometimes you get hurt and try to find a way to play through it," said Pedroia, "but sometimes you get healthy, too. That's the way I look at it. I grinded a lot last year and last couple of years. I'm back to being who I am." More »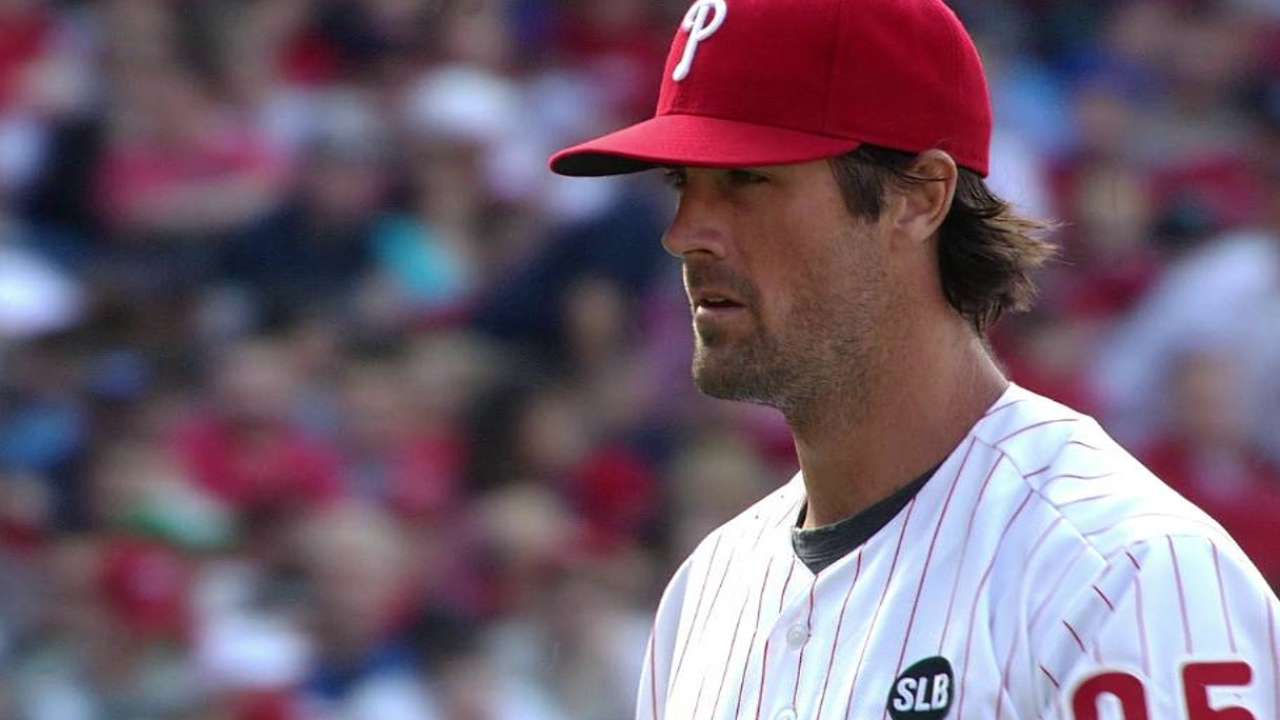 Hamels' early struggles continue: Hamels is a slow starter, and his early-season troubles continued Monday. He allowed four solo home runs in five innings to take the loss. Hamels is 1-7 with a 5.13 ERA (30 earned runs in 52 2/3 innings) in 10 career games to start a season.
"I think it's just kind of the way that's gone," Hamels said. "Sometimes that's the situation, but it's nothing that I'm trying to go out and purposely do." More »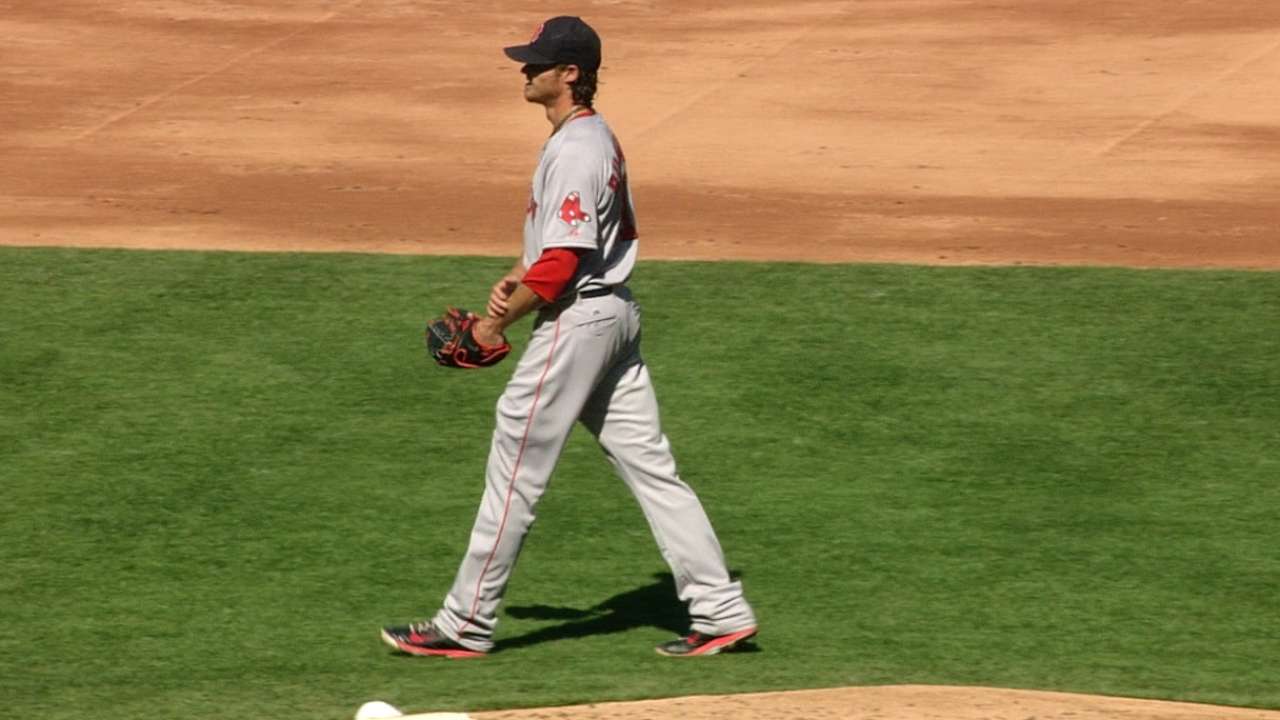 Buchholz looks like an ace: For months, the Red Sox have heard that they don't have an ace. Buchholz pitched like one on Monday, outdueling Hamels in the process. Buchholz has shown flashes of brilliance many times in his career. This year, he is hoping to be consistent and durable. Monday was clearly a good start.
"There was a lot of building up to this moment," said Buchholz. "I felt good all spring. It's just another step, I guess. I was a little more anxious today than I have been for first starts given all the attention to it. After the first couple pitches, it felt like a normal game." More »
Phillies swing light bats: General manager Ruben Amaro Jr. said last month that "we're not going to score a lot of runs." The offense held true to form -- its .641 OPS in Spring Training was the lowest in baseball -- managing just three hits against Buchholz in seven innings.
"We didn't have great at-bats," Phillies right fielder Grady Sizemore said. "Not bad at-bats. We just didn't square a lot of balls up. [Buchholz] did a good job of moving it around and mixing it up. He was locating the curveball, throwing it for strikes and not leaving a lot of heaters over the plate. It's tough. It's a battle." More »
QUOTABLE
"It was hung really, really bad. It hurts now, but Wednesday it'll be over. When I walk out of here, it'll be over." -- Diekman, on the 0-2 slider he threw to Ramirez, who hit a grand slam in the ninth inning
"I'm not trying to prove anything to anybody. The only thing I'm trying to prove is to my teammates, and that I'm here, and I'm going to help them win games. I could care less what everybody else says. So I'm going to show up and if my name's in the lineup, which it probably will be, I'm going to try and help us win." -- Pedroia, on whether he is trying to prove he can still hit for power
SOUND SMART WITH YOUR FRIENDS
With his home run in the first inning, Pedroia continued his streak of getting at least one hit in all nine of his Opening Day appearances. Pedroia has clocked homers in three of those openers. .
This is the first time the Phillies have been shut out on Opening Day since March 31, 1998, when they lost in 14 innings to the Mets at Shea Stadium, 1-0. Ricky Bottalico took the loss, allowing the game-winning hit to pinch-hitter Alberto Castillo. It is the eighth time they have been shut out on Opening Day in franchise history.
It was the eighth shutout loss for the Phillies in franchise history. The eight-run difference was their most lopsided of those eighty. They lost 7-0 to the New York Giants in 1902 and Atlanta Braves in 1987.
According to the Elias Sports Bureau, this marked the first time in history the Red Sox had two players produce multihomer games on Opening Day.
WHAT'S NEXT
Red Sox: Right-hander Rick Porcello will make his debut for the Red Sox when the series resumes on Wednesday, with the first pitch scheduled for 7:05 p.m. ET. Porcello went 15-13 with the Tigers last season.
Phillies: Right-hander Aaron Harang makes his Phillies debut in the second game of the three-game series. Harang went 12-12 with a 3.57 ERA in 33 starts last season with the Braves.
Todd Zolecki is a reporter for MLB.com. Read his Phillies blog The Zo Zone. Follow him on Twitter. Ian Browne is a reporter for MLB.com. Read his blog, Brownie Points, and follow him on Twitter @IanMBrowne. This story was not subject to the approval of Major League Baseball or its clubs.