5 takeaways from Green's 1st year as skipper
Manager upbeat as debut season at helm in San Diego winds down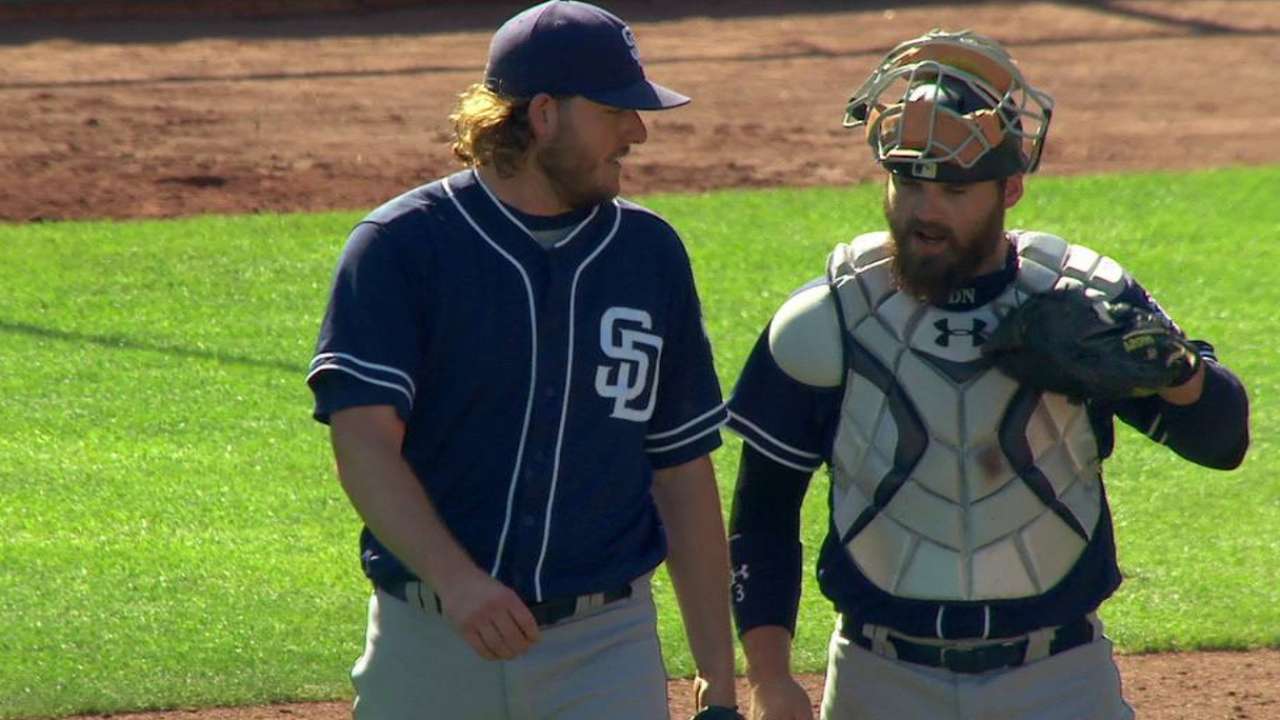 SAN FRANCISCO -- Time is winding down on Andy Green's debut season as manager of the San Diego Padres. On the whole, the results haven't been what he's hoped for, though few had predicted 2017 as the Padres' year.
But there's little doubt that Green has begun to make an impact. In several key facets of the game, San Diego looks noticeably different than the club did a year ago.
As we near the end of the 2016 campaign, here are five key takeaways from Green's first year at the helm of the Padres.
1. Green is an information hound
There's no bit of information Green isn't at least willing to consider. He's the author of some of the season's most drastic outfield shifts -- against Matt Duffy and DJ LeMahieu. Plus, Green has shifted more than any Padres manager in history, and he's done so to great success. Opponents are hitting .286 against San Diego's shift -- seventh in baseball. (And second among teams who rank in the top half of the Majors in total shifts.)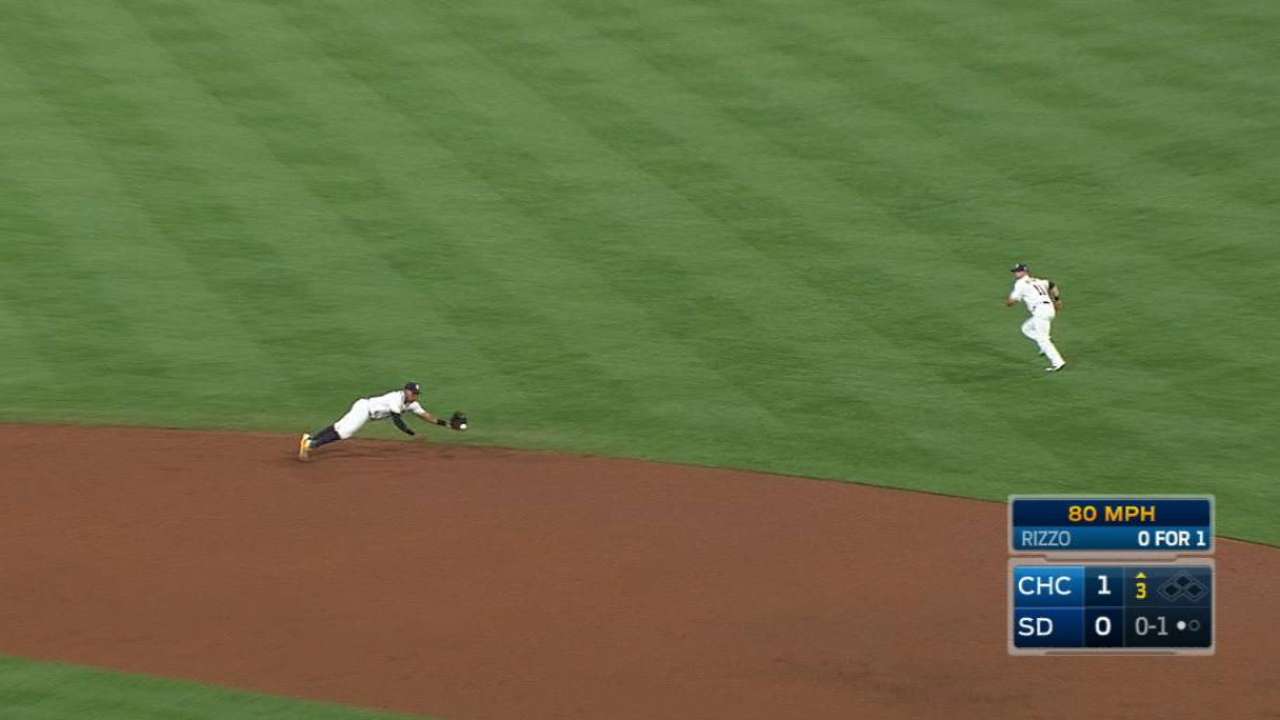 But more importantly, Green is open to ideas.
"It's not just his way or the highway," said hitting coach Alan Zinter. "He trusts that people can do their job, bringing him the information. Then, he's really good at crunching all of that into a game plan."
To be clear, Green's desire for information goes well beyond hard data. He's keen on taking the information he's given from advance scouts and putting it to use in a way it might help him gain or take away a run.
"He's into detail," said third-base coach Glenn Hoffman. "He sees the little things of the game. He's so well prepared. At his age, doing it at the Major League level for the first time, sometimes the game can get too fast. That hasn't happened."
2. Green's door is open
This is not to say that other managers bolt their door in the hopes they'll never be bothered. But Green certainly goes out of his way to make sure his players know he's available.
"Every manager I've ever been around, on the first day of Spring Training, said, 'Hey, my door's open. Come in if you need anything.' The reality is: People don't take advantage of that," said Green. "You actually have to start going and grabbing people, pulling them in, saying, 'Hey, I want to talk to you,' to get rid of the stigma that the manager's office is a bad place to be.
"After you pull guys in, after a while, they feel comfortable just walking in there. As a manager, you have to initiate that. It doesn't just happen naturally."
On Wednesday, Green said he had six or seven players check into his office to discuss all sorts of things -- from plays in the previous night's game to broader teaching moments, and even matters outside of baseball entirely.
"He's a different manager than I ever have had," first baseman Wil Myers said. "I've played for some great managers -- Joe Maddon, Bud Black -- and I love those guys to death. But Andy is a guy that I've really connected with him on a personal level. He's very straightforward into what he has to say to me, and I really respect that."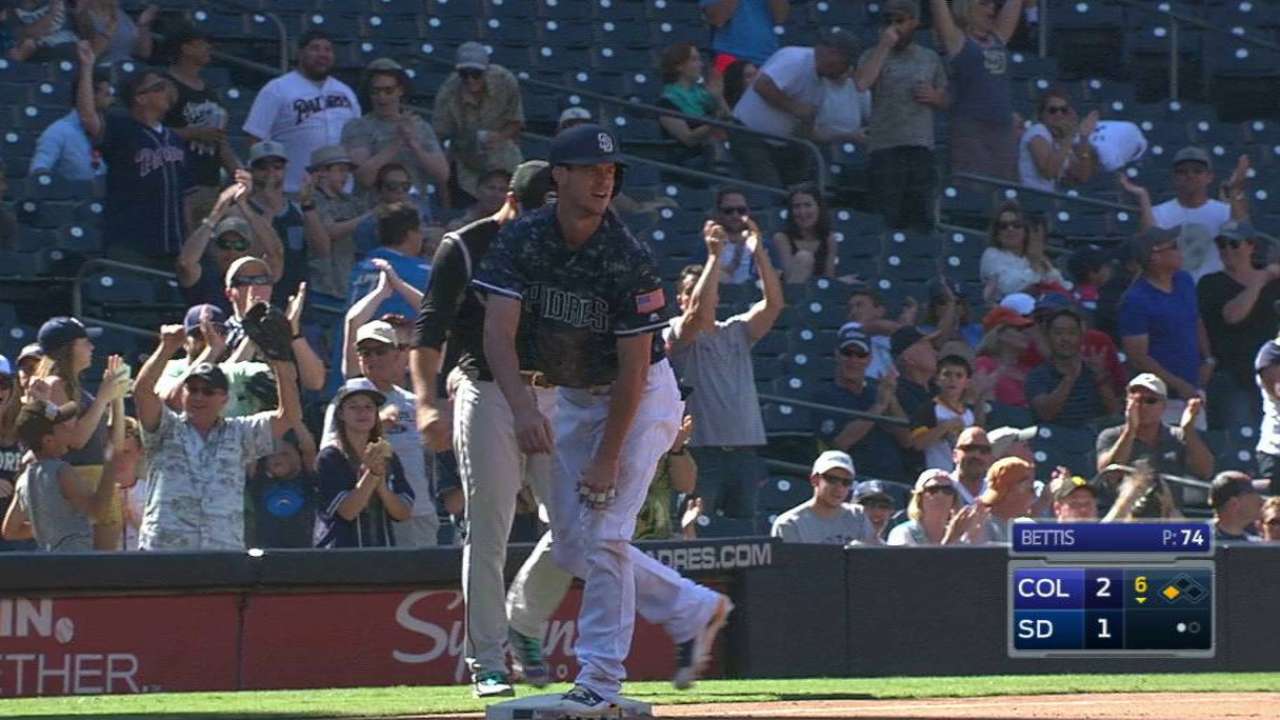 3. Green is even-keeled
Earl Weaver, he is not.
Earlier this season, when the Padres had lost their ninth straight game to the Giants on a dropped popup, Green was asked about the "heartbreaking" defeat. He was genuinely taken aback, and he explained that in his eyes, it certainly wasn't anything of the sort.
In six games against San Francisco since then, San Diego is 6-0. And when the Padres stormed back from a three-run ninth-inning deficit on Tuesday, Green refused to acknowledge that the win was anything more than what it was -- one win.
Even Green's two ejections this season seemed rather calculated, instances in the game and season where he needed to prove a point by backing up his players.
And when Green is critical of his team's performance, he's measured in his criticisms, so his points are heard but not disregarded. When the team performs well, Green quick to point the credit in the direction of the clubhouse.
4. Green is going to be aggressive
Green has made it clear that the biggest reason for his aggressive nature is his roster construction. San Diego is near the bottom of the league in reaching base, so the team needs to find a way to create runs.
Still, it's hard to argue with the notion of Green as an "aggressive manager" -- the Padres' extra-base-taken percentage is 43 percent (third in the Majors), and they are stealing bags at a 74 percent clip (also third).
"When you're getting on base at a lower tier, I think you've got to be aggressive and assertive in order to score runs," Green said. "When you look at our on-base and our slug and add those two things together, we're toward the bottom. But I think we're 19th or 20th in runs scored. I think a lot of that has to do with the chances we're willing to take on the bases."
Of course, Green has done his best to instill the notion of smart aggression in the minds of his players -- and at times, it's been a struggle. But perhaps the best example is Travis Jankowski, who has stolen home twice this season.
After his second, Jankowski noted the game situation postgame. There were two outs and a pitcher's count with a lefty-on-lefty matchup. It wasn't instincts. It was intellect. A straight steal of home was the prudent thing to do -- believe it or not.
"It's a huge testament [to Andy]," Jankowski said. "We have a lot of aggressive players on this team, we have a lot of speed on this team. Taking the extra base when it's smart is just part of our mindset."
5. Green is involved in the entire process
Green is constantly in communication with coaches and coordinators at the lower levels of San Diego's Minor League system.
"I'm keenly aware of everything and intimately involved with everything," Green said. "... I'm just getting a vibe for how it's going. It's not micromanaging by any sense, but I know what's going on, and occasionally if they ask for your opinion, you give it."
This makes plenty of sense, of course, given the Padres' commitment to building from the ground up. The team has acquired eight of its top nine prospects since Green was hired 11 months ago, so there's merit to making sure the organization is on the same page.
"He's very involved," said Hoffman. "Asking for scouting reports, the Draft, I didn't even get into that with him."
Consider Hoffman -- who has now served under five San Diego managers -- among those impressed by Green's first year in charge.
"I've seen him grow, I've seen him evolve through the season," Hoffman said. "He's done an outstanding job. He's a real good communicator, very smart baseball man. There's always a calculation that he's figured out, and he's ahead of the curve. He's going to be a good one."
AJ Cassavell covers the Padres for MLB.com. Follow him on Twitter @ajcassavell. This story was not subject to the approval of Major League Baseball or its clubs.