Holland's future murky after loss to Astros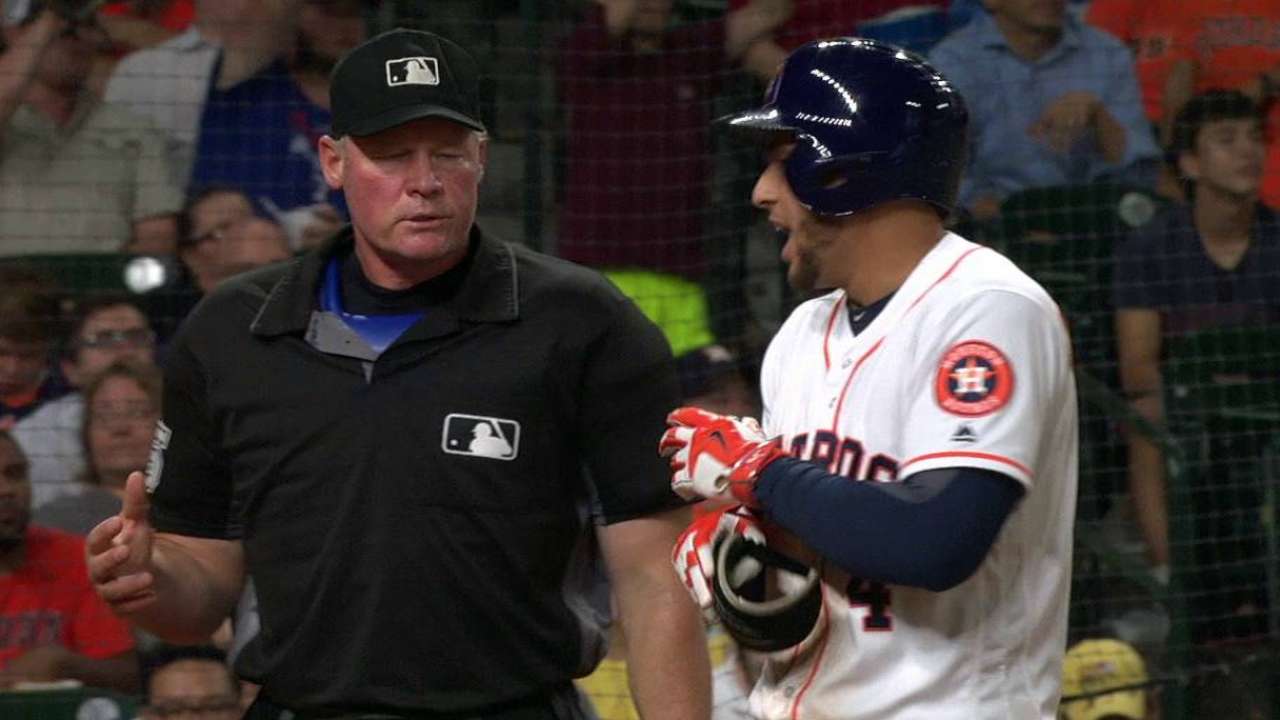 HOUSTON -- Rangers left-hander Derek Holland was released from his temporary assignment in the bullpen so he could start against the Astros on Wednesday night.
The result wasn't what he was hoping for in an 8-4 loss, and now he'll wait to see if and when he'll start again. Just like Wednesday's pitching performance, the answer may not be what he is hoping for.
In his fifth start since returning from the disabled list, Holland allowed five runs in 5 1/3 innings. He gave up seven hits -- including two home runs -- walked one and struck out four before leaving after 87 pitches.
"Obviously, I didn't pitch very well," Holland said. "I've got to do better. It's frustrating. There is not much more that I can say. It stinks."
Holland was in the bullpen as a long reliever for the first two games of the series and was only informed after Tuesday's game that he would be starting on Wednesday.
"I'm not going to use that as an excuse," he said. "I didn't perform tonight. I was called upon and didn't do my job."
Holland is now 2-3 with a 4.23 ERA in five starts since coming back. He allowed two runs in a combined 12 innings over the first two starts but 11 in 15 2/3 innings in the last three.
"The first two were extremely positive," manager Jeff Banister said. "He kind of battled in the last three. The challenge tonight was finding his rhythm."
Holland remains one of six starters available to the Rangers, but right now Texas appears to be lining up Cole Hamels, Yu Darvish, Colby Lewis and Martin Perez to be the postseason rotation. A.J. Griffin is also a possibility. Thus Holland's best chance to be on the postseason roster may be as a long reliever.
There is also his contract situation. The Rangers hold an $11.5 million option on Holland for next season. He was a valuable part of the Rangers' pitching staff during the great 2010-2012 run, but three years of injuries and mixed results leave him with a murky future.
"Right now I am worried about being on the roster for the playoffs," he said. "I've got to pitch better. Today I stunk. I didn't do my job. Not a good day."
Handed a 1-0 lead in the top of the first, Holland began the night by giving up a leadoff home run to George Springer, then Teoscar Hernandez put the Astros ahead with a two-run home run in the second. Holland did retire nine straight hitters from the third through the fifth innings, but the Astros scored two more off him in the sixth.
"When I did settle down, I did a better job," he said. "But the first two innings and the last one didn't help at all."
T.R. Sullivan has covered the Rangers since 1989, and for MLB.com since 2006. Follow him on Twitter @Sullivan_Ranger and listen to his podcast. This story was not subject to the approval of Major League Baseball or its clubs.