Guerra leads Crew's thriving starting rotation
Since Aug. 22, the Brewers' staff has been baseball's best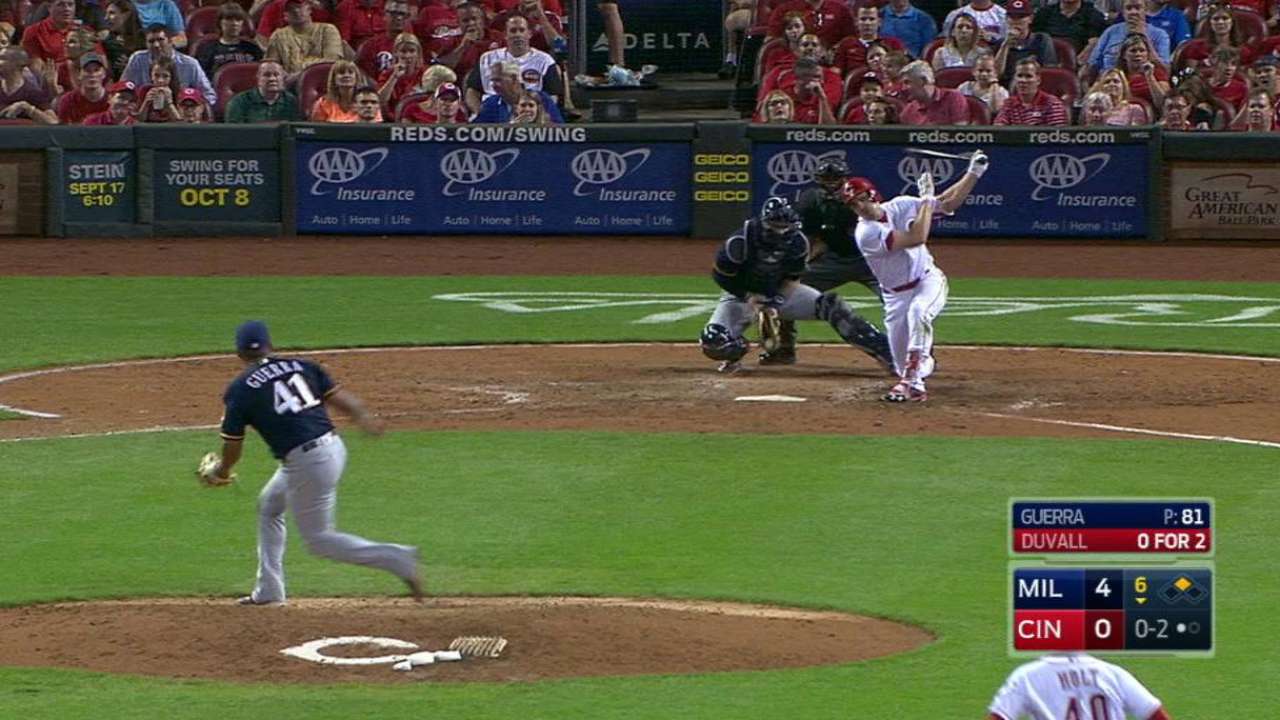 CINCINNATI -- Clayton Kershaw pitched five scoreless innings in a twice-delayed start at Yankee Stadium on Wednesday, and Jon Lester threw eight scoreless frames for the Cubs. And still, one of baseball's unlikeliest trends held true thanks to right-hander Junior Guerra's gem at Great American Ball Park. For nearly a month now, the best starting pitching in baseball belongs to the Brewers.
Guerra's six innings in a 7-0 win over the Reds lowered the ERA of Milwaukee starters to 2.73 over 23 games since Aug. 22. Cubs starters have a 2.90 ERA in that span, and the Dodgers are third at 3.05.
This is the same Brewers team that ranked last in the Majors with a 6.32 starters' ERA at the end of April, while Guerra and Zach Davies were still pitching in Triple-A. Now they both are in the Majors and have arguably been the Brewers' best two pitchers.
"Everybody is looking at it like there's only five guys in the rotation next year," said Matt Garza, who has a 1.16 ERA in four starts during this stretch. "Everybody is vying for a spot. That's awesome. It creates a great competition. ... I like it. I've got to fight for my spot."
The Brewers have worked with a six-man rotation since Guerra returned from the disabled list to start Sept. 2 in Pittsburgh. The group will remain intact through the team's four-game series at Wrigley Field against the Cubs before manager Craig Counsell and general David Stearns reassess their options.
They would like to give at least one start to right-hander Taylor Jungmann, whose April woes prompted a demotion to Triple-A, then to Double-A, where he got on track and pitched his way back to the Majors. Counsell declined to say Wednesday afternoon who would exit the rotation in the event Jungmann joined.
• Jungmann could end '16 with big league start
Could it be Guerra? At 31, and despite not joining the rotation until May, then missing most of August with a sore throwing elbow, he's had one of the best rookie seasons for a pitcher in franchise history. A six-inning, three-hit, no-run performance against the Reds lowered his ERA to 2.81, his batting average against to .213 and his WHIP to 1.13 over 121 2/3 innings.
Among Brewers rookies with at least 100 innings in a season, only Cal Eldred (1.79 ERA, .207 average against, 0.987 WHIP in 100 2/3 innings in 1992, when he finished fourth in American League Rookie of the Year balloting) was better in any of those categories.
Among all Major Leaguers this season with at least 120 innings pitched, Guerra is ninth in ERA, tied for ninth in average against and 21st in WHIP. Brewers pitchers have combined for seven shutout victories this season; Guerra started five of them. The team is 65-81 overall, but 14-6 when Guerra starts.
He drew interest before the Aug. 1 non-waiver Trade Deadline and will surely draw more during the winter, as the Brewers continue their rebuild.
Might the Brewers be tempted to metaphorically tap Guerra on the back and say, "Nice season?" Concern over innings is not a factor. He worked 140 innings last season between three stops in the White Sox system and the Venezuelan Winter League.
Counsell gave every indication on Wednesday that Guerra would make another start.
"He's got a real sense of the moment and when to kind of step it up and what he needs to do in the situation," Counsell said. "He was really good today."
As for the recent run of success for Milwaukee's rotation, Guerra said, "We've gotten real close. … You're always going to have competition, but it's a healthy competition because you're supporting each other. Trying to go out there and do your best."
Adam McCalvy has covered the Brewers for MLB.com since 2001. Follow him on Twitter @AdamMcCalvy, like him on Facebook and listen to his podcast. This story was not subject to the approval of Major League Baseball or its clubs.