Manaea's first start in KC a successful one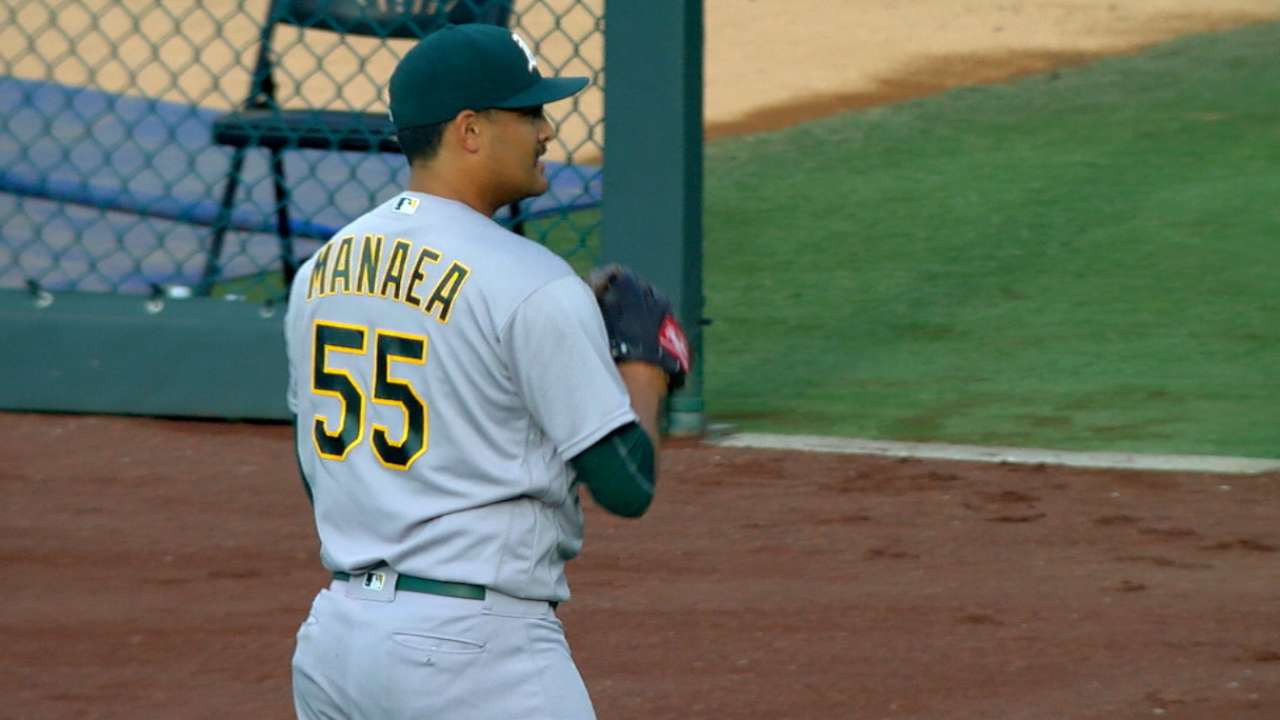 KANSAS CITY -- The trade that sent Sean Manaea to the A's last summer can seemingly be catalogued under the unique win-win variety.
The A's got a towering left-hander with exciting upside, and already they've seen flashes of his immense talent, displayed Wednesday on the same stage he was once meant to occupy.
In Oakland's 8-0 series-clinching victory, Manaea reminded the Royals of just what they sacrificed on July 28, 2015, twirling five fantastic innings on 67 pitches in his return from a back injury. The rookie yielded only three hits, two of them coming in the first inning, walked one and fanned five in the win.
"He was great," A's manager Bob Melvin said. "I'll tell you what, it didn't look like he had any time off, and 65 pitches is what we were looking at, so I was starting to get real nervous there. I'm glad he got the last batter out when he did, because he deserved the win. Real efficient, had all three of his pitches working well, a lot of swings and misses."
Manaea, making his first start since Aug. 29, wiggled his way out of a first-inning jam and hit cruise control from there, retiring each of his final eight batters while effectively mixing his fastball and changeup, with his slider on hand too.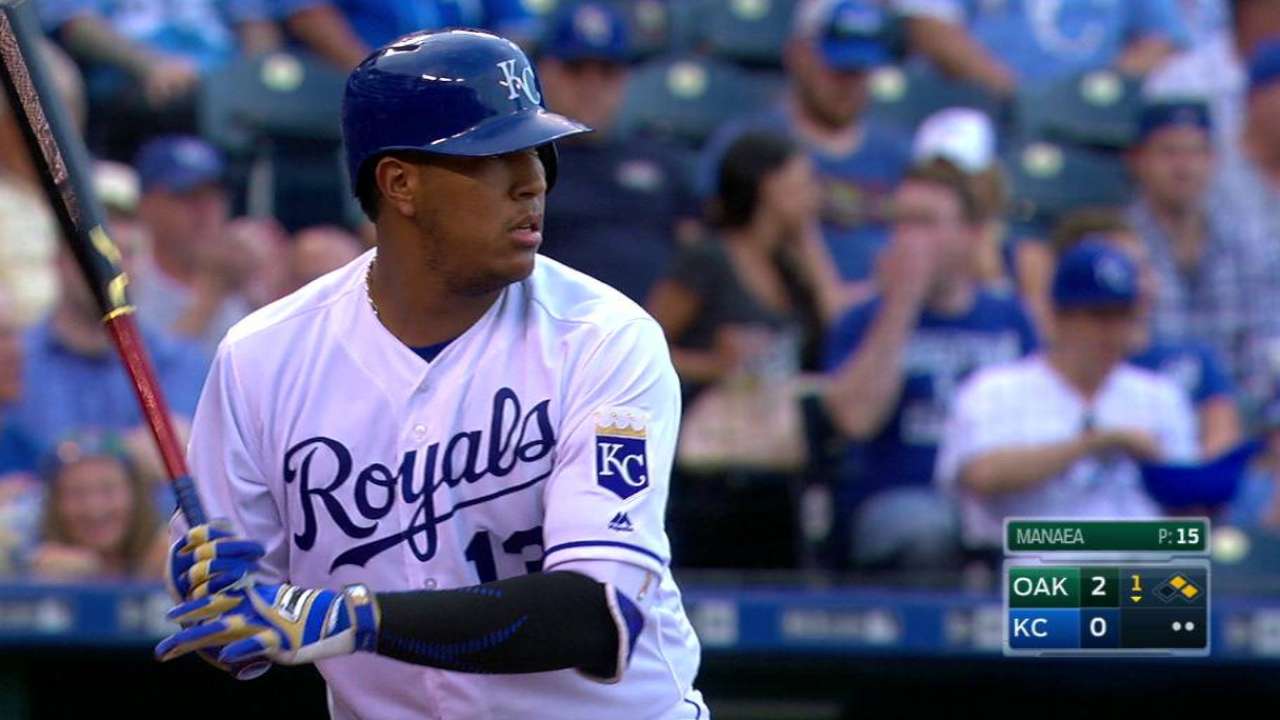 Though the Royals would undoubtedly sign off on the same trade even if granted a do-over, having snatched up Ben Zobrist to help them claim a World Series title, Wednesday's viewing of Manaea was especially lamenting given their push for a spot back in the postseason.
With Manaea helping fend off the Royals a third consecutive game, Kansas City's playoff chances dwindled again; and they don't even have Zobrist, who batted .303 during the playoffs last year, on hand anymore, after he signed with the Cubs as a free agent.
The A's, meanwhile, are staring down their second consecutive losing season, albeit with hope for a brighter future because of pieces like Manaea, who is expected to help form a young yet formidable rotation for years to come.
The 6-foot-5 lefty has pitched to a 4.23 ERA in 21 games (20 starts) for the A's since his April 29 callup, bettering with each one -- evident by the 3.07 ERA he's compiled since June 29.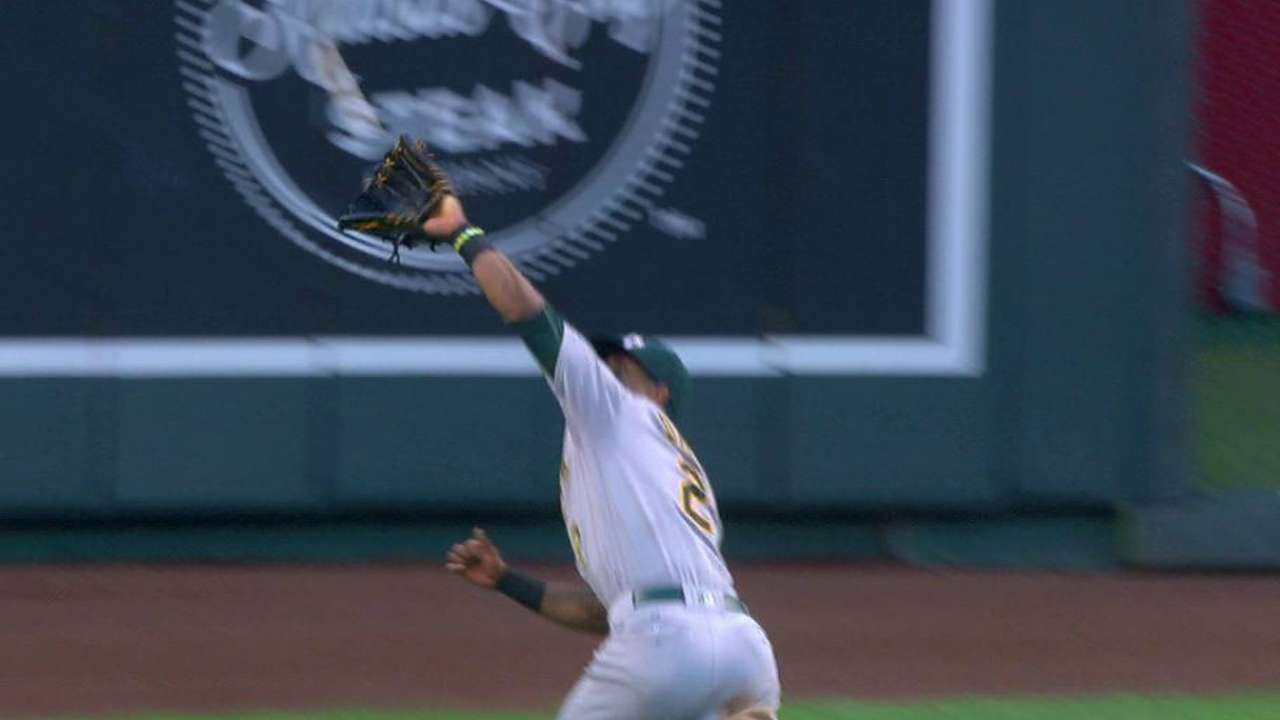 "At the beginning of the season, I didn't really trust my stuff and I was shying away from contact and now it just seems like I'm pounding the strike zone and I want those early contact swings," Manaea said. "That's been a huge difference from the beginning of the season until now. I feel like I'm doing a pretty good job of that."
Manaea has 109 strikeouts in 125 2/3 innings this season, and left-handed batters are hitting just .170 (15-for-88) against him. That ranks second in the Majors only to Clayton Kershaw's .156.
He could make as many as three more starts before the season concludes Oct. 2.
"I wanted to at least get a couple more in before the season ended, and today was a step in the right direction and I felt really good out there and even now," Manaea said. "Hopefully nothing comes up so I can finish the season strong."
Jane Lee has covered the A's for MLB.com since 2010. Follow her on Twitter @JaneMLB. This story was not subject to the approval of Major League Baseball or its clubs.