Galvis steals spotlight with pop, stop
Shortstop raises career high with 19th HR, plays sparkling defense vs. Bucs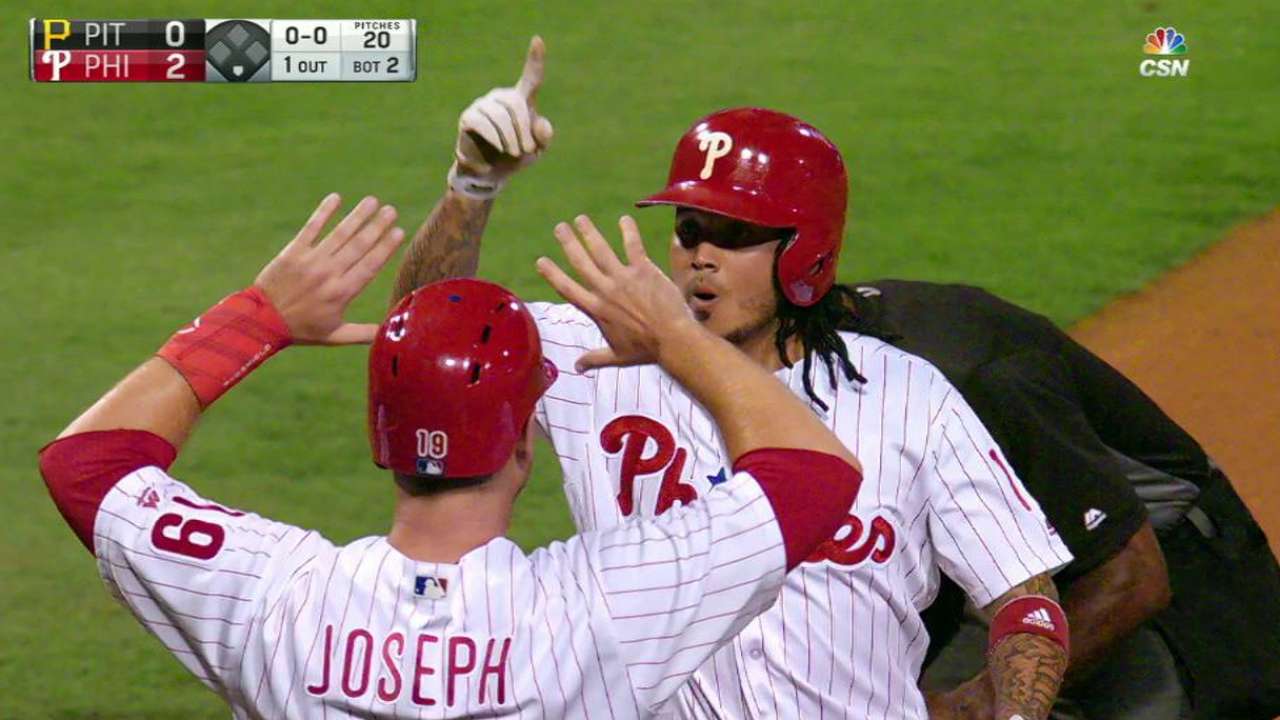 PHILADELPHIA -- Freddy Galvis continued his 2016 campaign of making the improbable look ordinary in the second inning of the Phillies' 6-2 win over the Pirates on Wednesday. Twice.
First, he made a slick pick of a hard-hit Eric Fryer ground ball and fired to first, ending the top half of the frame. Due up third in the bottom half, the 5-foot-10, 185-pound Galvis launched a two-run shot over the left-field wall to score himself and Tommy Joseph, opening an early 2-0 lead.
The glovework? One instance of many this season and a handful in Wednesday's game alone. His UZR of 10.4 ranked fourth among National League shortstops entering play Wednesday. The homer? His 19th, also fourth among NL shortstops. Both Galvis' glove and bat have been exceptional this season, but only one has come out of nowhere.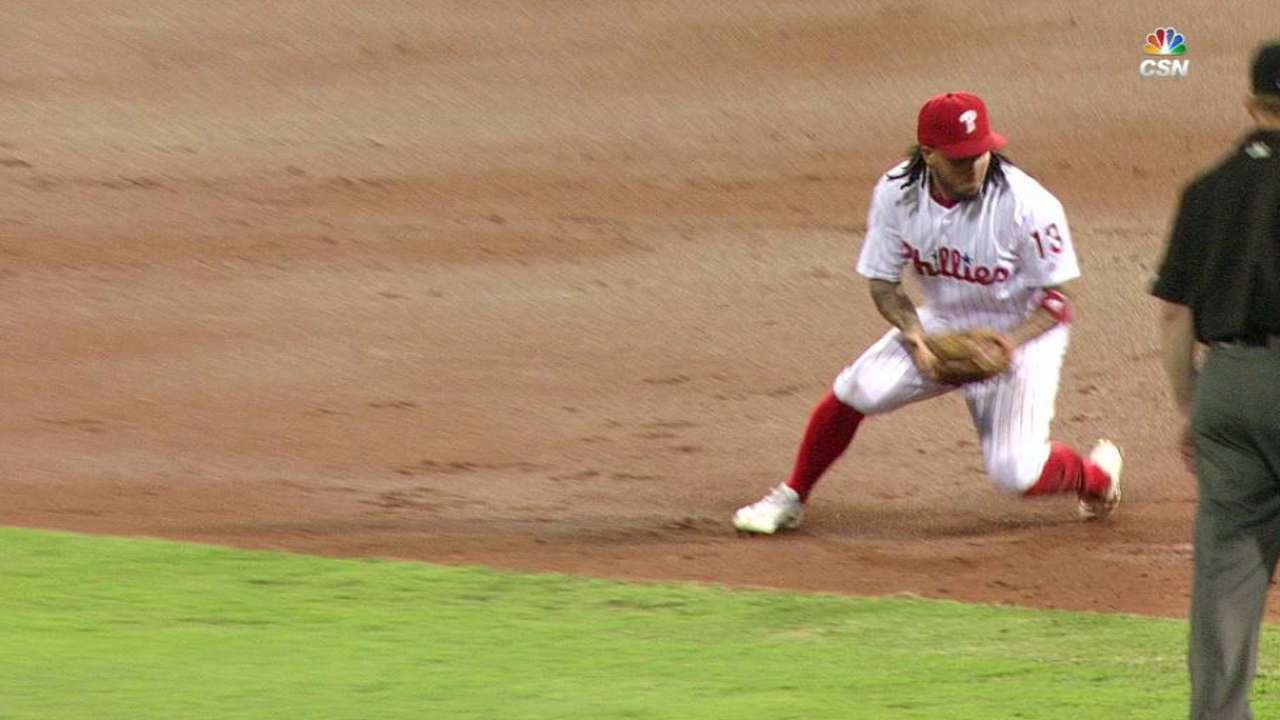 "I don't think anybody would've bet on that," Phillies manager Pete Mackanin commented on Galvis' power output.
The 19 blasts off Galvis' bat obliterate his previous career high of seven, which he matched way back in June. He's added 12 since, with nearly three weeks left to play. He's almost certain to become the first Phillies shortstop other than Jimmy Rollins to top 20 home runs in a season, last done by Rollins in 2012.
Despite being the first Phillie to leave the yard in 2016 -- in the second inning on Opening Day in Cincinnati -- Galvis' newfound power stroke wasn't apparent until a little over a month ago. Ten of his 19 home runs have come in his last 32 games.
But the same problems at the plate that have persisted all season have continued to hamper Galvis' offensive output, despite the power outburst. During that 32-game stretch, Galvis is reaching base at just a .322 clip. He's struck out 27 times and drawn only seven walks. Yet both of those are still marked improvements on his season totals for each stat.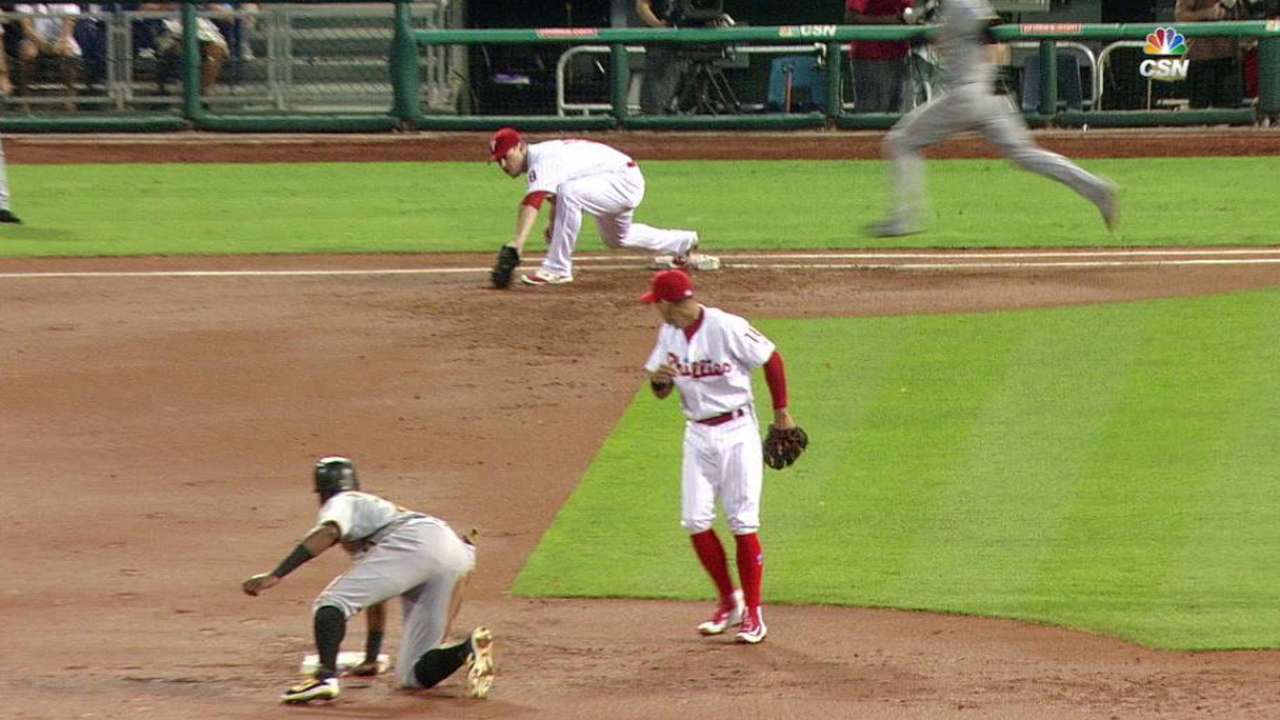 Galvis' .269 on-base percentage was last among 151 qualified players in Major League Baseball entering Wednesday. While he's risen his slugging percentage by nearly 40 points over the 32-game stretch, his OBP has remained consistently low. Galvis has also already struck out more times and walked less than he did last season. With 121 whiffs to just 23 walks, Galvis is drawing a free pass once for about every five times he strikes out.
"He's going to have to improve on that," Mackanin said. "We want the best players that we can get and Freddy has got so much to answer. [Getting on base is] one of the things he needs to work on a little bit. On the other hand, he provides a lot for us."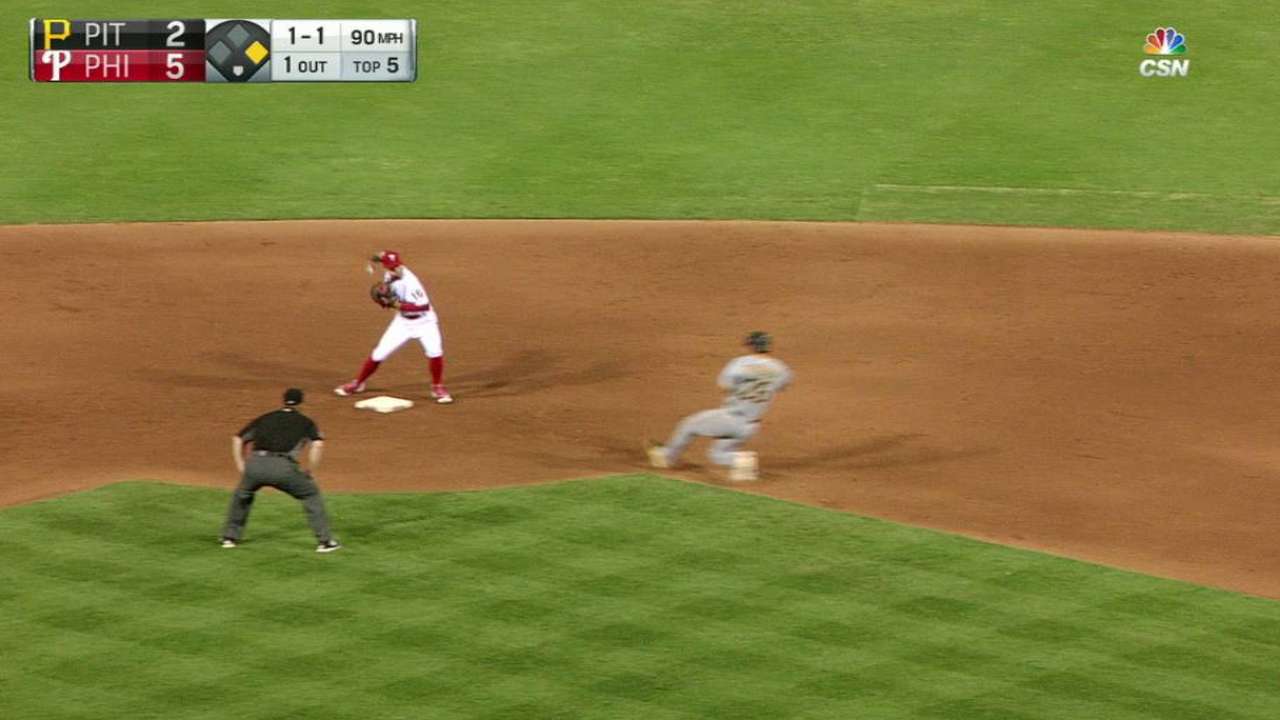 Yet, Galvis will likely have a chance to homer on Opening Day for the second straight season when the Phillies again open up against the Reds at Great American Ball Park next year.
Top prospect J.P. Crawford's .647 OPS at Triple-A isn't exactly knocking on the door to get the call, plus his service time clock has yet to begin. That, combined with the emergence of Galvis' pop and already stellar defense could delay Crawford's arrival and extend the life of the double-play combo of Galvis and Cesar Hernandez.
Said Mackanin of his up-the-middle duo: "They're probably our best two players right now."
Evan Webeck is a reporter for MLB.com based in Philadelphia. This story was not subject to the approval of Major League Baseball or its clubs.