MLB.com Columnist
Richard Justice
5 keys heading into big Cards-Giants matchup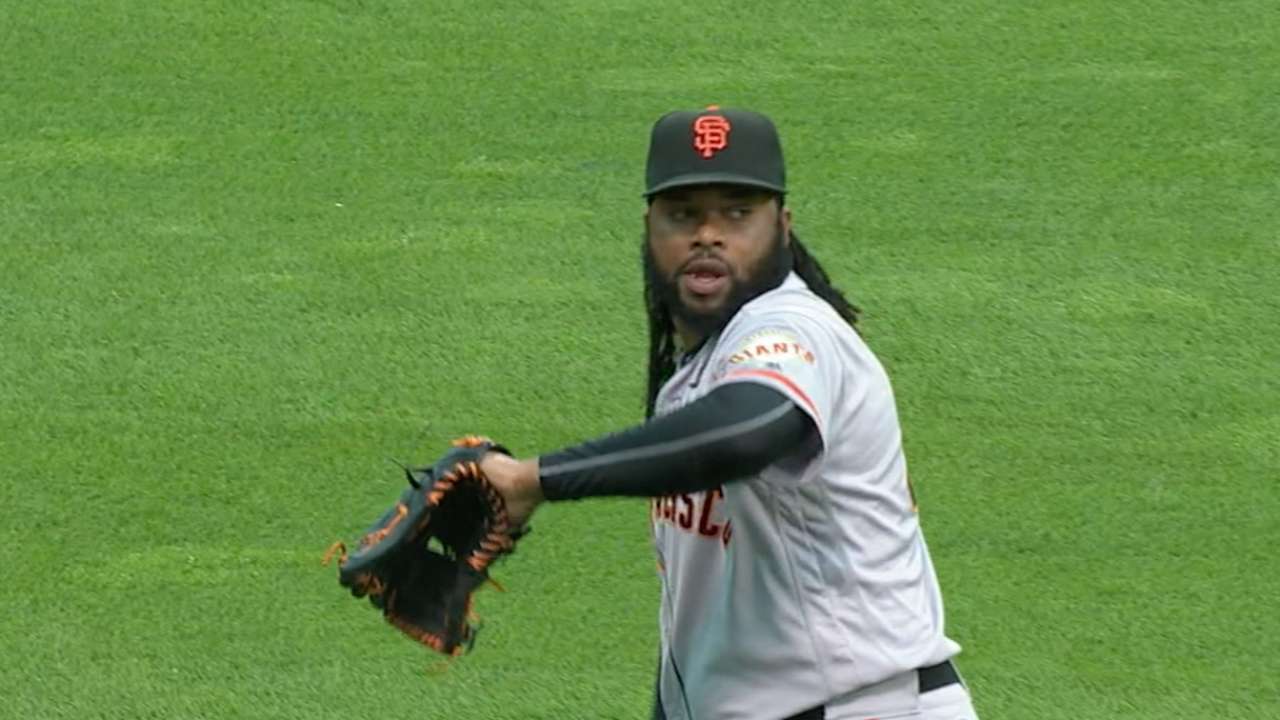 Some of us have wondered what to make of the St. Louis Cardinals and San Francisco Giants almost since Opening Day. At various times, both teams have looked plenty good enough to play deep into October. At other times, not so much.
That's what makes this four-game Cardinals-Giants series beginning Thursday night at AT&T Park so interesting. Three National League teams -- Giants (77-68), Mets (77-69), Cards (76-69) -- are a game apart in the race for two NL Wild Card berths. Those stakes will give this series a postseason vibe.
• #TBT: '02 NLCS set stage for Cards-Giants rivalry
Here are five things to watch for:
1. The Giants hoping to get their mojo back.
If you caught San Francisco at certain points this season, you'd swear you were watching baseball's best team. This wasn't a snapshot of a couple of weeks or even a couple of months. The Giants won 57 of their first 90 games.
San Francisco's offense scored 4.7 runs per game. The Giants' pitching staff had a 3.55 ERA. This being an even-numbered year, lots of people went ahead and penciled them in to win their fourth World Series in seven years.
And then the lights went out, dramatically and inexplicably. San Francisco's 20-35 record is baseball's worst since the All-Star break, and the Giants have lost 11 games in the NL West standings, a 6 1/2-game lead over the Dodgers morphing into a five-game deficit with 17 to play.
They return home having been swept by the Padres in a three-game series in San Diego.
2. This is Matt Moore's time.
Everything the Giants have done these past few seasons begins with the starting rotation. Down the stretch, it's the rotation that hasn't been good enough.
Even after the addition of Moore at the non-waiver Trade Deadline, San Francisco's starters have a 4.24 ERA this month. That's middle of the pack (13th of 30 teams) and probably not good enough to get the Giants to the postseason.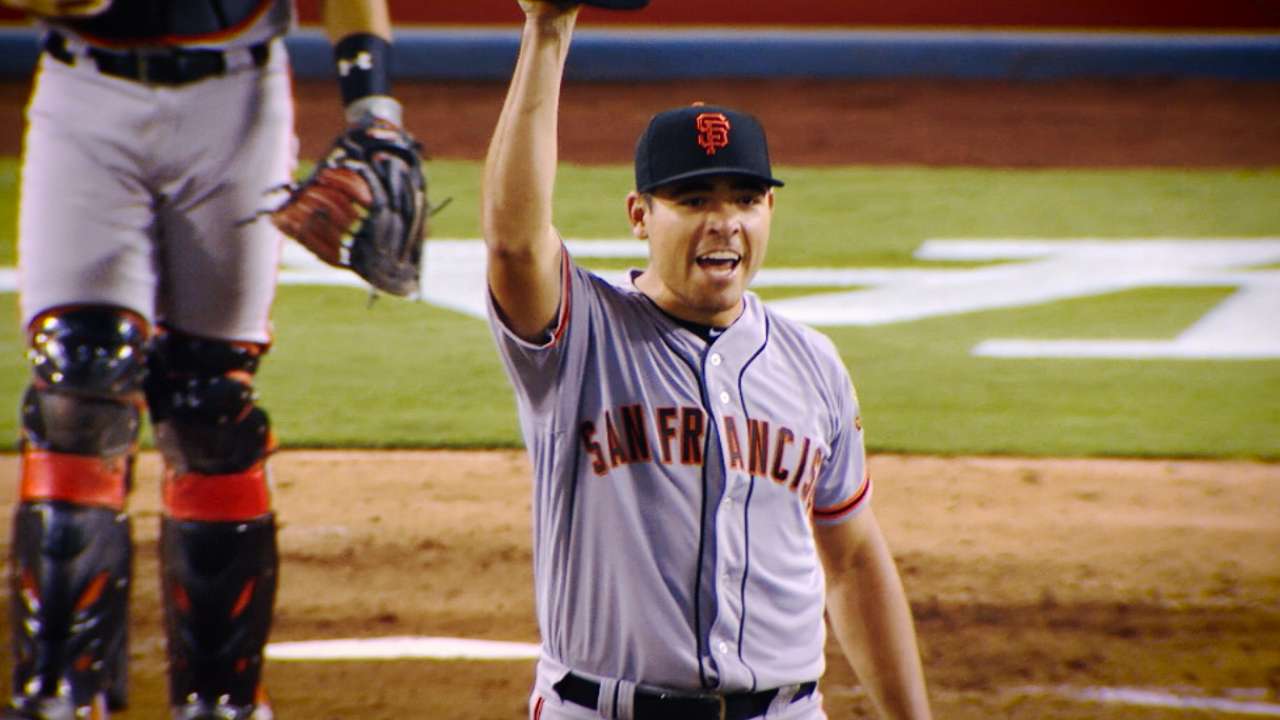 Manager Bruce Bochy and his guys could hardly be more confident in their top two guys, Madison Bumgarner and Johnny Cueto. It's Cueto who'll get the ball Thursday in the first game of the series.
And then it's Moore on Friday. He has a 4.05 ERA in eight starts since being acquired from the Rays, but if he can deliver a string of quality starts behind Bumgarner and Cueto, the Giants could be positioned for another nice even-year run.
3. Adam Wainwright starts the final push.
Cardinals manager Mike Matheny has said that the identity of this team is toughness and that the thing he's most proud of is that his team kept fighting through a season of injuries and inconsistencies.
This has been the strangest of seasons, one in which the Cards never played great for a long stretch of time. But they were never bad for any significant length of time either.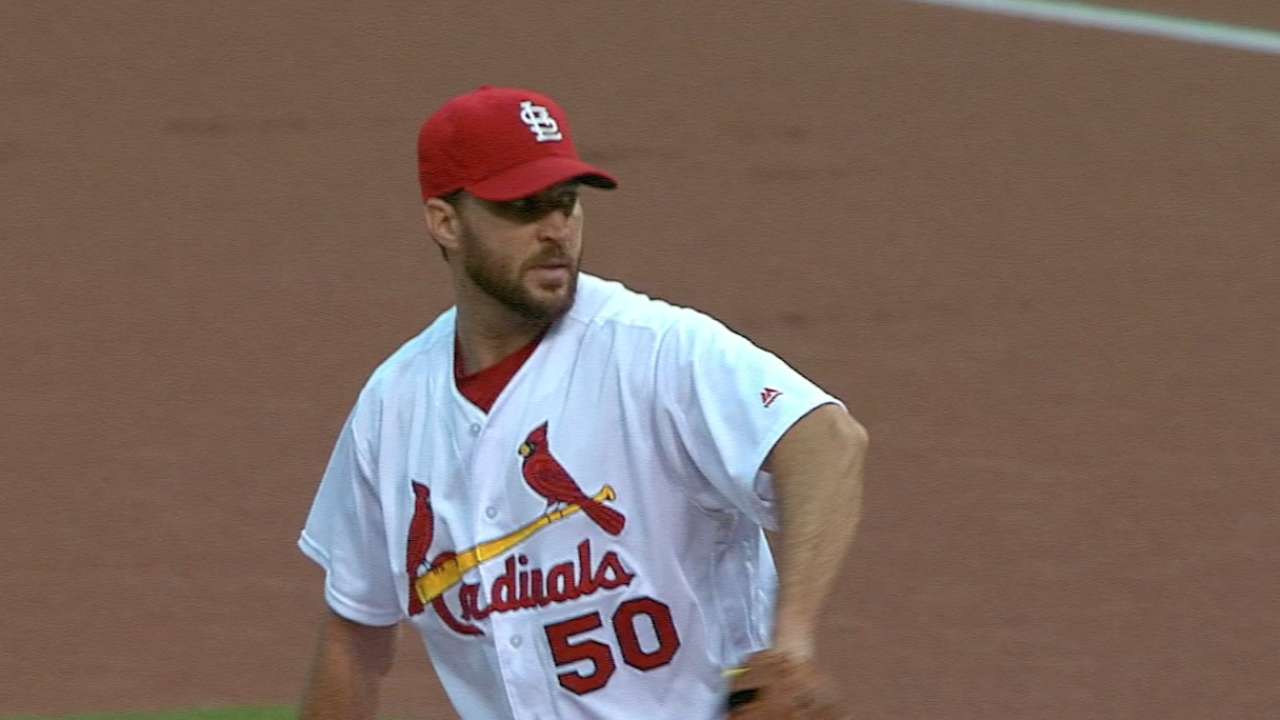 Here they are, though, positioned nicely for a sixth straight postseason appearance. This isn't complicated. In a season like this one, teams lean on their big guys.
No player is more important than Wainwright, the 35-year-old heart and soul of this baseball team. This has been one of those strange seasons in which he has looked all of his 35 years at times. At other times, he has looked as good as ever.
Wainwright could set a tone for these final 17 games beginning Thursday. He has been very good for two of his past three starts and has a 3.19 ERA in his past five. Wainwright has a solid 3.18 ERA in seven games at AT&T Park. In Game 4 of the 2014 NL Championship Series there, he allowed the Giants two earned runs in seven innings of an eventual 6-3 loss.
4. Will Matt Adams get it started for the Cardinals?
Adams has some of the best numbers in the game against Cueto: 6-for-16 with one double, one home run and a 1.069 OPS. He could jump-start a Cardinals offense that was one of the best in baseball before the All-Star break, averaging 5.2 runs per game, but is down to 4.4 runs per game in the second half.
Hitting can be contagious, both in the approach and the confidence. The Cards could use a shot of it after scoring three runs or fewer in six of their past 13 games.
5. Wondering who the schedule favors? Mets and Cardinals.
The Mets have 16 games remaining, exactly zero of them against teams with winning records. If they are unable to finish the deal, they have no one but themselves to blame.
As for the Cardinals and Giants, here's a very slight nod to the Cards. Thursday is the start of a 10-game road trip against the Giants, Rockies and Cubs. If they're still in it, they'll finish with seven home games against the Reds and Pirates.
The Giants may have a tougher schedule, but they also have more opportunity. They've got 10 games against the Cardinals and Dodgers, and seven against the Rockies and Padres.
If San Francisco comes out of this weekend series with the NL West in sight, it will play six of its final 13 games against Los Angeles with a chance to make up those five games. The Giants are the only team of the top three NL Wild Card contenders with a reasonable chance of a division championship. But the Wild Card is a nice fallback position.
Richard Justice is a columnist for MLB.com. Read his blog, Justice4U. This story was not subject to the approval of Major League Baseball or its clubs.