Trumb-O's! Fenway rocket tightens race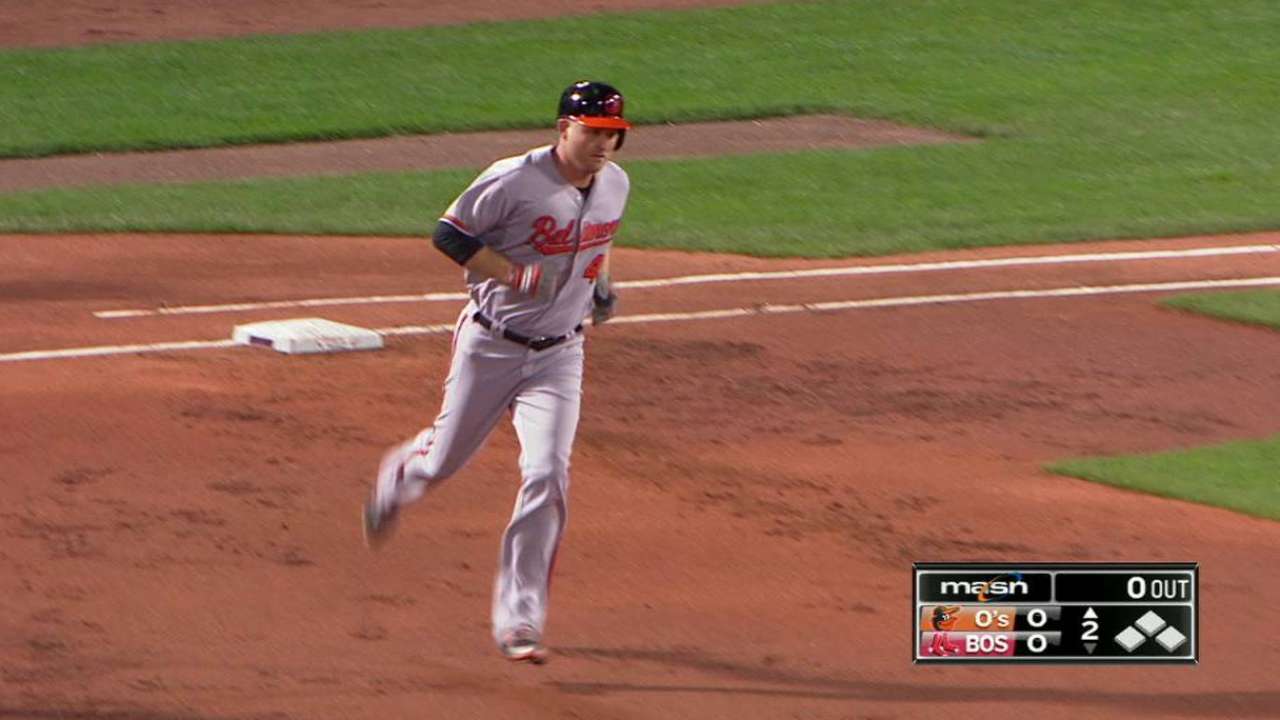 BOSTON -- In Wednesday's riveting pitchers' duel at Fenway Park, one big swing by Major League home run leader Mark Trumbo was the difference as the Orioles came through with a 1-0 victory that leaves them just one game behind the Red Sox in the American League East.
Trumbo hit a mammoth solo homer over everything in left that cut through a gusting wind that was blowing straight in. It was Trumbo's 42nd homer, and it came against Rick Porcello, who lost for the first time at Fenway this season after winning 13 straight home decisions.
Kevin Gausman was magnificent for the Orioles, breezing through eight innings while holding the Red Sox to four hits while walking one and striking out six. Only in the seventh inning did Boston put more than one runner on base. O's closer Zach Britton continued his amazing season by notching the save in the ninth -- his 43rd in as many opportunities.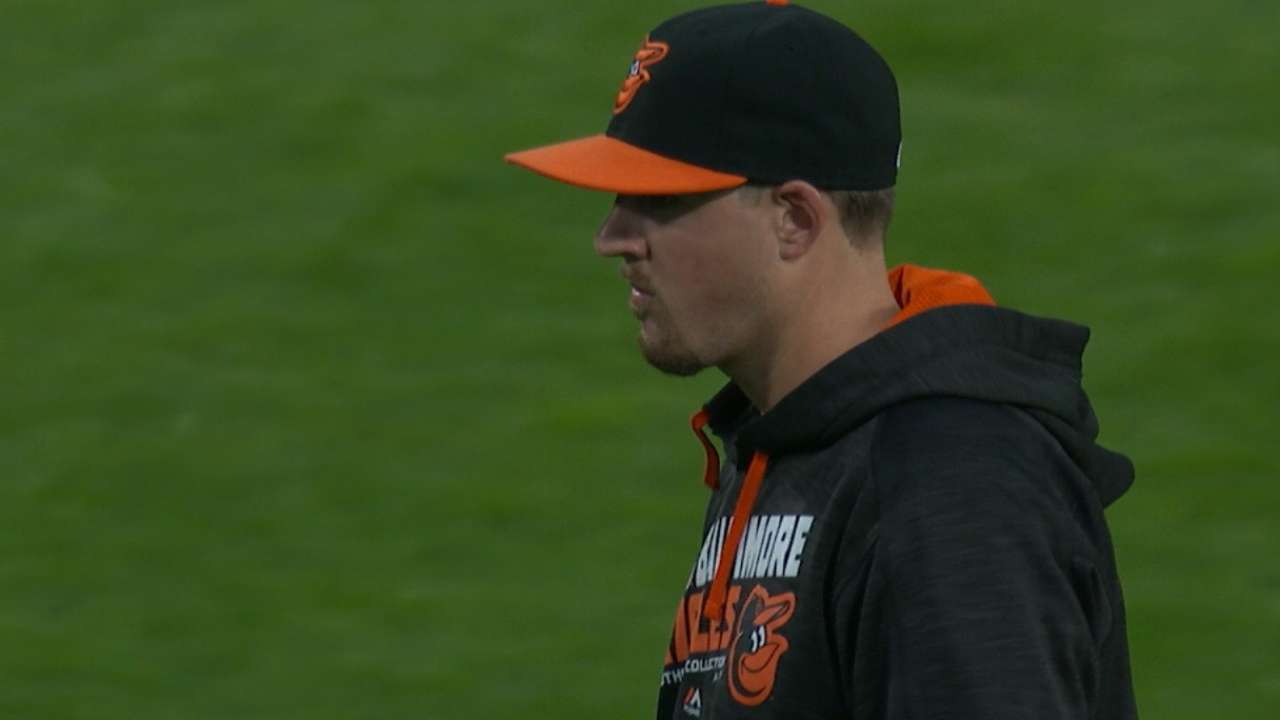 "To think you can make one run stand up in this ballpark against as good an offensive team they are is a real tribute to how well Kevin and Zach pitched," said Orioles manager Buck Showalter. "Kevin knew he was going to have to be on top of his game. Porcello's having a great year and he's going to be another Cy Young candidate that we've seen a lot of them on this road trip."
• Gausman dominates AL East leaders
Aside from the one mishap to Trumbo, Porcello (20-4) was just as effective as Gausman, allowing four hits, one run and no walks to go along with six strikeouts.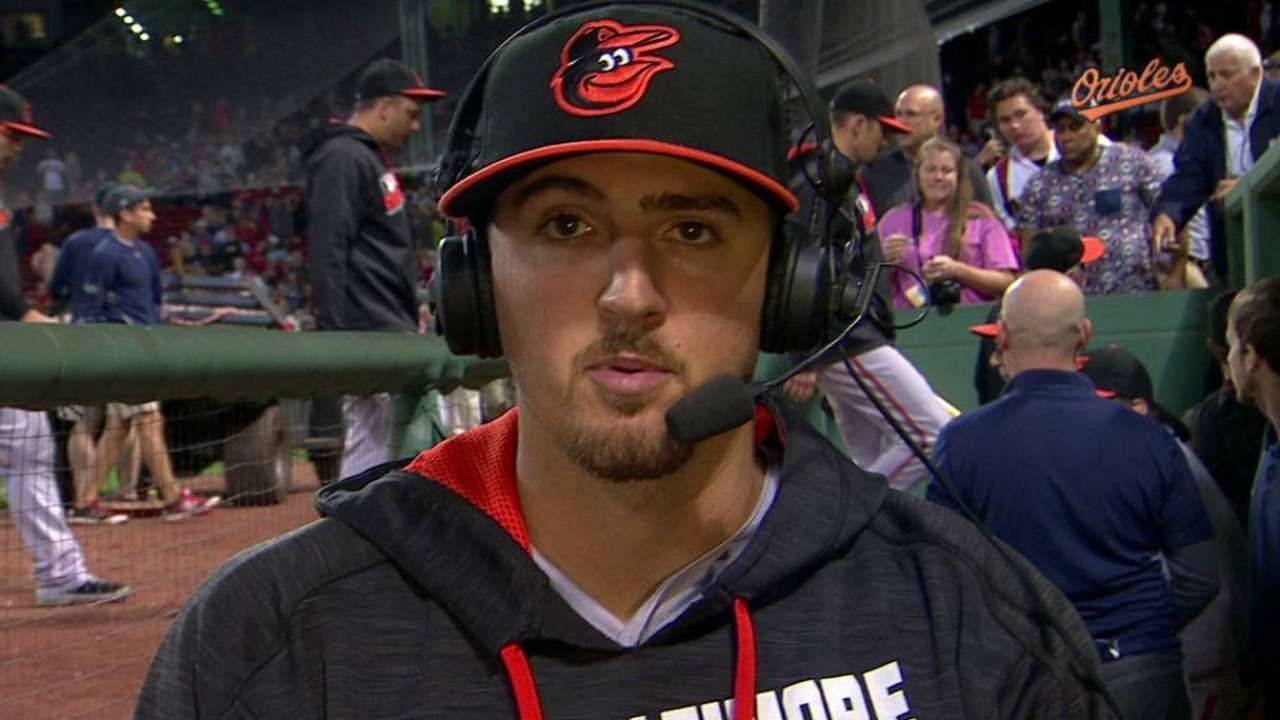 "This was a classic pitchers' duel," said Red Sox manager John Farrell. "Both guys had their A game working. "It's a one-pitch swing of the bat from Trumbo is the difference in it."
With 17 games left, the top four teams in the AL East are separated by four games. Toronto is two back, and the Yankees, who come to Fenway for the start of a four-game series on Thursday, are four back.
• Red Sox gear up for thrilling AL East stretch run
"This is going to be a hard-fought division right to the final game of the season, and we fully embrace it," said Farrell. "We fully expect it, and we're looking forward to the challenges ahead."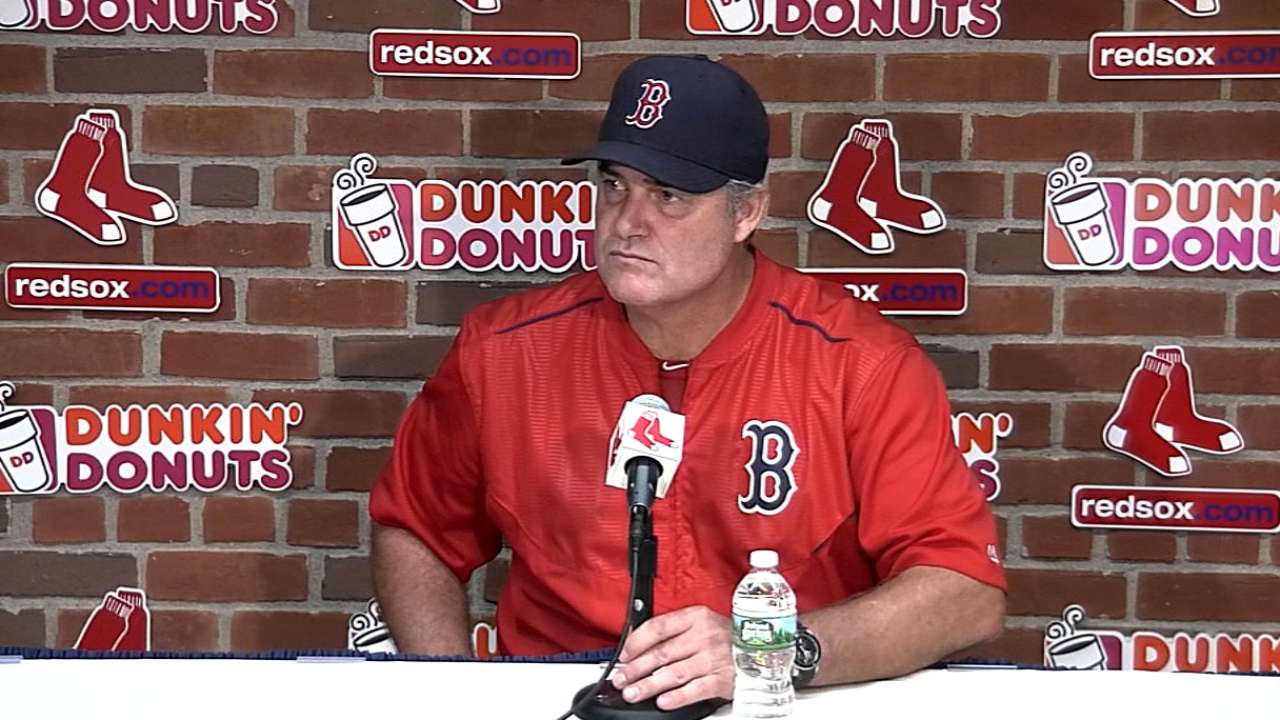 MOMENTS THAT MATTERED
Sailing, sailing, gone: Trumbo's leadoff home run in the second inning was his 42nd blast of the year and third against Porcello. It marked the 11th time Trumbo has led off an inning with a homer.
"I got him pretty early in the game," Trumbo said. "You can't really foresee what's going to happen later on, but obviously pretty fortunate to get something on the board early. Not a ton of breathing room for Kevin, but maybe just enough." More >
Porcello shakes off liner: There was concern when J.J. Hardy stung a grounder with an exit velocity of 104 mph off the left leg of Porcello. But after quickly assuring the training staff that he was fine, Porcello proved it by the way he pitched, retiring the next 17 batters he faced.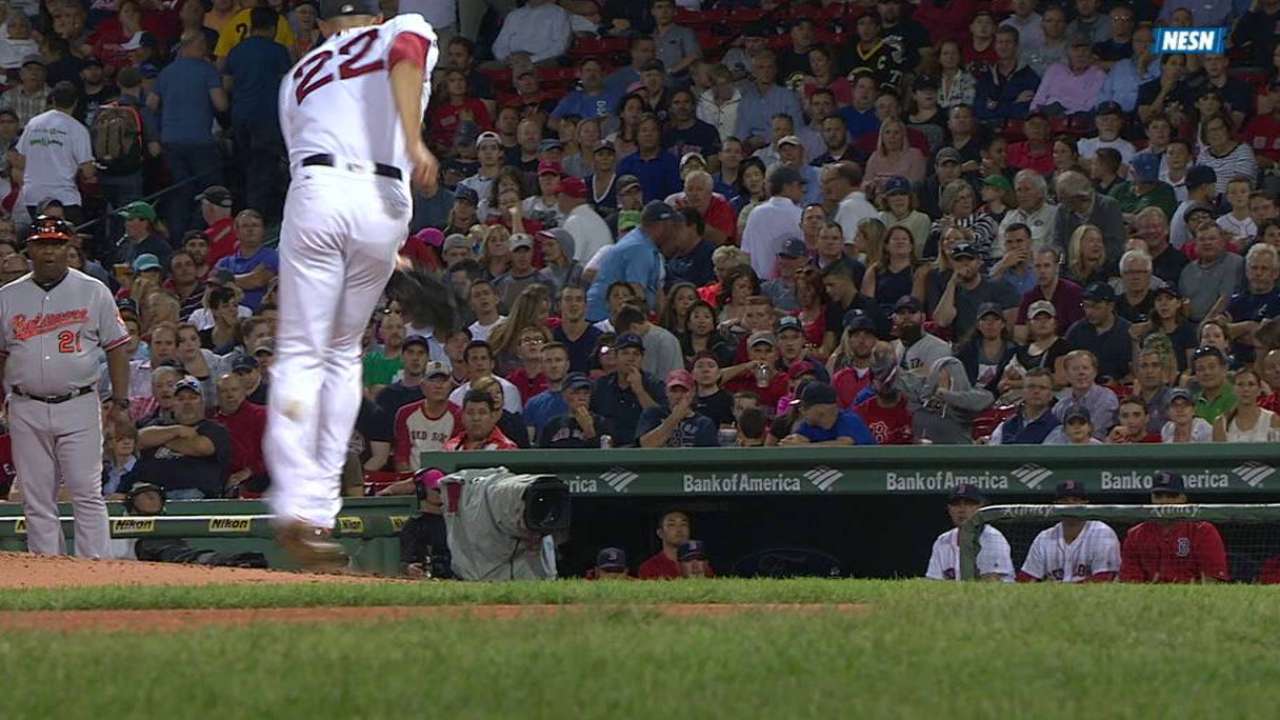 "He squared me up," said Porcello. "Put a good swing on it and I couldn't put my glove down in time and it hit off my calf. It got me in a good spot. It got me in the calf. If it got me in the shin, it might have been a little tougher, but I was fine."
Britton's 43rd: One night after converting a four-out save, Britton retired the side in order for his AL-leading 43rd save. Unfazed by David Ortiz's daunting at-bat and inducing a flyout to AL MVP candidate Mookie Betts, Britton struck Hanley Ramirez out swinging to end the game.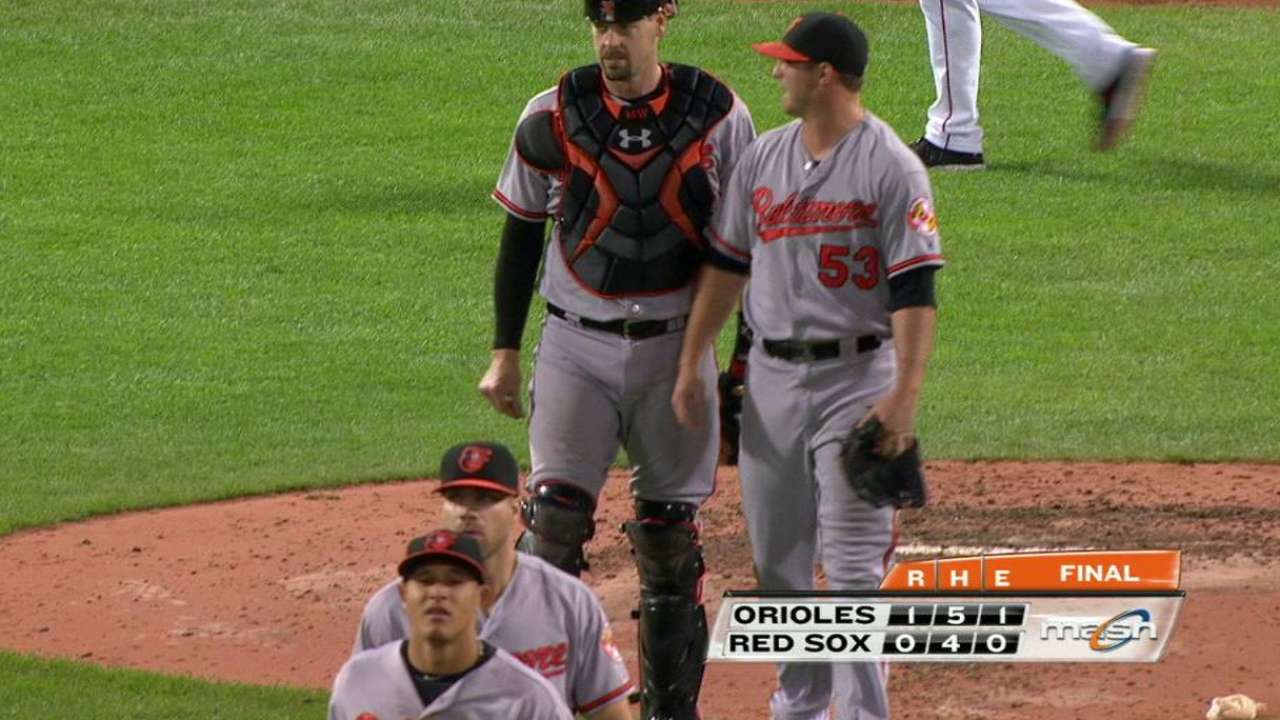 "Zach, really the last couple years, has really been ridiculous," Gausman said. "You look at how much his ball moves with the velocity he throws it, it's special. He does something that nobody else in the game can do, and from the left side. Anytime you give the ball to him you feel confident."
Mookie's cannon doubles up Manny: Perhaps the most exciting play of the game was in the top of the ninth, when Chris Davis hit a drive just shy of the warning track in right, and Manny Machado decided to test the arm of Betts. It turned out to be a bad decision, as Betts made a tremendous, one-hop throw to second to nail him for an inning-ending double play. According to Statcast™, the throw by Betts was 92 mph. Machado went first to second in 9.8 seconds. The Fenway crowd roared with the out signal from second-base umpire Paul Emmel. It was the 13th assist of the season by Betts.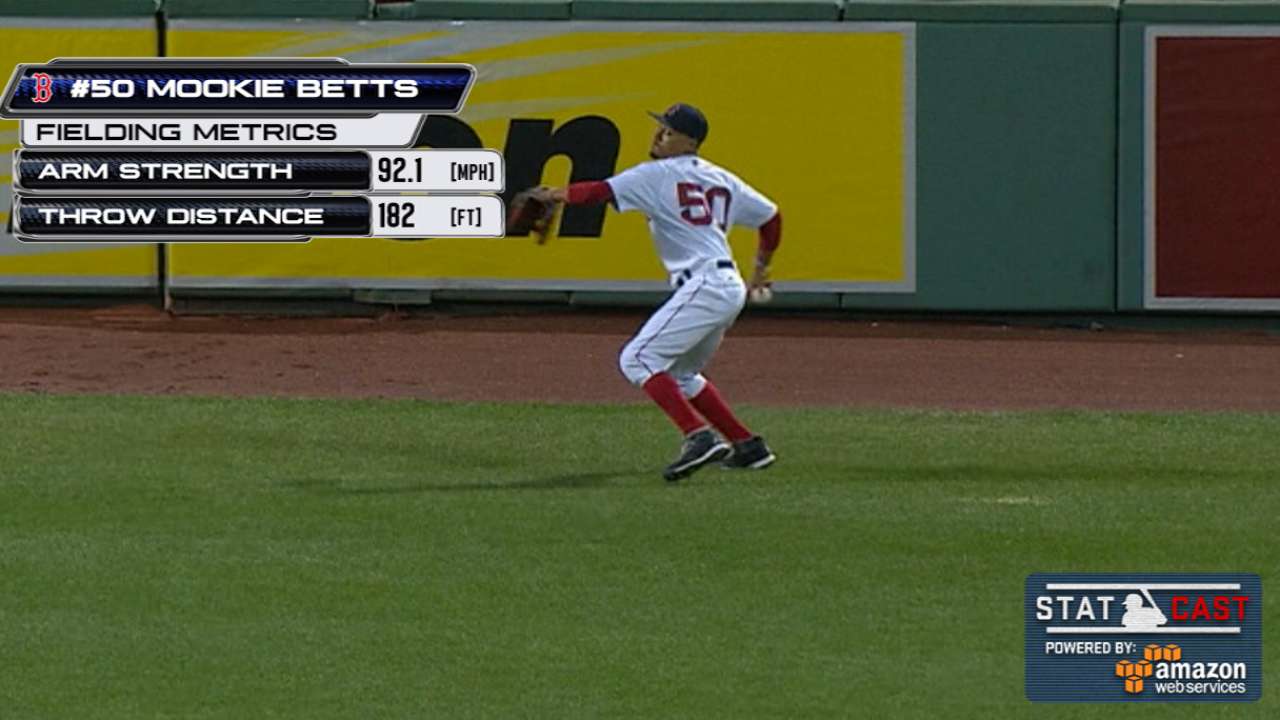 "I know the wind was kind of blowing against me," said Betts. "I was trying to keep it low. But fortunately I was able to get behind it, get a little something on it and be accurate." More >
QUOTABLE
"They're not guys who toot their own horn. They kind of like when people sell them short. And now we're going back to a place, our city that gets them and gets what they're doing for the last four years. It's been a tough, challenging trip. Going in there tomorrow, we'll get our three or four hours sleep and do it again." -- Showalter, after his club went 6-3 on a three-city, 10-day road trip
SOUND SMART WIITH YOUR FRIENDS
The last 1-0 Red Sox home loss to the Orioles was on Sept. 24, 2000, in a game started by Mike Mussina.
In the last 60 games dating back to July 9, Boston's starters lead the AL with a 3.44 ERA.
WHAT'S NEXT
Orioles: The Orioles return to Camden Yards for their final homestand of the year, beginning with a four-game set against the Rays. Right-hander Yovani Gallardo (5-7, 5.44 ERA) gets the nod on eight days of rest, earning a win against the Rays his last time out. First pitch is 7:05 p.m. ET.
Red Sox: Lefty Eduardo Rodriguez, who has dazzled against the Yankees in his career (4-1, 1.88 ERA) opens what should a thrilling, four-game series between the rivals on Thursday at 7:10 p.m. The Red Sox hold a 7-5 edge in the season series.
Watch every out-of-market regular-season game live on MLB.TV.
Ian Browne has covered the Red Sox for MLB.com since 2002. Follow him on Twitter @IanMBrowne and Facebook.

Deesha Thosar is a reporter for MLB.com based in Boston and covered the Orioles on Wednesday.

This story was not subject to the approval of Major League Baseball or its clubs.