Kuma's career-high 16th win keeps Mariners rolling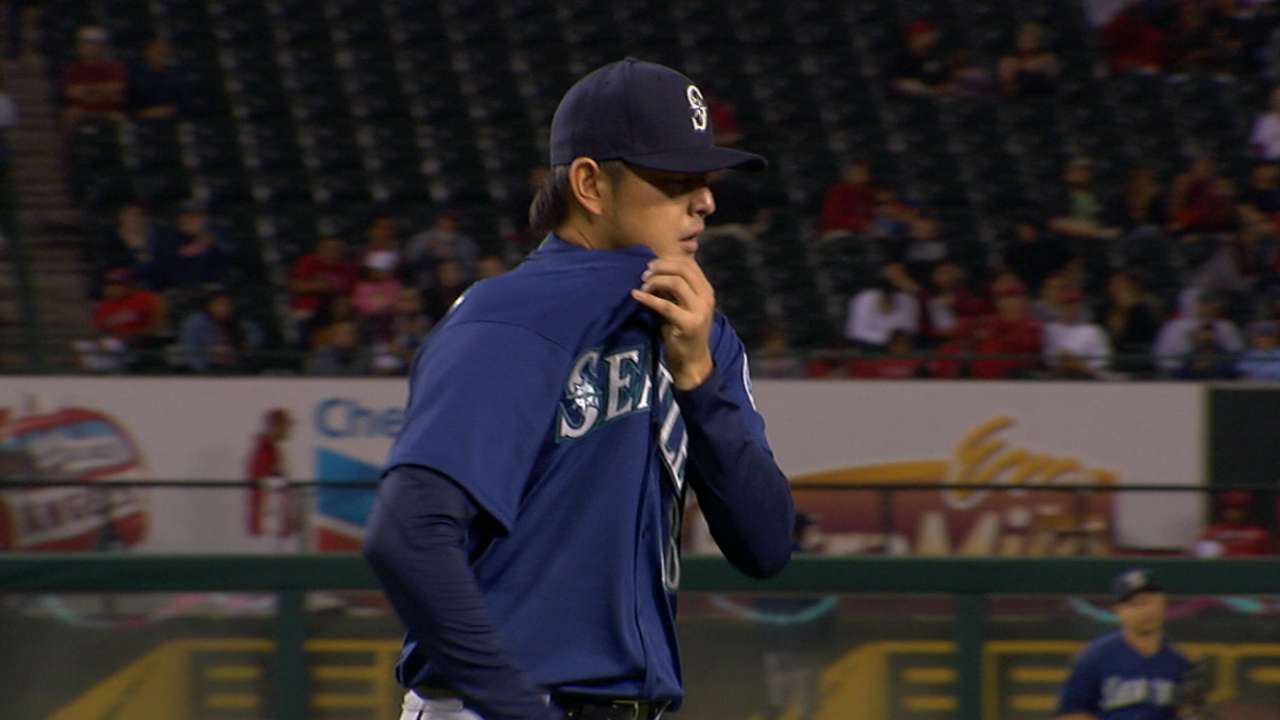 ANAHEIM -- For Hisashi Iwakuma, his 16th win was sweet indeed for the Mariners on Wednesday night. Not only did the 35-year-old reach a new career high for victories in his fifth season in the Majors, he kept Seattle smack in the hunt for a postseason spot by propelling the club to its eighth straight victory.
"Yes, individually that's a big accomplishment," Iwakuma said through translator Antony Suzuki. "Sixteen wins here is something new for me. But this win goes to the team. The team played great defense today. We're on a very good roll right now, and I give a lot of credit to the team."
But this Mariners club knows Iwakuma has been a huge part of its success. He has been the glue for a rotation that has used 13 different starters this season. He is the lone starter who hasn't missed a turn and he's provided a steady hand while racking up a 16-11 record and 3.87 ERA in 30 outings.
"He has, all year, been our most consistent guy," said manager Scott Servais. "He's taken the ball every fifth day, given us a chance to win and I think a lot of him, for how he goes about his business. He leads in his own way. He's not the vocal leader, but the guys really look up to him."
"He's been phenomenal," said third baseman Kyle Seager. "He's throwing the ball very well for us and has been so consistent the whole season. He was great tonight. They had a couple times they were putting up a threat, and he just took care of it."
Indeed, Iwakuma steadied the ship after the Angels took a 1-0 lead in the third when a pair of leadoff singles and a wild pitch led to the lone run. He buckled down and got the final three outs of that frame without further damage, then worked into the seventh before the bullpen came in to retire the final seven batters.
"He dialed it up," Servais said. "He was really focused tonight. You could see the look on his face. The preparation with Kuma is always there, but tonight, even the third inning [when the Angels put pressure on him] he's very good at getting methodical and slowing the pace down.
"It's almost to the point where it drives you crazy, let's go. But that's what he does. He slows it down, he executes pitches. That inning could have got away from him, but it didn't."
Just part of the chess match for the veteran right-hander, who keeps hitters off balance in a variety of ways.
"That was something I had in mind, just being aware of the situation and knowing their strategy," he said of slowing the pace. "Whatever works, works. You always want to pick on their brain and make them think more than you are. You want to make your own pitches and it worked out today."
With the 16 wins, Iwakuma is tied for the second-most victories in a season by a Japanese pitcher, matching Hideo Nomo (three times), Hiroki Kuroda (2012) and Yu Darvish (2012). Only Daisuke Matsuzaka, with 18 in 2008 for the Red Sox, has won more.
Iwakuma figures to have three more starts this season for a Seattle club that is now just 1 1/2 games out of an American League Wild Card spot.
"We learned two years ago that every game counts, every game matters," he said. "We all play one game, one play at a time, and you can feel that as a team. We take that to every game and don't forget that."
Greg Johns has covered the Mariners since 1997, and for MLB.com since 2011. Follow him on Twitter @GregJohnsMLB and listen to his podcast. This story was not subject to the approval of Major League Baseball or its clubs.