Counsell: Goal is to get Blazek feeling healthy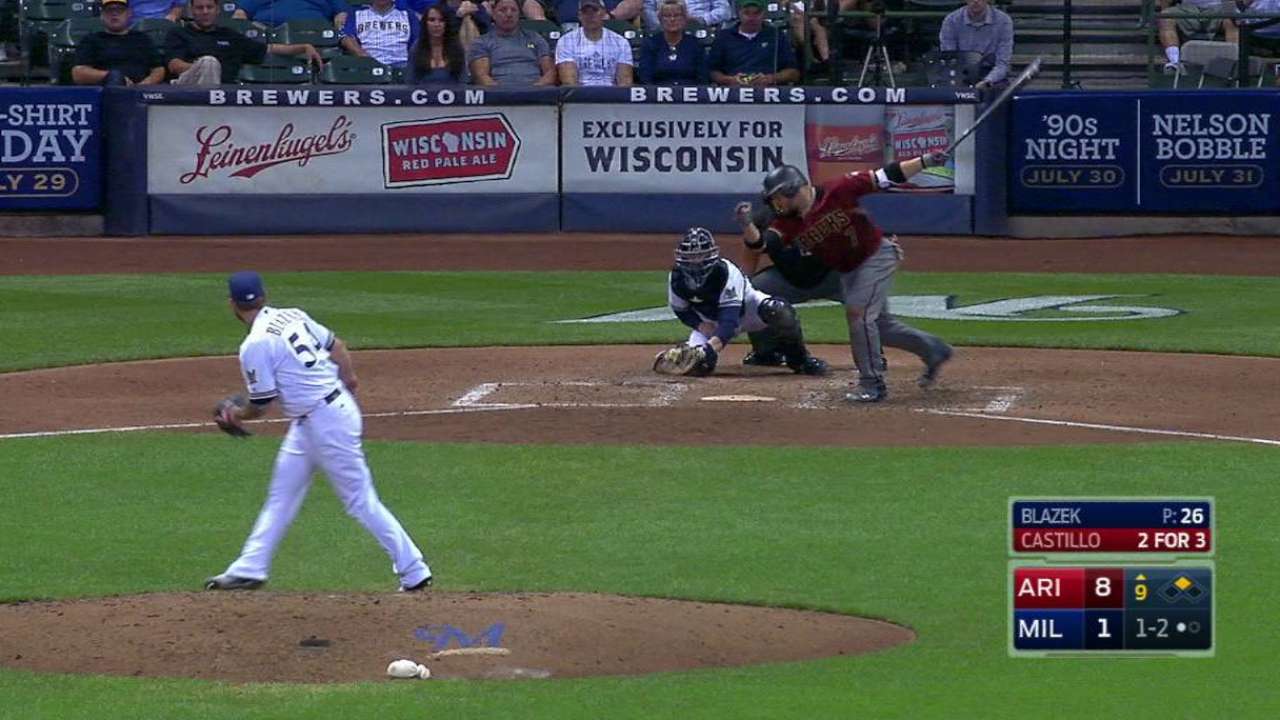 CHICAGO -- Michael Blazek threw his second simulated game Thursday since being reinstated from the 15-day disabled list, but he will throw at least one more before a definitive plan is made to get him back in a game.
Brewers manager Craig Counsell called the right-hander's latest simulated game, at Wrigley Field, "another step forward," but said Blazek will make a third one next week at Miller Park.
"The goal with Mike is just to go into the offseason healthy," Counsell said of Blazek, who's been on the DL twice this season, with the latest stint caused by a right forearm strain. "We're not short a guy in the bullpen at this point, so it's not a rush to get him back or [have a] normal timetable to get him back. It's just go into the offseason healthy. So, we'll throw one more [bullpen session] and then I think we should be in good shape."
Blazek was sidelined from June 1-18 with a right elbow impingement, and then hit the DL a second time Aug. 16, retroactive to Aug. 14, with the forearm strain. He hasn't pitched in a game since, but did appear as a pinch-runner shortly after being taken off the DL on Sept. 2, after the September roster expansion.
Blazek's season started well, but quickly took a downturn after a rough outing in May against the Reds, when he allowed five runs in two-thirds of an inning. He's battled to get back to top form, but ineffectiveness and the second injury were difficult to overcome. Now, the hope is just to get a good feeling going into the offseason.
"I'd like to get him game action," Counsell said. "That's a goal, to get him game action, but the No. 1 goal is to have him feel healthy, just because I think game action is the last step of feeling healthy ... but not at the risk of anything else."
Worth noting
• Counsell will share more details this weekend about the starting rotation and how it will shake out for the rest of the season. He said it could include a start for right-hander Taylor Jungmann, who was demoted to the Minors in late April and spent most of the season working his way back. Jungmann threw a perfect ninth inning Wednesday in Milwaukee's 7-0 win against the Reds, his first Major League relief appearance, and Counsell said there's also a chance Jungmann will stay in that role. "We don't have anything completely set in stone yet," Counsell said.
• Right-hander Corey Knebel has thrown back-to-back scoreless relief appearances, both against the Reds in the last series. Knebel, who spent a stint in the Minors this season trying to regain his top form, is trying to finish the season strong. "I think we've been able to get him into two situations that I've liked for him, and he's pitched very well in both those situations," Counsell said. "Heading in the right direction, for sure."
Brian Hedger is a contributor to MLB.com based in Chicago and covered the Brewers on Thursday. This story was not subject to the approval of Major League Baseball or its clubs.