Graterol steps up in first big league start
ANAHEIM -- Angels catcher Juan Graterol paid his dues for 11 years in the Minor Leagues before he earned his first Major League start on Wednesday night at Angel Stadium.
Graterol made the most of his opportunity, calling a good game and going 2-for-2 with the Angels' only run in a 2-1 loss to the Mariners.
"It's unbelievable," said Graterol, who gave the Angels a 1-0 lead when he scored on a wild pitch in the third inning. "I didn't expect that."
Graterol could hardly hold back a smile as he addressed reporters after the game in the Angels' clubhouse. He had plenty of reasons to be happy.
"I'm just doing my job," he said. "It's 11 years, but if you trust yourself. If you're working hard, if you're doing the right things, that's why I'm here, I just try to do my job, try to help the team and show what I can do."
Graterol helped Angels starter Jhoulys Chacin navigate a tough Mariners lineup for six innings of one-run ball. It was Chacin's first start since Aug. 21, as he filled in for left-hander Tyler Skaggs, who was scratched because of a mild flexor pronator strain.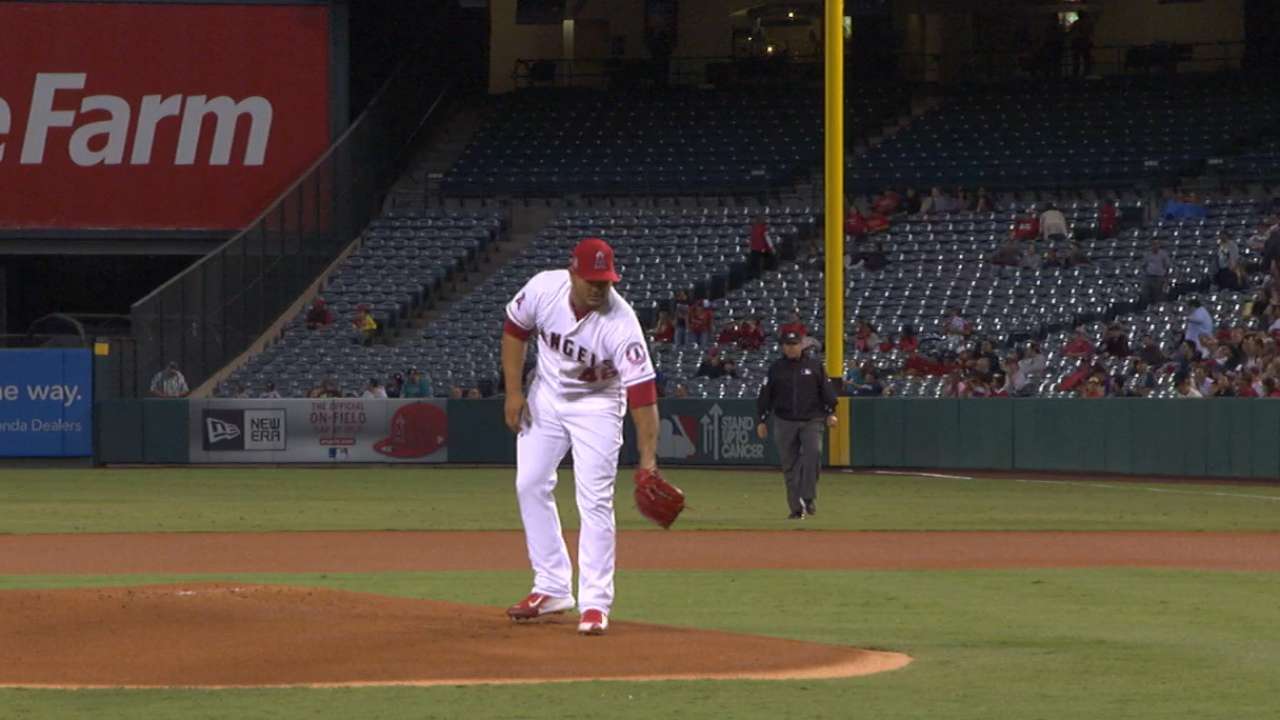 Chacin scattered three hits, struck out five and walked none. The only mistake he made was a fastball to Kyle Seager that went for a home run to open the fifth, tying the game at 1-1.
"I just think about trying to call a great game, just focus and call the right pitches for him," Graterol said. "He's throwing everything for a strike. He's always ahead in the count. Just one pitch for him, throw a fastball to Seager. Other than that, he's amazing. It's baseball, if you make one bad pitch."
Graterol had two of the Angels' three hits off Mariners starter Hisashi Iwakuma, who allowed one run over 6 1/3 innings to earn his 16th win.
Graterol singled through the right side of the infield in his first at-bat leading off the third inning. He singled to right field in his second at-bat and executed a sac bunt in the seventh.
The Angels promoted Graterol from Triple-A Salt Lake when rosters expanded on Sept. 1. He made his MLB debut against the Mariners on Sept. 2 in Seattle, entering as a defensive replacement in the eighth inning and belting a run-scoring double in the ninth in his first big league plate appearance.
Graterol signed a Minor League deal with the Angels in January and was invited to Major League Spring Training. He spent the season with Salt Lake before joining the Angels. Graterol started his professional career in the Royals organization and also spent time in the Yankees' farm system.
Austin Laymance is a reporter for MLB.com. This story was not subject to the approval of Major League Baseball or its clubs.