Frazier named Sox Heart and Hustle Award winner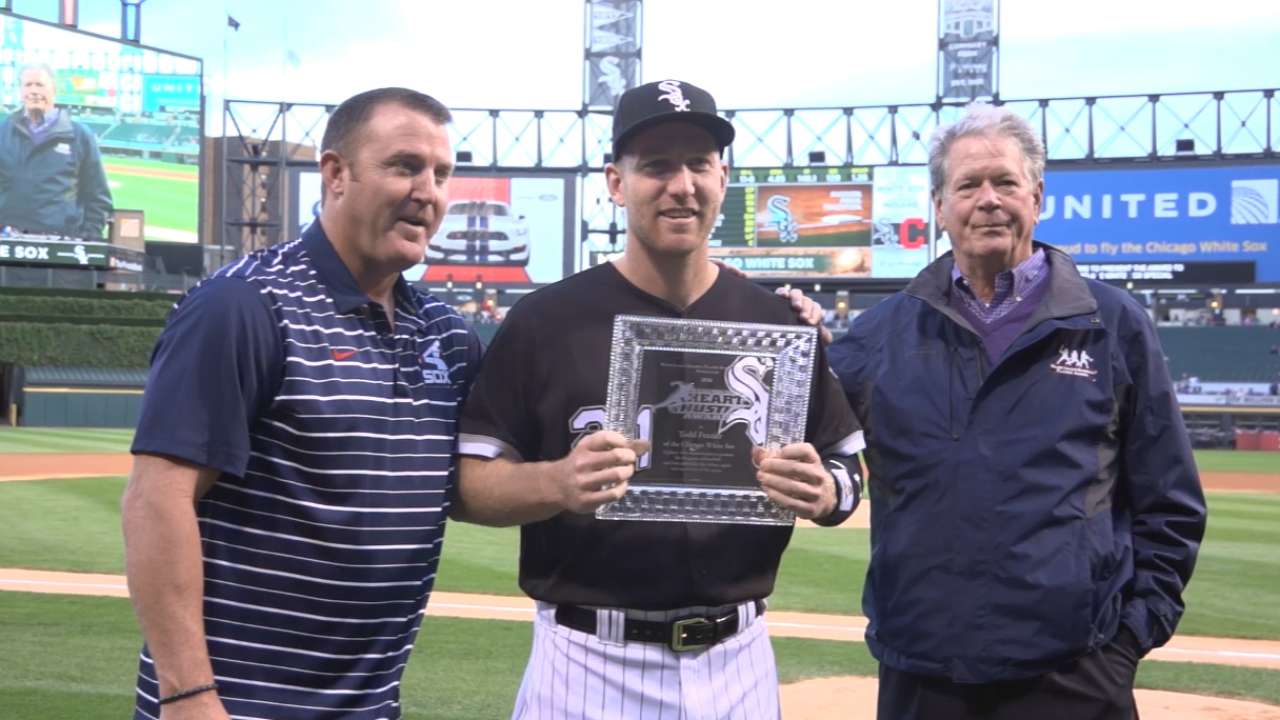 CHICAGO -- Todd Frazier was named the White Sox recipient of the 2016 Heart and Hustle Award, presented by the MLB Players Alumni Association. Frazier was given the award by White Sox special assistant to the general manager Jim Thome prior to Wednesday's contest against the Indians at U.S. Cellular Field.
"It means a lot, definitely," said Frazier before receiving the honor. "I bring a lot of heart. I like to think of myself as I do that every day.
"And I like the hustle, too. The big two words in baseball, you know? You have to put your heart on the table, play for your teammates, and find a way to win. And you have to hustle every day. It's my second one and I'm excited to receive the award."
Frazier also won the award in 2015 while with the Reds. This honor goes to active players who demonstrate a passion for the game of baseball and best embody the values, spirit and traditions of the game. The final winner will be announced on Nov. 15.
The White Sox third baseman has set personal single-season highs in home runs and RBIs, despite falling short in batting average and on-base percentage. He also can be found signing autographs for fans prior to many home games and has become a leader in his first season on the South Side.
"My focus is coming every day being a professional, doing your job and no funny stuff in between," said the upbeat Frazier. "That's the kind of stuff as a leader, you nitpick at a guy that just got called up, you do what you to do.
"Other days you're a teacher, other days you're having a good time with them but you have to do that so they learn and understand what it is to be part of the Chicago White Sox and a baseball player. Take for example Timmy Anderson, kind of take him under my wing. I tell them you have any questions come and talk to me. That's a big part of being a leader."
Putnam returns
Right-handed reliever Zach Putnam visited U.S. Cellular Field to get a final look from the doctors in checking progress from surgery on his right elbow to remove bone chips. Putnam last pitched on June 20 at Fenway Park, when he walked the bases loaded in the ninth, and woke up the next morning with his elbow swollen to the size of a "water balloon."
"I've never seen it before in all my years of throwing. So I said all right, we need to put the kibosh on this," said Putnam, who was working with the White Sox to treat the issue for about one month before this moment. "I feel great, and everything is coming back really nicely.
"There was one really good size [bone chip] and then just some pieces of debris. Definitely surgery that needed to happen and reiterated that fact after I saw what they took out of there. It was pretty gnarly stuff."
Putnam, 29, posted a 2.30 ERA over 27 1/3 innings. He is going through physical therapy for another four to six weeks and has targeted December as a time to start throwing.
Scott Merkin has covered the White Sox for MLB.com since 2003. Read his blog, Merk's Works, follow him on Twitter @scottmerkin, on Facebook and listen to his podcast. This story was not subject to the approval of Major League Baseball or its clubs.