Skaggs' MRI comes back clean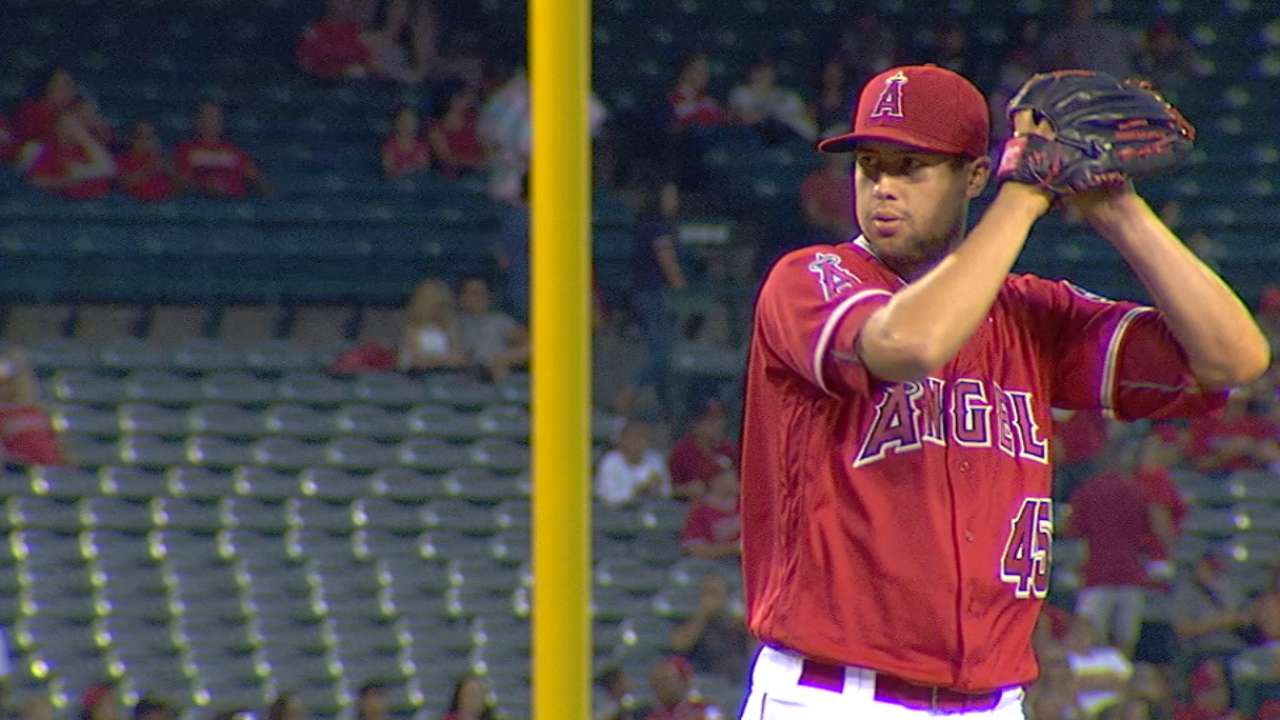 ANAHEIM -- The Angels received positive news on left-hander Tyler Skaggs on Wednesday, as an MRI showed no structural damage to the ligament in his left elbow. Skaggs was diagnosed with a mild flexor pronator strain and will be shut down for seven days, according to general manager Billy Eppler.
"I feel great," Skaggs said. "I knew going in that it wasn't too serious. I played catch, played long toss, threw a bullpen, just felt like it wasn't getting loose and wanted just to let them know that I wasn't feeling 100 percent and take all the precautions necessary and came back just as I expected."
Skaggs was scratched late Tuesday from his scheduled start Wednesday against the Mariners. He's in his first year back from Tommy John surgery, so the Angels were relieved with Wednesday's news. Eppler said there has not been a determination to shut down Skaggs for the final weeks of the regular season.
"We'll have him in about a seven-day timeout and then we'll just see where he is when he picks up a baseball again," Eppler said. "It's not inconceivable that he could start again."
Skaggs said it's important for him to pitch again this season.
"I want to show that I'm healthy going out, especially coming in for next season," Skaggs said. "But at the same time, their plan is their plan. I know that it's a minor setback for me and I'm not too worried about it."
Eppler said the graft where Skaggs had his UCL repaired "looked great" and the pitcher will have a followup on Thursday with Dr. Neal ElAttrache, who performed his Tommy John surgery in August 2014.
Skaggs said he's been dealing with some discomfort for "a little while now."
"As soon as I throw and get loose, I feel fine, but just felt like I was probably going to do more damage than good to keep going out there and throwing," he said.
Still, the injury comes at a time when Skaggs had been pitching well, going 2-0 with a 1.50 ERA over his last three starts. Skaggs has pitched 87 1/3 innings this season between the Majors and Minor Leagues.
"It's just if you have Tommy John, it's just normal wear and tear, I think," Skaggs said. "In the Minor Leagues until now, I haven't missed a start. I haven't missed anything. So I've been pretty healthy. It's just one of those things where it's normal wear and tear. I'm not too worried about it. Looking forward to moving forward."
Austin Laymance is a reporter for MLB.com based in Los Angeles. This story was not subject to the approval of Major League Baseball or its clubs.