Prado, Marlins bid farewell to Turner Field
Miami third baseman played for Braves from 2006-12
ATLANTA -- There have been some fond memories for the Marlins at Turner Field over the past 20 years. In 1997, the organization clinched the National League Championship Series, defeating the Braves in seven games at Atlanta.
But, for the most part, the experiences haven't been favorable for the Marlins at Atlanta.
With the Braves moving into a new building, SunTrust Park in 2017, the Marlins on Wednesday night played their final game at Turner Field, which opened in 1997.
"It seems new, doesn't it?" Marlins manager Don Mattingly said. "Not the locker room, but the field itself, in general, it feels new. But I think it's always exciting to go to a new ballpark. Next year should be some fun. Let's see where it goes."
Miami went just 68-106 at the Braves' home the past 20 years, including a 7-5 win in the club's Turner Field finale.
"I truly believe there is something magical about this stadium," Marlins third baseman Martin Prado said. "Now that I'm just playing against that team, I believe it."
Prado broke in with the Braves in 2006, and played in Atlanta through 2012. In his final game at Turner Field, Prado had an RBI single and two runs scored.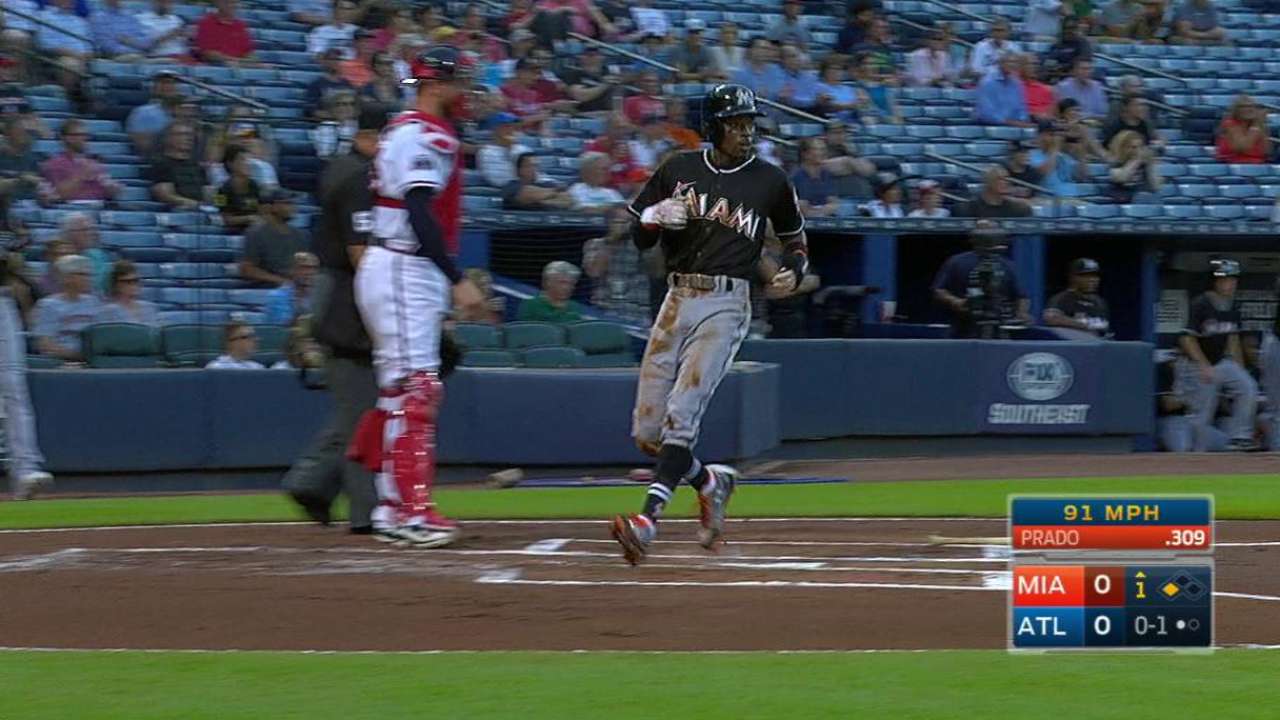 "Guys tell me, the chop and everything," Prado said. "There is something going on in here. Now, I'm playing against this team. It's a differentiator."
The tomahawk chop is a longstanding Turner Field tradition.
When Prado was with the Braves, when he heard the chop, it meant, "We've got a chance."
"It's a characteristic of that team," Prado said. "Every team has something to relate to. To the Braves, it's the chop."
In Marlins history, Dan Uggla has the most home runs (12), RBIs (36) and the best batting average (.354) at Turner Field. Uggla was with the Marlins from 2006-10.
Pitching-wise, Ricky Nolasco has the most wins, but his overall record at Turner Field was 4-5 with a 5.07 ERA from 2006-13.
For Prado, Wednesday was sentimental for a several reasons.
"I've got a lot of good memories," he said. "It's hard to believe they're moving to a new stadium. They've got so much history in this stadium. It's always sad to see, a stadium, to tear it down. That's it. The only thing you're going to have is just memories."
Joe Frisaro has covered the Marlins for MLB.com since 2002. He writes a blog, called The Fish Pond. Follow him on Twitter @JoeFrisaro and listen to his podcast. This story was not subject to the approval of Major League Baseball or its clubs.