Indians' magic number at 12 with win over Sox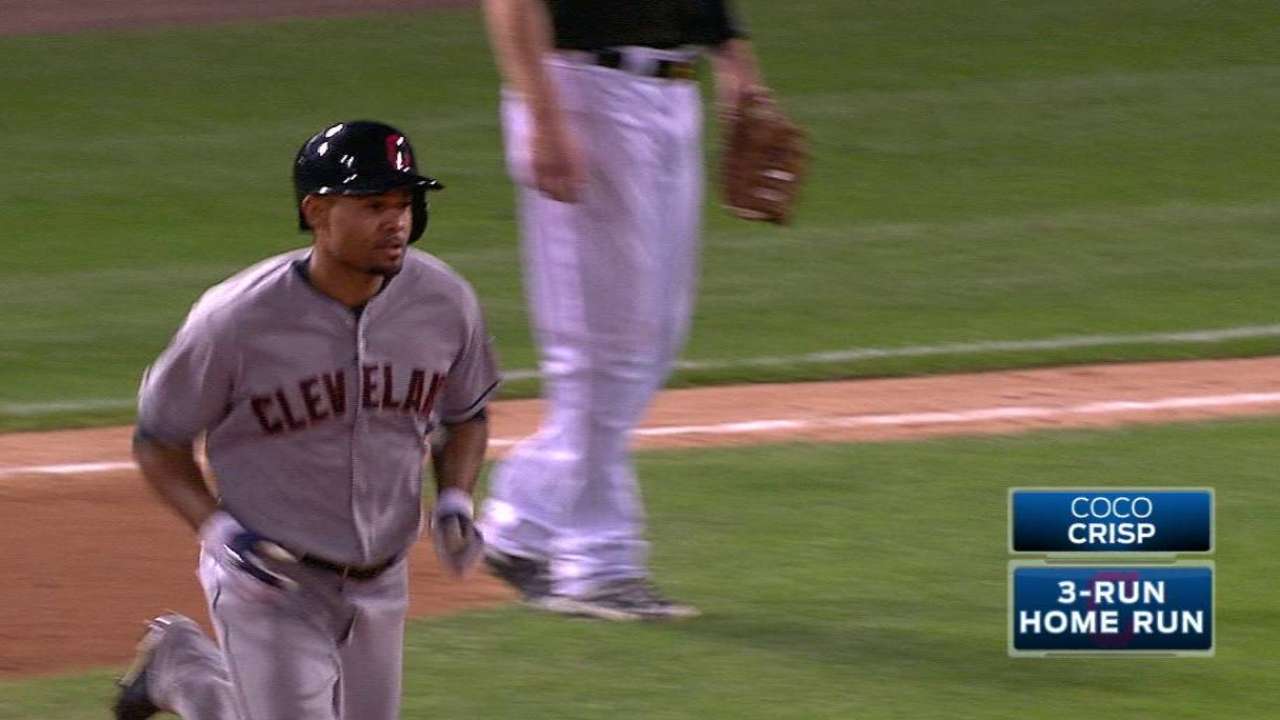 CHICAGO -- Josh Tomlin's first start since Aug. 30 ended up being an important one for the American League Central-leading Indians.
After posting an 11.48 ERA over six starts in August, the right-hander allowed one run in five innings Wednesday night at U.S. Cellular Field, snapping a five-game losing streak during a 6-1 victory over the White Sox. The Indians' first win in this four-game set reduced their magic number to 12 to clinch the division and maintained their six-game lead over the Tigers, who rallied to beat the Twins, 9-6.
"It felt really good to contribute and help this team win a game," Tomlin said. "To be able to go out there and do my part and contribute was pretty big for me."
Tomlin had made one relief appearance this month but struck out two and didn't issue a walk before giving way to the bullpen after throwing only 72 pitches. Dan Otero, Bryan Shaw, Andrew Miller and Cody Allen closed out the victory.
"He was good," said White Sox manager Robin Ventura of Tomlin, who improved to 4-2 with a 3.08 ERA lifetime against the White Sox. "He's always a guy who is going to mix it up on you, change it up. He'll never overpower you, but he'll cut it. His changeup was pretty good tonight."
Cleveland trailed, 1-0, before Jose Ramirez's double in the fourth off of Carlos Rodon scored Mike Napoli and Carlos Santana, who walked with one out.. Brandon Guyer singled home Ramirez to finish off the three-run inning. Coco Crisp's three-run homer in the sixth, following singles from Ramirez and Guyer, completed the Indians' scoring.
Rodon allowed six runs on nine hits over five-plus innings, striking out five and walking three. It was the southpaw's first loss since July 31, ending a stretch of five straight winning decisions.
"I mean, the whole game it felt great. I threw a lot of strikes. Pretty much the whole game I guess you could say," Rodon said. "Just didn't work out today. It wasn't my best, although I felt real good. That's just a good ballclub."
MOMENTS THAT MATTERED
Rodon avoids trouble: Cleveland put runners on first and third with nobody out in the fifth on a Rajai Davis double and Jason Kipnis single, but Rodon was ready for the challenge -- even against the heart of the Indians order. Rodon fired a 96 mph fastball by Francisco Lindor for a swinging strikeout and out No. 1, jammed Napoli on an infield spinner to second baseman Tyler Saladino, who held the runners at second and third before easily throwing out Napoli, and then retired Santana on a hard-hit line drive to center to escape the threat unscathed. Rodon also pitched around a first-and-second, nobody-out jam in the third.
"You know, I made some good pitches," Rodon said. "[Catcher] Omar [Narvaez] made some good calls and it worked out there. Wish we could have kept on going, but sometimes it doesn't happen."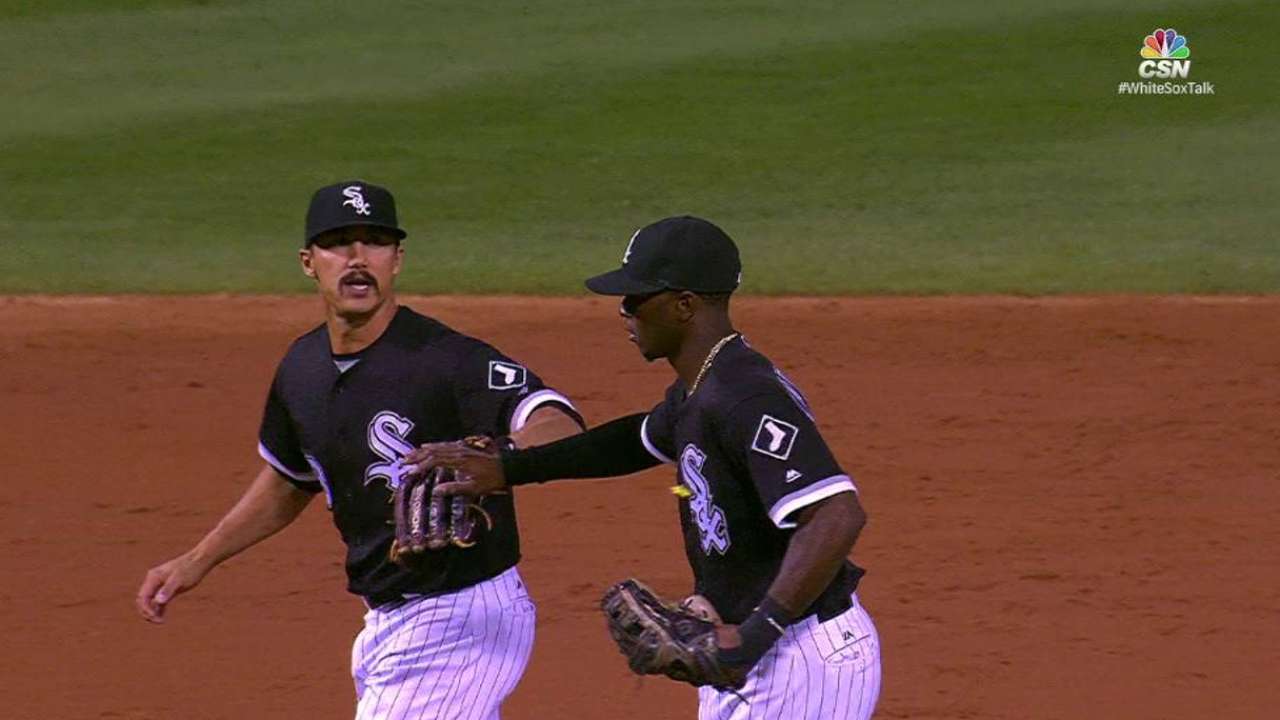 Clutch performer: The Indians struggled to produce big hits in the first two games of the series, but Ramirez finally broke through in the fourth inning with a two-run triple. After Napoli and Santana walked with one out, Ramirez stroked a liner in the right-center gap that rolled to the wall as both runners came around to score. Guyer followed with a single to left to drive in Ramirez and give Cleveland a 3-1 lead.
"He has done it time and time again," Indians manager Terry Francona said of Ramirez. "Right-handed, left-handed, and he gets rewarded because he hits the ball all over the ballpark -- and he doesn't strike out. And on top of that he can run, so instead of a double, it's a triple."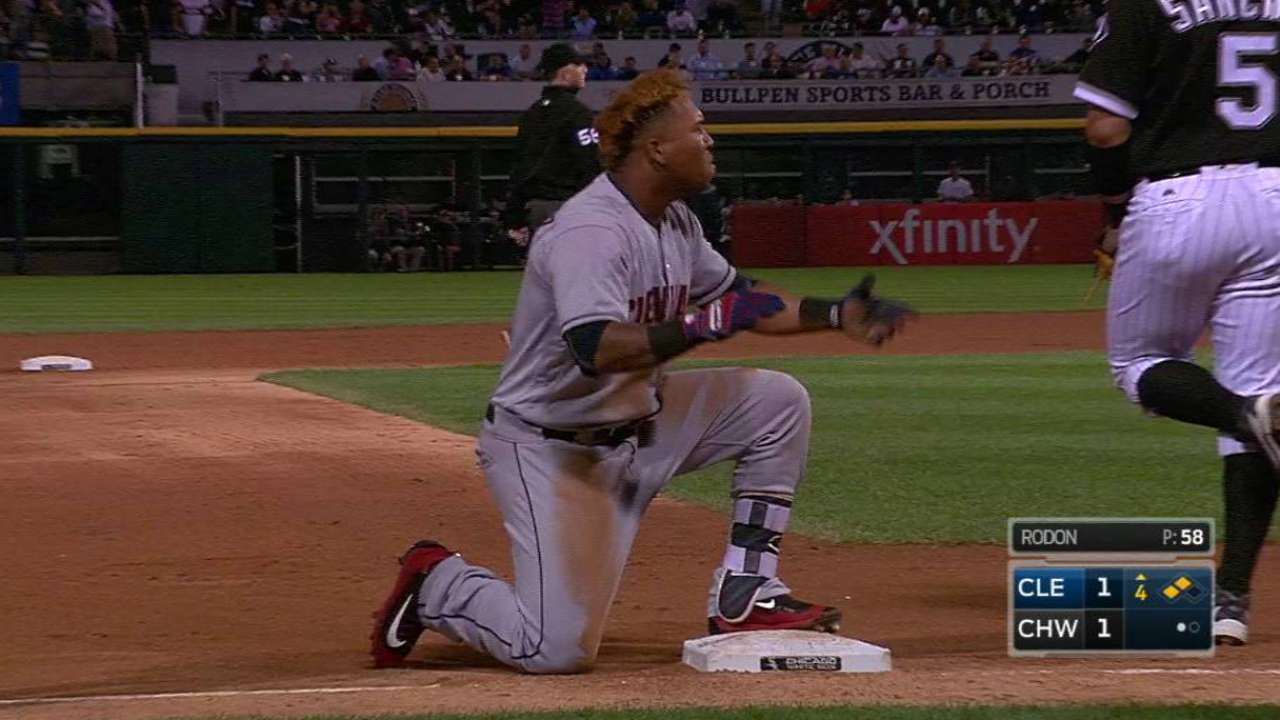 Crisp-y treat: After the Indians failed to score in the fifth despite putting runners on first and third with none out, Crisp provided tack-on runs in the sixth with a three-run blast to left (following singles by Ramirez and Guyer) that stretched the lead to 6-1. More >
Sleight of hand: Todd Frazier has turned in quite a few web gems over at third base this season, but his solid defensive effort came at first on Wednesday. Kipnis hit a one-out grounder off of first base in the sixth, with Frazier moving toward the line. Frazier managed to stop his momentum, block the ball in the air with his bare hand and then flip to Blake Smith covering for the out. The Indians already had scored three in the frame and had Davis on second at the time of the play. Adam Eaton, who tripled home the lone White Sox run, added an outstanding running catch in center leading off the eighth to take extra bases away from Abraham Almonte.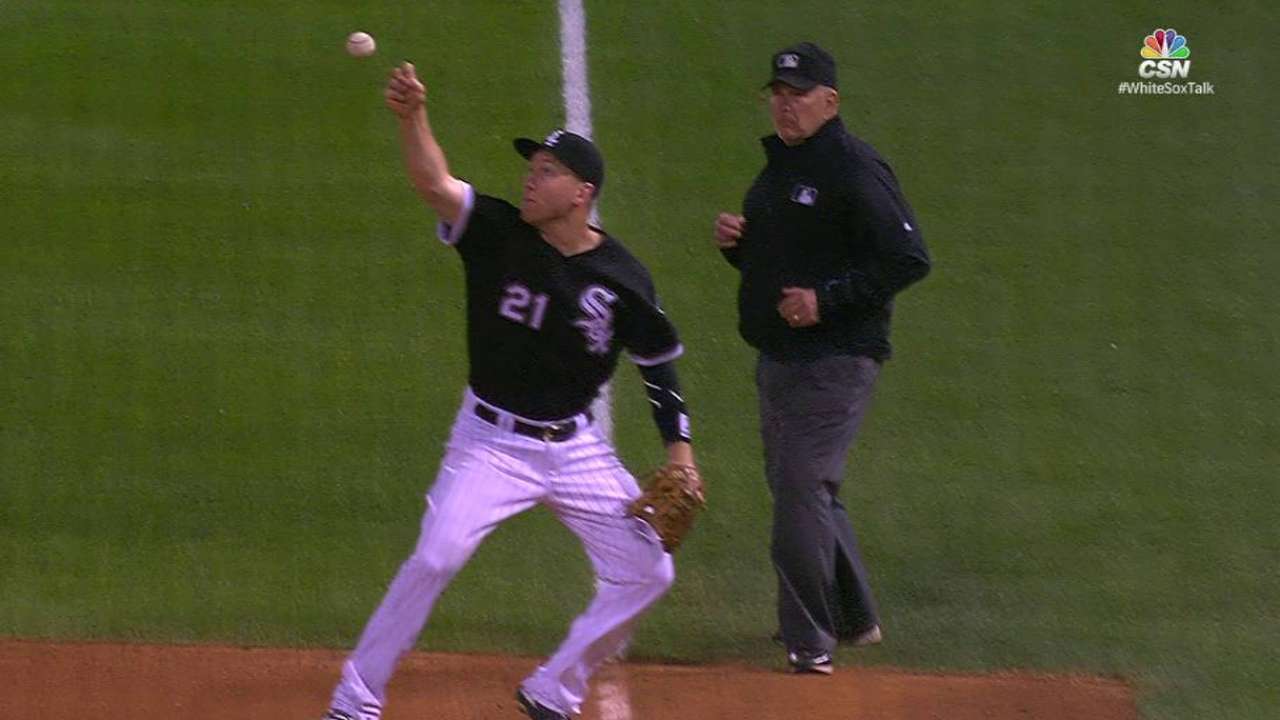 QUOTABLE
"Losing is never great. This one is going to stick with me for a while until I face them again. I'm looking forward to that chance for sure. But live to fight another day, right? Move on. Short memory in this game. That's the plan. I get home and just relax. It happens." -- Rodon
"Once we got through five, I think both [pitching Mickey Callaway] and I thought that was plenty because he has to come back in six days, so you want to make sure you don't go too far tonight." -- Francona on taking out Tomlin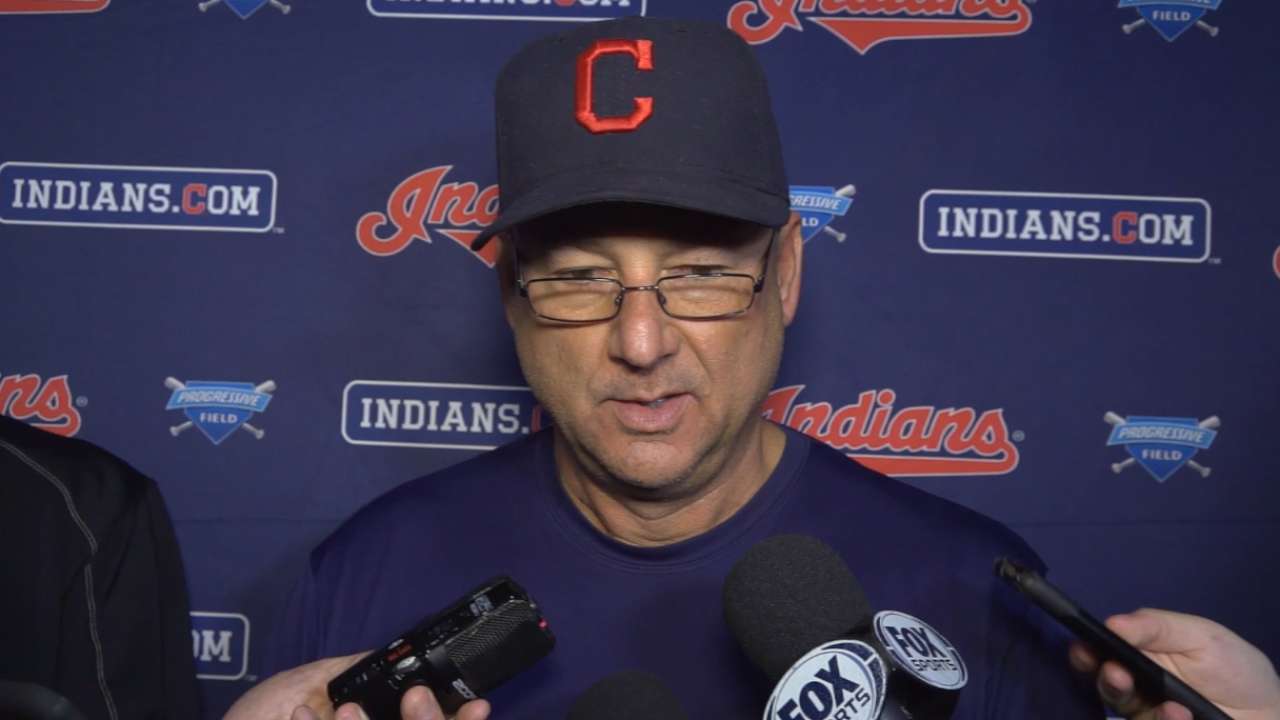 CENTRAL LOSS
The White Sox dropped to 5-10 with their Wednesday loss to the Indians. With four games left against the AL Central leaders, the White Sox are guaranteed to lose every season series within the division except against Minnesota. The White Sox finished 7-12 against Detroit, stand at 4-11 against the Royals with four to play and hold an 11-5 edge on the Twins with three remaining.
WHAT'S NEXT
Indians: Right-hander Mike Clevinger (2-2, 5.01 ERA) makes his second straight start in the 2:10 ET series finale.Clevinger allowed one run on four hits in four innings to get a no-decision in his last start at Minnesota on Thursday.
White Sox: James Shields makes his 30th start of the season and 19th with the White Sox in Thursday afternoon's homestand finale with a first pitch of 1:10 p.m. CT. Shields leads the Majors with 37 home runs allowed, and is 0-5 with a 10.75 ERA over his last eight starts.
Watch every out-of-market regular-season game live on MLB.TV.
Scott Merkin has covered the White Sox for MLB.com since 2003.

John Jackson is a contributor to MLB.com based in Chicago.

This story was not subject to the approval of Major League Baseball or its clubs.