Flashes of peak Kershaw in 2nd post-DL start
Dodgers ace opens outing with 4 perfect innings, stays in after 2 delays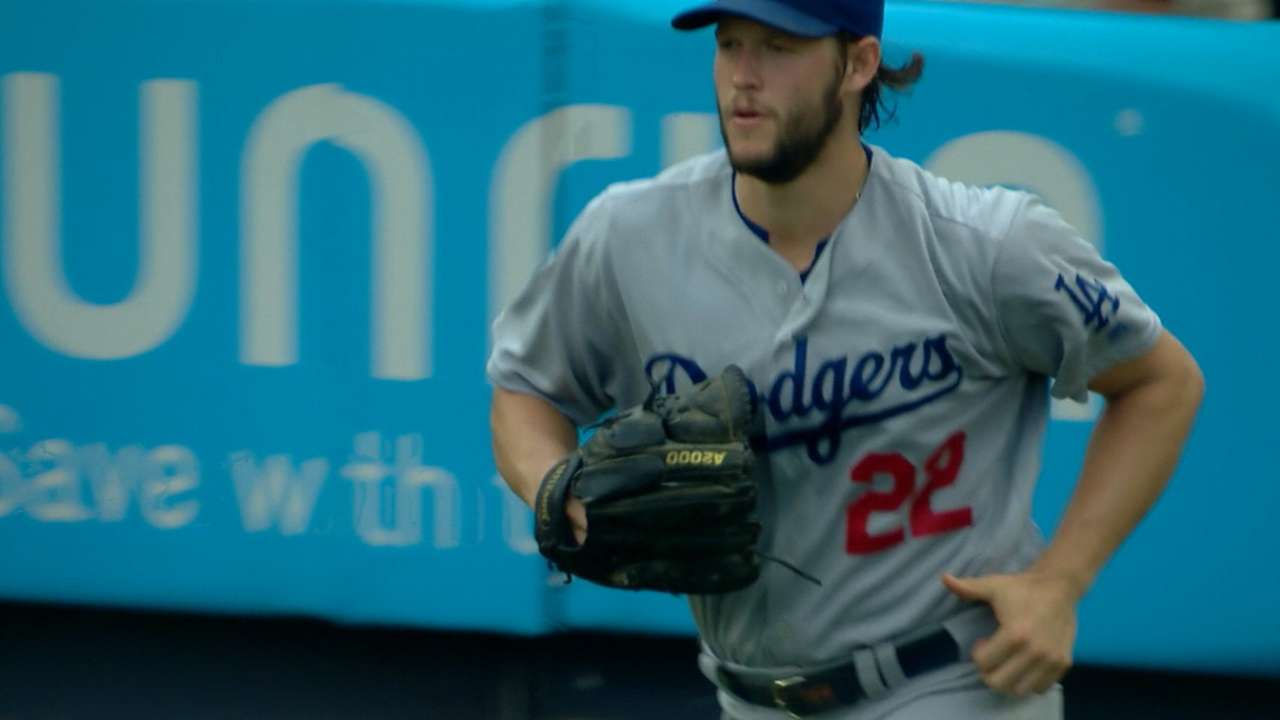 NEW YORK -- The vintage Clayton Kershaw seems to be on the way for the Dodgers.
The ace left-hander got more trouble from Mother Nature on Wednesday than he did from the Yankees as he carved up the New York batting order through five scoreless, one-hit innings of a 2-0 Dodgers win at Yankee Stadium. If anything, the big obstacles were a pair of rain delays -- in the middle of the fourth and fifth innings -- that totaled 60 minutes. Kershaw, in only his second game back since returning from a long stint on the disabled list with a herniated disk in his lower back, came back after each.
He had retired all nine batters he'd faced and was coming out for the fourth when the first stoppage of play occurred. It lasted only 12 minutes, and he retired the Yanks in order in the fourth to take a perfect game into the fifth. During the second interruption -- which lasted 48 minutes -- Kershaw threw a simulated 16-pitch inning in a tunnel beneath the outfield stands. It kept him loose enough to go out and try to reach the approximate goal of 80 pitches for the day. Manager Dave Roberts said that if the delay had gone another 10 minutes, he would not have sent Kershaw back out.
Kershaw lost the perfect game on the first at-bat in the fifth as Starlin Castro reached on an error by third baseman Justin Turner. Chase Headley followed with a single to end the no-hitter.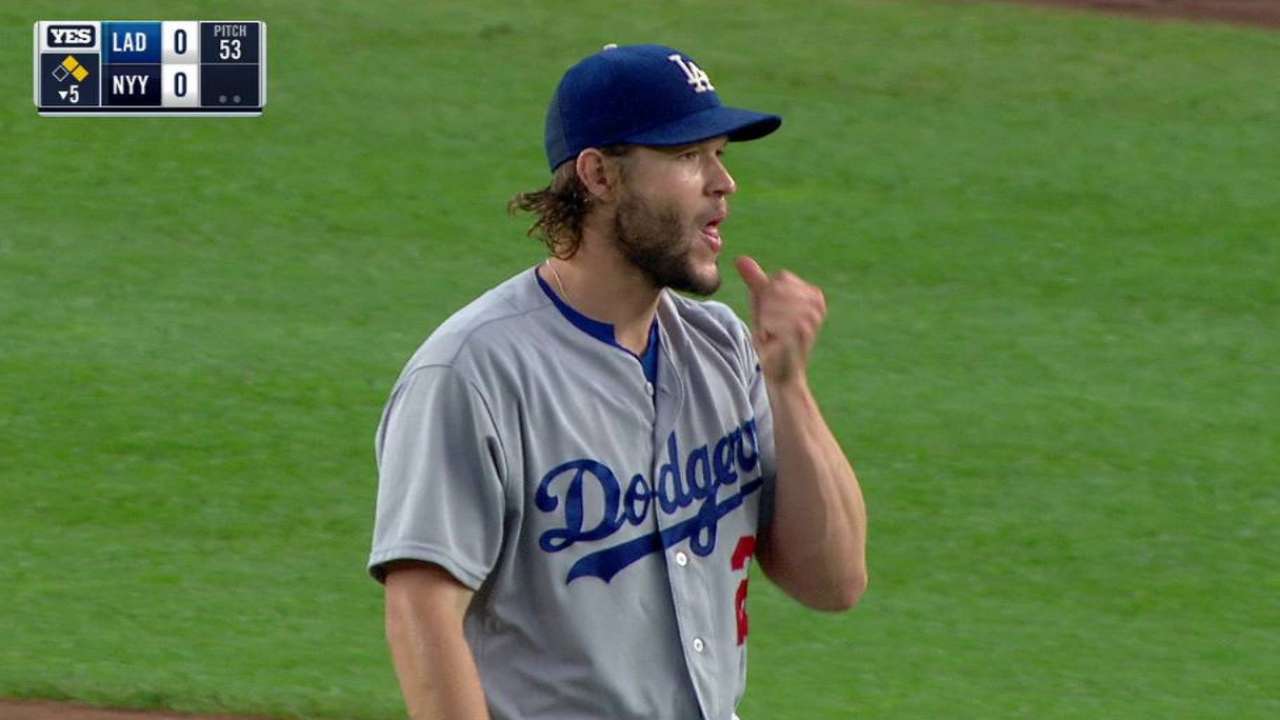 It meant Roberts wasn't going to have to face another gut-wrenching decision on a pitcher making a bid at history. On Saturday, he pulled Rich Hill after seven perfect innings to be cautious of a blister condition that kept Hill off a mound for nearly six weeks.
"I think that under the circumstances, there wouldn't have been an opportunity to go much deeper, but it did happen to cross my mind," Roberts said.
"Individually for Clayton, I don't think it could have worked out any better," Roberts added. "The fastball was good. The velocity was really plus. And he got the strikeout when he needed to. To see Clayton go out there and do what he does -- it was a huge lift for us."
Kershaw might have looked his best in getting out of that fifth inning. With two runners in scoring position, he whiffed Rob Refsnyder and Austin Romine to escape and showed some emotion after getting the final swing and miss.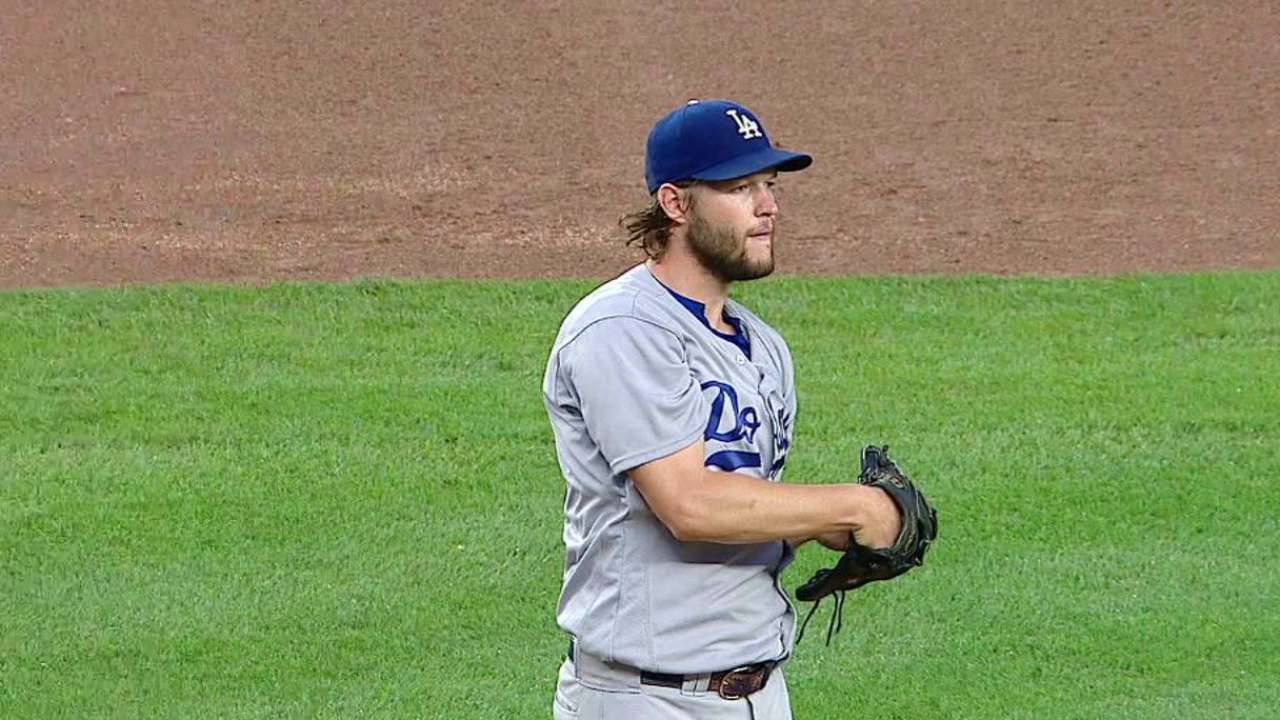 "It was just an important at-bat. It was zero-zero still and I'm trying to keep our team in the game. I was throwing out of the stretch there for the first time all game and I was leaving a lot of stuff up. To be able to finally throw a really good slider? It was fun."
Kershaw was removed after the fifth, having allowed one hit and no walks with five strikeouts. He threw 64 pitches.
"His fastball seemed to have more life than in Miami and he spotted it good. The curve, he was able to get it down," catcher Yasmani Grandal said. "Miami was, 'Let's see what we've got?' This was more, 'Ready to go."
Roberts sounds like he will remain cautious but said "as the usage, the intensity, the length of his starts ramps up, we're going to see a better Clayton each time. And the concern for his recovery will be a little less."
Roger Rubin is a contributor to MLB.com based in New York and covered the Dodgers on Wednesday. This story was not subject to the approval of Major League Baseball or its clubs.