Rangers set up postseason rotation
Hamels will be first up, followed by Darvish, Lewis and Perez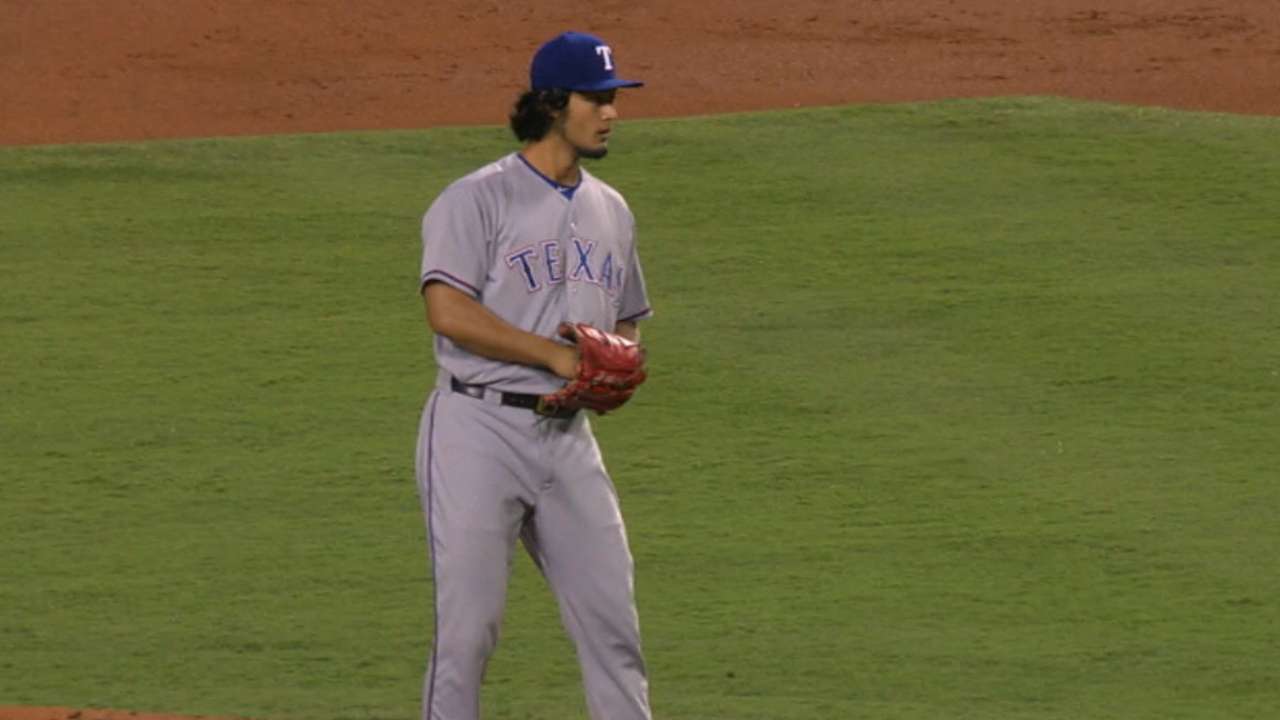 HOUSTON -- The Rangers have their postseason rotation lined up the way they want it, and they did that by pushing Yu Darvish back.
Darvish was supposed to pitch on Wednesday against the Astros but will instead go on Saturday against the Athletics. That puts him behind Cole Hamels, who is starting on Friday, and ahead of Colby Lewis, who goes on Sunday.
"We wanted to be able to position those three together," manager Jeff Banister said.
Martin Perez will follow that trio by pitching on Monday against the Angels. All four pitchers will have a maximum of three starts before the start of the postseason.
There is a reason the Rangers want Hamels in front of everybody else -- the No. 1 starter going into a best-of-five Division Series is the one who can start twice.
"I got that one," Banister said.
The Rangers had Derek Holland in the bullpen as a long reliever on Monday or Tuesday. That could be his role in the playoffs, but the Rangers didn't use him on either day, so they got the start on Wednesday.
Scheppers could get significant role: Tanner Scheppers earned his first save since Aug. 6, 2013, on Tuesday, when he closed out the Rangers' 3-2 victory over the Astros by setting down the side in order in the ninth.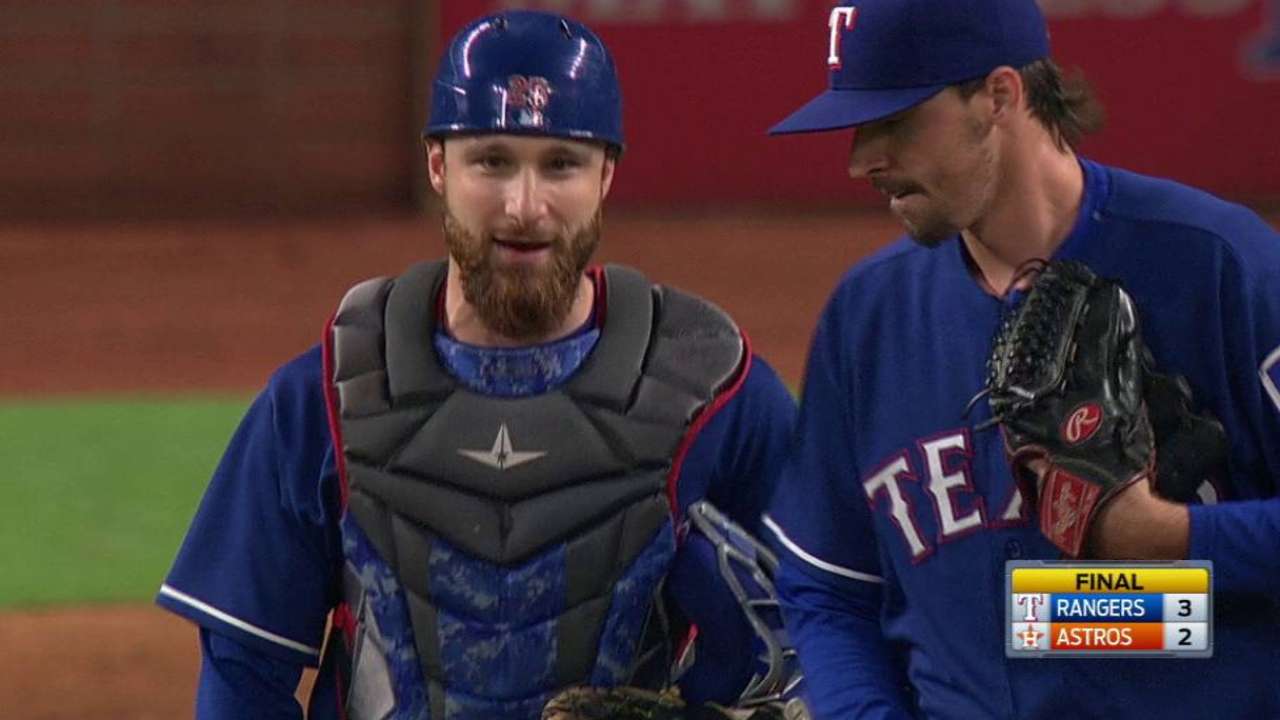 He may have earned something else as well.
Scheppers missed the first five months of the season while recovering from surgery on his left knee and was added to the September roster as an extra reliever. But he is becoming more than that.
"Scheppers has the opportunity to play a big role if he steps up," Banister said.
Scheppers has thrown 3 1/3 scoreless innings over four appearances since his return, and his fastball has averaged 95.5 mph. That's in the same range as Keone Kela (95.7), Sam Dyson (95.3) and Jake Diekman (95.2). Matt Bush averages 97 mph, the fastest on the team.
"I feel like I'm still alive and pitching," Scheppers said. "I worked really hard this year to get where I'm at right now, and I just want to be a part of [something] special at this point."
Gomez dodges lime: Carlos Gomez caught the final out on Tuesday night, snagging a line drive off the bat of Jose Altuve that was hit right at him.
But the baseball wasn't the only thing coming right at him. A fan threw a lime at him, and though it whizzed close to his head just before the baseball arrived, he was able to make the catch.
"I thought it was a golf ball," Gomez said. "It was a lime. They were screaming at me the whole game with offensive language, but I don't care. But when you try to injure me, I don't like it."
After Gomez made the catch, somebody threw a baseball at him as well, but Gomez was on his way to celebrate the victory while stadium security apprehended the fan who threw the lime.
Rangers beat
• Shin-Soo Choo is scheduled to have an X-ray on his fractured left forearm when the Rangers return to Arlington. Choo had surgery on Aug. 17 and is hoping to get clearance to increase his baseball activity. He has been swinging a fungo but is hoping to use a regular bat and start hitting off a tee.
• Class A High Desert defeated Lancaster, 7-2, on Tuesday to advance to the California League finals. The best-of-five series against Visalia opens on Thursday.
• Adrian Beltre, 38, and Rougned Odor, 22, have each hit 30 home runs this season. The Rangers are the fourth team in Major League history to have two players with 30-plus home runs when one is 37 or older and another is 22 and younger. The others are the 1998 Braves with Andruw Jones (21) and Andres Galarraga (37), the 1986 Athletics with Jose Canseco (21) and Dave Kingman (37), and the 1971 Braves with Hank Aaron (37) and Earl Williams (22).
• Reliever Alex Claudio earned the win on Tuesday night, giving the Rangers a club-record 36 relief wins this season. The Rangers lead the Major Leagues in relief wins and saves (52).
T.R. Sullivan has covered the Rangers since 1989, and for MLB.com since 2006. Follow him on Twitter @Sullivan_Ranger and listen to his podcast. This story was not subject to the approval of Major League Baseball or its clubs.