Castellanos takes step with AB in sim game
Tigers third baseman still has no timetable for his return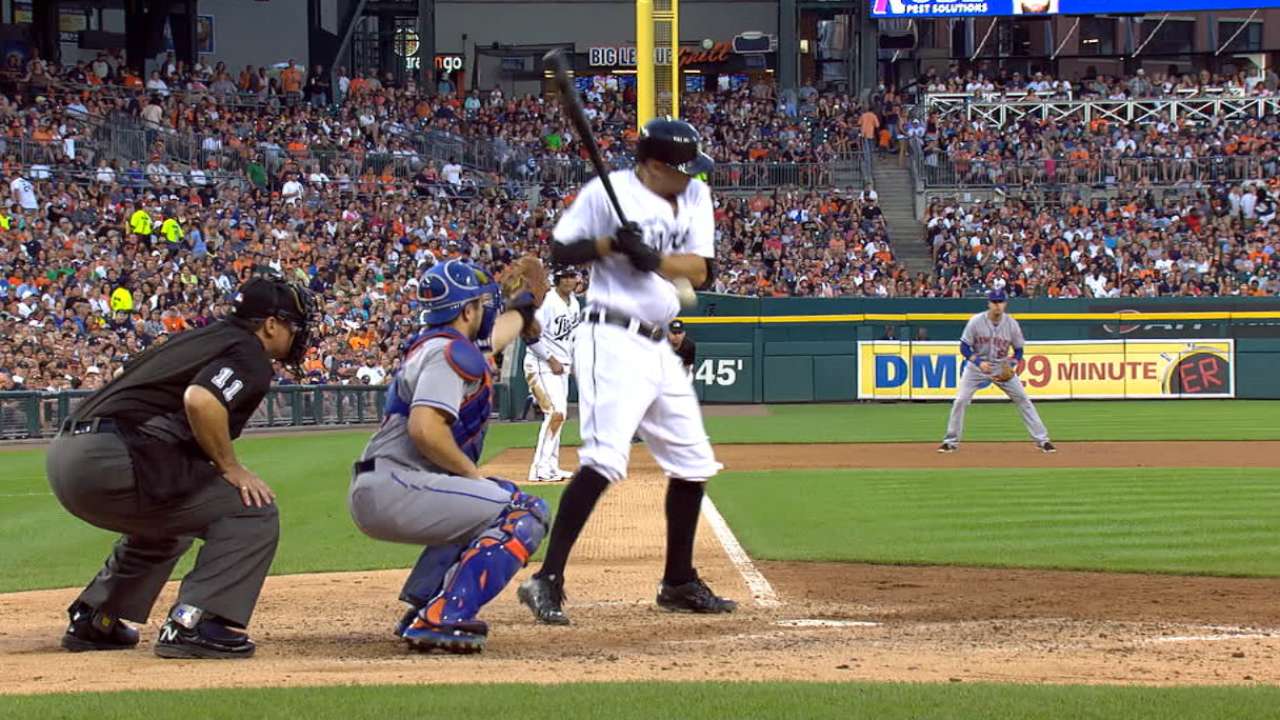 DETROIT -- Tigers third baseman Nick Castellanos took another step toward a return to the field on Wednesday at Comerica Park, though it was a small one. Castellanos, who is nursing a broken bone in his left hand, took one at-bat in Jordan Zimmermann's simulated game.
Castellanos saw over-the-top pitching in live batting practice for the first time in more than five weeks on Monday. At the time, Castellanos said he felt pain while swinging, but overall he was happy with the session.
After taking batting practice in the cages on Tuesday, Castellanos took the next step with full-intensity pitching in the simulated game, but pulled himself from after one at-bat -- a groundout to second base.
Zimmermann threw a couple of fastballs on the inside corner to Castellanos before inducing the groundout with an outside slider.
"The velocity and intensity, I guess with pitches moving around, I'm not there yet, not ready to manipulate those swings and try to hit those kinds of pitches yet," Castellanos said. "But over-the-top felt better than it did the first day of regular batting practice, so progress."
Castellanos was disappointed that he didn't make as much progress as he wanted on Wednesday, but he said he knows it is part of the process. Castellanos said last week he was aiming to be back by Sunday, which would mark the back-end of the four-to-six week timetable that was set when he initially injured his hand, though that looks to be out of the question now.
Outfielder J.D. Martinez fractured his elbow in June and had a six-week recovery process before he was sent to Triple-A Toledo for a rehab assignment. With Toledo's season in the books, Castellanos does not have that as an option.
"When J.D. got hurt, they gave me the same timetable that he had, and after six weeks for J.D., J.D. went and had nine days of rehab," Castellanos said. "I don't have that luxury that he had, so we're going to try to do everything in-house. How long that takes, it's all going to depend on how my hand feels."
Castellanos said if his hand feels all right on Thursday, he may be able to take live batting practice again ahead of the team's series finale against the Twins and might begin thinking about scheduling some more simulated games during the weekend series at Cleveland.
While Castellanos was hoping to get more out of the simulated game on Wednesday, manager Brad Ausmus was not surprised that he was only able to take one at-bat.
"I didn't think he'd be able to because it was still bothering him a little bit in soft toss and regular BP, so it didn't shock me that he felt it with the velocity," Ausmus said.
Ausmus said the Tigers have not come to a point where they are doubting Castellanos will be able to return with just 17 games left in the regular season after Wednesday.
"I think we're getting closer for sure, but there's no reason to stop progressing him until we get out of time," Ausmus said.
Kyle Beery is a reporter for MLB.com based in Detroit. This story was not subject to the approval of Major League Baseball or its clubs.