Bochy on Giants: 'They know what's at stake'
Despite second-half slump, offense has experience under pressure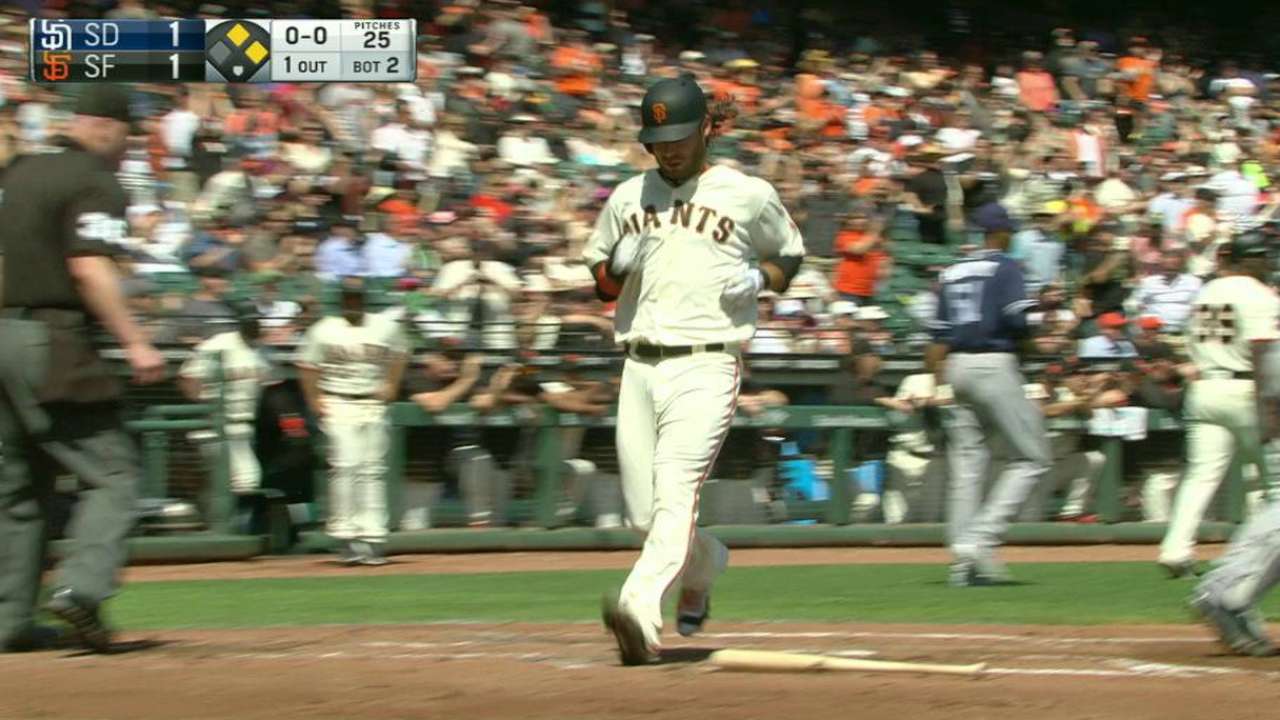 SAN FRANCISCO -- Hunter Pence smashed a home run in the first inning of the Giants' series opener versus the Cubs on Sept. 1, and it suddenly seemed like the club's luck might be turning as it entered the final full month of the season.
But in the two weeks since Pence's line drive into the stands at Wrigley Field, nothing has really changed for the Giants. September has instead remained a grind, encapsulated by the Padres completing a series sweep at AT&T Park with a 3-1 victory Wednesday.
The Giants are a Major League-worst 20-35 since the All-Star break and have now lost six consecutive games to the 62-84 Padres. Wednesday's loss also marked the fourth time the club has been swept since the All-Star break.
"This second half has been like something I've never seen before," said Madison Bumgarner, who allowed three earned runs in 6 2/3 innings. "A lot of guys who have been around for a while will say the same thing."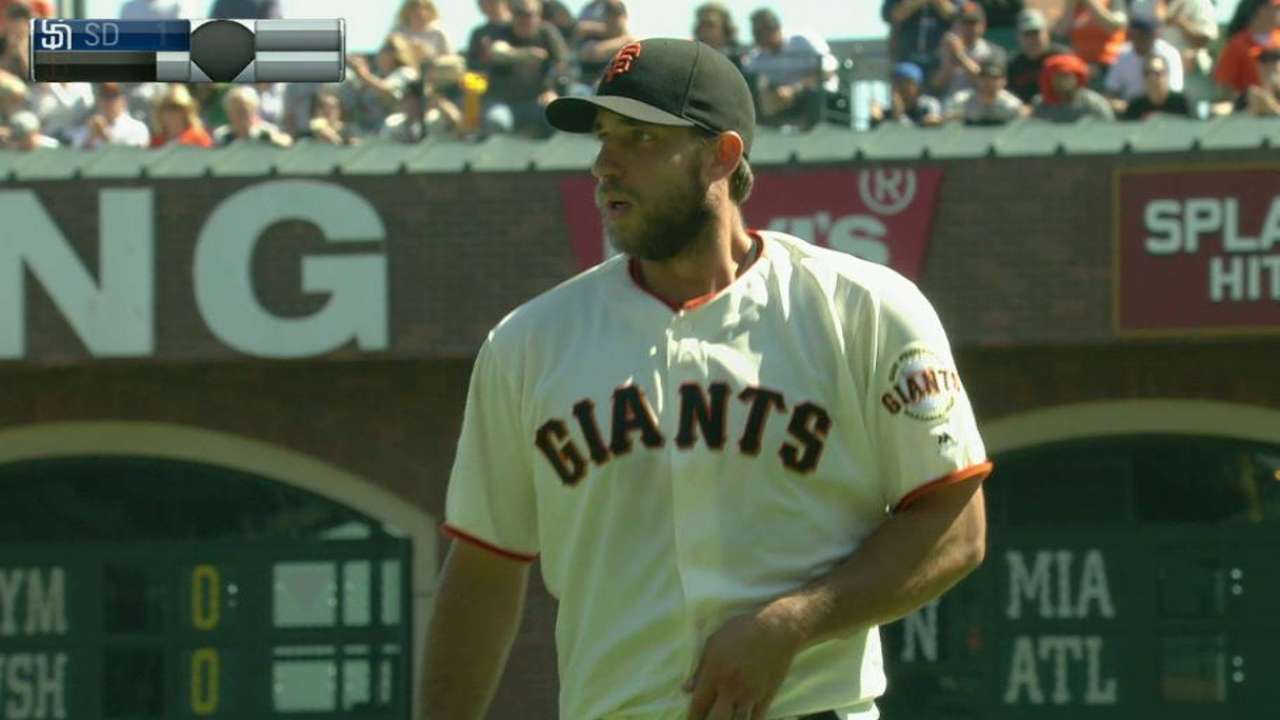 A night after the Giants' bullpen blew its sixth save of the the month, San Francisco's offense proved to be ineffective, manufacturing a measly four singles through nine innings. The club went a combined 3-for-21 with runners in scoring position in its series against San Diego. In addition, after averaging 13 hits per game this past weekend in Arizona, the Giants hit .216 and scored a combined five runs in their first three contests of this seven-game homestand.
They also supported Bumgarner with two runs or fewer for the 11th time this season, and the left-hander received the loss because of it. San Francisco is just 5-7 when its ace starts since the All-Star break.
"You like to think we're coming out of this [after having] some success in Arizona," said Giants manager Bruce Bochy. "Today we just couldn't generate much."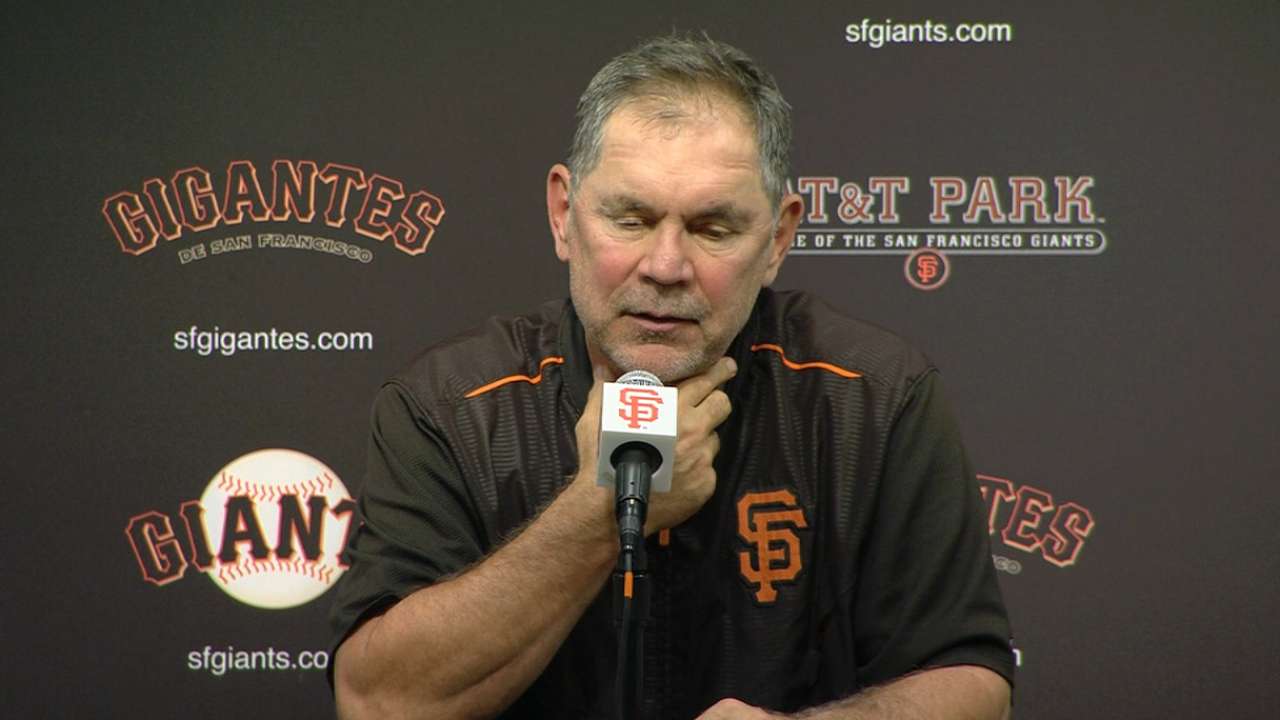 The Giants struggled to simply creating scoring opportunities Wednesday. Batters came to the plate just four times with a runner in scoring position. And Denard Span getting picked off at first base to end the eighth inning exemplified the type of afternoon it was.
Span was adamant after the game that Padres right-hander Ryan Buchter balked.
"I know what I saw," said Span, who has just three hits in his last 47 at-bats. "You never know what Angel Pagan could've done there."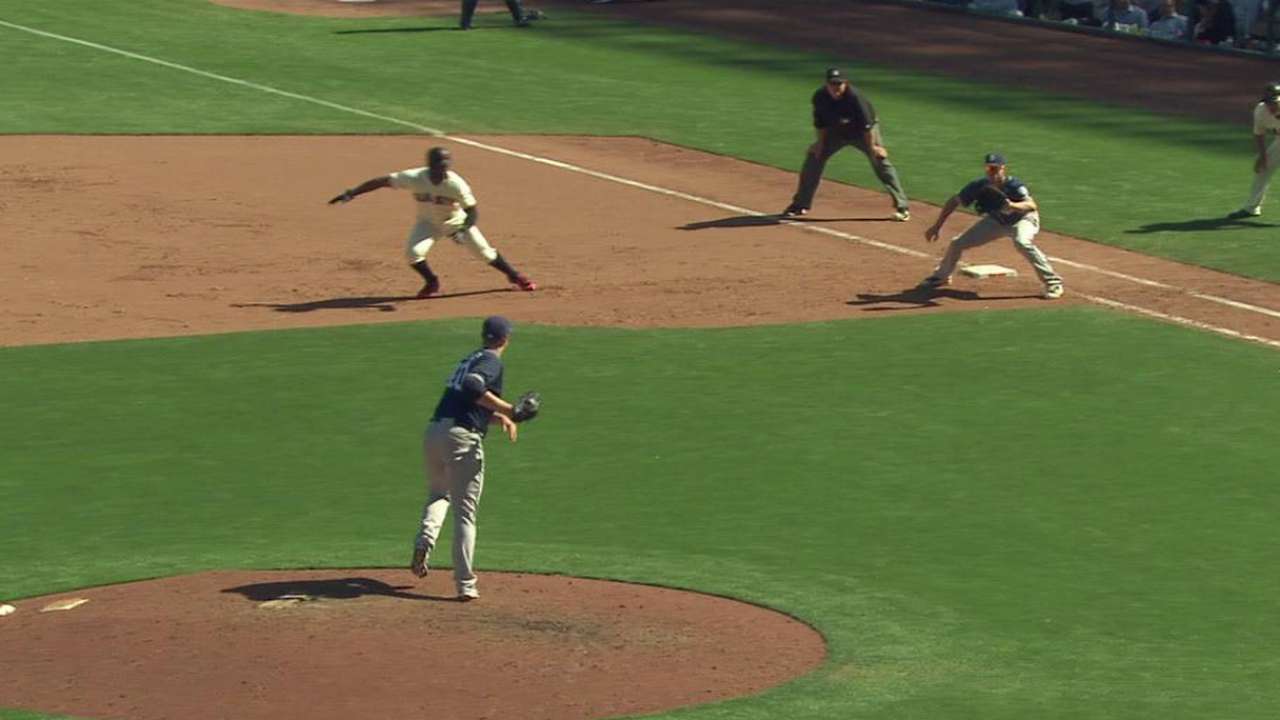 But, as the first-year Giant admitted, that's "just how our second half has been."
With a four-game set with the Cardinals beginning Thursday, San Francisco doesn't have any time to lose sleep over the results the past few days, though. The Giants enter the series just a game ahead of St. Louis in the National League Wild Card race.
"We're at that time, you got to grind it out and find a way to get through this. We we got to recover, this team has done a good job at that," Bochy said. "They know what's at stake. It's a tough group. They've played under pressure like no other team."
Said Span: "We just got to win."
Justin Wise is a reporter for MLB.com based in the Bay Area. This story was not subject to the approval of Major League Baseball or its clubs.