Sardinas surges, shows off everyday potential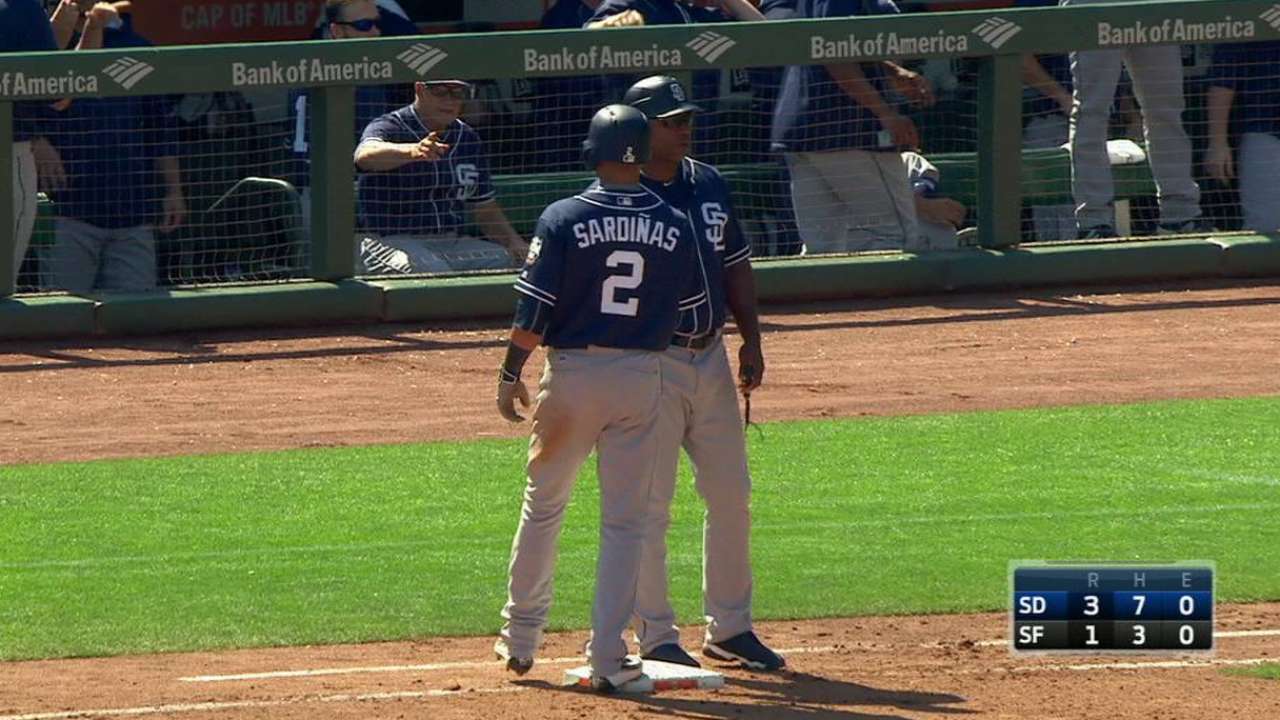 SAN FRANCISCO -- Over the past decade, it's become something of a fall tradition for the Padres to enter the offseason with a vacancy at shortstop.
They'll do so again this year -- but Luis Sardinas is already giving himself quite the head start in the race to fill it.
The 23-year-old shortstop continued his torrid stretch at the plate on Wednesday, as the Padres completed a three-game sweep of the Giants with a 3-1 victory. Sardinas notched three hits off ace Madison Bumgarner, and he played a role in all three Padres runs -- scoring twice and driving in another.
Acquired from Seattle for cash considerations last month, Sardinas is doing his best to cement himself a job in 2017.
"I [want] to show that I can play every day and be consistent, work hard and just stay focused on that," Sardinas said. "Knowing that the position is open, I'll use this last month, these last games to show them that I can do that."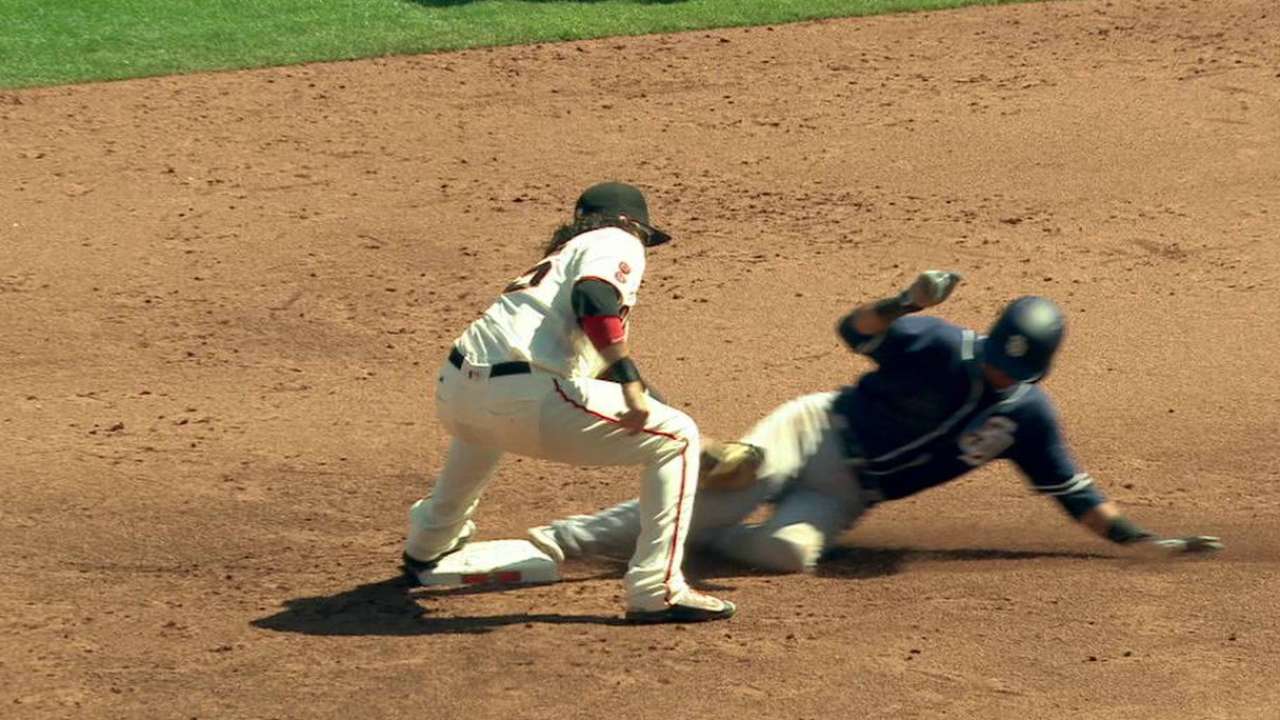 Since joining the Padres, Sardinas is batting .328/.400/.463 -- a far cry from his career .234/.281/.301 slash line. It's easy to say he's a candidate for regression. But his stint with the Padres also marks the first time in his career that Sardinas has received consistent playing time.
"I've always said that the only thing I was missing was having a chance to play every day," Sardinas said. "Not that the chance to play every day is the key -- I think going out there and having confidence in yourself is ultimately the key. But if you have a bad game, if something happens, knowing you're going to be in there tomorrow, I think that definitely helps the process."
Signed by Padres general manager A.J. Preller -- who was with the Rangers -- in 2009, Sardinas entered the '13 and '14 seasons as one of MLBPipeline's top 100 prospects. But he received just 115 at-bats with Texas before being dealt and 97 more in Milwaukee before being traded again.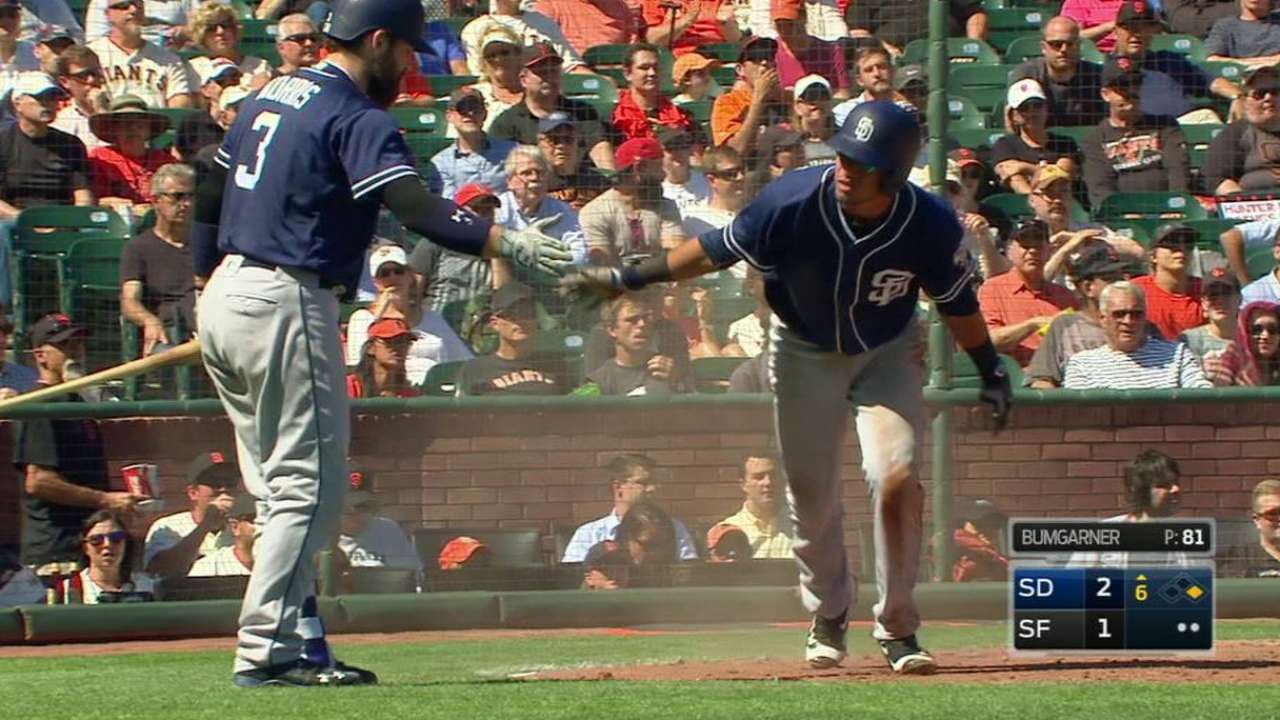 His poorest -- and also shortest -- stint came in Seattle, where he batted .181 in just 72 at-bats. Asked what's changed for Sardinas to allow for the recent success, Padres manager Andy Green was succinct.
"Comfort," said the Padres skipper. "Knowing you're going to get an opportunity -- he's never really been in that situation. He's always kind of been a bounce-around guy. That's tough for a lot of guys to handle. He also came back to an organization with A.J. Preller at the head of it. He invested in him, knew him when he was 16 years old, believed in him a long time ago."
To be fair, Sardinas isn't going to lock up shortstop-of-the-future status based on one strong month. The Padres have a bevy of young shortstop prospects in the system, including Jose Rondon, who debuted earlier this season. They also could be in the market for a veteran presence there.
Sardinas' defense is undoubtedly better than that of his predecessor, Alexei Ramirez. But there's still plenty to clean up. On offense, Green is impressed with Sardinas' ability to take walks, but that's a skill he'll need to display over a longer period of time.
In short, Green says, "he's got work to do."
"You want to be a shortstop in the Major Leagues for a long period of time, there's more work out in front of him," Green said. "But he's embracing that. He's playing hard, aggressive, every day. He's doing things on the bases, swinging the bat well. There's definitely still more work out for him."
AJ Cassavell covers the Padres for MLB.com. Follow him on Twitter @ajcassavell. This story was not subject to the approval of Major League Baseball or its clubs.