Dodgers to use Urias out of 'pen rest of the year
20-year-old has impressed in rotation during rookie season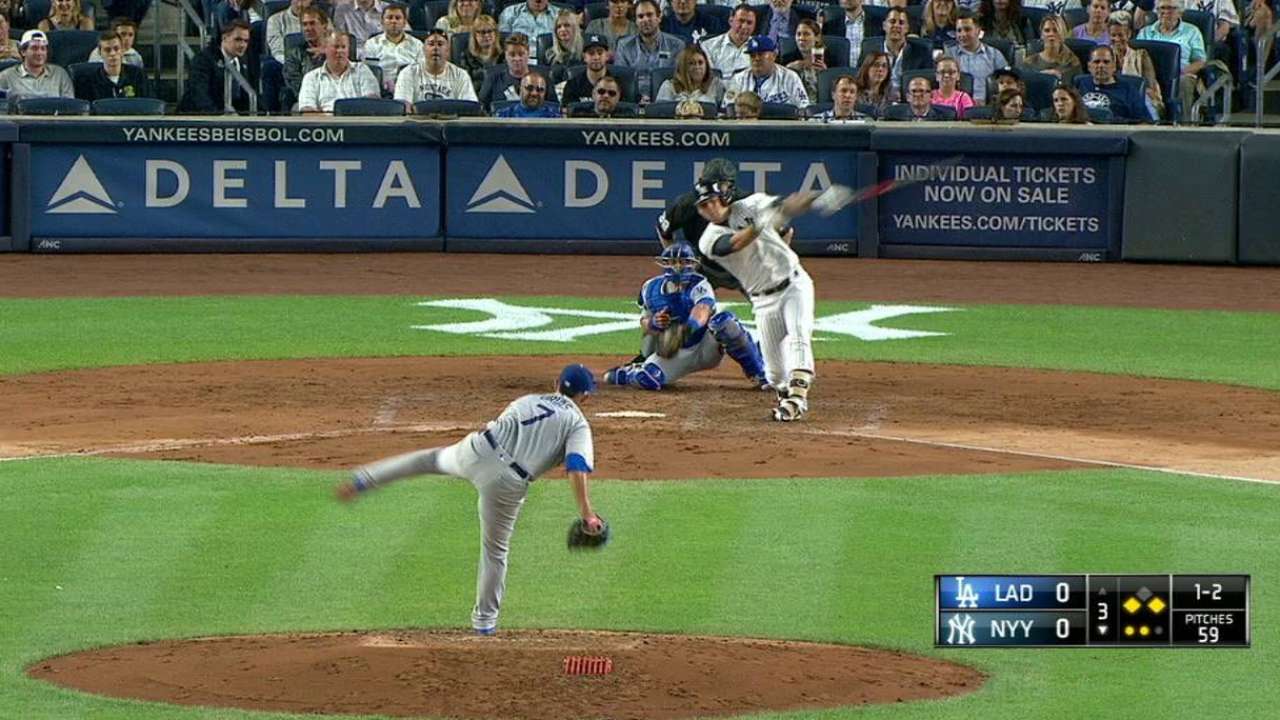 NEW YORK -- The Dodgers are moving rookie Julio Urias from the starting rotation to the bullpen for the final stretch of the season. It is a way for the club to protect his arm and keep him an option for the postseason.
Urias made what should be his last start in Tuesday night's 3-0 loss to the Yankees at Yankee Stadium, throwing 3 2/3 scoreless innings but allowing four hits and three walks while striking out two. The 20-year-old has thrown 117 innings between the Minors and Majors this season after throwing only 80 1/3 all of last season; teams typically increase the workload on a young arm gradually.
Manager Dave Roberts said that Urias will have several days off after throwing 78 pitches on Tuesday. He envisions that Urias will become a relief pitching option for the team starting on Sunday at Arizona.
Roberts sounds like he would consider using the left-hander in a variety of situations, from getting a single left-handed hitter out to throwing multiple innings.
"I think the great thing about Julio is he's pretty versatile in the sense it can be one batter [or] he can be a bridge guy and give us a couple innings, and I think it kind of depends on the situation," Roberts said. "For me, I feel comfortable with him in any situation. But we do have to put him in that situation as far as coming out of the 'pen and preparing. I think that's important. Anything beyond that, I trust him."
Urias is 5-2 with a 3.50 ERA this season and was arguably the Dodgers' best pitcher in August, going 4-0 with a 1.99 ERA in five games (three starts).
In parts of four Minor League seasons, Urias appeared in just nine games as a reliever. This season he has been in two big league games he did not start.
Asked if there are circumstances where he might reconsider the decision, Roberts said "obviously if something happens to one of the [rotation] guys as far as an injury, then something might change. But at this point I don't see it changing."
Roger Rubin is a contributor to MLB.com based in New York and covered the Dodgers on Wednesday. This story was not subject to the approval of Major League Baseball or its clubs.