Monster mash: Trumbo hits majestic homer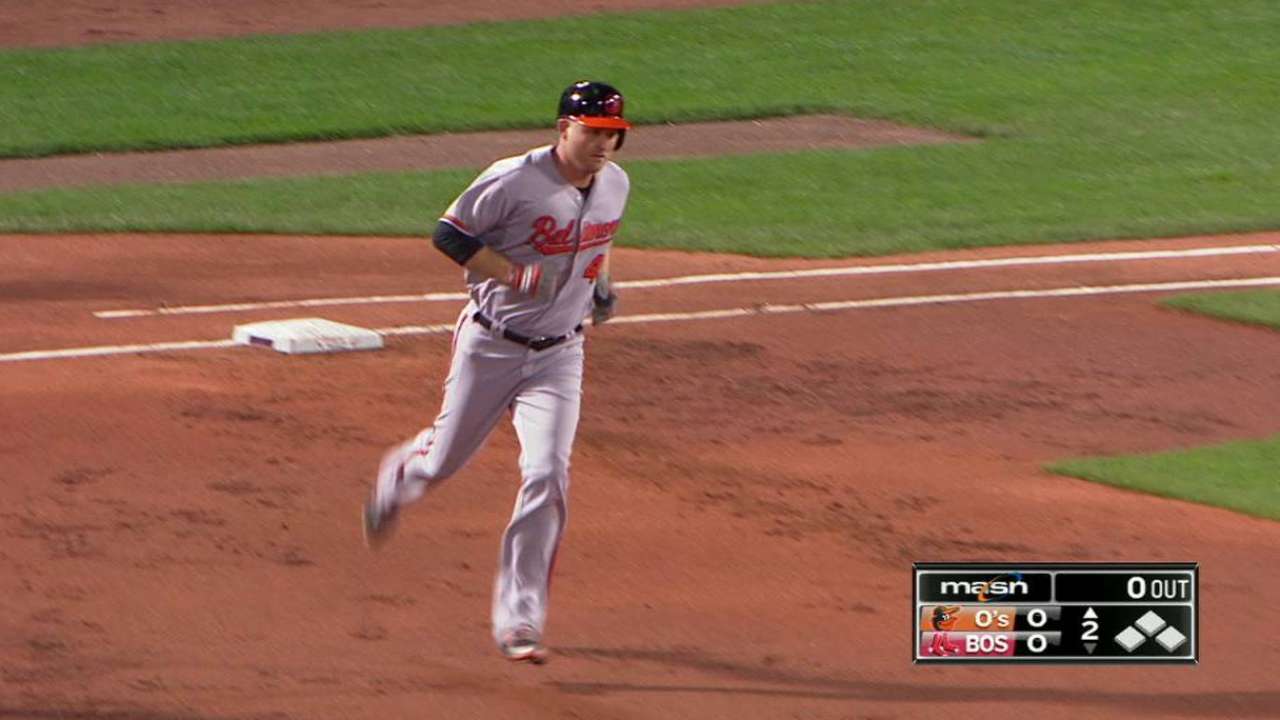 BOSTON -- Before 20-game winner Rick Porcello had a chance to settle into a rhythm, Mark Trumbo launched a majestic moonshot over the Green Monster and sailing out of Fenway Park in the second inning to give the Orioles a 1-0 win against the Red Sox on Wednesday.
After going 6-3 on a three-city, 10-day road trip, the O's are just one game back of the Sox in the tightly-bunched American League East and hold a one-game lead over the Blue Jays for the top AL Wild Card.
"I got him pretty early in the game," Trumbo said. "You can't really foresee what's going to happen later on, but obviously pretty fortunate to get something on the board early."
Trumbo's leadoff rocket, which came on an 84-mph slider from Porcello, was his 42nd homer of the season and third career blast against Porcello.
The designated hitter has three career homers at Fenway, and Wednesday's blast marked the 11th time Trumbo has led off an inning with a homer.
"To think you can make one run stand up in this ballpark against as good an offensive team they are is a real tribute to how well Kevin [Gausman] and Zach [Britton] pitched," Orioles manager Buck Showalter said.
The Orioles and Red Sox have a combined 49 home runs in their meetings this season, 26 for Boston and 23 for Baltimore.
Trumbo, Chris Davis, Manny Machado, J.J. Hardy, Nolan Reimold and Jonathan Schoop all homered during the three-game series.
"It's an outstanding road trip, no matter where you are in the season or in the standings," Trumbo said. "It's fairly well accepted that you try and split on the road if you can. With three-game series, that's not going to be the case. To win two out of three in each city is tremendous, and it's exactly what you need at this point in the year."
The Orioles head back to Camden Yards for 11 straight games, their final homestand of the year. This season, the O's are 45-25 on their home turf.
"It's going to be great," Trumbo said of the homestand. "I don't want to contradict what I said, but we play pretty well at home. Hopefully we can use that to our advantage. We're going to do the things that we did tonight. Can't lose any focus, because we still have a lot of work to do."
Deesha Thosar is a reporter for MLB.com based in Boston and covered the Orioles on Wednesday. This story was not subject to the approval of Major League Baseball or its clubs.