A's overtake Rays for lead in Wild Card race
A's overtake Rays for lead in Wild Card race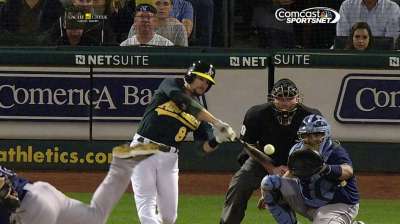 OAKLAND -- Kurt Suzuki had seen it on TV but had never experienced the moment for himself.
The origination of the A's home run tunnel -- a team-wide, London bridge-style celebration commissioned after an Oakland hitter goes yard -- came after Suzuki was sent to the Nationals last August.
Having rejoined the A's after a trade that brought him back to Oakland last week, he was finally eligible to partake in the fun for himself, and on Friday night against the Rays, his wish finally came true.
Suzuki's three-run home run in the fifth inning, combined with Jed Lowrie's go-ahead RBI double in the eighth inning, led to a 4-3 series-opening win for the A's at O.co Coliseum.
And the home run -- Suzuki's first for the A's in 405 days -- helped pull his new team within two games of the Rangers in the American League West and gain sole possession of the first Wild Card spot over Tampa Bay by a half-game.
"I think it's pretty neat," said Suzuki, who spent his first six big league seasons with the A's before he was dealt midseason last year. "They have fun here. These guys, shoot, we got guys making $120 million, but we have fun here and they play their heart out, and that's what makes it so special."
Suzuki figures to fit in with those types of shenanigans as seamlessly as he does behind the plate. Baseball aside, the backstop represents another positive cog in an already upbeat clubhouse considered to be one of the loosest in baseball.
Jarrod Parker credited Suzuki's ability to provide levity during visits to the mound Friday, particularly during a second-inning scuffle that lasted 30 pitches and led to the game's first run.
"He makes you laugh and smile, and that's kind of what I needed today," Parker said. "Going out there, I was probably not in the best of moods and all that kind of stuff today. You go out there and it's like your release.
"I had a blast just going out there and pitching. It's one of those things where you can channel all of that stuff and take it out there and just forget about it."
Parker contended that his disposition was solely because of the grind of pitching the day after an East Coast-West Coast trip late in a grueling season. Still, he lasted into the eighth inning and ended up allowing three earned runs off six hits and three walks, with only three of his innings coming in 1-2-3 fashion.
Even more impressive, Parker improved his unbeaten streak to 17 games, tying the franchise record previously set by Catfish Hunter in 1973.
"Who? The guy with the number up in the rafters?" A's manager Bob Melvin deadpanned after the game. "It's pretty impressive. … Those are all things you kind of reflect on a little bit later. When you're doing your thing, all you're thinking about is your next outing and how you're going to prepare for it."
The A's had managed just two baserunners against Rays starter David Price before Alberto Callaspo reached second base on an error by Ben Zobrist to lead off the fifth -- the first error committed by the second baseman in a team-record 81 games.
Chris Young worked a walk in the following at-bat before Suzuki cleared the bases with his home run.
"It was my error, no question," Zobrist said. "I don't think he walks Chris Young unless the error is made. He was cruising up to that point. I threw it too hard and too high, and it got away from me."
Parker entered the eighth having thrown 100 pitches but allowed the first two batters to reach base. He was pulled for Ryan Cook, who gave up a bloop single to load the bases, a sacrifice fly to left field and then the tying run after a 10-pitch at-bat against James Loney, who hit a double just out of reach of Young's diving attempt in center field.
But instead of losing their second straight game in late-game fashion after failing to close out the sweep on Thursday against Detroit, the A's persevered and retook the lead with Lowrie's double, which extended his career-best hitting streak to 12 games and gave him 13 doubles this month for an A's record in August.
"You look at that last game and it's easy to say, well we should have won," Lowrie said. "But it was still a great series, a great road trip with a little hiccup at the end. Obviously by the results tonight, we didn't dwell on it."
Jeff Kirshman is an associate reporter for MLB.com. This story was not subject to the approval of Major League Baseball or its clubs.