Discomfort delays Soler's return to Class A Daytona
Discomfort delays Soler's return to Class A Daytona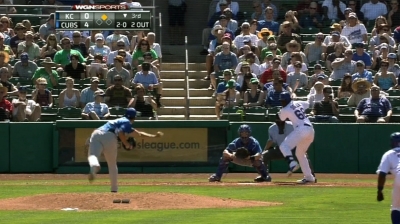 CHICAGO -- Cuban outfielder Jorge Soler, eligible to come off the disabled list Friday after being sidelined with a sore left shin, was still experiencing some discomfort, and he is not expected to return to the Class A Daytona lineup for a few more days.
"He was sore there, and that's why he didn't play in the [Florida State League] All-Star Game, and we thought it would be best to rest him for a few days, and hopefully it'll be another day or two," said Jason McLeod, vice president, scouting and player development for the Cubs.
Soler, ranked by MLB.com as the Cubs' No. 3 prospect, was batting .281 with eight home runs, 13 doubles and one triple in 55 games with Daytona.
Josh Vitters, who was rehabbing at the Cubs' complex in Mesa, Ariz., apparently had a setback, and there's no timetable for the third baseman's return, McLeod said. Vitters, 23, is on Triple-A Iowa's disabled list and was batting .270 in 19 games.
"He's battling some nicks and bruises," McLeod said of Vitters, the Cubs' No. 1 Draft pick in 2007. "It's been a tough year for him. He's a kid who, because of where he was picked in the Draft, you tend to think this guy is 25 years old or something, but he's still fairly young. Hopefully, he can salvage the second half and get out on the field."
Speaking of the First-Year Player Draft, McLeod said most of the college players selected this year will go to Class A Boise, rather than play in the Arizona Rookie League, which gets underway Friday.
Pierce Johnson, a first-round pick by the Cubs in the 2012 Draft, was recently promoted from Class A Kane County to Daytona, but McLeod said they'll give the right-hander a little break.
"He certainly earned [the promotion]," McLeod said of Johnson. "He's at about 70 innings right now, and looking at what we have planned for him for the year, we thought it would be a good challenge for him. We'll use the All-Star break and where we're slotting him to give him a little breather. He probably won't start another five, six days, which will give him, in essence, a skipped start."
Johnson was 5-5 with a 3.10 ERA in 13 starts for Kane County, striking out 74 over 69 2/3 innings.
McLeod also said Cuban pitcher Gerardo Concepcion is not likely to pitch this summer because of back problems. The target date, McLeod said, was the instructional league in the fall.
Carrie Muskat is a reporter for MLB.com. She writes a blog, Muskat Ramblings, and you can follow her on Twitter @CarrieMuskat. This story was not subject to the approval of Major League Baseball or its clubs.