Giants walk off on inside-the-park homer
Pagan delivers two-run shot in 10th inning after Rockies take lead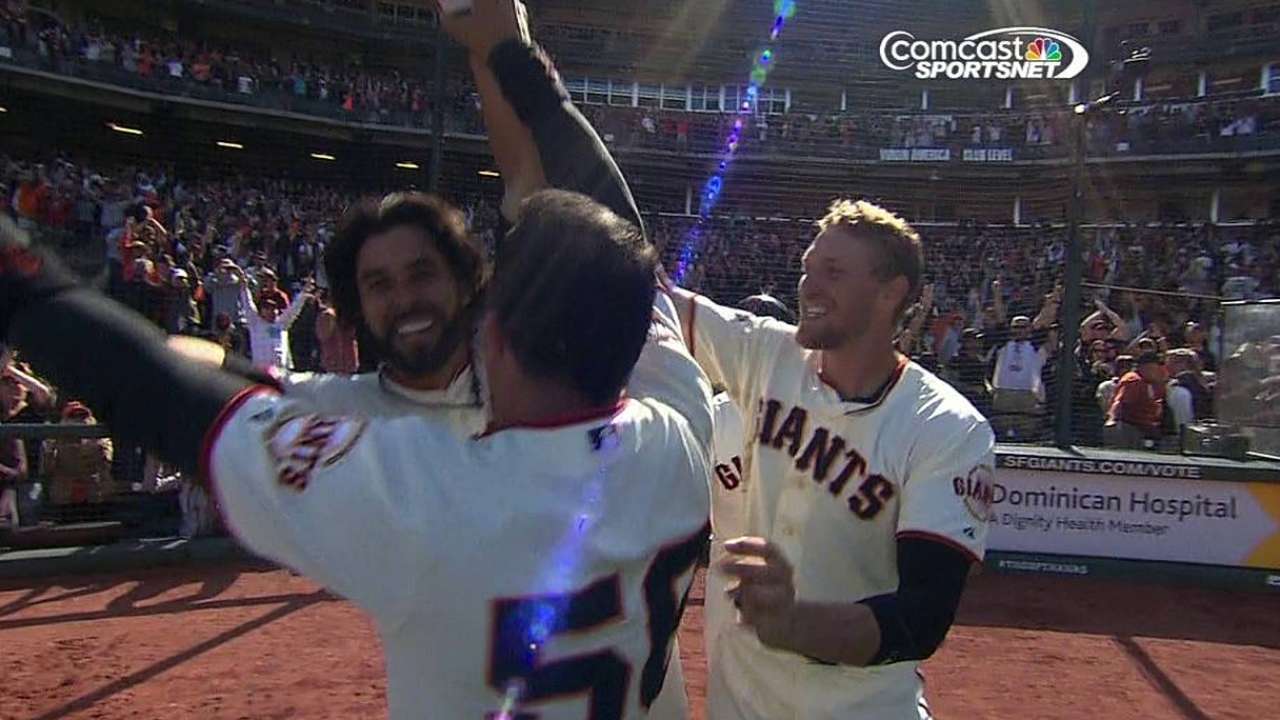 SAN FRANCISCO -- Combine the frenzy of an inside-the-park home run with the grandeur of a walk-off homer, and you have Saturday afternoon at AT&T Park, where Angel Pagan provided a thrilling conclusion.
Pagan circled the bases on a 10th-inning drive that rattled around the ballpark's spacious outfield and scored Brandon Crawford ahead of him to give the Giants a 6-5 victory over the Colorado Rockies.
To put this event into historical perspective, Halley's Comet, which is visible from earth approximately every 75 years, appears more frequently than a Giant achieves what Pagan did. The last time a Giant slapped a walk-off, inside-the-park homer was Aug. 24, 1931, when Hall of Famer Bill Terry hit one against the Cubs.
Pagan admitted that he was "running out of gas" as he rounded third base. But he noticed the excitement he generated, which in turn energized him.
"I saw all of my teammates ... everybody giving me their support, as well as the fans -- they're screaming as loud as they can -- and it was such a great feeling to get it done in that way," said Pagan, who recorded his third career inside-the-park homer.
The Giants trailed, 5-4, courtesy of Troy Tulowitzki's homer off Sergio Romo that christened the 10th. Crawford drew a walk from Rockies closer Rafael Betancourt to open the Giants' half of the inning and advanced to second base on Guillermo Quiroz's sacrifice bunt.
Pagan then drove an 0-1 pitch off the base of the portion of right-center-field wall that angles toward the 421-foot marker.
"Off the bat, I thought he might have hit it out," Crawford said. Instead, the ball caromed away from right fielder Michael Cuddyer and toward center fielder Dexter Fowler, who relayed it to second baseman DJ LeMahieu.
Crawford scored easily, leaving the rest of the drama to Pagan. Receiving the "go" sign from third-base coach Tim Flannery, the fleet leadoff hitter poured his remaining energy into his sprint home. He slid headfirst as Rockies catcher Wilin Rosario took LeMahieu's relay in front of home plate, marking the first time any team won a game on an inside-the-park walk-off since Rey Sanchez victimized Colorado on June 11, 2004.
"I was thinking about three [bases], to be honest with you," Pagan said after hitting the sixth regular-season inside-the-park homer in AT&T Park history and the first since Conor Gillaspie's on Sept. 27, 2011. "I was watching the ball and it didn't bounce too far from [Cuddyer]. I'm thinking three, but looking at [Flannery], if he gives me the OK, I'm going for it."
Rockies left fielder Carlos Gonzalez had resigned himself to the team's fate moments earlier.
"As soon as that ball bounced off the wall, I tried to look at where [Pagan] was and he was already on second base," Gonzalez said. "He's a fast guy. I think he's the only one who could turn that into an inside-the-park home run."
Rare as this feat was, Flannery sensed it coming. Speaking on a pregame show Saturday on KNBR, the Giants' flagship radio station, he responded affirmatively to the question, "Are you ready to send someone on an inside-the-parker?" Addressing reporters after the game, Flannery explained his anticipation by saying, "It's crazy. We've had a couple this week where it almost happened. ... You always think there's a chance. You just never know."
Indeed, having amassed seven walk-off triumphs and 14 come-from-behind victories this season, the Giants always seem ready for anything.
"I wish I was out there to watch it," Giants manager Bruce Bochy said.
Bochy was confined to his office, having been ejected in the eighth inning for arguing with plate umpire Alfonso Marquez. Striving to end their four-game losing streak to the Rockies, the Giants rallied from a 4-0 deficit to tie the score. But Bochy didn't take kindly to Marquez's out call on Marco Scutaro, who tried to advance from first to third on Pablo Sandoval's bloop single with one out in the eighth. With third-base umpire Ted Barrett occupied elsewhere, Marquez moved toward third to make the call.
Bochy was still disgruntled over a seventh-inning call on Brandon Belt, whom Marquez called out at home. In both cases, television replays indicated that the Giants runners were safe.
"You're going to have calls that you don't agree with or may not be corrrect," Bochy said. "There's not a lot you can do about it. [The umpires are] human and they're trying to get it right. I know that. But still, it's such a competitive situation, especially in a game like this, where you have some critical calls. You just hope to overcome them.
"That's what we did."
Chris Haft is a reporter for MLB.com. This story was not subject to the approval of Major League Baseball or its clubs.