Bullpen takes third loss in three days against Atlanta
Magill strikes out eight Braves through five innings between delays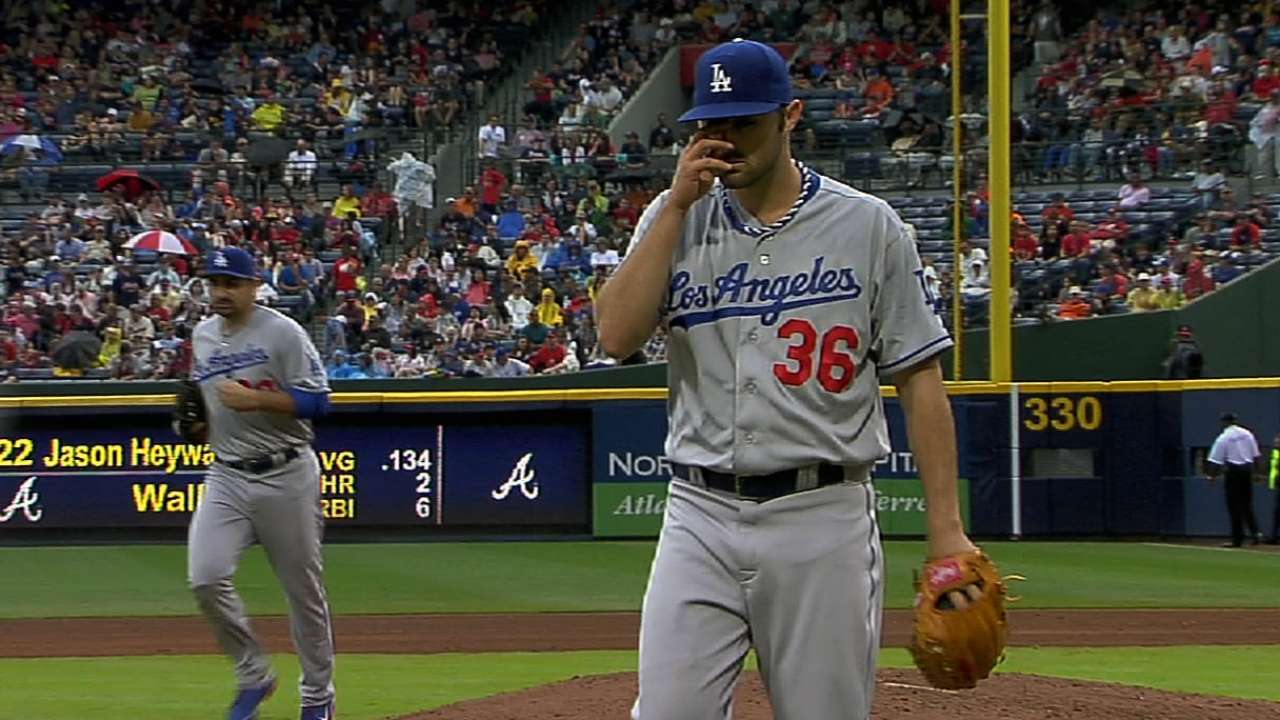 ATLANTA -- The Dodgers played reliever roulette again Sunday, and the bullpen took another bullet in a 5-2 loss, completing a Braves series sweep.
All facets of the last-place Dodgers' struggles were on display in these games. The most obvious is an unreliable bullpen, which took all three losses. Kenley Jansen absorbed his second defeat in as many games, although all four of Atlanta's eighth-inning runs scored with "closer" Brandon League on the mound. The Dodgers are 17-25, with 13 bullpen losses.
But the Dodgers' offense, which had two hits Saturday night and three hits Sunday, is as culpable as the bullpen, in the eyes and words of beleaguered manager Don Mattingly. The last 21 Dodgers batters failed to get a hit, and the Dodgers didn't score after the third inning.
"I'm confident our relievers can do the job," said Mattingly. "That said, you've got to look at the team. We put pressure on [relievers] that they can't give up one run, that's not a team for me. We've got to put another run on the board. You can't say the bullpen let us down when you put up two runs. It's not fair to say that. They can't give up a run. Take it all as a group, not just the bullpen."
And Mattingly didn't even mention three Dodgers errors that accounted for three unearned runs. His team is now 6-12 on the road with a fresh three-game losing streak, having already reeled off an eight-game losing streak this month and a six-gamer in April.
"This is not easy," said Mattingly. "You see the clubhouse -- pretty quiet. Three games here we had leads late, and they got away. It's not a good feeling."
The Dodgers got an effective, but short, start from rookie Matt Magill, who wasn't bothered by a one-hour and 42-minute rain delay at the start, or showers that continued most of the day. He allowed one unearned run and struck out a career-high eight, but was removed at 96 pitches after allowing Justin Upton's single to lead off the sixth inning.
"It's a bummer we lost, that's all," said Magill.
Magill probably earned another start, and Ted Lilly is likely to be activated to pitch in the bullpen, perhaps as early as Monday. Scott Elbert should be only days away from returning to the bullpen after two elbow operations.
While former first-round Draft pick Chris Withrow is closing at Albuquerque (he blew a lead on Sunday), there is also former Braves reliever Peter Moylan, who has a June 1 opt-out of his Minor League contract.
And the club is still haunted by the miscalculation of letting Kevin Gregg walk away at the end of Spring Training. Mattingly appeared to allude to that when he said: "We let guys get away early that seemed to fit. A lot of those decisions I don't get to make."
As solid as Magill was, he still left four innings for a bullpen under siege, though there was another 33-minute rain delay only two pitches after J.P. Howell entered the game. After play resumed, the Dodgers asked their bullpen to protect a 2-1 lead built on Adrian Gonzalez twice driving in Carl Crawford.
And on this weekend, that was far more than the bullpen could handle. Of five Dodgers relievers, only Howell got his men. Ronald Belisario issued a two-out walk in the seventh that brought on Paco Rodriguez to face Jason Heyward, whom he walked Friday night and hit with a pitch in this game.
So Kenley Jansen came on to put down that inning, but he allowed the first two Braves in the eighth to reach base, and Mattingly went to League, despite his 5.87 ERA. Third baseman Juan Uribe fumbled a sacrifice-bunt attempt for an error, Gerald Laird and Chris Johnson hit RBI singles, Ramiro Pena a sacrifice fly and Jordan Schafer a suicide squeeze.
Had League held the lead, Mattingly said he would have asked Matt Guerrier to pitch the ninth inning for the save, but he never had the chance.
Atlanta's first run scored after Nick Punto, starting at shortstop, stumbled on the wet infield grass as he attempted his throw to first base after fielding Andrelton Simmons' grounder. Simmons was erased on a force out, but Schafer brought home the run with a two-out single.
Magill controlled the damage with an impressive strikeout of Heyward, his eighth of the game, and earned the chance to come out for the sixth inning with his pitch count at 91.
After Upton's hit led off the sixth, Howell came on to face Freddie Freeman. With the count 0-2, the rain returned for another interruption. What turned into a 12-pitch at-bat after play resumed ended with Mark Ellis, activated from the disabled list before the game, booting a short-hop double-play ball for his first error of the season.
Still lefty-on-lefty, Howell struck out Brian McCann, popped up Simmons, and Belisario came on to get Saturday night's hero, Evan Gattis, on a grounder. Belisario got two quick outs in the seventh, but walked Schafer, bringing on Rodriguez.
Next was Jansen, who gave up two homers Saturday night, and he struck out Upton. But Jansen allowed a leadoff single to Freeman in the eighth, followed by a four-pitch walk to McCann, before League took over to face Simmons, and the Braves quickly had the lead.
Ken Gurnick is a reporter for MLB.com. This story was not subject to the approval of Major League Baseball or its clubs.