Carpenter turns in impressive bullpen session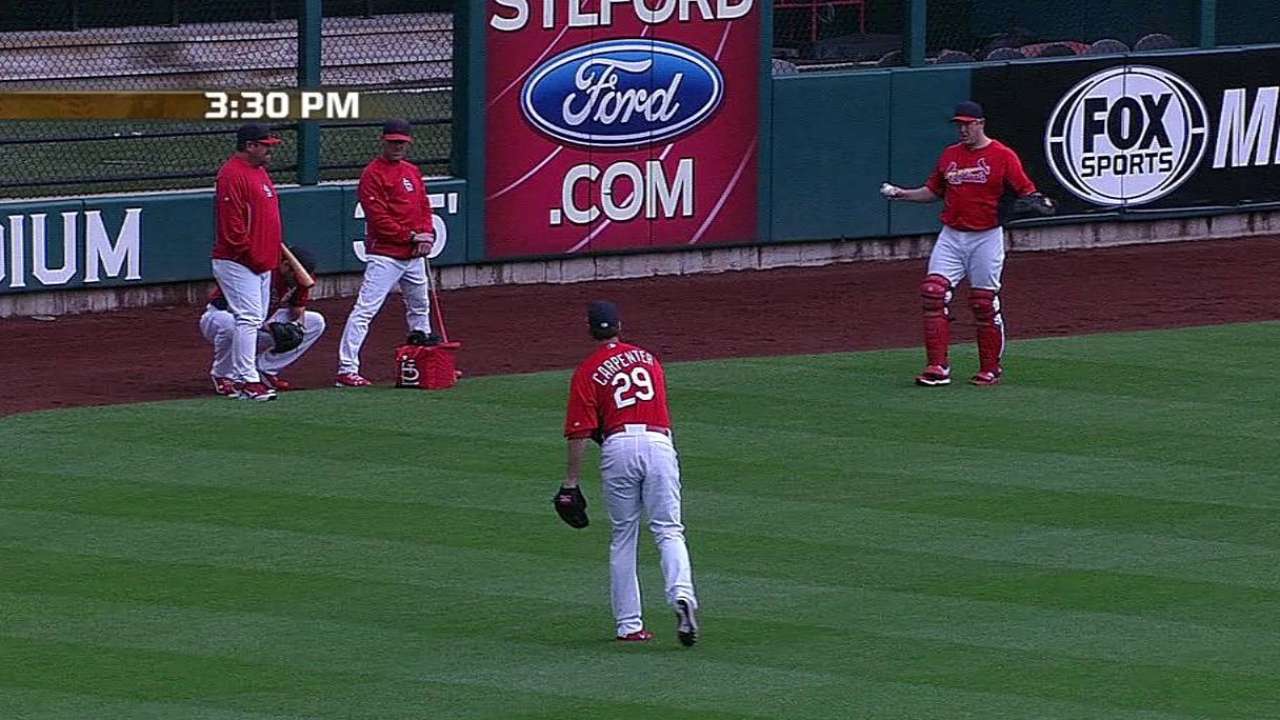 ST. LOUIS -- The comeback trail for right-hander Chris Carpenter began with a simple father-son game of catch in the backyard.
It could end in near-miracle fashion.
Carpenter had all but given up on this season due to chronic elbow and neck pain that sidelined him for 150 games in 2012. One day last month, he was tossing the ball around with his son Sam. The 10-year-old complained that Daddy was flashing too much speed on his return tosses.
"He's just starting baseball, so I started playing catch with him and my arm felt pretty good," Carpenter said. "He said I was throwing too hard. I told him, 'You're going to have to back up some and catch it.'"
Carpenter immediately reported his findings to general manager John Mozeliak, who gave him the go-ahead to try another comeback effort.
"The expectation level, I wasn't going to get too excited about it," Carpenter said, "but feeling good, and knowing that I still have the drive to pitch, I'm going to go out and try and see what happens."
The 38-year-old turned in his fourth -- and most impressive -- bullpen session Friday afternoon. He threw around 70 pitches and used his entire arsenal, including a host of breaking offerings. Carpenter came out feeling good and said he is ready for session No. 5 on Monday.
"My arm has come back and I feel strong," Carpenter said. "I'm not trying to be a hero or do anything crazy. I just want to go out and see if I can pitch."
Carpenter's session on Friday came under the watchful eye of manager Mike Matheny and pitching coach Derek Lilliquist.
"I'm excited for him," Matheny said. "We didn't know exactly what we were dealing with at this time in his career, but fortunately he made a [good] turn and he feels better. He looks good."
Carpenter (144-94, 3.76 ERA) underwent neurogenic thoracic outlet surgery on July 19 and returned for three regular-season starts and three postseason games.
The native of Exeter, N.H., was never pain-free during Spring Training and his career was up in the air.
"He's leaving the door open slightly, but it's highly unlikely he can be back this season," Mozeliak said in February.
Carpenter had Tommy John surgery and missed most of the 2007 and '08 seasons. He has had his share of medical setbacks missing most of '02 and all of '03. He remains cautious about this comeback attempt.
"I'm not going to have super-high expectations," Carpenter said, "but as long as it continues to go well, I'm going to go out there and take that next step."
Should Carpenter continue to progress after Monday's session, he will look to step up his rehab efforts. Carpenter said he will know more by the end of the Cardinals' current 10-game homestand on May 19.
"Right now, I just want to keep going in the right direction," he said.
Steve Overbey is a contributor to MLB.com. This story was not subject to the approval of Major League Baseball or its clubs.