Desmond leads Nationals to fifth straight victory
Shortstop homers, drives in three; Detwiler rolls, backed by strong D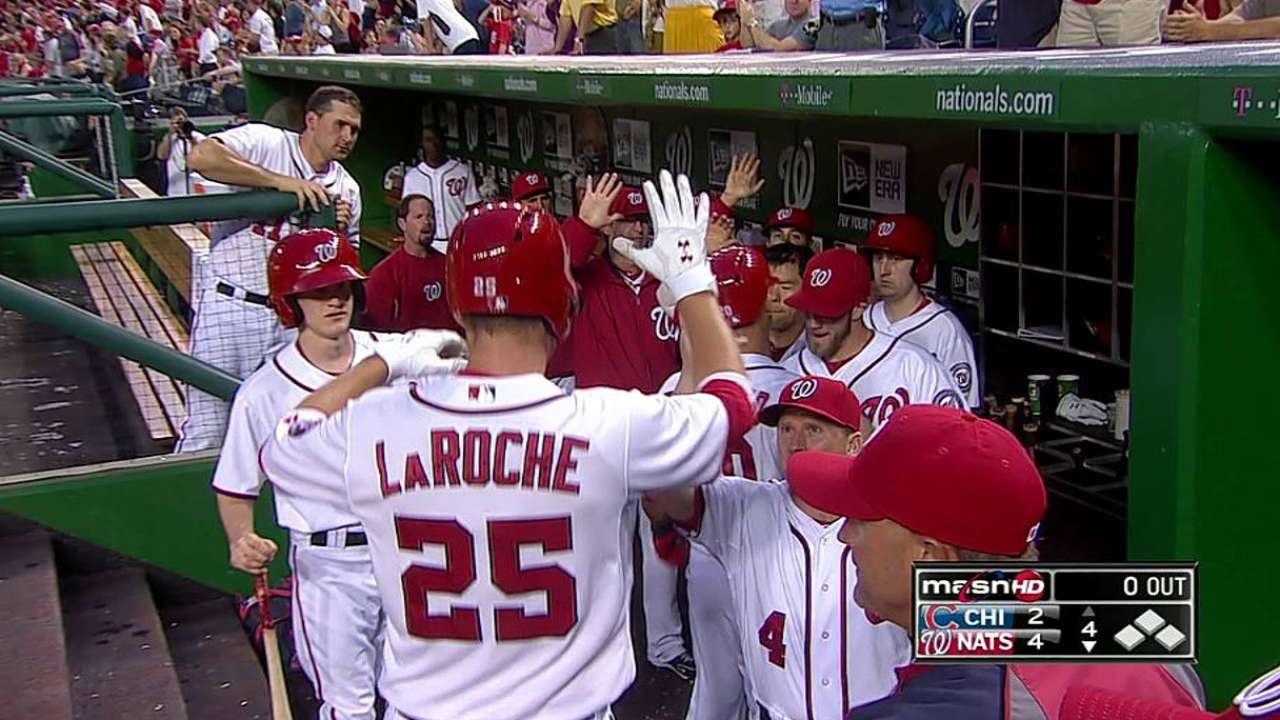 WASHINGTON -- Shortstop Ian Desmond made adjustments at the plate and drove in three runs to help the Nationals pound the Cubs, 7-3, at Nationals Park on Friday night. The Nationals have now won five consecutive games and improved their record to 20-15.
Before the game, Desmond decided to move up in the batter's box in order to catch up with breaking balls, according to manager Davey Johnson.
"It's just minor adjustments," Desmond said.
Moving up in the batter's box paid off for Desmond. The score was tied at 2 when the Nationals began to pull away in the bottom of the fourth inning against right-hander Jeff Samardzija. With Adam LaRoche on first base, Desmond slugged an 0-1 pitch over the left-field wall for his fifth home run of the season and his 500th career hit.
Desmond said he had no idea that he reached the milestone. He was mostly happy that he gave left-hander Ross Detwiler some run support.
Asked what he thought of his young career so far, Desmond said, "I go out there and try to play to win. It seems like every year that I've been here, we have gotten a little bit better. That's all you could really ask for as a player. You want to continue to get better as a team, and individually, so things are going good."
Desmond was back at it in the next inning, knocking in Ryan Zimmerman with a double to right field. Danny Espinosa followed with another double, scoring LaRoche and Desmond.
"On my part, I needed to make a couple better pitches and get out of those innings with no damage and get [our] offense back in the dugout to score some runs," Samardzija said. "They're a good team, and someone we keep our eyes on. Just have to make better pitches, get the offense back in the dugout and put some runs on the board."
Detwiler had his best outing since April 23 against the Cardinals. He lasted 6 2/3 innings, allowing two runs on eight hits and striking out two, while mixing in his curveball, a pitch he has rarely thrown this season.
The Cubs scored the first run of the game in the first inning, when Starlin Castro doubled and scored on a groundout by Anthony Rizzo.
The Cubs' second run came in the third inning, when Samardzija scored on a double by Castro.
The Cubs had a chance to score at least another run that inning. Rizzo singled to right field, but Roger Bernadina threw Castro out at the plate. The Nationals are showing signs of playing better defense of late.
"Good teams play good defense," said center fielder Denard Span, who made a spectacular running catch in the fifth inning on a ball hit by Samardzija. "They throw the ball, they catch the ball, throw the ball to the right base. We were able to get Detwiler a few hits and a few runs."
Johnson decided to pull Detwiler with two outs in the seventh inning, disliking the matchup between Detwiler and Castro, who was 1-for-2 with a walk against his starter up to that point.
"The Cubs are a pretty good fastball-hitting club," Johnson said. "After the third inning, he started mixing in more curveballs, and he threw some pretty good curveballs, getting ahead and making it easy for him. He wasn't happy when I hooked him, but that's good, and I like that. ... We have some guys on the ballclub that need work, too. So it was a good spot to get [Craig] Stammen some work."
After Detwiler left the game, Stammen finished off Chicago, allowing one run in 2 1/3 innings.
"We are starting to play better baseball," Desmond said. "The crowd was out there tonight. There were a lot more people here. It was a little more exciting."
Bill Ladson is a reporter for MLB.com and writes an MLBlog, All Nats All the time. He also could be found on Twitter @WashingNats. This story was not subject to the approval of Major League Baseball or its clubs.