White Sox come up short in all facets
Offense, defense and pitching contribute to letdown against Rangers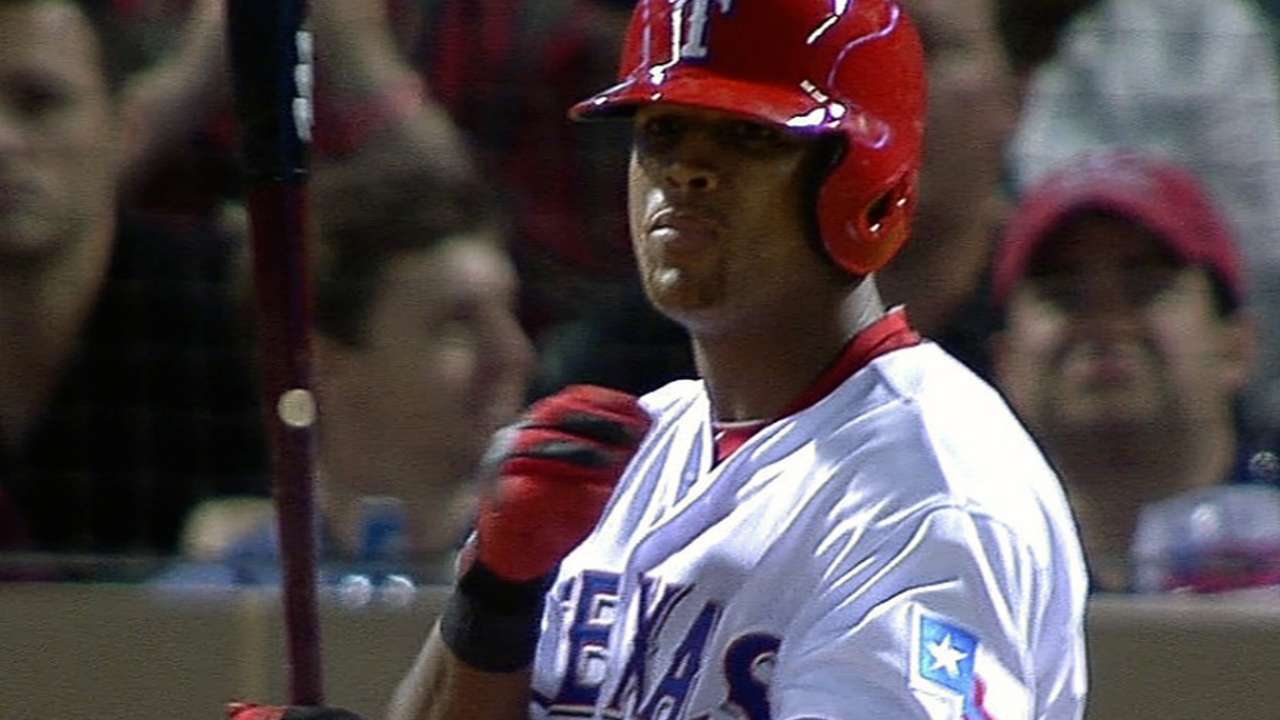 ARLINGTON -- As Dewayne Wise was getting dressed and ready to speak to the media following Texas' 10-6 victory over his White Sox on Tuesday night at Rangers Ballpark, he reached into his locker and grabbed a shirt with "TWTW" across the front.
Those four letters represent The Will to Win, the now famous "metric" developed by White Sox television play-by-play Ken "Hawk" Harrelson in his recent televised debate over sabermetics. But the will and fight of the White Sox (10-15) have not been the issue this season.
It has been coming up with big hits when runners are in scoring position or consistently avoiding defensive miscues, as they did during a successful 2012 campaign. Tuesday's loss was a perfect storm where every area of the game had something missing for the visitors.
Early on, it was the White Sox ability to get to Yu Darvish (5-1), one of the American League's top starting pitchers through April, but not get to him quite enough. Darvish fanned nine over six innings but wasn't as sharp as usual, allowing four runs, while stranding two runners in the first, second and fourth innings.
"You're not going to get all of them, but you miss those opportunities and you kick yourself," said White Sox manager Robin Ventura, whose team finished 2-for-10 with runners in scoring position and left eight on base. "You have those opportunities and try to cash them in. He's not easy to hit, either. It makes it tough."
"We felt we could have put more runs on the board," said Wise, who matched a career high with four hits and fell a triple short of the cycle. "When you're facing a guy like that and a team like this, if you take the lead, you have to put your foot down."
Wise launched a two-run homer with two outs in the top of the sixth off of a hanging Darvish curveball to tie the game at 4, but shaky White Sox defense and even shakier relief work cost the South Siders. A Tyler Greene throwing error in trying to turn what looked like a routine double play grounder hit by Craig Gentry to shortstop Alexei Ramirez aided a two-run Texas fifth to give the Rangers a 4-2 advantage.
That rally was nothing compared to the six runs the Rangers (17-9) hung on Matt Lindstrom (1-2), Donnie Veal and Nate Jones in the bottom of the sixth. Lindstrom walked Geovany Soto with one out and was replaced by Donnie Veal, for a planned lefty-on-lefty matchup with Mitch Moreland.
Moreland proceeded to lace a run-scoring double to left-center, scoring Soto with the go-ahead tally. Veal has had five appearances this season in which he has faced just one batter and not retired that one batter.
Jones entered the game with Moreland on third and one out and held him there on Leonys Martin's grounder to second. Then, the proverbial wheels fell off.
Ian Kinsler singled home the inning's second run, causing the usually calm Jones to pound his glove in frustration. Elvis Andrus' single and Lance Berkman's walk loaded the bases with two outs, before Jones proceeded to wild pitch two runs home.
Adrian Beltre capped off the rally with a two-run blast to left, marking the Rangers' third home run. Nelson Cruz and Jeff Baker went back-to-back on consecutive pitches from Jose Quintana in the fourth, erasing a 2-0 White Sox lead.
These continued struggles from Veal and Jones, whose April ERA ended at 6.17, haven't caused Ventura to think of other options.
"Yeah, that's something we got to get through," said Ventura of Veal and Jones. "And they're the guys we're going to keep going to, and it's going to get better."
"Good teams take advantage of other team's mistakes," said Kinsler of the Rangers' middle-inning outbursts. "That's what we did tonight."
Quintana worked five innings and yielded four runs on eight hits, while throwing 97 pitches. He battled to keep the White Sox in the game without any sort of curveball during the opener of an eight-game, three-city road trip.
"I was getting behind in the count," said Quintana, through translator and White Sox coach Lino Diaz. "I wasn't controlling my curve, so I was behind when I threw that and I had to come in with the fastball."
"He's a good pitcher. He's got a good fastball and he cuts it well," said Cruz of Quintana. "He was pitching good, but we were able to break through."
Paul Konerko and Alex Rios added run-scoring hits, and Adam Dunn chipped in his sixth home run in the seventh, but it wasn't enough to avoid a third straight loss. Amid the plethora of hard-fought, gut-wrenching losses the White Sox assembled on their April resume, this was one of the more unsightly setbacks.
Then again, Ventura sees only one way for corrections to be made.
"Keep playing games. It's that simple. You just play better," Ventura said. "The games are on the schedule. They're coming up and you have to be mentally strong enough to keep playing and grinding it out and doing the right things and all that stuff and that's the only way you do it.
"There's no magic potion. You have to be mentally strong to be able to do it, and we're going to find it."
Scott Merkin is a reporter for MLB.com. Read his blog, Merk's Works, and follow him on Twitter @scottmerkin. This story was not subject to the approval of Major League Baseball or its clubs.