Sox fall to Rays, remain confident in depleted crew
Ventura, players making no excuses despite missing key pieces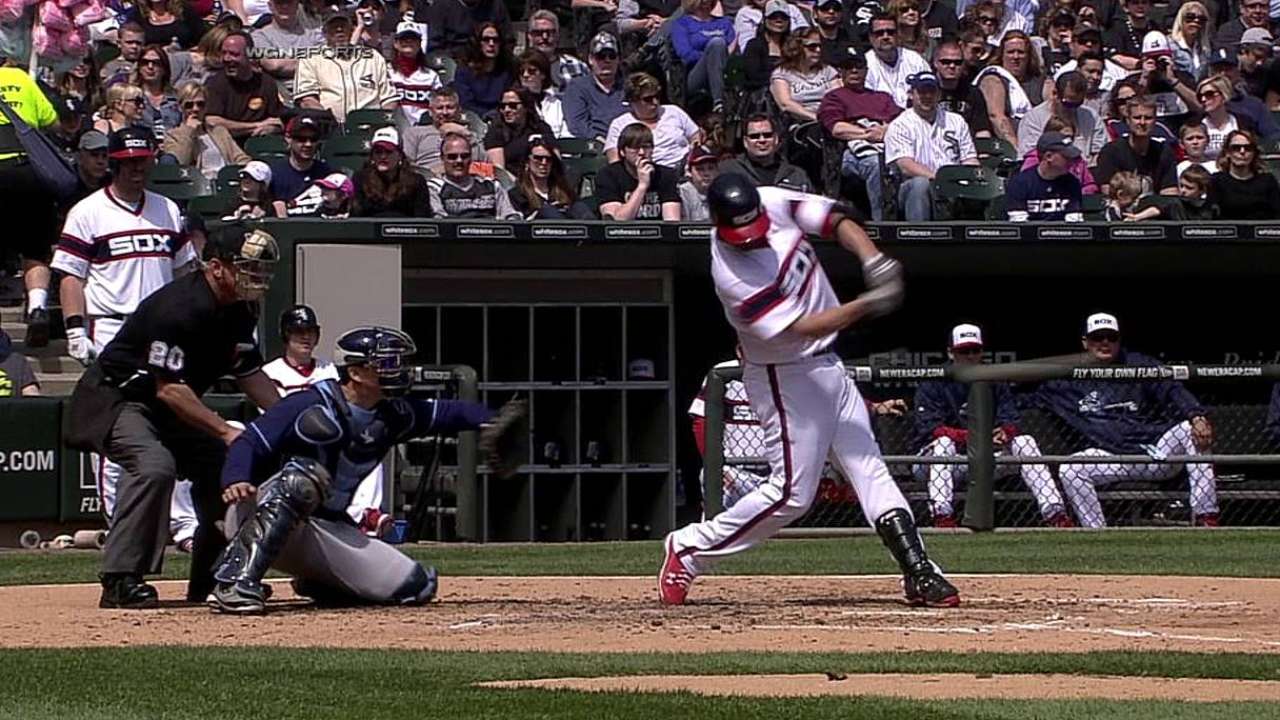 CHICAGO -- To analyze the White Sox long-term projections for 2013 success following Sunday's 8-3 loss to the Rays before 22,677 on a sunny afternoon at U.S. Cellular Field wouldn't present a completely accurate depiction.
The White Sox starting second baseman, starting left fielder and two-fifths of their projected rotation all are on the disabled list, leaving guys previously in reserve, in the bullpen or in the Minors stepping up to fill an extended role. But injuries hamper pretty much all Major League Baseball teams, so the White Sox (10-14) must be judged by where they presently stand.
After splitting a four-game series with the Rays (12-13) and finishing 3-5 on a weather-shortened homestand, manager Robin Ventura's crew is a group not exactly consistently in sync on the field. Yet, they are not lacking confidence that fortunes can turn around with this current crew.
"I don't sense anybody looking around saying we can't win with what we have," White Sox captain Paul Konerko said. "Every team is going to have that little span during the season where it seems like every day somebody's going down. Hopefully this is ours right now and we start getting guys back and we're kind of over that and it's done with and some other team's going to have to deal with that in August or September."
"You try to win games right now, not waiting and looking in the future," Ventura said. "Guys are playing hard and this is one of those that is probably a work in progress of trying to figure that out and who's playing and who's doing what, but again, you try to make due and make sure everybody is giving a constant effort. That's all you can ask."
Sunday's loss to the Rays and David Price (1-2) actually was closer than the final five-run outcome. A 3-3 deadlock in the eighth was broken by the Rays scoring three times, including two unearned runs. They added two in the ninth off of Deunte Heath, who replaced Gavin Floyd on the active roster, when Floyd was placed on the disabled list before the game with a right flexor strain.
Ventura pointed to moments in the seventh and eighth as illustrations of how quickly a game can turn, especially where one run makes a difference. Conor Gillaspie opened the seventh with a single and then was off and running on a 2-1 pitch to Tyler Flowers. Price's cutter was ripped to shortstop by Flowers, only to have Ben Zobrist make the catch and double off Gillaspie.
In the eighth, with the Rays having gone ahead on Zobrist's run-scoring single off of Nate Jones (0-2), two insurance runs scored when the usually sure-handed Alex Rios dropped a Ryan Roberts fly ball in right after a long run with two outs and the bases loaded. The White Sox dipped to 3-9 in games when committing an error this season.
Price yielded three runs on six hits over seven innings and 119 pitches, striking out nine. The left-hander started the seventh with 105 pitches but was kept in to face the bottom third of the White Sox order.
"Very happy. That's what I work all offseason for, so I can throw 110, 115 pitches in a game," Price said. "It feels good to have that confidence in me behind the bench."
The White Sox grabbed a 1-0 lead in the first when Rios singled with two outs, swiped second base and scored on Adam Dunn's single to center. Dunn still is hitting just .143, but has been on base 11 times in his past five games.
Jose Lobaton tied the game off White Sox starter Dylan Axelrod in the third with a one-out, seemingly wind-aided home run to right. But the White Sox jumped back out in front with two outs in the bottom of the frame when Konerko launched a 3-2 curve from Price for his fourth home run this season and the 426th of his career. Konerko tied Cubs legend Billy Williams for 45th on the all-time list.
That lead lasted until the sixth when Desmond Jennings doubled over Dewayne Wise's head to open the frame and Matt Joyce followed with a home run down the right-field line. Axelrod departed after six innings, allowing the three runs on four hits, while striking out three, walking one and throwing 90 pitches.
"They just got the balls up in the air and they carried out," Axelrod said. "It's a little bit frustrating with the two-run [Joyce] homer to tie it. We were in a good position to win the game. It was a tough pitch, he got to it and kept it fair. You've got to give him credit for that."
For the eighth time this season, the White Sox surrendered a lead. They were outscored, 11-3, in the seventh, eighth and ninth innings during the four-game Rays series, batted .206 and struck out 82 times during the homestand and have struck out at least seven times in nine straight games.
Business doesn't exactly get easier with an eight-game road trip to face the Rangers, Royals and Mets starting Tuesday. But even with their long injury list, the White Sox certainly want to do more than simply survive or break even.
"A lot of guys filling in for the guys who are hurt have gotten big hits and done some nice things," Konerko said. "We feel like we're fine with what we have. We just have to keep grinding."
Scott Merkin is a reporter for MLB.com. Read his blog, Merk's Works, and follow him on Twitter @scottmerkin. This story was not subject to the approval of Major League Baseball or its clubs.