Nats sweep White Sox behind Haren's first win
Righty works five innings; Zimmerman, Harper drive in two runs each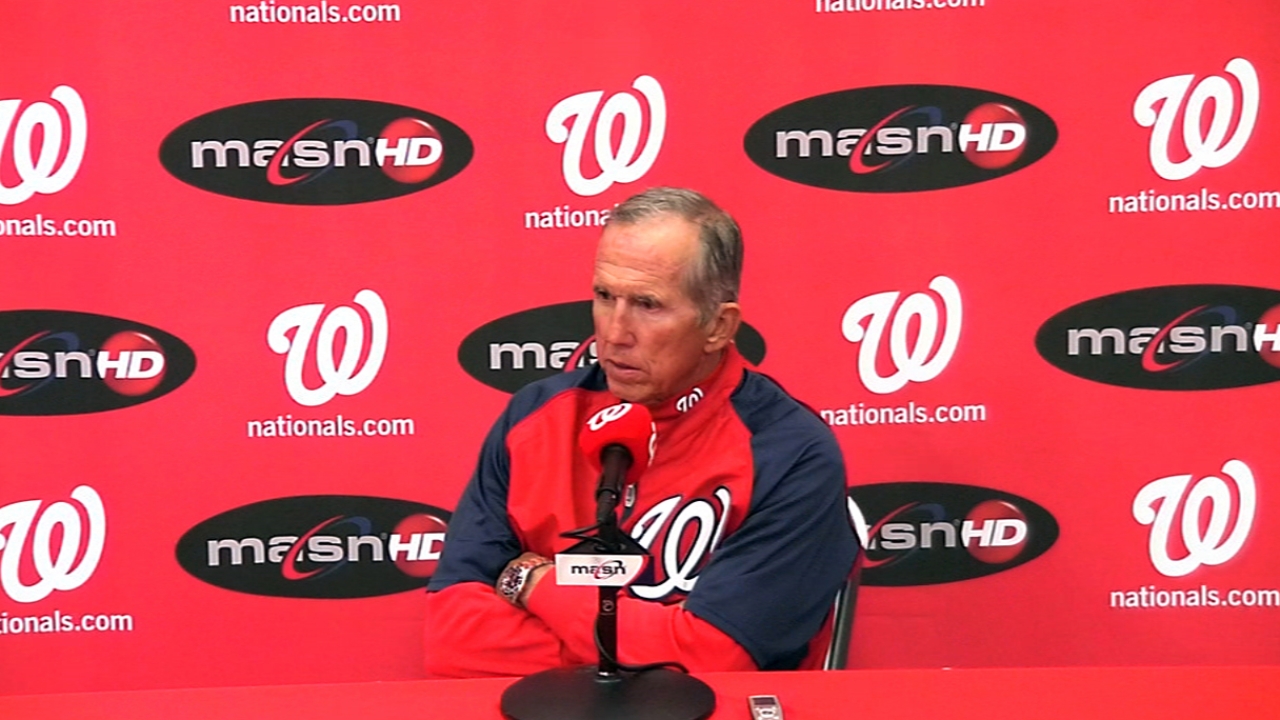 WASHINGTON -- In his second outing of the season, right-hander Dan Haren pitched much better as the Nationals defeated the White Sox, 7-4, at Nationals Park on Thursday. The Nationals swept the three-game series, improving their record to 7-2. They will face the Braves in an important three-game series starting Friday night.
Last Friday against the Reds, Haren was hit hard, allowing four home runs and six runs in four innings. However, manager Davey Johnson wasn't worried about Haren, feeling that he would bounce back.
"I'm not worried about him. He showed me a lot of good stuff in the spring. I like his makeup. I like his pedigree. He can pitch. I'm not worried about it," Johnson said before Thursday's game. "I know he had some physical issues in the past, but none of that has cropped up here."
Johnson's confidence in Haren paid off. Haren battled and managed to win his first game as a member of the Nationals. He pitched five innings and allowed three runs on 10 hits.
"I took a few steps forward," Haren said. "I think I threw the ball better than the line score would dictate. The conditions weren't great out there. The most important thing is we won the game. Obviously, I was a little better than last time."
Although he didn't walk anybody in the game, Haren said there is room for improvement.
"[Last Friday], I was almost aggressive to a fault," Haren said. "Today, there were still no walks, but I had a few deep counts. I think getting the ball down a little bit more would probably be key for the next game. I still have work to do to get better. I've kind of shown flashes of what I can be, but I haven't really put it together. I didn't have any 1-2-3 innings today."
Haren played a role in the Nationals scoring the go-ahead run in the fourth inning against right-hander Dylan Axelrod. With the score tied at 3, Haren delivered a one-out double.
"I saw where the ball went, so I could take my time going into second," Haren joked.
Haren then went to third on a single by Jayson Werth. With Harper at the plate, Haren scored on a wild pitch to give the Nationals a one-run lead.
Harper was then walked intentionally to bring up Ryan Zimmerman, a .222 hitter entering the game. Harper is one of the hottest hitters in baseball and that's why he wasn't going to face Axelrod that inning. Entering Friday's action, Harper is 15-for-36 [.417].
It turns out White Sox manager Robin Ventura made the wrong move. Zimmerman doubled to right field to drive in Werth and Harper, who went 2-for-3 with two RBIs.
"Well, I think Harper is hot. You are just rolling the dice either way. You just take your chance and he got him," Ventura said.
Zimmerman understood why he faced Axelrod. Ventura was going with the percentages of walking the left-hander, Harper, and facing the right-handed Zimmerman.
"If I'm the manager, I would rather pitch to the righty instead of a lefty," Zimmerman said. "Obviously, you don't want to pitch to Bryce right now. I think it was more of a matchup thing. I wouldn't pitch a righty to Bryce either."
Harper drove in the final run in the eighth with a single to right against Jesse Crain.
Haren left the game after the fifth inning and then the bullpen took over. It allowed one run in four innings. Ryan Mattheus pitched two innings and allowed a run, while Tyler Clippard and Rafael Soriano pitched one shutout inning. Soriano picked up his fifth save of his season.
The Nationals now move on to face the Braves, who are a game ahead of the Nationals.
"We get excited for every series. I think we have to play the same way we do against the Braves, as we do against the Marlins, as we do against the Phillies and as we do against the Mets," Zimmerman said. "I think as soon as you take other teams for granted or only get up when you play the Braves, that's when you get in trouble. [We] do such a good job of treating every team the same and every day coming in just trying to win that game, no matter who it is."
Bill Ladson is a reporter for MLB.com and writes an MLBlog, All Nats All the time. He also can be found on Twitter @WashingNats. This story was not subject to the approval of Major League Baseball or its clubs.