Giants quick to share blame for 9th-inning collapse
Strickland, Okert and Brown all lament decisions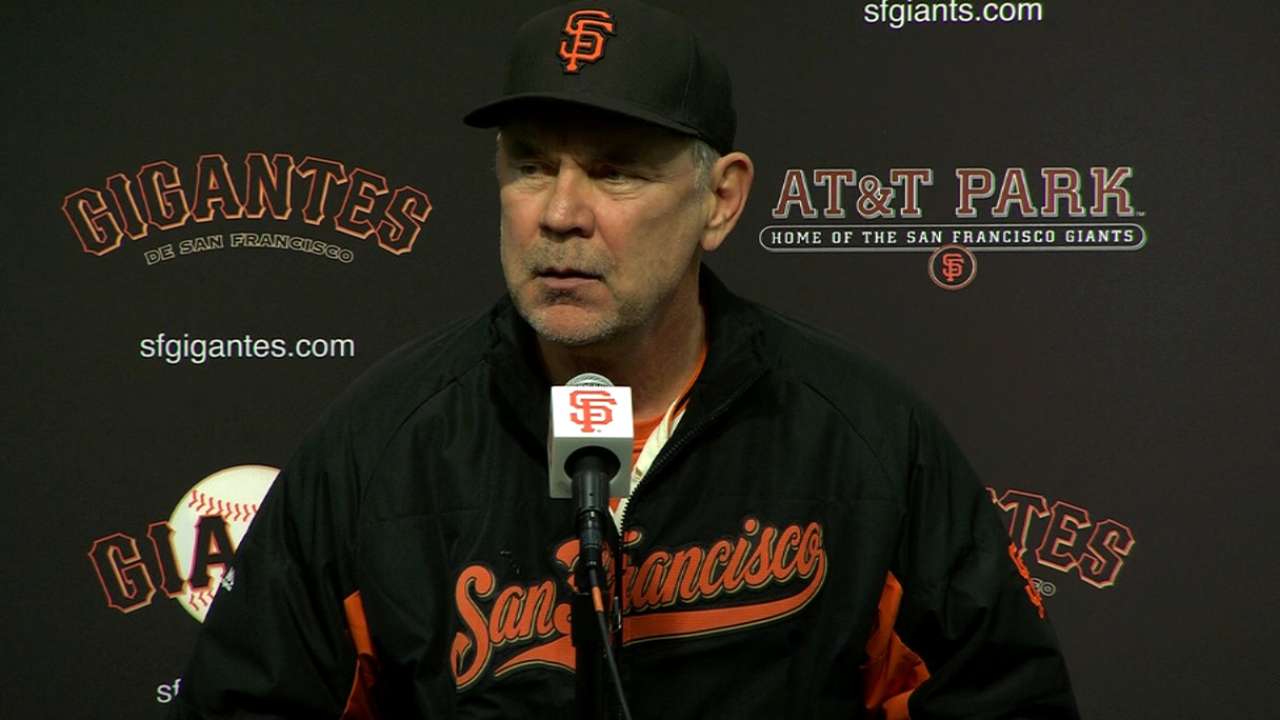 SAN FRANCISCO -- There was no shortage of Giants willing to assume blame for Tuesday night's come-from-ahead, 6-4 loss to the San Diego Padres.
Hunter Strickland, who recorded the save in the Giants' last victory, Sunday at Arizona, believed that he should have covered first base more quickly on Luis Sardinas' grounder off first baseman Buster Posey's glove. The ball trickled to second baseman Joe Panik, whose throw to first was too late.
In fairness to Strickland, he might not have beaten Sardinas with an on-time departure to the bag. Nevertheless, Strickland remained self-critical.
"That's on me for not doing my job," he said.
Strickland also lamented the one-out, bases-loaded walk he issued to the subsequent batter, Wil Myers. It forced in a run and trimmed the difference to 4-2. Both Giants manager Bruce Bochy and catcher Trevor Brown partially absolved Strickland for this lapse, though.
"He missed on some close pitches," Brown said.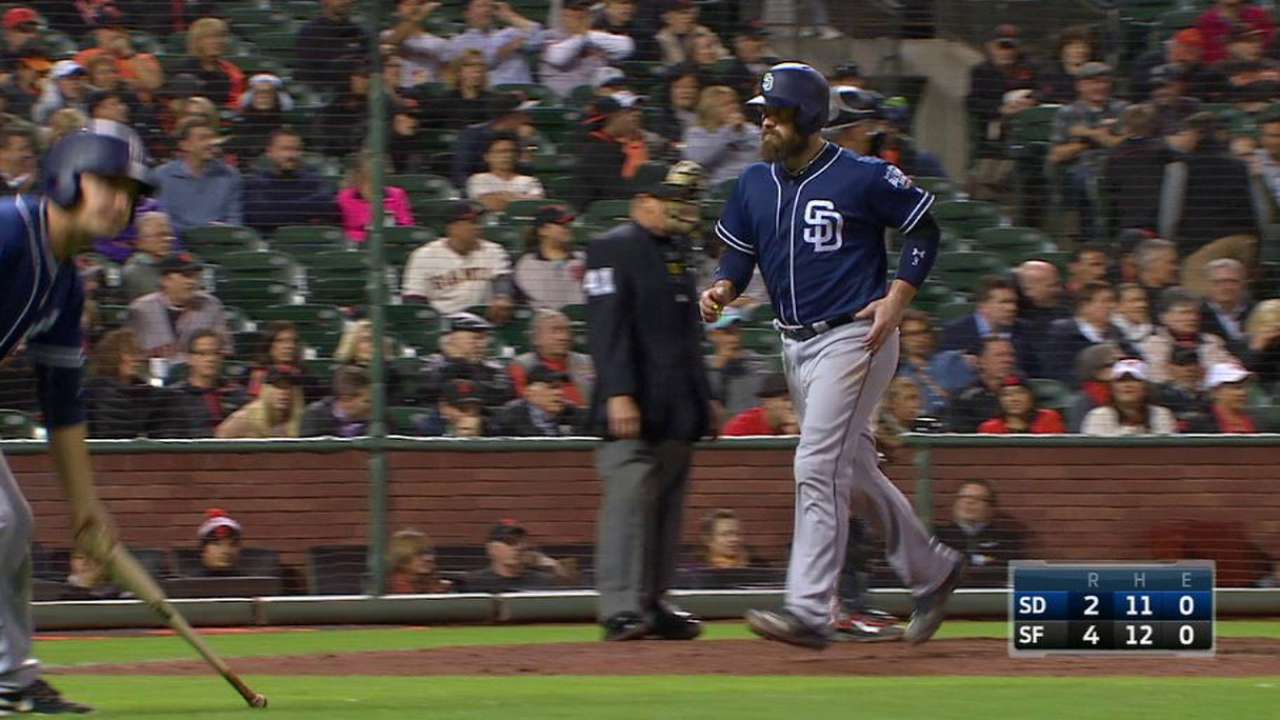 One batter after Myers, the Giants missed another critical opportunity when they recorded just one out on Yangervis Solarte's comebacker, which squirted out of Strickland's glove. Had Strickland fielded the ball cleanly or let it reach a middle infielder, a game-ending double play might have ensued. Instead, the Giants got only one out and the Padres collected another run.
Brown second-guessed himself for the approach the Giants took to Ryan Schimpf, whose three-run homer made the difference. Given another opportunity, Brown might have ordered reliever Steven Okert to tease Schimpf a little, instead of asking the left-hander to throw a 1-2 fastball. Schimpf pounded that pitch into the center-field stands, defying the lefty-on-lefty matchup.
"I think that's on me to try some sort of 'chase' breaking ball," Brown said. "We had pitches to play with and a base to play with. I take a lot of responsibility for that."
And, of course, Okert had nothing good to say about his fateful pitch to Schimpf.
"It went back over the plate," Okert said. "I didn't get it in on him. I didn't execute my pitch. That's all there is to it."
For what it's worth, absolutely nothing was wrong with the Giants' strategy. Entering the game, Schimpf was hitting .189 with two home runs off left-handers, compared to .232 with 16 homers against right-handers. Moreover, in his 11 previous outings with the Giants, Okert limited left-handed hitters to a .188 average (3-for-16) while issuing just one walk.
"This is as bad as it gets," Strickland said after the Giants squandered a chance to trim a game off the Dodgers' National League West lead and keep pace with New York and St. Louis in the Wild Card race. San Francisco trails the Dodgers by four games in the division and leads the Mets and Cardinals by a half-game and one full game, respectively.
Chris Haft has covered the Giants since 2005, and for MLB.com since 2007. Follow him on Twitter at @sfgiantsbeat and listen to his podcast. This story was not subject to the approval of Major League Baseball or its clubs.