Frustrating season hasn't deterred Motte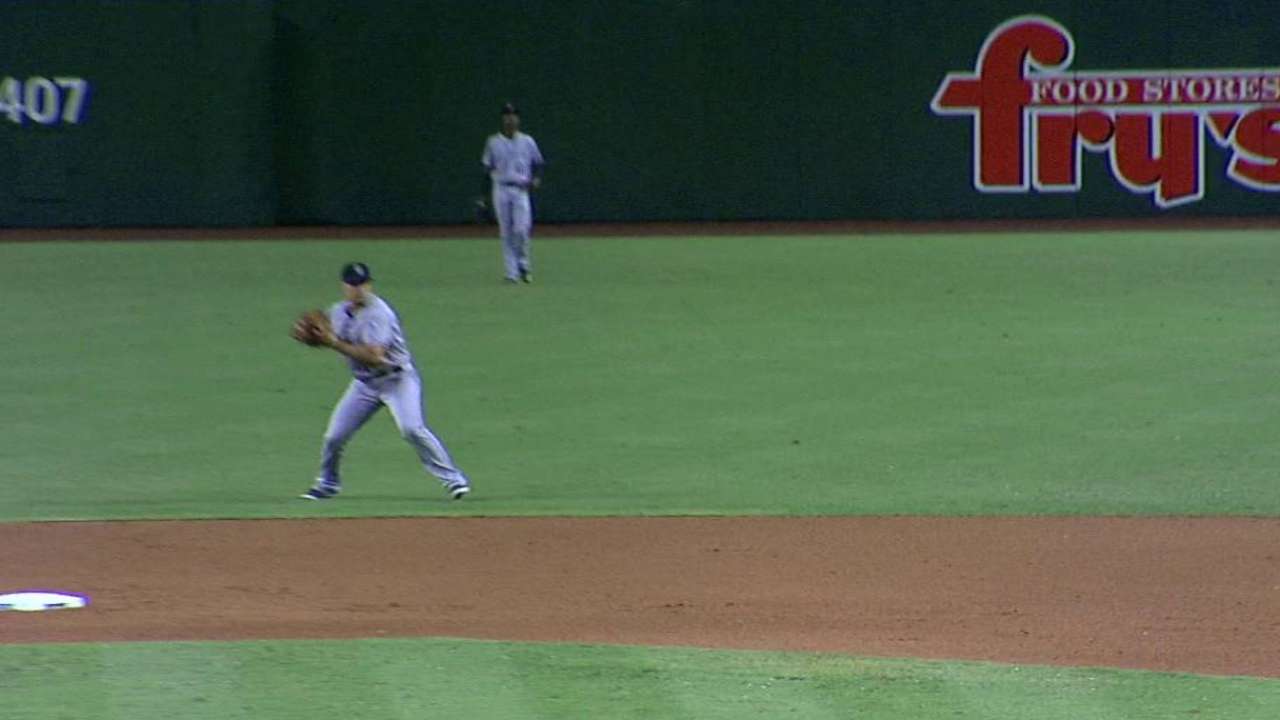 PHOENIX -- Rockies right-handed relief pitcher Jason Motte is sure his attitude and gratitude, after a one-batter cameo in a 11-4 loss to the D-backs at Chase Field on Tuesday night, haven't changed through years of triumph and success and injury.
Motte had to duck Mitch Haniger's hard, eighth-inning line drive but gained an out when second baseman Tony Wolters made the fielding play and throw. It was Motte's first outing since July 25, before he went to the disabled list for the second time this season with right rotator cuff issues.
"I was a catcher and the Cardinals turned me into a pitcher in 2006, when I had never pitched before," Motte said. "So when they did that, I told myself I'm going to go out there and give whatever I have, whatever day it is. If it's Tuesday, I'm going to give you what I've got on Tuesday. That pitch. That day. That game.
"You can't say, 'I'm going to do this today and tomorrow's game I'm going to do that.' You may not see tomorrow's game."
Since 2011, when he pitched the final out of the Cardinals' last World Series victory, and since 2012, when he led the National League with 42 saves, there has been more pain than pitching.
He missed 2013 because of Tommy John right elbow surgery and, after pitching sparingly for the Cardinals in 2014, had a decent bounce-back year with the Cardinals (8-1, six saves in 57 games) before shoulder pain kept him off the playoff roster.
The Rockies signed Motte to a two-year, $10 million contract, but continued shoulder problems have limited his availability and effectiveness. Motte, who began the year on the 15-day disabled list with right rotator cuff inflammation and went back to the DL with a rotator cuff strain, is 0-1 with a 5.57 ERA in just 27 games.
Motte's injuries are among the reasons the bullpen fell into a period of struggle right when it seemed the Rockies could emerge as a surprise contender. All Motte can do is hope next year all will pay off for him and his club.
"One word is 'frustrating,'" he said. "You want to come into spring with a new team, you want to go out there and do well, impress.
"I feel fine now. That's why getting back this year is kind of big. I want to go into the off-season healthy and come back next year healthy."
But Motte, who has had to tramp down the adrenaline for big postseason pitches and handle the tediousness of injury rehab, can look so far ahead.
"People ask me if I worry about this or that," he said. "For what? I could've not thrown a baseball 95 mph, and my shoulder wouldn't hurt. If I'd gone back to school and became a teacher, my shoulder wouldn't hurt right now. Even from a pitching standpoint, it's the same. You have your mindset and it works out great or it doesn't work so well."
Thomas Harding has covered the Rockies since 2000, and for MLB.com since 2002. Follow him on Twitter @harding_at_mlb, listen to podcasts and like his Facebook page.
This story was not subject to the approval of Major League Baseball or its clubs.