Donaldson has MRI, hopes to play Thursday
Results of test on jammed right hip not yet released; reigning AL MVP misses third straight game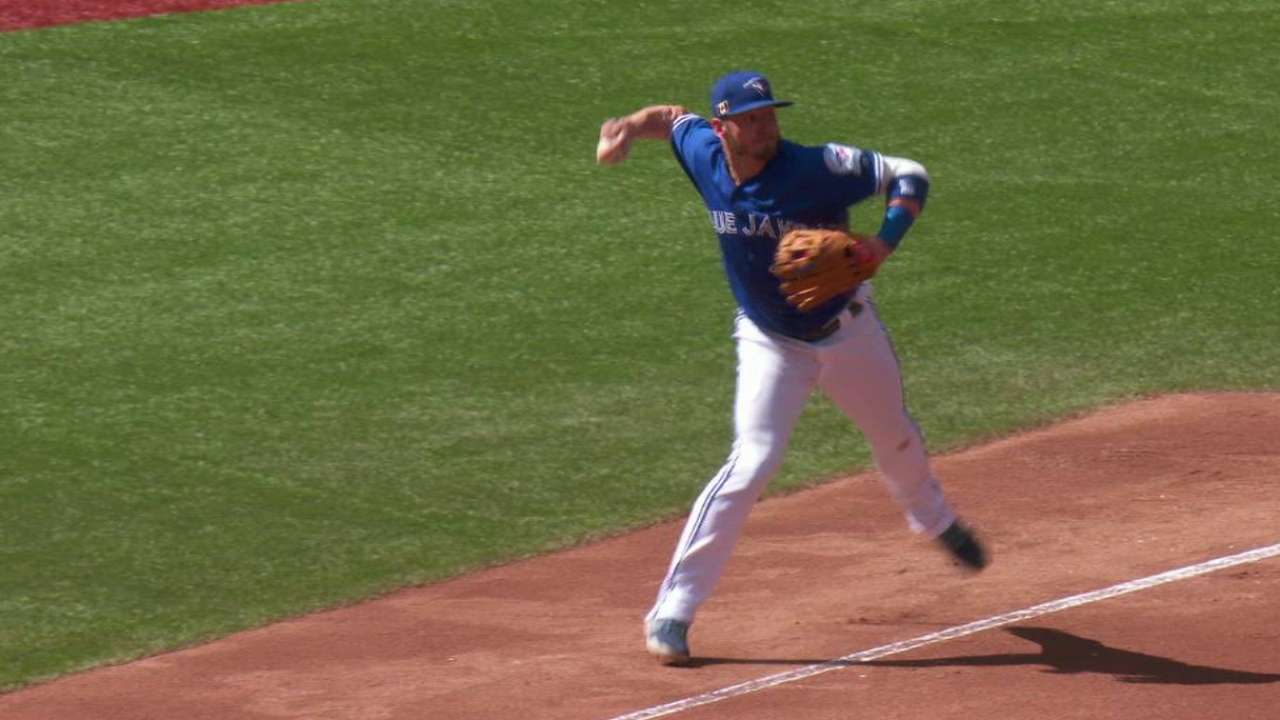 TORONTO -- Blue Jays third baseman Josh Donaldson underwent an MRI on his sore right hip Wednesday after missing his third consecutive game, an 8-1 loss to the Rays at Rogers Centre.
While the results of the MRI have not been released, Donaldson has also been undergoing treatment in recent days. Donaldson said the pain has mostly affected his agility from side to side. The reigning American League MVP winner will travel with the team on its seven-game West Coast road trip that begins Thursday in Anaheim against the Angels, and hopes to play in the opener.
"It was kind of one of those things where I didn't feel like I could go out there and perform in a manner that could help my team out," Donaldson said. "It was one of those things were I felt at first, if I was able to get some treatment on it like normal, I was going to be able to go out there and hopefully just miss a day. I just never got where I was comfortable with it."
The injury comes at a critical time for the Blue Jays, who are two games back of Boston for the top spot in the American League East and hold the second AL Wild Card spot, one game behind the Orioles for the top spot.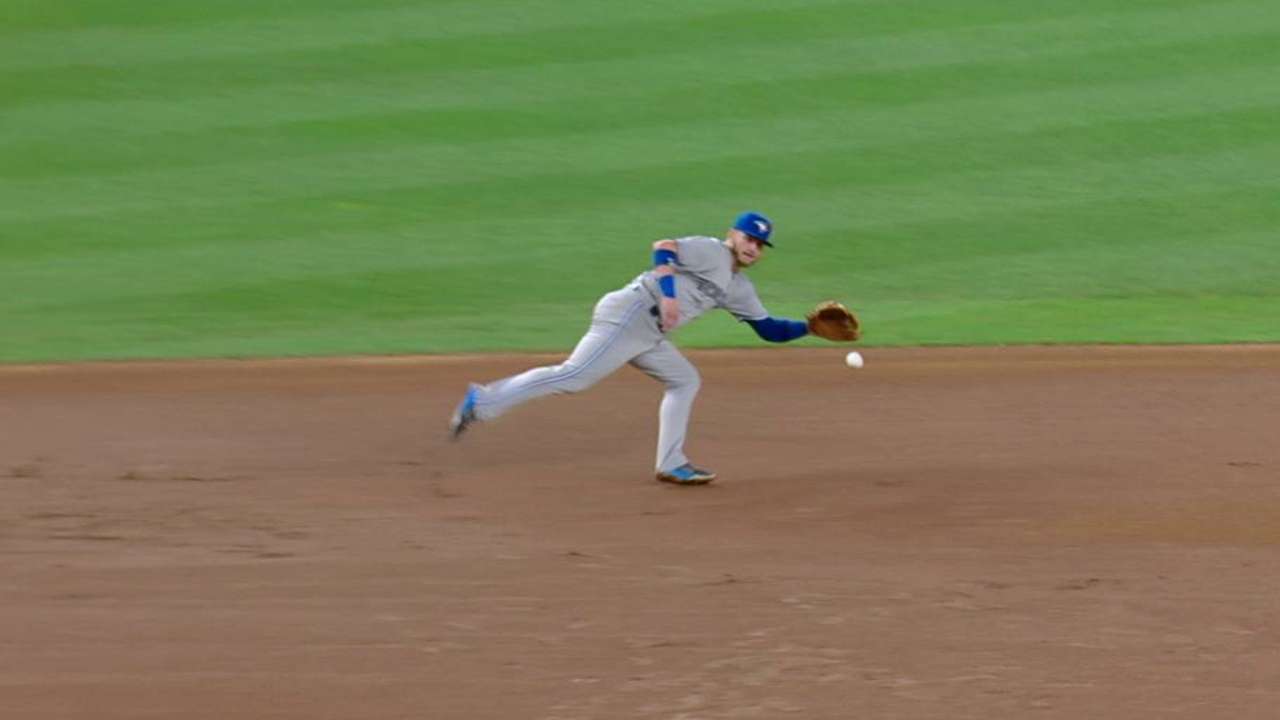 While it was initially thought that Donaldson jammed the hip while stepping on first base Sunday against the Red Sox, the veteran said he has been battling smaller injuries for the better part of the year, with the hip pain occurring abruptly. Donaldson is hitless in his past 23 at-bats -- his longest hitless streak since coming to Toronto.
"Pretty much all season long it's been -- not necessarily my hip -- but pretty much lower body injuries all season," he said. "That's more of the gradual thing, and then all of a sudden I felt it in my hip where I didn't feel like I was able to perform."
Donaldson has been a model of durability, having played in 474 of 486 games from 2013-15. The 30-year-old missed a handful of games earlier this year because of a jammed right thumb and he has also battled a sore knee after hitting a foul ball off his left leg.
In 138 games this season, the Auburn product is batting .284 with a .400 on-base percentage. He also leads the AL with 112 runs, and has 34 homers and 92 RBIs while posting a .952 OPS.
"He's obviously a special player," Toronto general manager Ross Atkins said. "He's integral to this team. You can't prepare to lose a player of his caliber and level. However, it does take 40 players, it does take 25 players. It takes a team to win. We do have depth in those areas and have options. However, this guy is the reigning MVP."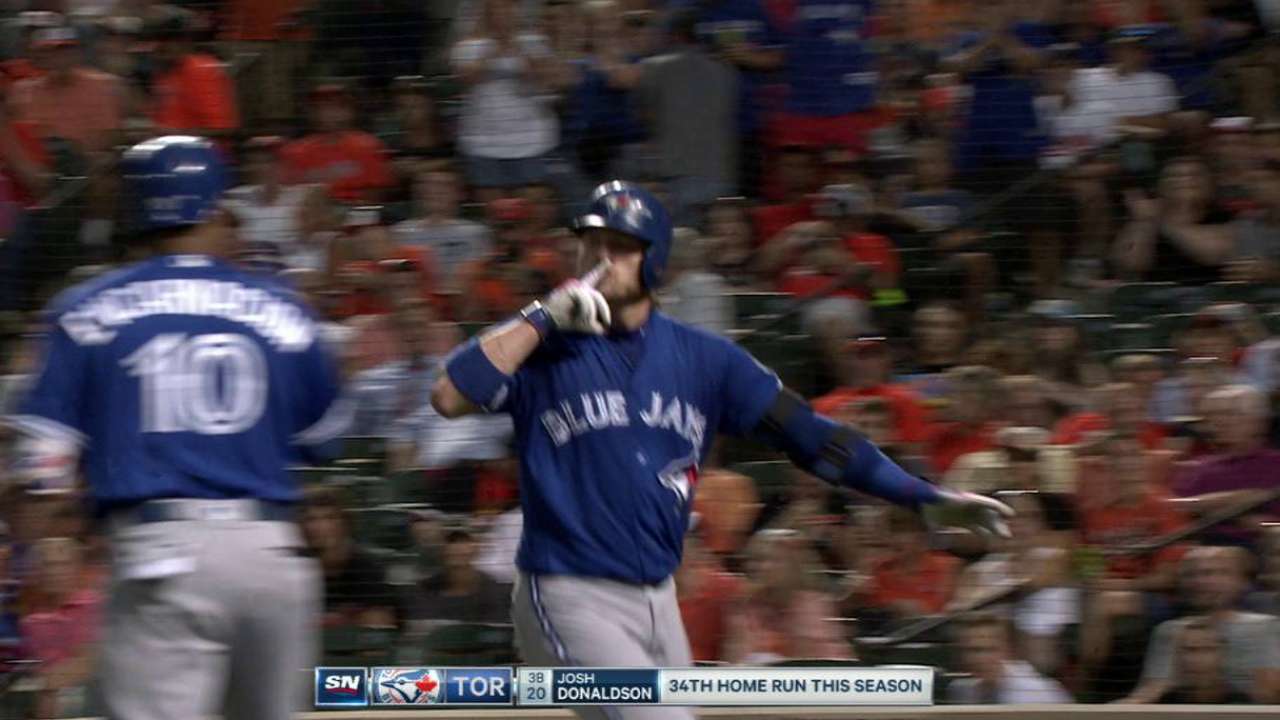 Including their loss Wednesday, the Blue Jays have gone just 3-9 in September, with much of that coinciding with Donaldson's slump and subsequent injury. Toronto's offense and pitching have fallen off in that span, with the Blue Jays losing their late-summer division lead.
"The concerns are obvious, but they're also short term," Atkins said. "This a well-balanced team, a team that has done a lot of things well over the course of the year. Right now, we're obviously not clicking on all cylinders. When we pitch, then there isn't quite enough offense and when we have scored, we haven't pitched as well as we could have.
"We would never make any excuses by any means. We need to be better than we are today, but you can't point to one aspect of our team and you certainly can't point to one person."
Darwin Barney and Ryan Goins have started at third in place of Donaldson.
Rotation set for Angels series
The Blue Jays announced their rotation for the series against the Angels. Left-hander J.A. Happ will start Thursday, knuckleballer R.A. Dickey will make his first start since Sept. 5 on Friday, while lefty Francisco Liriano gets the ball Saturday and righty Marcus Stroman closes out the four-game set Sunday.
Right-hander Aaron Sanchez is dealing with a blister on his right index finger and is not expected to start again until the series finale in Seattle on Sept. 21.
Alykhan Ravjiani is a reporter for MLB.com based in Toronto. This story was not subject to the approval of Major League Baseball or its clubs.