With 200th HR of '16, Rays set club record
Kiermaier's two-run shot ties mark, then Dickerson delivers two-run blast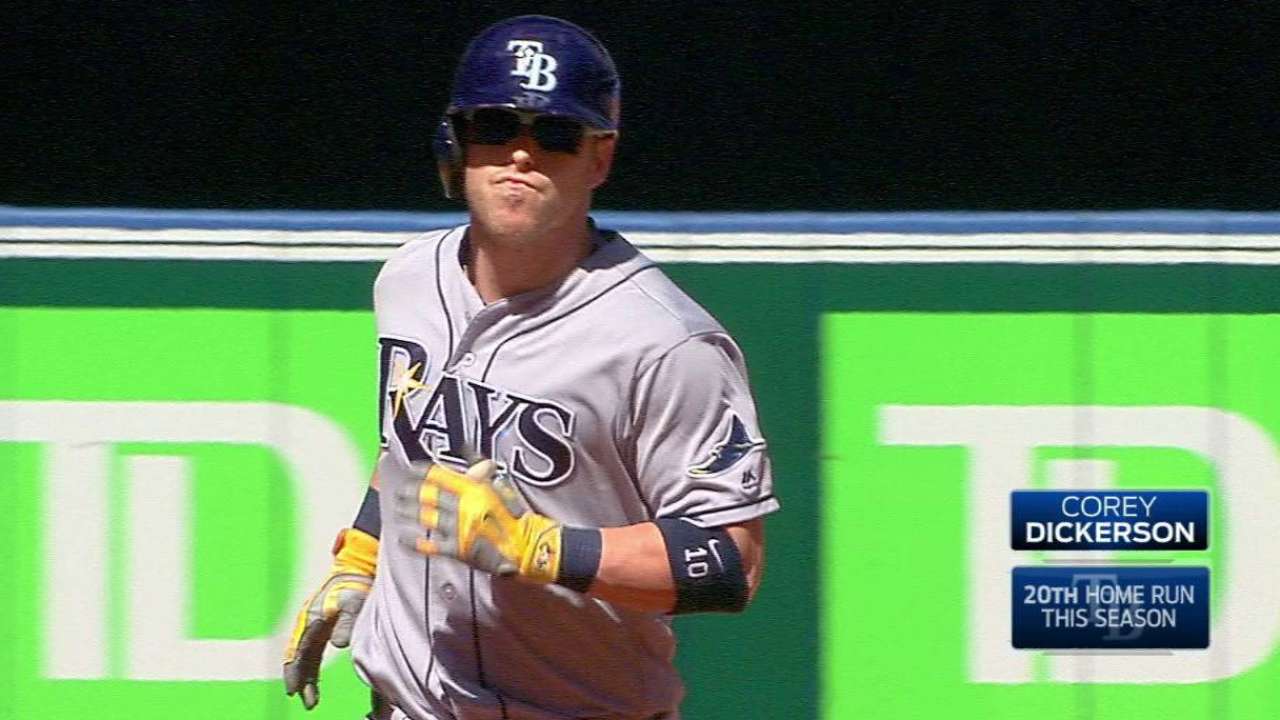 TORONTO -- Home runs are us -- so say the 2016 Rays, who established a single-season club record for home runs when Corey Dickerson hit their 200th of the season in Wednesday afternoon's 8-1 win against the Blue Jays at Rogers Centre.
Dickerson stepped to the plate with one out in the sixth. Nick Franklin's single to right had just chased Blue Jays starter Marco Estrada in favor of lefty Matt Dermody.
Dickerson had just one home run in 84 at-bats against left-handers, so Toronto manager John Gibbons' decision looked like the right one until Dickerson swung at Dermody's 82-mph slider on the second pitch.
The ball exploded off Dickerson's bat, clearing the wall in center field 411 feet from home plate with an exit speed of 108 mph and a launch angle of 27, per Statcast™.
Dickerson's blast gave the Rays a 5-1 lead, while giving the team its new high-water mark.
"I think we all want to do damage when you go up there to the plate," Dickerson said. "I think a lot of people have very good approaches on this team and it's paying off with a lot of guys. People are sticking to them."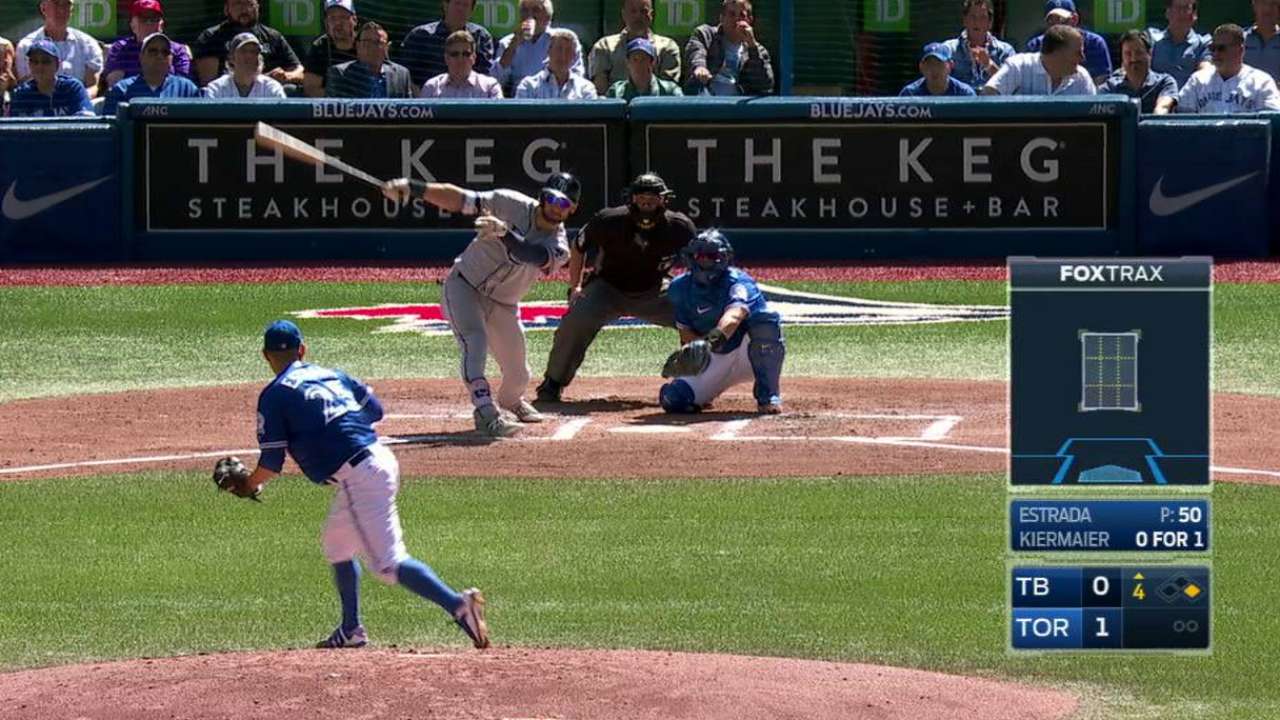 In the fourth, Kevin Kiermaier hit his 12th long ball, which gave the Rays a 2-1 lead and tied the club record at 199 set in 2009.
According to Statcast™, the exit velocity of Kiermaier's drive was just 89 mph with a launch angle of 27 degrees, and balls struck with that combination become hits just 10.3 percent of the time (.103 batting average). It was also the first homer of the year that went over the wall with that combination. Anthony Rizzo of the Cubs had an inside-the-park home run with that combination.
Kiermaier, whose homer was his fourth in his past seven games, smiled when told of his exit speed: "Oh, man, Statcast™ has to be wrong."
The Rays have gone deep 28 times in their past 15 games and 53 in their past 31 games since Aug. 13. While they would like to have wins instead of homers, the feeling inside the clubhouse is there could be a carryover effect into 2017.
"It's something we can build off of," Dickerson said. "We know we can do. We always know in the back of our mind we're capable of hitting the deep ball, even if it's late in the game or we're behind by a little, we'll come back."
Evan Longoria, who was on the '09 team, added: "I just think it gives us kind of a reference point. It tells us how good we can be offensively. And that situationally we just need to get a little better. But the power is there and we do have the ability to hit with the other teams in this division."
Bill Chastain has covered the Rays for MLB.com since 2005. This story was not subject to the approval of Major League Baseball or its clubs.