MLB.com Columnist
Richard Justice
Rangers thrive with never-say-die attitude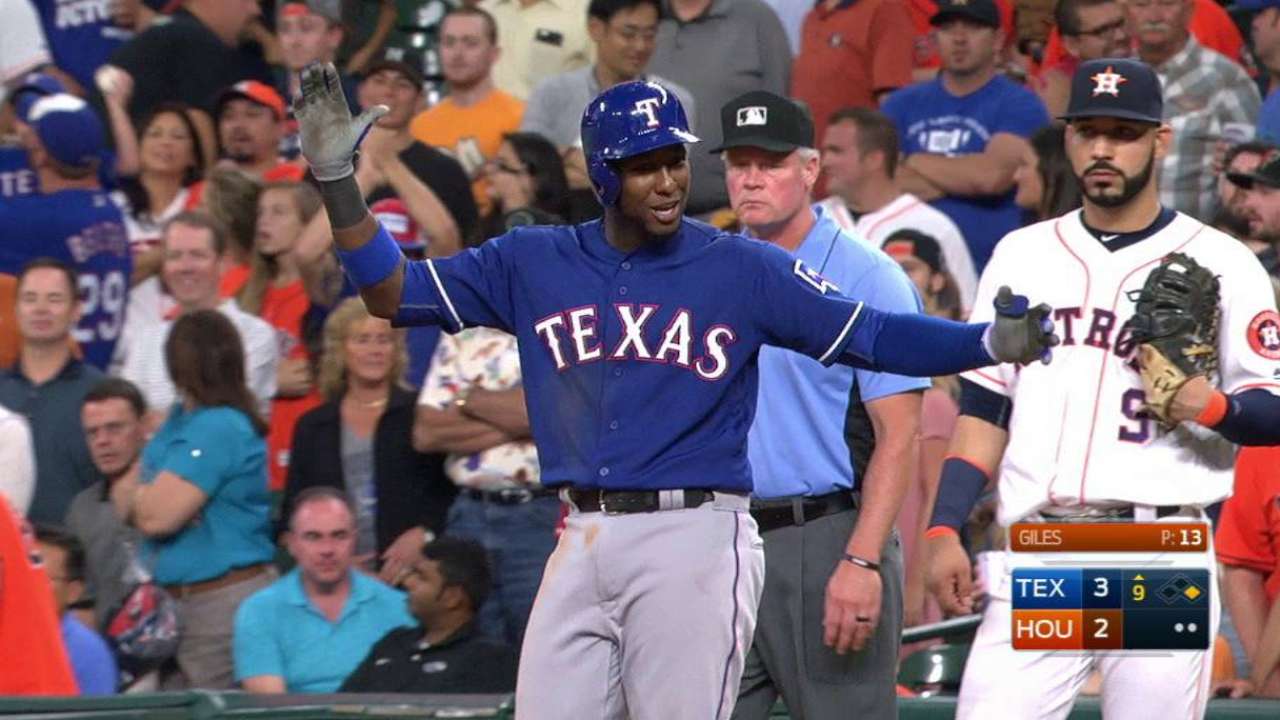 HOUSTON -- Maybe there's no magic in what these Texas Rangers are doing. Maybe there's no luck, either. Maybe what some call luck is simply a byproduct of preparation and smarts and tenacity.
"We really don't give up until the last out," Rangers shortstop Elvis Andrus said after a 3-2 victory over the Astros on Tuesday night at Minute Maid Park.
Andrus shrugs when he says this, as if he's apologizing for a cliche athletes have been saying forever. Only thing is, it's probably the story of this team. To focus on anything else is to miss the really cool parts of this season.
The Rangers have been brilliantly constructed and smartly managed. And some years, when a franchise has done things right, when it has gathered the right kinds of players and put the right kinds of people in charge, things like this happen.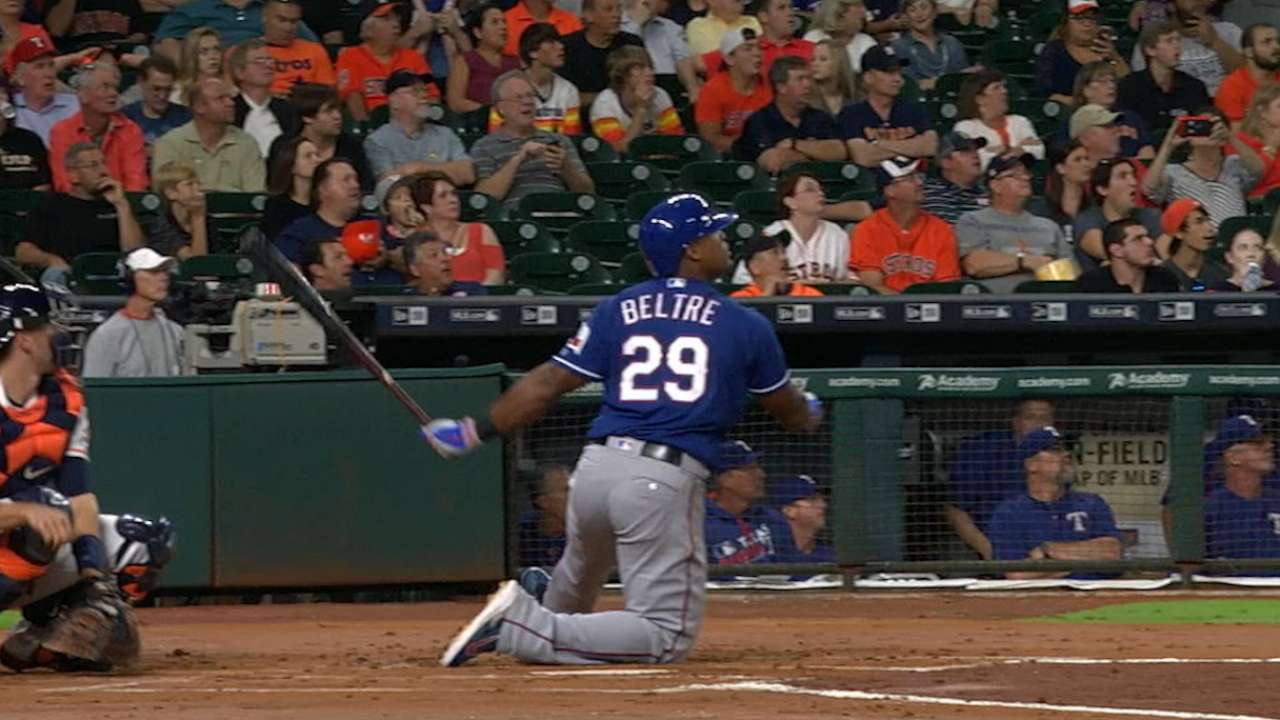 They have the best record in the American League at 87-59 and haven't had a lead of less than 8 1/2 games in the AL West in two weeks. They're 33-10 in one-run games, a record that history says is not sustainable.
On the other hand, when it continues to happen, an entire clubhouse starts to see it as the norm.
The Rangers have come from behind 44 times to win, tops in the Majors. They're 15-3 against the Astros, the team widely favored to win the AL West. Texas is also playing its best baseball at the most important time of the year, winning 12 of 17 and sprinting into the postseason.
"You continue to push yourself no matter what the score is so you give yourself an opportunity in these types of games," Rangers manager Jeff Banister said. "These guys believe they can come back, and that's probably the No. 1 asset you can have mentally."
If you didn't know a single thing about the Rangers in 2016, the game they played against the Astros on Tuesday might tell you all you need to know. They were one out from losing. But this is a place they've been before. This seems to be a place in which they're comfortable.
Here's how it played out: Second baseman Rougned Odor reached first base on a wild pitch after striking out with one out in the top of the ninth inning and Houston leading 2-1. Odor then stole second base against closer Ken Giles, who is very good at delivering the ball quickly to home plate with a man on base.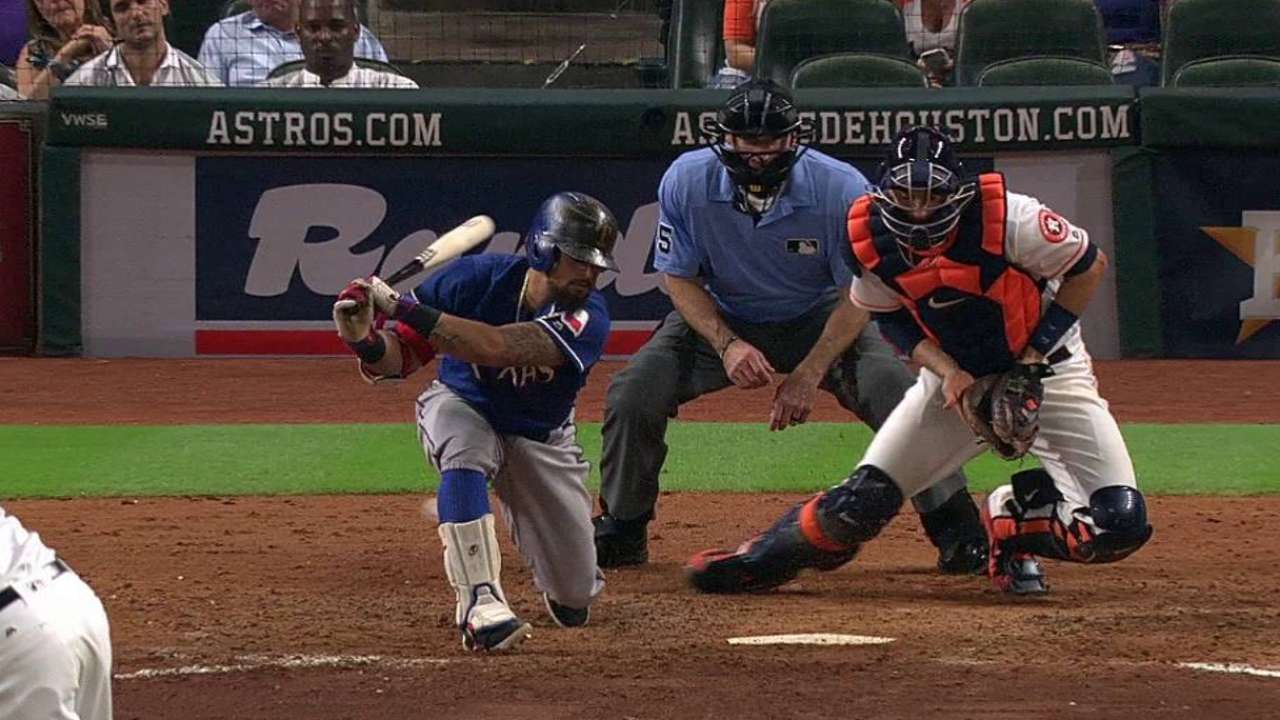 "Little bit of a gamble there," Banister said.
In for a dime, in for a dollar. With two out, Andrus got Odor home with the tying run by slapping a 97-mph Giles fastball to one of the deepest parks of the ballpark in center field. Andrus ended up at third base with a triple and scored what turned out to be the winning run on a Jurickson Profar single moments later.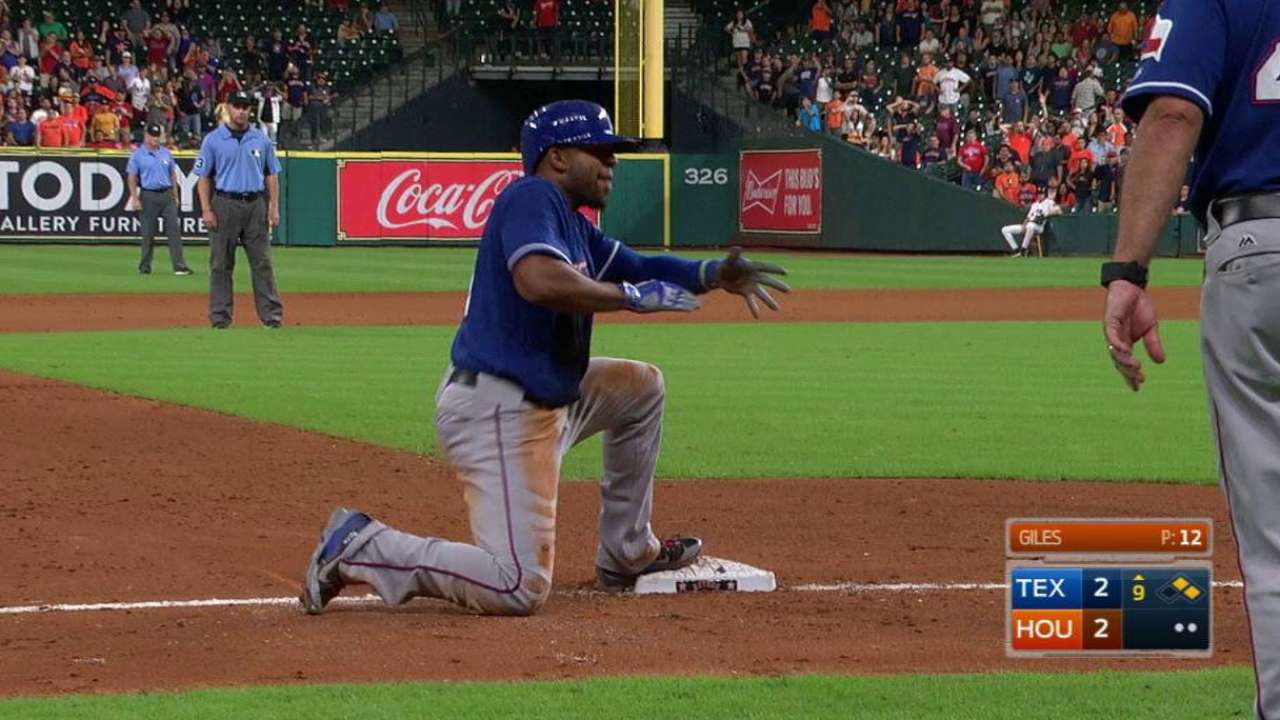 Wait, it gets better.
Banister didn't have his usual late-inning lineup of relievers available, so he handed the baseball to Tanner Scheppers, who was appearing in only his fourth game after missing almost the entire season recovering from knee surgery.
Scheppers got the Astros out in order in the bottom of the ninth inning for his first save in three years. Sometimes when things are clicking, they're really clicking.
"These guys have proven so many times in games where we may be four, five, six runs down, and they're still banging away trying to get on and do things offensively to come back," Banister said.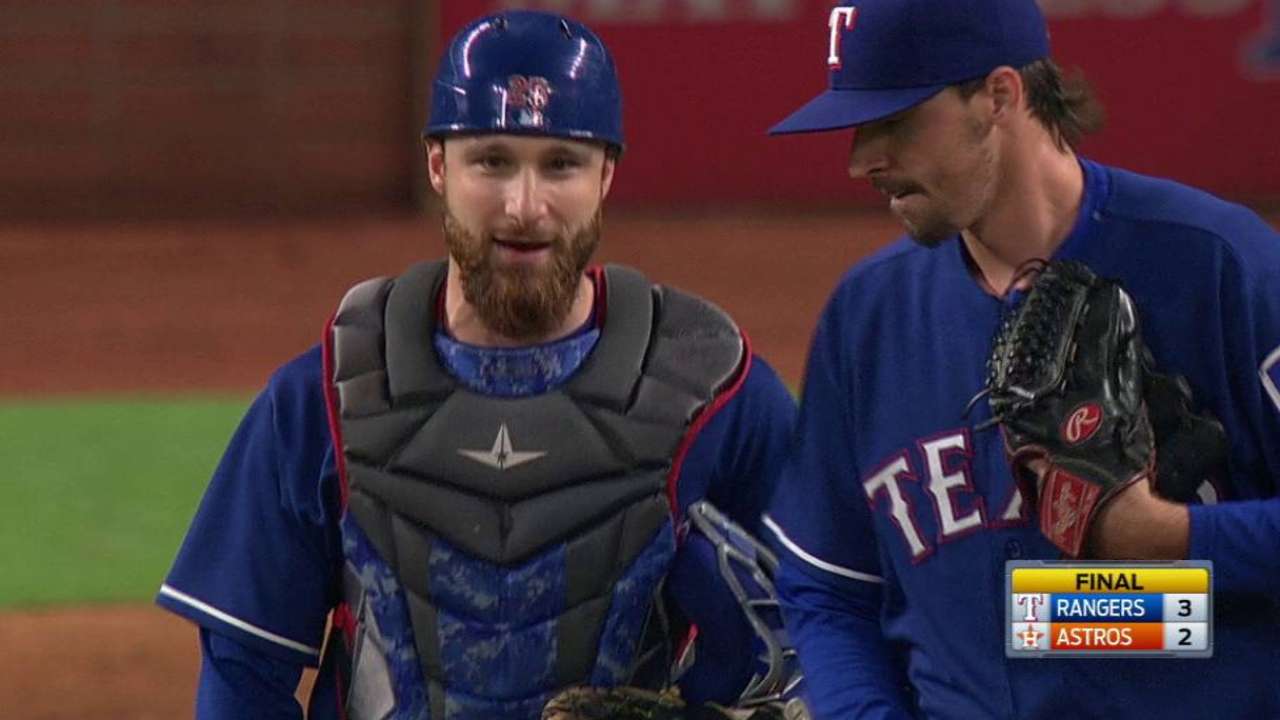 The Rangers have done this despite a rotation that has been a work in progress for almost the entire year. Banister has handed the baseball to 11 starting pitchers. Cole Hamels has been his usual reliable self. After that, there has been uncertainty and inconsistency.
Now, though, with 16 games remaining, Texas has its No. 2 starter, Yu Darvish, healthy. Behind him is another veteran, right-hander Colby Lewis, also just back from the disabled list. All things considered, the Rangers couldn't be feeling more confident about their fifth postseason appearance in seven seasons.
"We have a really good group of guys, great teammates who have great chemistry in this clubhouse," said third baseman Adrian Beltre, who hit his 30th home run in the second inning. "Yes, we're happy where we're at, but it's not over yet. We know we have a little cushion, but we need to win the division and get ready for the next step."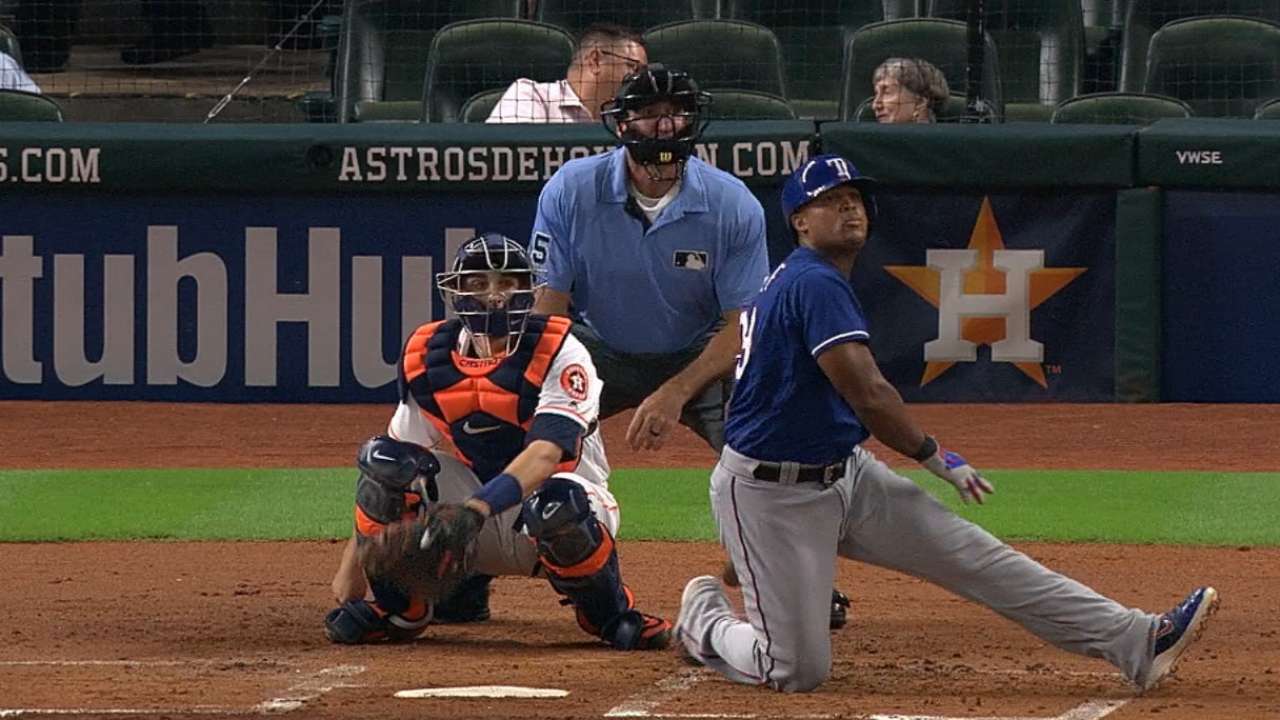 At the Aug. 1 non-waiver Trade Deadline, general manager Jon Daniels shopped hard for starting pitching. Uncomfortable with the prices, he upgraded the Rangers in other areas by acquiring catcher Jonathan Lucroy from the Brewers and right fielder Carlos Beltran from the Yankees.
"They fit in immediately," Beltre said. "It took them no time to get acclimated."
They've produced, too. Along with the signing of free-agent outfielder Carlos Gomez, who was released by Houston, Texas has gotten 19 home runs and 60 RBIs in 317 at-bats from the three new players.
The Rangers have added depth and production to a lineup that was already deep. But after back-to-back World Series appearances in 2010 and '11, they have set their bar high.
"It's just a great environment," Lucroy said, "and it starts with Beltre setting the tone. Here's a guy who is most likely a future Hall of Famer, and he's 37 years old and competes and works hard and wants to play every day. It's an impressive environment."
It's an impressive team, too.
"We're proud of where we're at," Banister said, "but we're not done yet."
Richard Justice is a columnist for MLB.com. Read his blog, Justice4U. This story was not subject to the approval of Major League Baseball or its clubs.