Collins' hunch pays off as rookie Rivera rakes
Manager's faith rewarded as 2nd baseman delivers game-winning HR in 3-for-4 night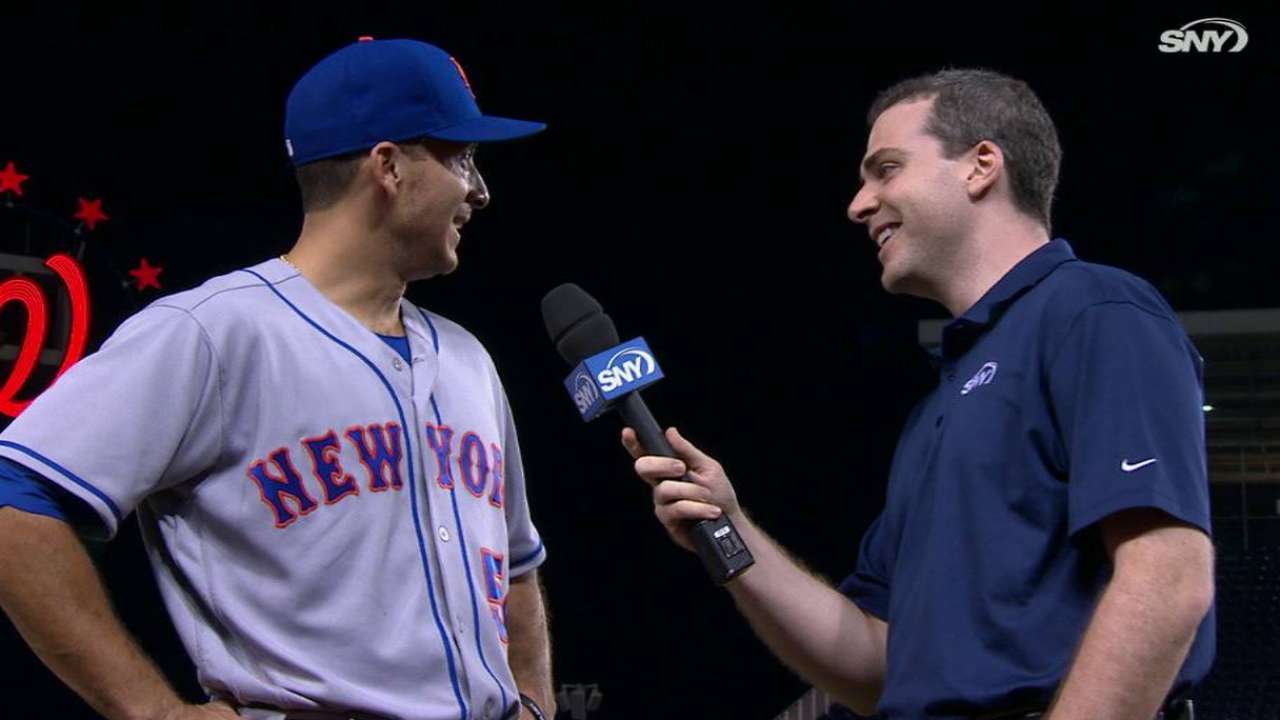 WASHINGTON -- Every afternoon when T.J. Rivera arrives at the ballpark, the first thing he does is check the lineup card. Most days, buried three-deep on the depth chart at multiple positions, he is not likely to play. But he scans the card anyway, mentally preparing to see his name printed in small black block letters.
Tuesday, with Wilmer Flores nursing a neck injury, the left-handed-hitting Kelly Johnson seemed most likely to man second base for the Mets. Yet Mets manager Terry Collins, intrigued by Rivera's strong at-bat Saturday in Atlanta, decided to play a hunch: Rather than stack Johnson among four lefties in the middle of his lineup, he played the right-handed Rivera against Nationals starter A.J. Cole.
The result was what, three weeks from now, could turn out to be a seminal win for the Mets. Rivera's home run in the 10th inning lifted them to a 4-3 victory over the Nationals, capping his 3-for-4 night with a career-high three RBIs.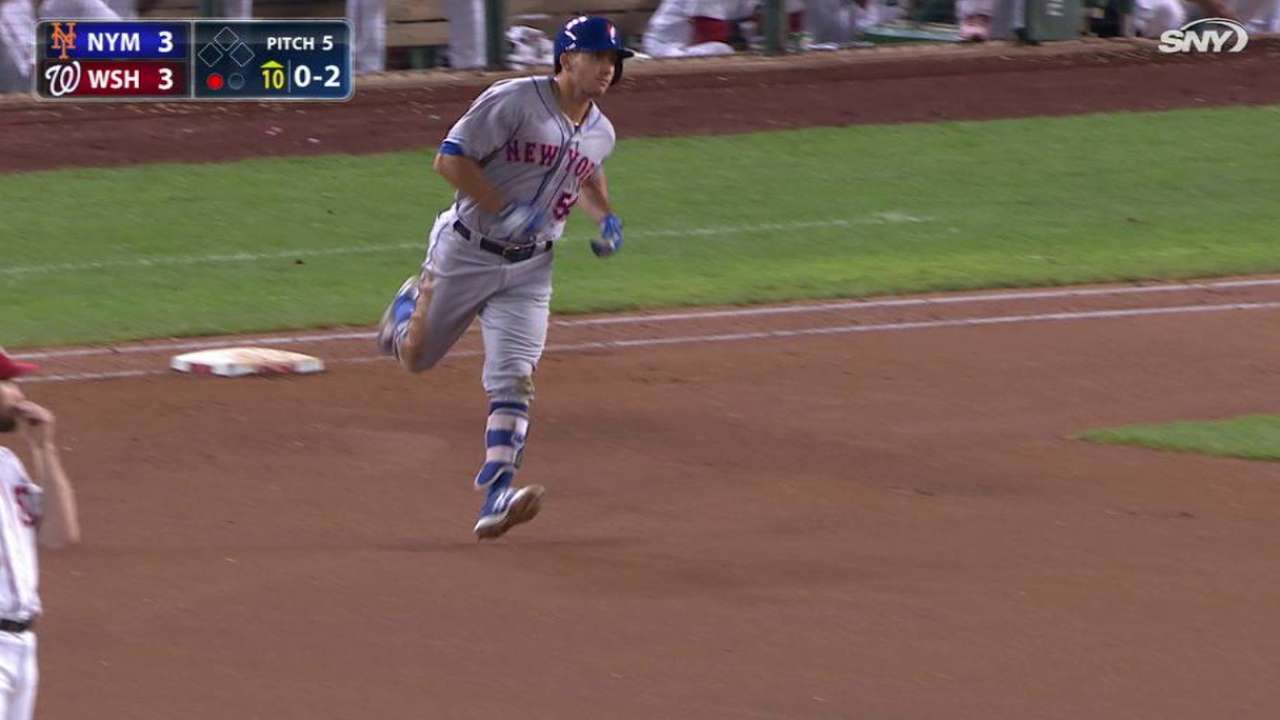 "I was super excited going around the bases," Rivera said, laughing. "It's my first big league home run. It was a nice moment to have, which is pretty cool. But I was trying to keep my cool."
That much lasted only a few minutes. After the Mets recorded three harrowing outs in the bottom of the 10th to seal their victory, Rivera lingered on the field to conduct a postgame television interview. He then walked back into the dugout and up a long flight of stairs to the clubhouse, where teammates had gathered in a line for high-fives. As Rivera turned the corner, hitting coach Kevin Long smashed a whipped-cream pie into Rivera's face. Dollops of sugar fell to the carpet as Rivera waded through the party to his locker.
"For him to come up in that moment and shine like he did, that's pretty impressive," said reliever Jerry Blevins, who struck out Daniel Murphy to end the game. "And he's a great kid, so I'm happy for him."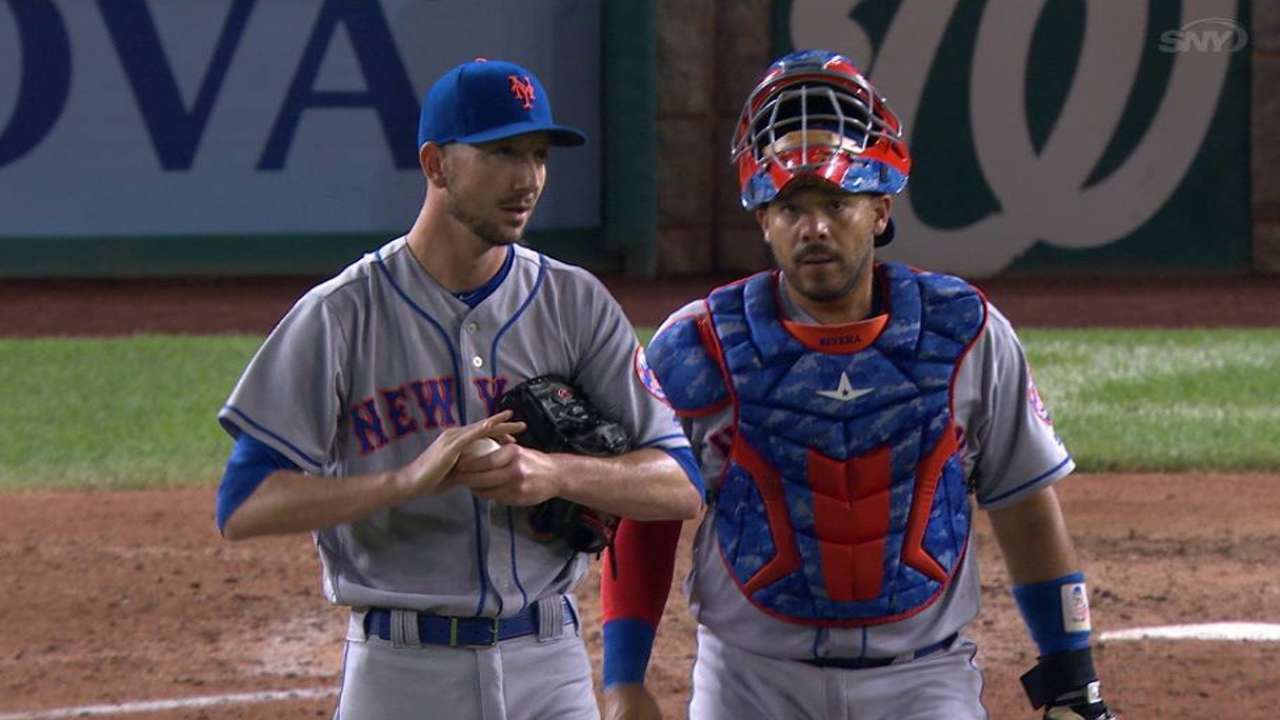 Moments before Rivera's hit, Blevins was sitting in the bullpen alongside Jim Henderson, discussing the situation like two fans would. The two relievers considered the matchup against Nationals closer Mark Melancon a true test for Rivera, an undrafted free agent who made the big leagues through sheer force of will. Guaranteed nothing, Rivera forced his way from level to level by batting .324 in the Minor Leagues, needing to accomplish more than his higher-pedigreed teammates to make those jumps.
Even this summer, as Rivera sat atop the Pacific Coast League batting leaderboard, the Mets continually passed him over for promotions. He finally cracked the Majors in mid-August, stuck around for two weeks, went back to Triple-A Las Vegas, won the PCL batting title, then returned for good as a September callup.
Since then, Rivera appeared in three games as a pinch-hitter before Collins played his hunch, watching him collect two hits and a sacrifice fly. Collins then kept Rivera in the game to face one of the game's best closers.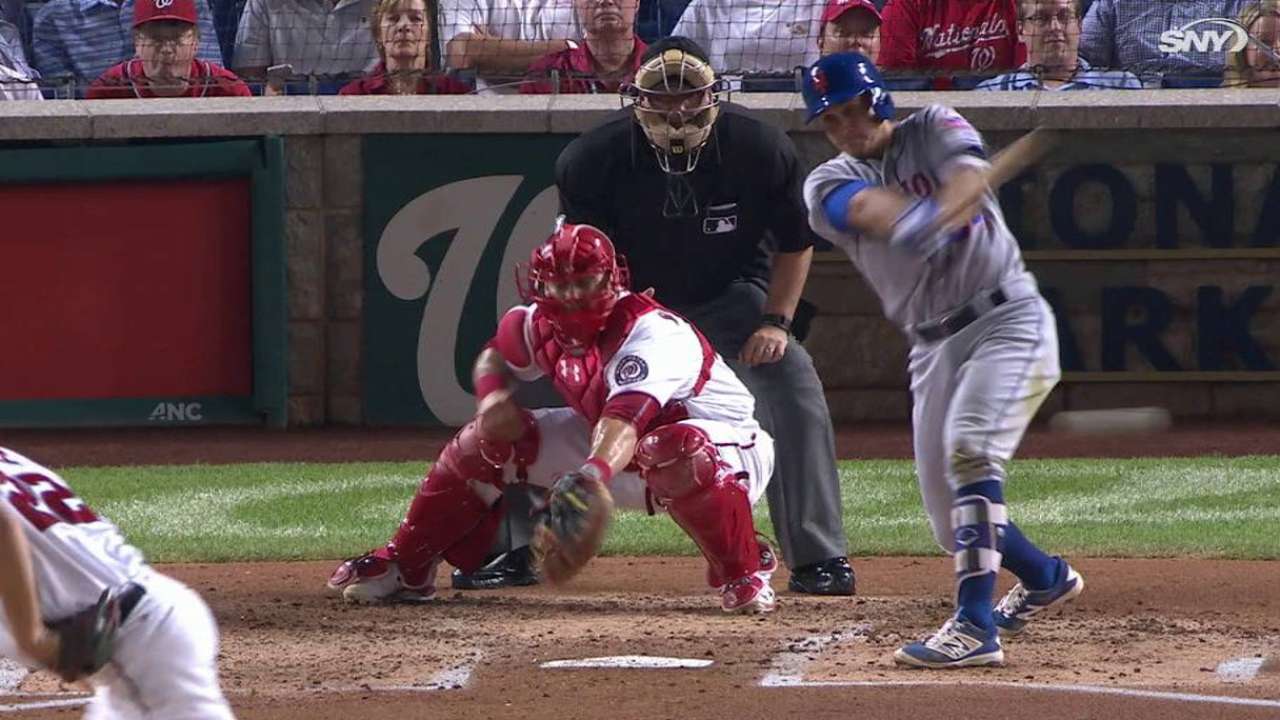 "Everybody that's ever had him has said, 'This guy can really hit,'" Collins said. "He always has."
Added Melancon: "These guys are big leaguers. They're not up here for the heck of it. Everybody that is up there, they've got a bat in their hands and they're the enemy."
With Flores, Johnson and others capable of playing second base, Rivera isn't liable to see significant playing time down the stretch. But any doubt regarding his ability to translate Minor League numbers into big league success seems to have vanished. In 47 Major League plate appearances, Rivera is now batting .333.
He has shifted perceptions and altered dispositions. Moments before Rivera's hit, Jeurys Familia blew a save in a tough-luck ninth inning, allowing the Nationals to claw back into a 3-3 game. But the Nats did not end things when they had the chance, pushing the game to extras.
"We came off the field, and we still had some fight left," Collins said. "Fortunately, T.J. came up with a big hit. It changed the mood immensely."
Anthony DiComo has covered the Mets for MLB.com since 2008. Follow him on Twitter @AnthonyDiComo and Facebook, and listen to his podcast. This story was not subject to the approval of Major League Baseball or its clubs.