Alexei joins Rays' homer bash with big smash
Veteran last went deep off Smyly on Aug. 15 with Padres; Tampa Bay 1 shy of club record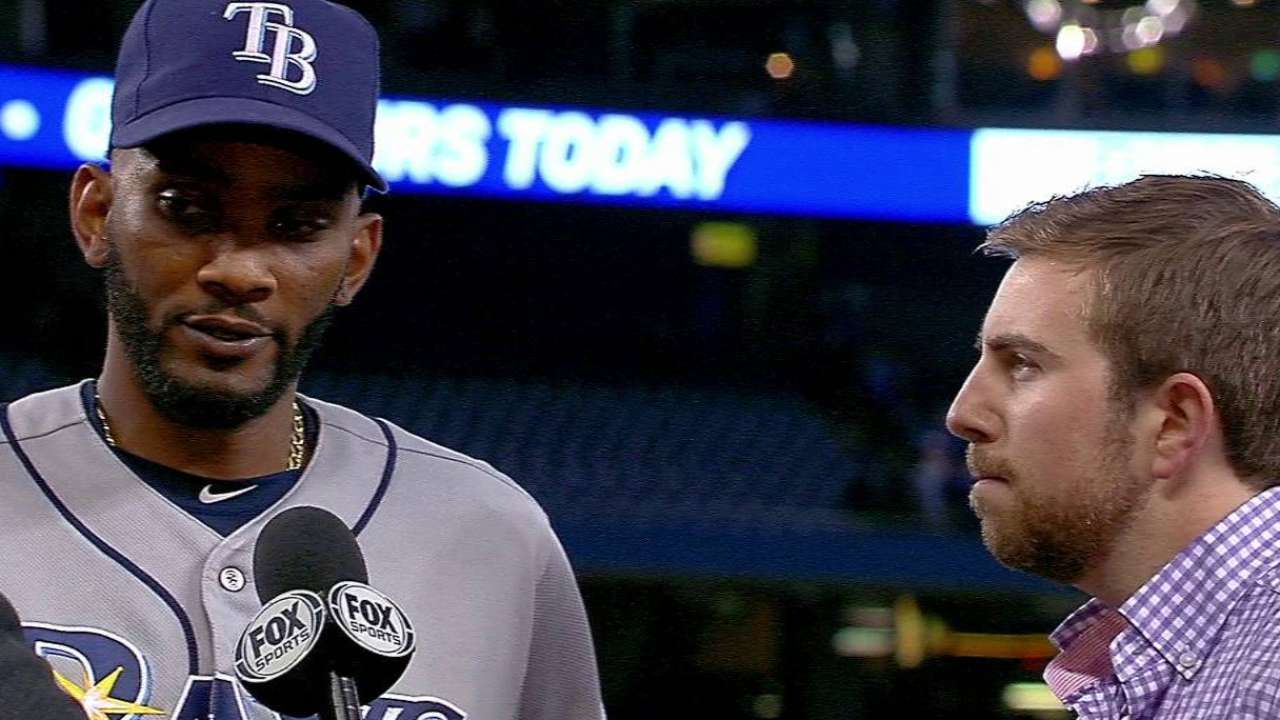 TORONTO -- Home runs have been a part of the Rays' DNA in 2016.
In Tuesday night's 6-2 win over the Blue Jays, the Rays crept to within one of the single-season club record of 199 -- and they did so with a bang.
Alexei Ramirez, whom the Rays recently signed after he was released by the Padres, stepped to the plate with two aboard in the fifth. The veteran shortstop had not homered since taking Drew Smyly deep at Tropicana Field on Aug. 15 as a member of the Padres.
"I did know about that," said Ramirez through the Rays' team interpreter. "I wasn't thinking about that at the time."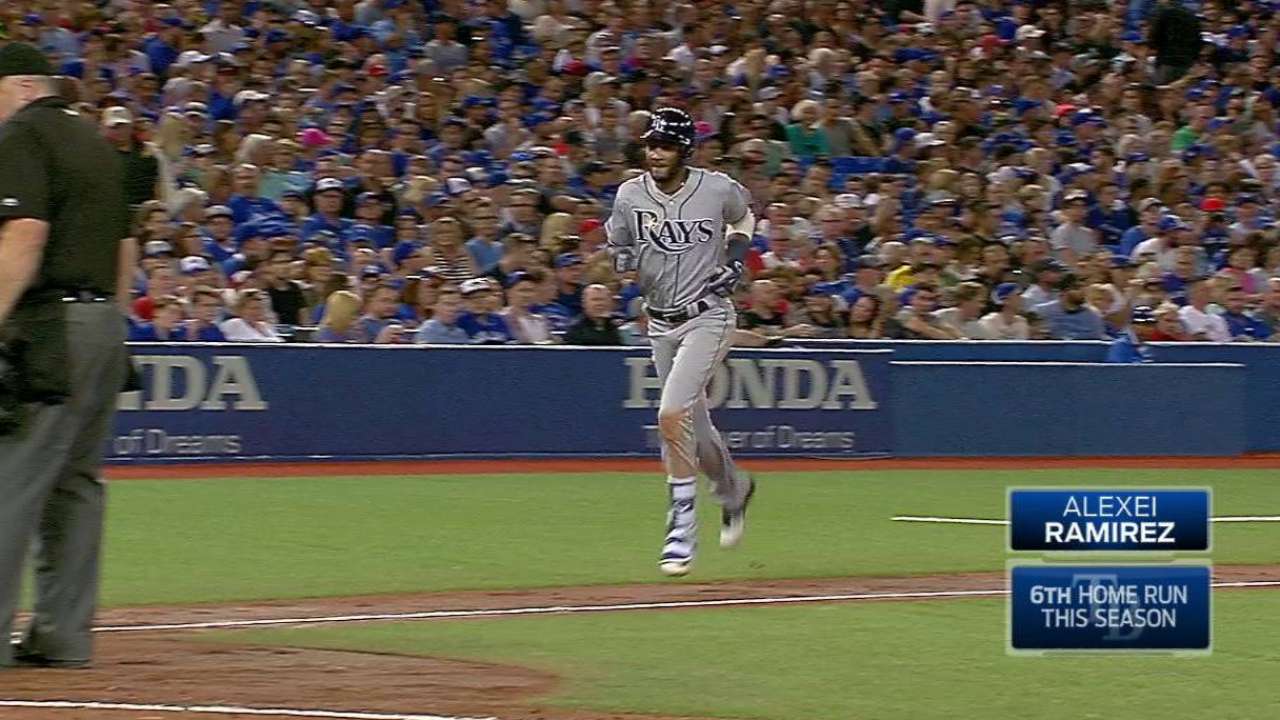 Blue Jays starter Marcus Stroman got ahead in the count, 0-2, before Ramirez swung at a 92-mph fastball and drove the pitch over the wall in left.
"I was just looking for a pitch to hit in the zone," Ramirez said. "He was having a pretty good night against us. And sure enough, I was able to find one and connect."
Ramirez took a moment to reflect on how his fortunes have changed over the course of the past week.
"I was at home last week in San Diego," Ramirez said. "The Rays got in touch with my agent. Before that, I thought that might have been the end of my season. I'm very thankful for the opportunity the Rays have given me. I feel like I've caught on pretty well in the short time I've been here. ... It's nice to contribute."
Before tonight, Alexei hit his last HR off @SmylyD at the Trop on Aug. 15 as a member of the @Padres. #RaysUp #Irony pic.twitter.com/ohiSljsosC

— Tampa Bay Rays (@RaysBaseball) September 14, 2016
Team home run No. 197 gave the Rays a 3-0 lead and brought a nice exception to the season-long trend of solo home runs.
"Three runs are three runs, but if they want to come at one time, that's fine," Rays manager Kevin Cash said.
Entering Tuesday night's game, 123 of the team's 196 home runs had come without runners on base. So despite ranking fifth in the Major Leagues in home runs, they ranked 23rd in runs scored.
Steven Souza Jr. added a solo home run in the seventh to give the Rays 198 on the season, and a 4-2 lead.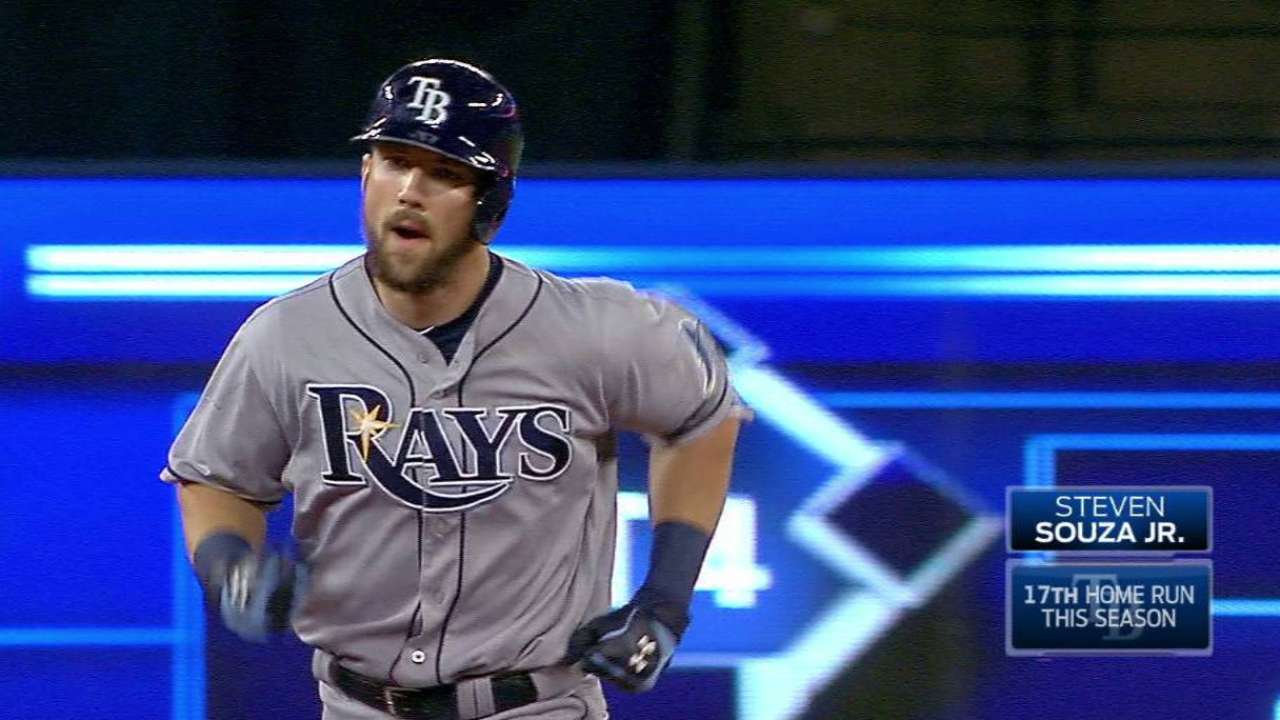 Brad Miller, who has hit 28 of the team's home runs this season, put the Rays' clout into perspective.
"Home runs are good," Miller said. "Obviously, we have a good mix of guys who are established who have been doing it a long time, like [Evan Longoria] and [Logan Forsythe] and other guys who are growing, like myself. And it's fun, honestly, to see the potential. Now it's our job for everybody to take a step."
When asked about the solo home runs, of which the Rays have now hit 124, Miller said, "You can't control solo home runs.
"It's hard enough to hit a home run. Obviously you want every time you hit it to be three guys on base. But it just doesn't happen. I just think it's more being better baseball players -- the little details that help shift a game and the execution of that. We're all capable of it. But good teams are consistent with it."
Bill Chastain has covered the Rays for MLB.com since 2005. This story was not subject to the approval of Major League Baseball or its clubs.