Rangers pull off improbable comeback in 9th
'I don't know how we did it,' Beltre says after wild 2-run rally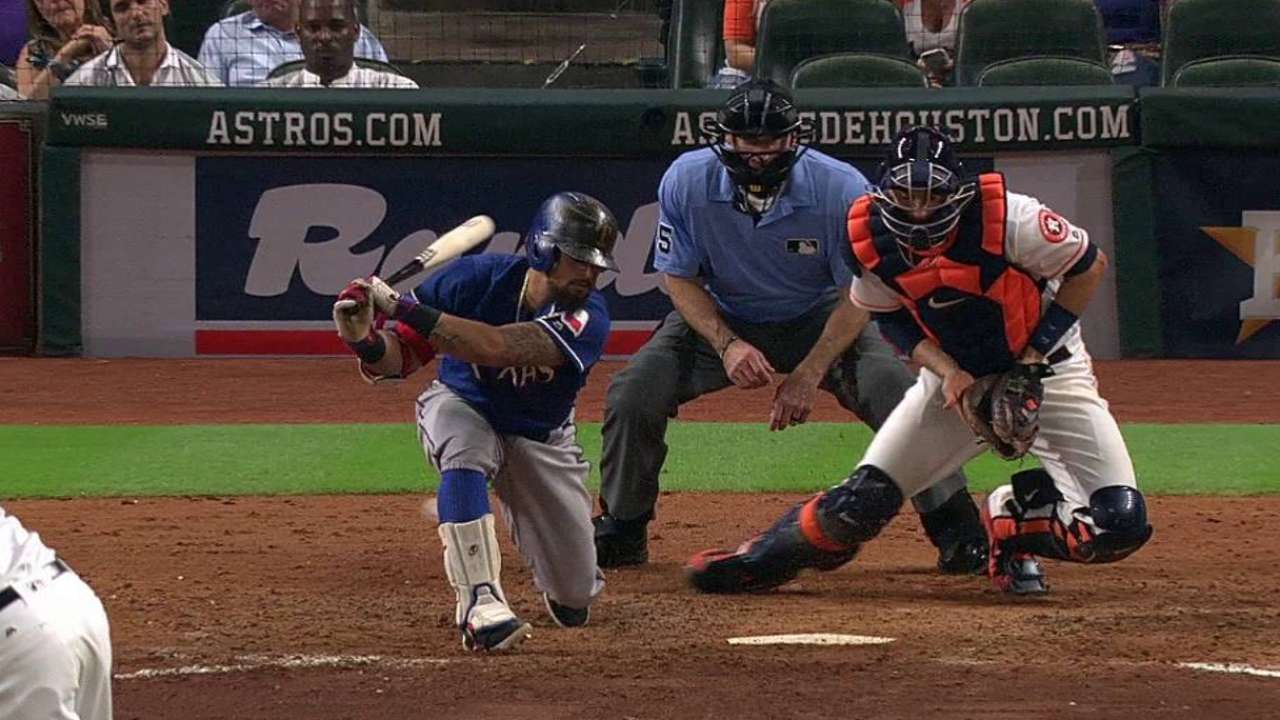 HOUSTON -- The Rangers trailed, 2-1, going into the top of the ninth Tuesday night, and Astros reliever Ken Giles started the inning by getting Adrian Beltre to ground out. Then he struck out the next two batters.
Yet, somehow, the Rangers managed to rally for a 3-2 victory over the Astros at Minute Maid Park.
The Rangers have had some improbable comebacks and some amazing victories this season, but this one has to rank at least near the top. Not many teams win a game after they've made what should have been the 27th out.
"I don't know how we did it," Beltre said.
They did it with a big break on one of the strikeouts, a big gamble on the basepaths and two big hits from Elvis Andrus and Jurickson Profar, leaving the Astros in a daze.
"That was just another amazing win," Andrus said. "I think that separates this team from past years, we really don't give up until the last out."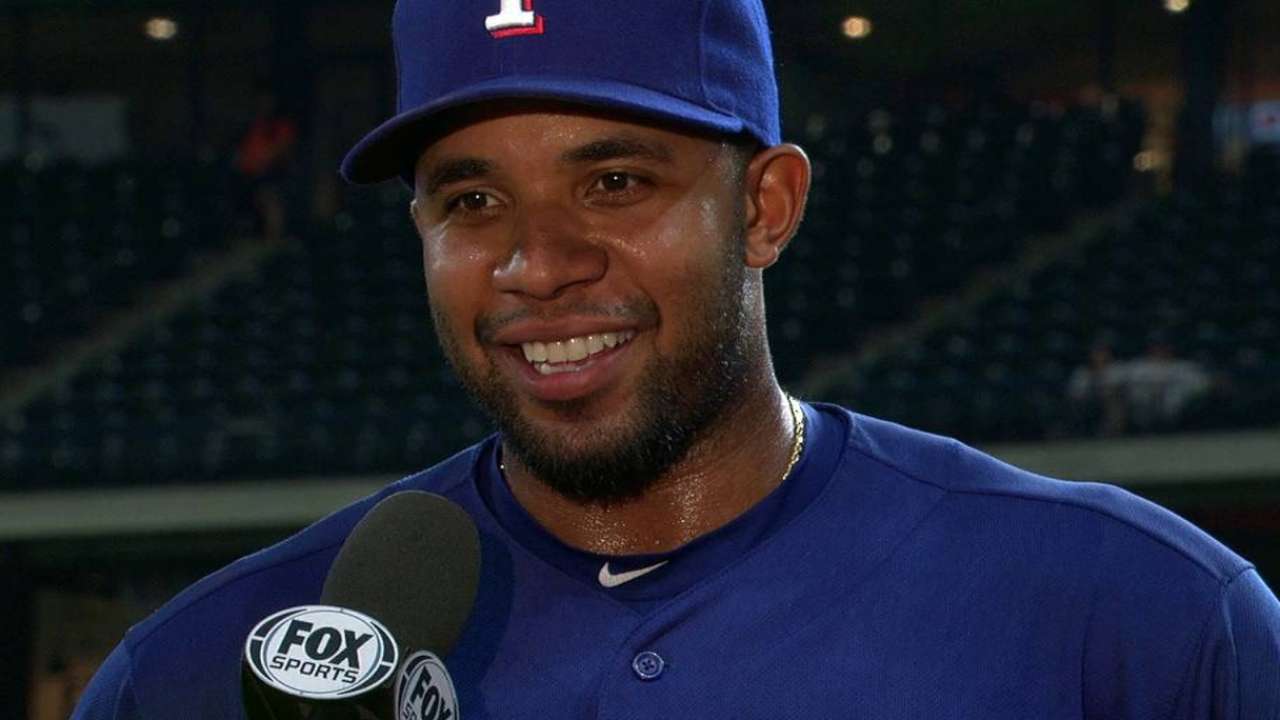 Just to review the numbers -- the Ranger are now 33-10 in one-run games, they have 44 comeback victories and they have seven wins when trailing after eight innings. They are 15-3 against the Astros even though 14 of those games have been decided by two runs or fewer.
"We're just trying to do the same thing we do with everybody," Odor said. "Play hard, never give up and just try to win the game."
• Tracking Texas' 3-bagger dagger
Odor was one who started the rally. He was the second batter up in the inning and he struck out. But the third strike was in the dirt, bouncing away from catcher Jason Castro and rolling toward the Astros' dugout. Odor made it easily to first base with Mitch Moreland coming to the plate.
On a 1-1 pitch, Odor broke for second and beat the throw for a stolen base that put him in scoring position. Statcast™ tracked Odor reaching a top speed of 21.3 mph on the steal.
"We gave him the green light ... pick a pitch and go," manager Jeff Banister said. "Giles is extra quick to the plate so it's a gamble. We had a guy out there we were confident in to get a jump, read the pitcher and go. We're down, they have their closer on the mound, we decided to take a chance."
Giles struck out Moreland for what should have been the final out. But the Rangers were still batting and Andrus followed with a triple to deep center field -- which Statcast™ projected at 405 feet -- bringing home Odor with the tying run.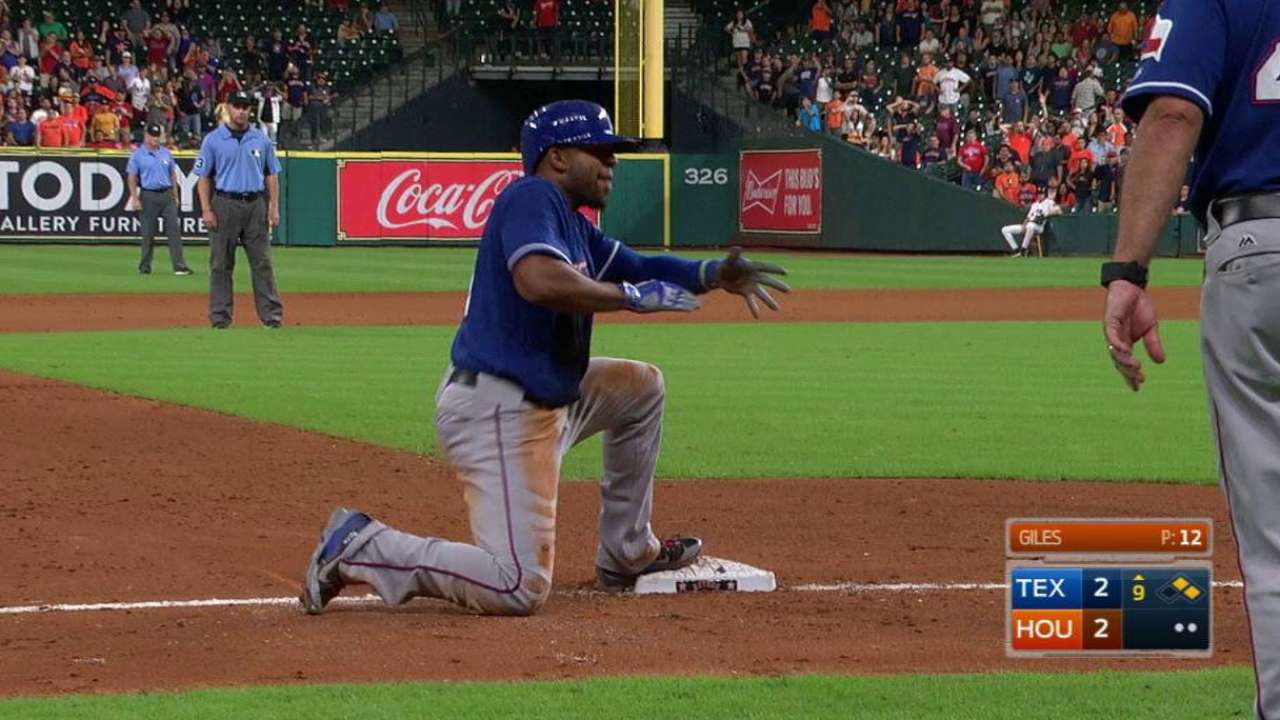 "I was trying to be aggressive," Andrus said. "I knew he was going to come right at me, throw pretty hard, so I didn't want to get to a point that I was going to see a slider; that's a pretty nasty pitch, that's his best pitch after the fastball, so I was being aggressive."
Profar followed with a single to left to bring home the go-ahead run. Jonathan Lucroy then hit a grounder that got past third baseman Alex Bregman for an error but Profar, who had moved up to second on a wild pitch, was thrown out trying to score.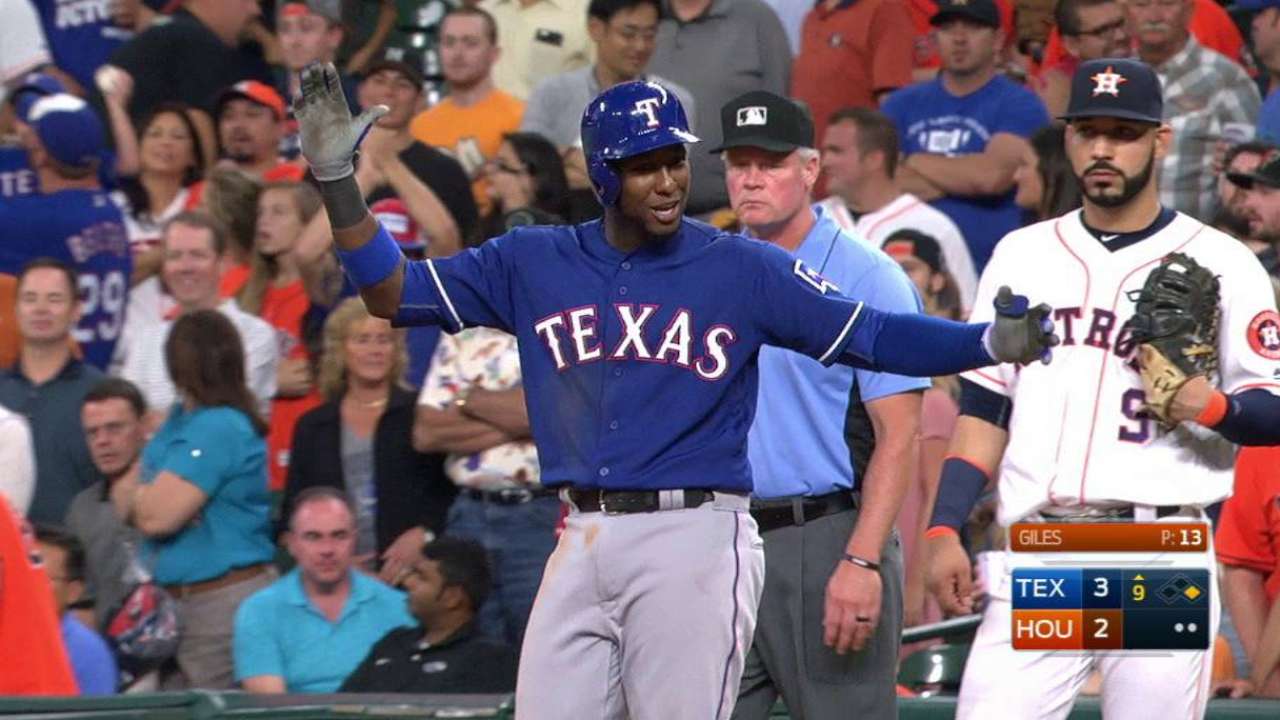 The Rangers didn't need the extra run. It was just another comeback victory for the Rangers, the only difference is in the details.
T.R. Sullivan has covered the Rangers since 1989, and for MLB.com since 2006. Follow him on Twitter @Sullivan_Ranger and listen to his podcast. This story was not subject to the approval of Major League Baseball or its clubs.