Meyer gets a tip from Pujols after home debut
Angels rookie may have been tipping pitches vs. Mariners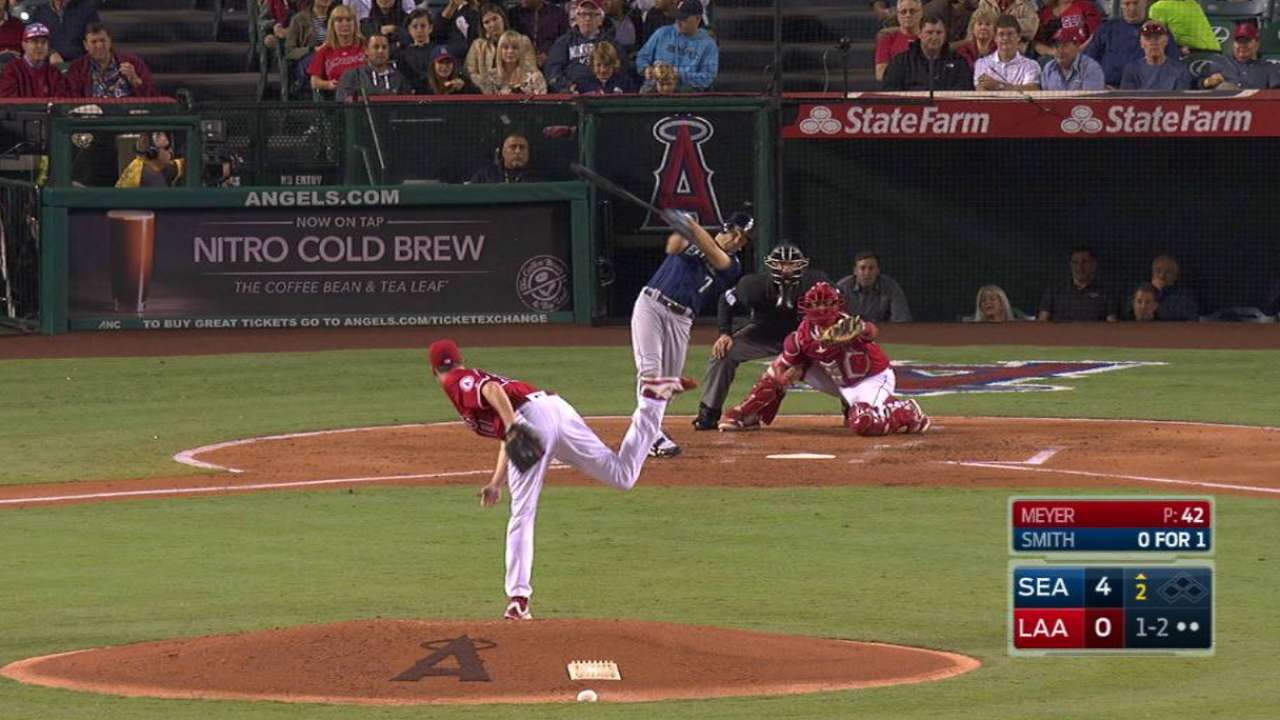 ANAHEIM -- The Angels have a lot of questions regarding their rotation heading into the offseason, so every opportunity they get to take a look at rookie right-hander Alex Meyer is a plus.
Meyer, 26, is one of the key pieces to the team's future, and on Tuesday night he made his Angel Stadium debut in a four-inning start against the Mariners, taking the loss in a 8-0 defeat. It was his second start with the Angels.
Angels manager Mike Scioscia said Meyer "showed some flashes" of someone the club hopes will develop into a productive Major League pitcher. But there are still adjustments to be made and work to be done three starts into his big league career.
Meyer was given the impression by Albert Pujols that he may have been tipping his breaking balls against the Mariners, who tagged the right-hander for four runs on five hits (two home runs) in four innings.
"I don't know if there was something going on with my breaking ball, if they were seeing something, if I was tipping something on my breaking ball," said Meyer, who made 76 pitches to reach his limit. "There were a couple that I threw that looked pretty good. Usually I get a strikeout with that or not as good a swing as what I was seeing tonight. It's just something that [Pujols] brought to my attention and obviously when a guy like that comes and says something to you, you're going to listen."
Meyer said he's never before had an issue with tipping pitches.
"That may not be the case. It's just something that [Pujols] thought," Meyer said. "We'll go see what he says. He's as good as anybody, I'm sure, looking at that stuff, so when he goes over, I will definitely be listening to see what he thinks."
Meyer gave up a towering, two-run home run to Nelson Cruz with two outs in the first. It was the 36th homer of the season for the Mariners' slugger. Meyer struggled with his command and made 29 pitches (15 strikes) in the inning.
In the second, Meyer gave up a leadoff single to Leonys Martin, who scored on a sacrifice fly, and a solo homer to Norichika Aoki.
Both homers came on fastballs that caught too much of the plate.
Meyer retired seven of the nine batters he faced after Aoki's homer. His three strikeout victims were Seth Smith, Kyle Seager and Dan Vogelbach (looking).
"I felt fine. Obviously it didn't go the way that I would have liked it to, but physically felt fine," said Meyer, who battled shoulder issues earlier this season. "I've just got to do a better job of mixing in offspeed earlier. Tried to do too much fastball, especially when I was behind. Obviously they were jumping all over that and I wasn't able to throw it by anybody tonight."
Acquired from the Twins at the Trade Deadline along with veteran starter Ricky Nolasco, Meyer is rated by MLBPipeline.com as the Angels' No. 12 prospect. He was selected by the Nationals with the 23rd overall pick in the 2011 Draft out of the University of Kentucky.
The Angels need all the starting pitching they can get. The rotation has already had season-ending injuries to Garrett Richards, Matt Shoemaker, Andrew Heaney, Nick Tropeano and C.J. Wilson. Left-hander Tyler Skaggs, in his first season back from Tommy John surgery, was scratched from his Wednesday start because of left forearm tightness. Meanwhile, veteran Jered Weaver is a free agent after the season.
Austin Laymance is a reporter for MLB.com based in Los Angeles. This story was not subject to the approval of Major League Baseball or its clubs.