Marlins gain ground behind Ozuna's 4 RBIs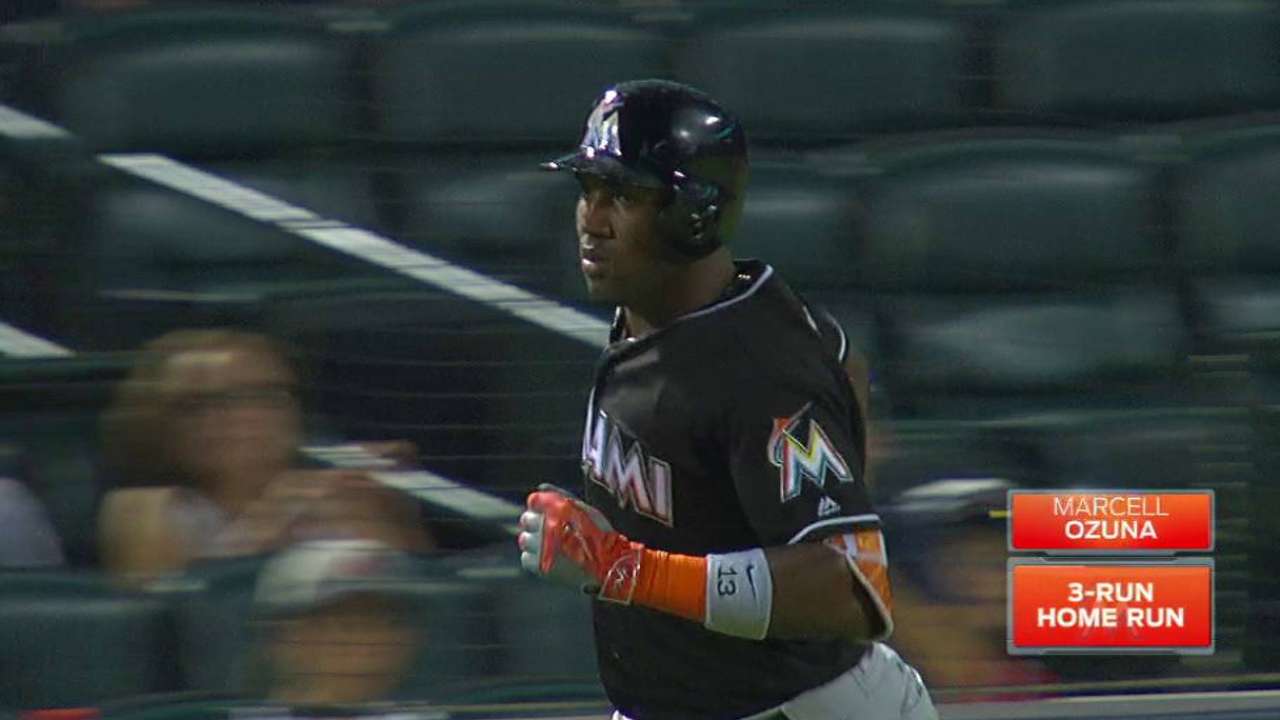 ATLANTA -- Marcell Ozuna delivered the power, blasting a three-run homer and driving in four runs. But it was Jose Fernandez, who provided some spark and emotion, tossing seven innings and being at the center of a seventh-inning benches-clearing incident.
When tempers settled, the Marlins held off the Braves for a 7-5 win on Wednesday. In their final game ever at Turner Field, the Marlins captured two of three in the series, and moved four games behind the Mets for the National League's second Wild Card.
"Obviously, it was a big game because every win is big," Marlins manager Don Mattingly said after his team got back to .500 (73-73). "We get the lead early and they get four on us and then Jose settles in. Ozuna's home run is huge for us because from there we're able to tack on. They came back and we still continue to get a run here and run there and make it easy on us."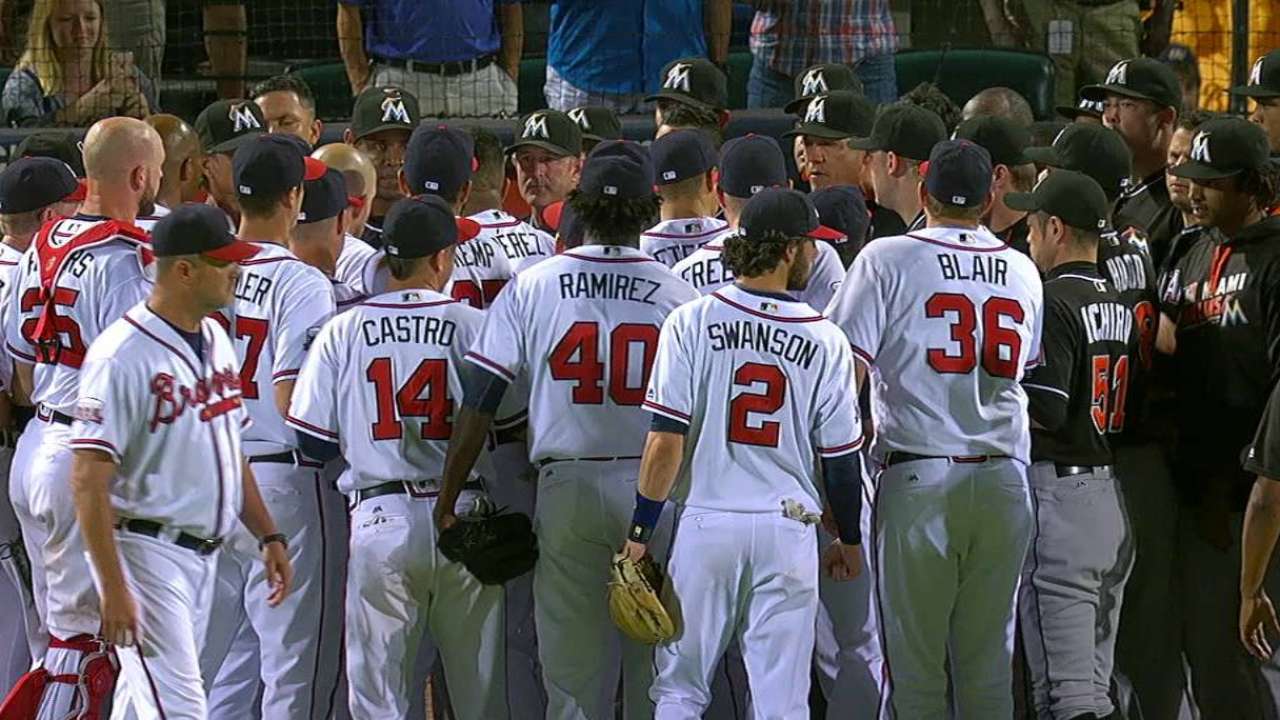 Ozuna's three-run homer off Julio Teheran was the big blast in a four-run sixth. But the Braves built an early lead with four runs in the second off Fernandez. Nick Markakis connected on a two-run homer in the inning. In the sixth, Fernandez hit Markakis with a pitch, and emotions ran high in the seventh when Jose Ramirez brushed Fernandez back with a pitch. Both benches and bullpens cleared, but nothing further materialized.
• Mattingly: Stanton may be ready to start Friday
"To me, Nick hits the ball out and then almost another one and then gets squared up," Braves manager Brian Snitker said. "I don't think that was an accident. When we play, I don't feel bad blood. It's just two teams going at it. It was a pretty hard-fought game, really. Their team is trying to get into the playoffs, and for my take on it, we're not trying to get in the playoffs but we're trying to win every game we play."
• Freeman leaves to be with wife in labor
Mattingly said: "Just one of those games where guys are getting hit on both sides and things start to get a little hairy."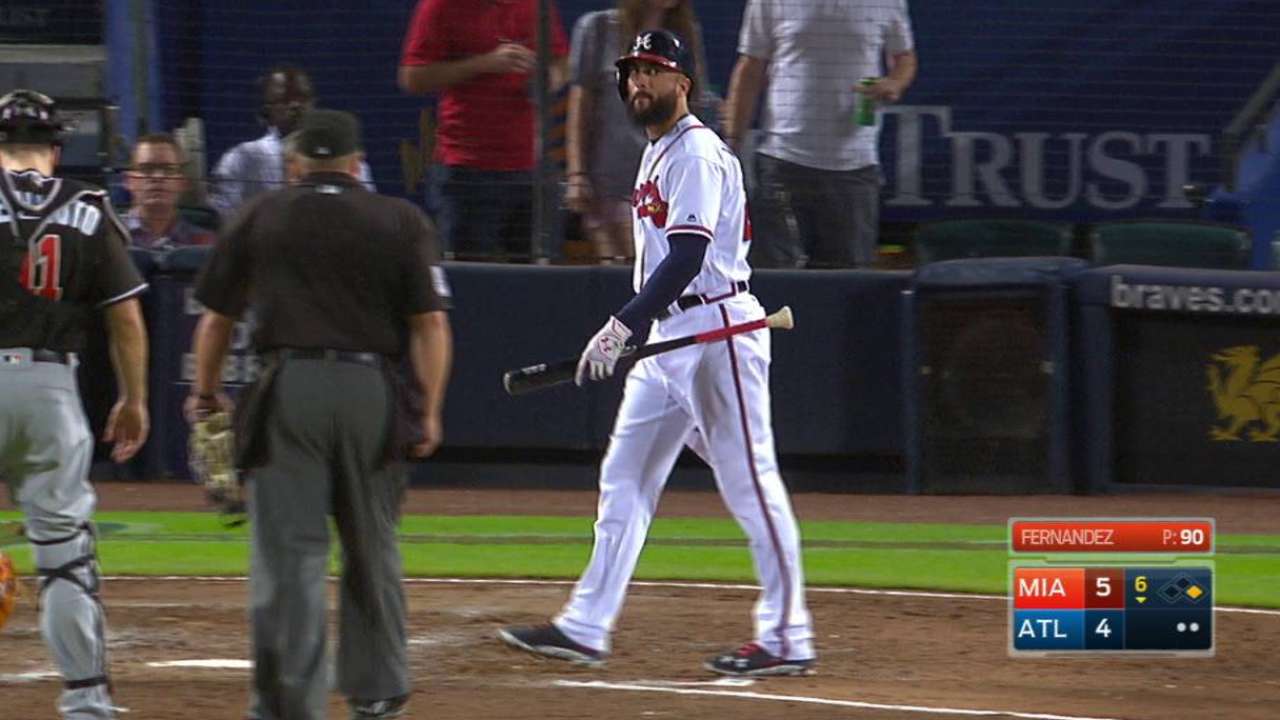 Fernandez, who entered with a Major League-leading 12.8 strikeouts per nine innings, finished with a season-low three. The hard-throwing right-hander didn't have a strikeout until he fanned Freddie Freeman to open the sixth. In his previous 27 starts, he didn't have less than five.
"I told [Markakis], 'Hey, man. I throw you one of the best breaking balls that I have, and you hit it out,'" Fernandez said. "'I threw you another one and you hit the [stuffing] out of it.' That second at-bat, I threw some good fastballs in, he was late on it. Jam. Jam. I was hoping, 2-0, throw a fastball in, he hits a popup to second base. Obviously, that was not the case. The ball slipped out of my hands, and I hit him."
MOMENTS THAT MATTERED
Jose gets through seven: It wasn't vintage Fernandez, but the 24-year-old Miami ace gave his team seven innings. Fernandez was able to settle in the third after Freeman singled to extend his hit streak to 20 games. Matt Kemp blistered a line drive that Dee Gordon snared at second, and he was able to double-up Freeman at first. Fernandez didn't allow another hit.
"Just pitching," Mattingly said. "They hit him pretty good the last time around here. I thought he tried to get in there a little bit more and change what he was doing some and keep them off balance a little bit." More >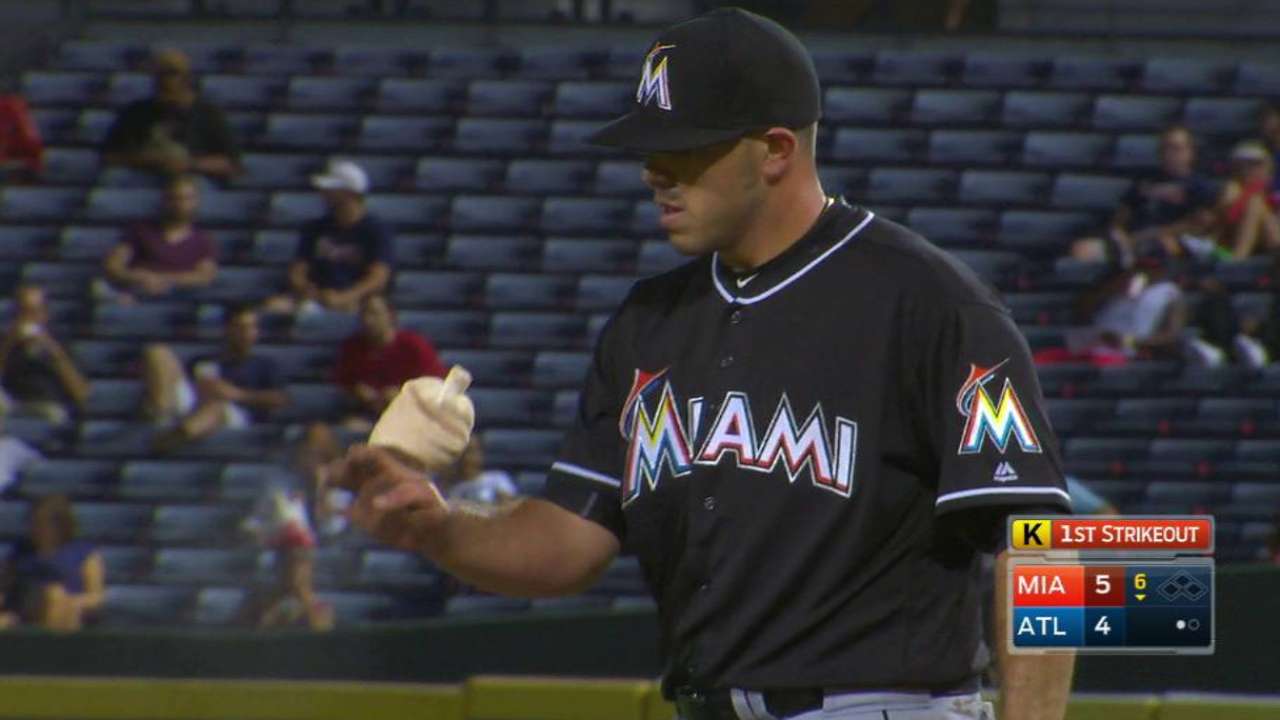 Sixth-inning setback: For the second straight start, Teheran faced little adversity through his first five innings. The right-hander surrendered an RBI single to Martin Prado in the first before he quickly shook off the early damage to retire 13 of the next 15 batters. But like in his start against the Mets on Friday, Teheran struggled in the sixth, giving up two hits and plunking a batter before being chased by Ozuna's homer. After surrendering six runs in the sixth inning across his past two outings, Teheran's sixth-inning ERA sits at 5.49.
"I was doing OK," Teheran said. "I had the control the whole game until that very last inning. I was trying to keep the same pace, but I made one mistake in that inning with men on base and they got the lead. That's where we lost the game right there, in that situation where I couldn't make my pitch."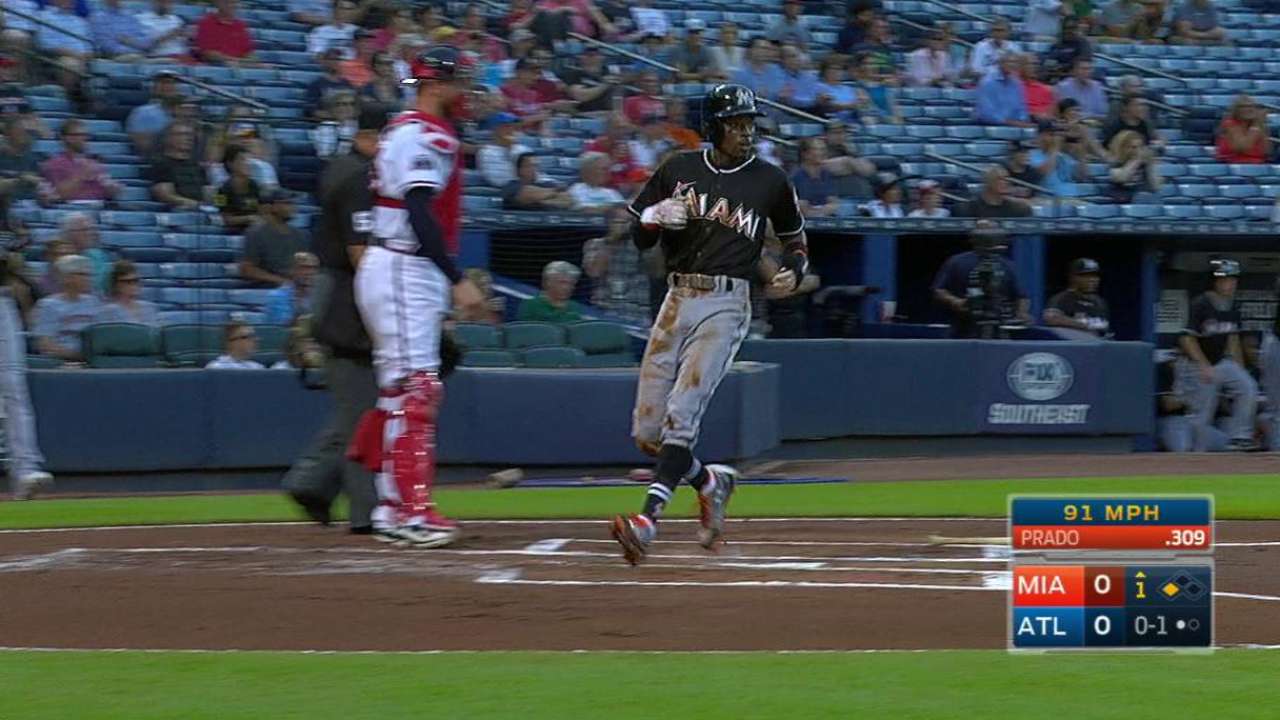 Ozuna matches career HR high: In 2014, Ozuna belted 23 home runs. In the sixth, the Marlins' right fielder connected on a three-run blast off Teheran, which capped a four-run inning, and gave Miami a 5-4 lead. The shot was Ozuna's 23rd of the season, matching his personal season high.
"Since we've been able to get [Justin Bour] back and Marcell back healthy again it's like the two-headed or three-headed monster becomes a lot more dangerous," Mattingly said.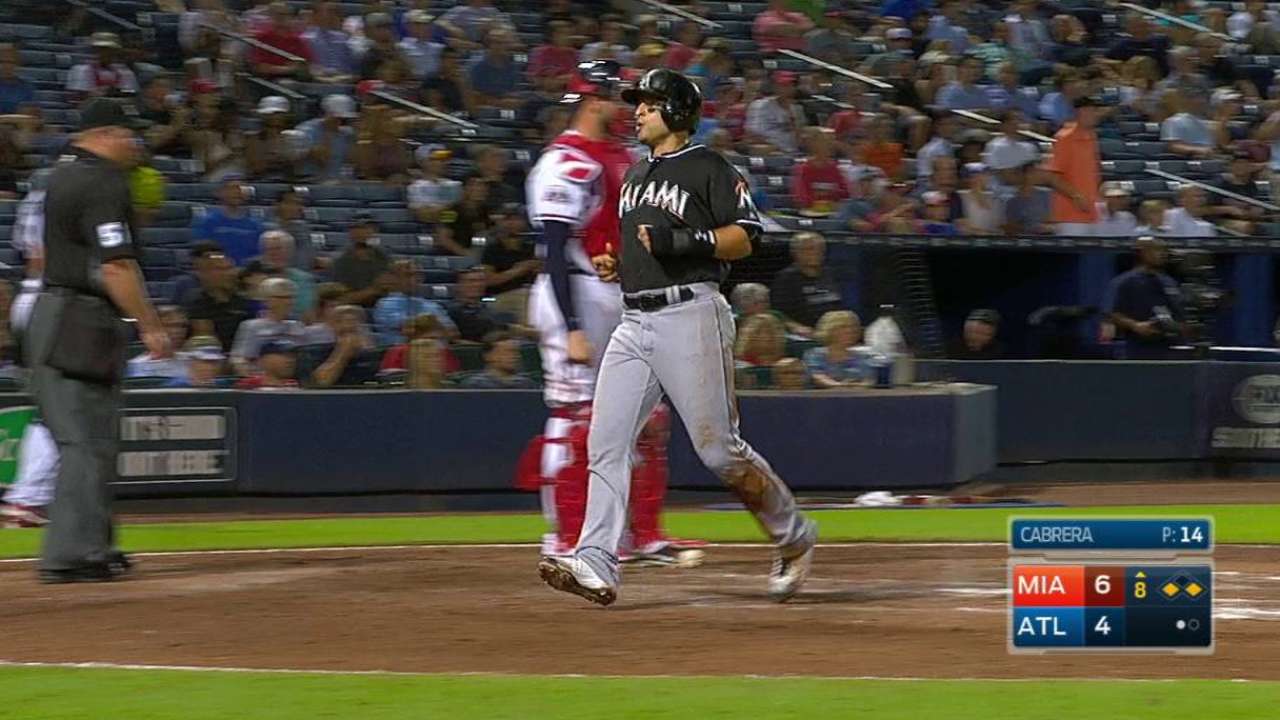 Rally killer: The Braves were on the brink of knocking Fernandez out of the game early after scratching across three runs without recording an out in the second inning. But with the bases loaded, Ender Inciarte grounded into a double play, the first of three induced by Fernandez in innings 2-4. One run scored on the play, but the inning came to an abrupt end in the ensuing at-bat, when Adonis Garcia popped out to short. Atlanta only put three more runners on base against Fernandez across the next five innings.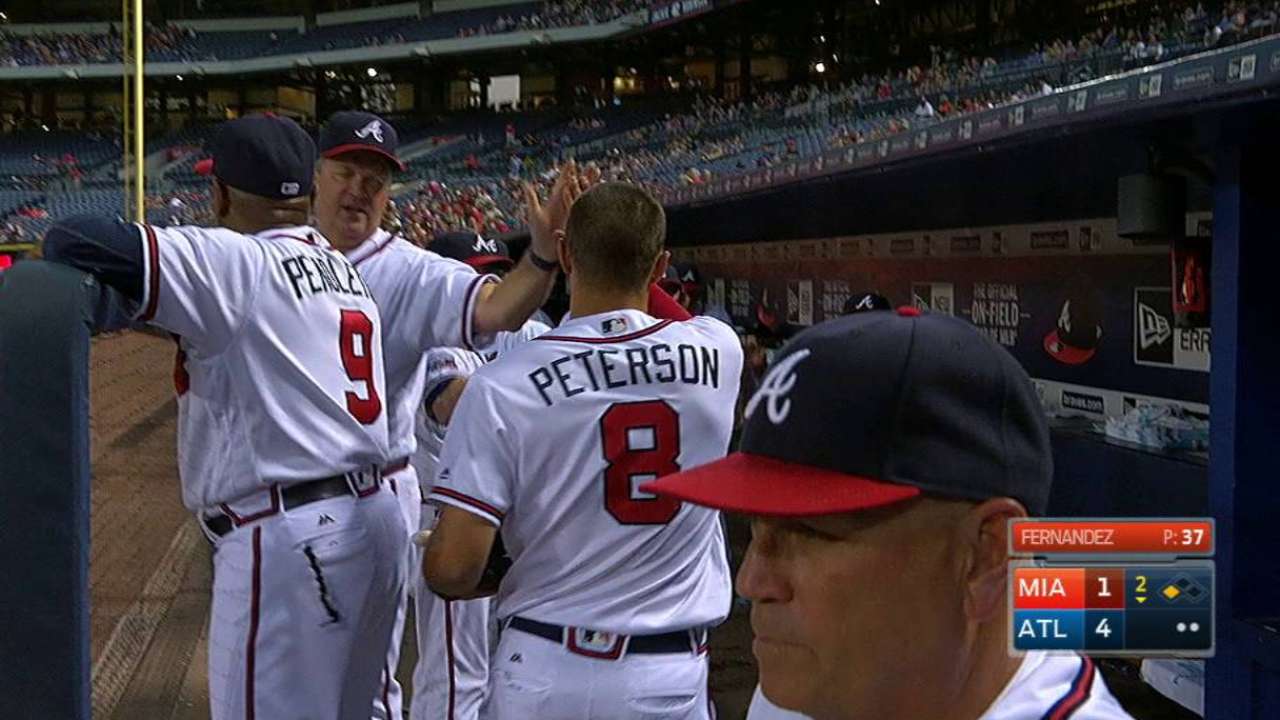 QUOTABLE
"When he hit it, I knew he squared it up. I was just hoping it was too low. It was a line drive. I looked up at it. [Christian Yelich] was kind of running in, so I was like, 'Alright.' Initially, it sounded real loud. I don't know where that's going until I look up." -- Marlins closer A.J. Ramos, after pinch-hitter Gordon Beckham, with a man on first in the ninth, blistered a line out to deep center field to end the game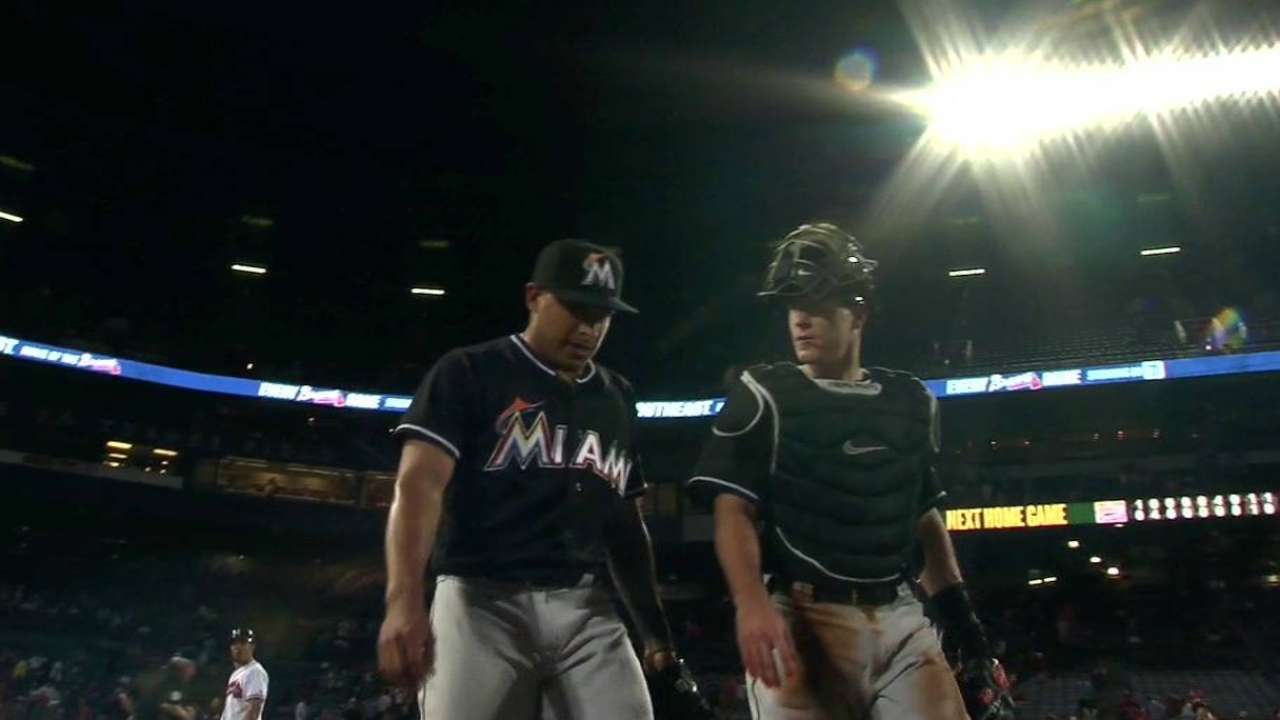 SOUND SMART WITH YOUR FRIENDS
The Marlins took two of three in their final series at Turner Field. But in their history, Miami hasn't enjoyed much success at the ballpark that opened in 1997, but is closing down at the end of the year. The Marlins finished 68-107 all-time at Turner Field. More >
BENCHES, BULLPENS CLEAR
Some tensions got away from both teams in the seventh after Ramirez buzzed Fernandez with a 94.6 mph fastball. In the sixth, with two outs and the count 2-0 on Markakis, Fernandez hit the Braves right fielder with a 95.3 mph fastball. After Fernandez was decked by the pitch in the seventh, the Marlins' ace got up and walked towards Ramirez -- who was immediately ejected -- as benches and bullpens cleared. Both teams gathered near home plate, doing plenty of shouting, but nothing more. Fernandez was even seen talking with Markakis and catcher Tyler Flowers as order was restored.
On Monday, Ozuna was hit on the knee by a Mike Foltynewicz fastball. In the top of the sixth, Teheran hit Prado with a pitch. Earlier in the season, there were other examples of players on both teams hit by pitches. One notable one was on July 3 in the ninth at Fort Bragg military base when Ramos plunked Flowers. More >
WHAT'S NEXT
Marlins: After an off-day, the Marlins open a three-game series at Philadelphia on Friday at 7:05 p.m. ET. Tom Koehler (9-11, 3.97 ERA) makes his 30th start for Miami. It's the third straight season the right-hander has made at least 30 starts. The Phillies counter with left-hander Adam Morgan (2-10, 5.73 ERA), who has not won a home start this season -- 0-6 (5.62 ERA).
Braves: Atlanta has an off-day on Thursday before opening a three-game home series against the Nationals at 7:35 p.m. ET on Friday. John Gant will take the mound for his third start since returning from a left oblique strain. The right-hander has allowed seven runs (four earned) over his past two outings while not making it past the fifth.
Watch every out-of-market regular-season game live on MLB.TV.
Joe Frisaro has covered the Marlins for MLB.com since 2002. He writes a blog, called The Fish Pond. Follow him on Twitter @JoeFrisaro and listen to his podcast.

Pat James is a reporter for MLB.com based in Atlanta.

This story was not subject to the approval of Major League Baseball or its clubs.