Polanco drives in four, triple shy of cycle
Amid solid rookie campaign, Twins shortstop garners praise from Molitor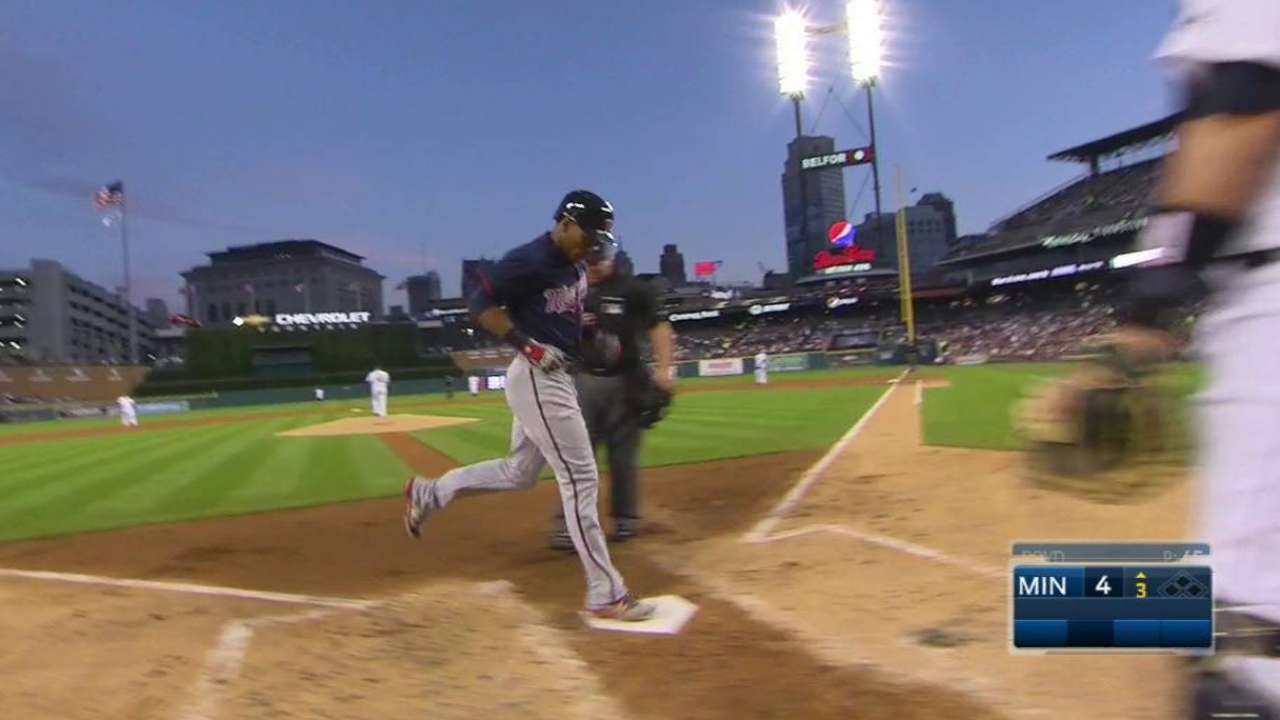 DETROIT -- While Brian Dozier's epic run to 40 homers and Byron Buxton's emergence this month have dominated the headlines as the Twins head to the finish line, shortstop Jorge Polanco's impressive rookie year has flown under the radar.
Polanco continued his strong season, falling just a triple shy of the cycle by going 3-for-4 with a double, a homer, a walk and a career-high four RBIs to help lead the Twins to an 8-1 win over the Tigers on Tuesday night at Comerica Park. Polanco, 23, is hitting .298/.348/.442 with two homers, 12 doubles, four triples, 20 RBIs and 20 runs in 52 games.
"He's coming along well," Twins manager Paul Molitor said. "He did a nice job early in the game. He drew a walk there at the end but we were kind of pulling for him to get the triple. He put together good at-bats and it's something he's been doing fairly consistently."
Polanco doubled in the first, helping spark a two-run rally with Robbie Grossman connecting on a two-run single to give the Twins an early lead. He helped Minnesota pad that lead with a two-run blast to left off lefty Matt Boyd. It was Polanco's second career homer and his first batting right-handed.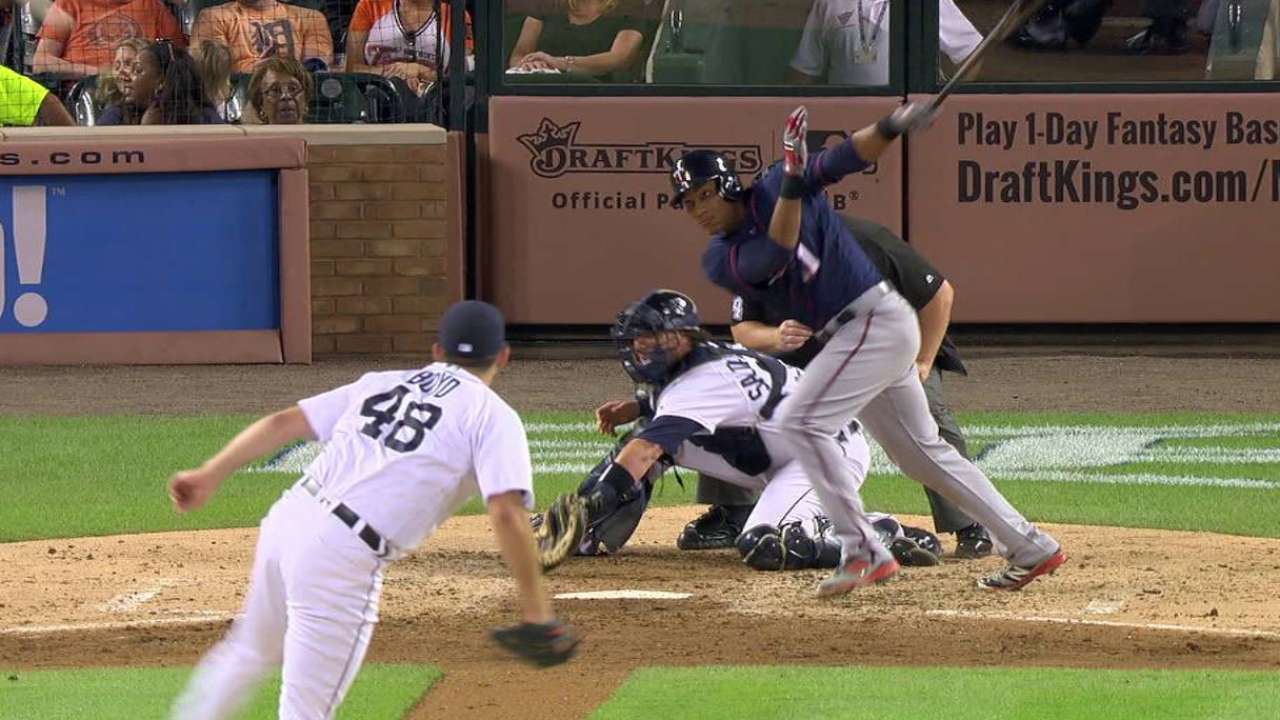 Polanco singled in the fifth, but fell short in his attempt for the cycle, as he popped out with two runners on the sixth and drew a walk to load the bases in the eighth.
"I knew I needed a triple," Polanco said with a laugh. "My teammates kept telling me, 'Come on, get a triple. Let's go.' I was just waiting for my pitch."
Molitor was impressed Polanco didn't try to do too much in his last plate appearance, as he drew the five-pitch walk instead of swinging at something he couldn't handle.
"To be patient and take the walk, that's kind of what he's been about here," Molitor said. "He continues to get adapted to this level of play and he's handled himself well. I've been pleased."
A career .286 hitter in the Minors, Polanco's bat was never the question, but he's done well while establishing himself as the club's everyday shortstop since August. Polanco didn't play any shortstop at Triple-A Rochester this year, but has handled himself well at short in the Majors, even though there are those within the organization who believe he profiles better as a second baseman.
"He's been impressive," right-hander Kyle Gibson said. "He's made a couple adjustments when it looks like pitchers are adjusting to him. He seems to find the barrel at least three times a night. He's also playing defense well. He's kind of doing it all, so it looks like he's ready to play and not overwhelmed at all, which is really cool to see from a rookie."
Rhett Bollinger has covered the Twins for MLB.com since 2011. Read his blog, Bollinger Beat, follow him on Twitter @RhettBollinger and listen to his podcast. This story was not subject to the approval of Major League Baseball or its clubs.