Statcast of the Day: Texas' 3-bagger dagger
Andrus' 405-foot triple plates tying run as Rangers rally past Astros in 9th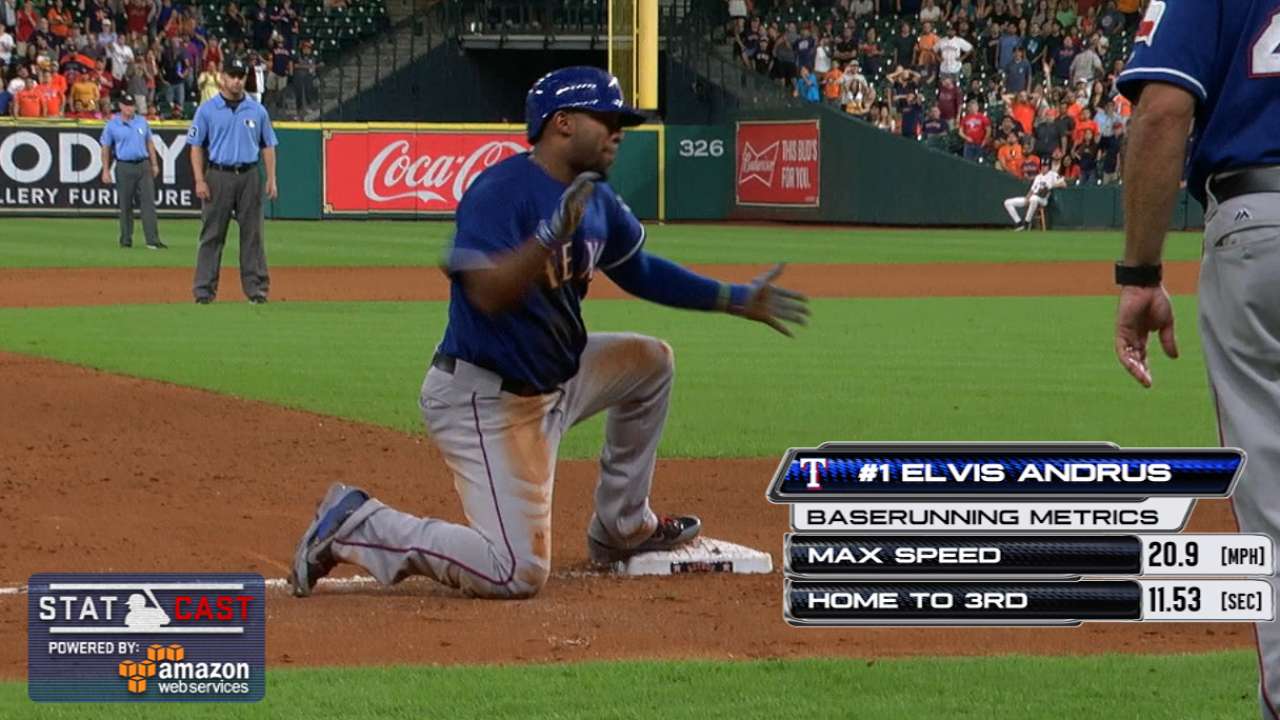 Elvis Andrus picked a good time to match his longest drive of the season, as he helped the Rangers put together an unlikely ninth-inning rally on Tuesday night, in a 3-2 win over the Astros at Minute Maid Park.
Andrus' game-tying RBI triple, which Statcast™ projected at 405 feet, set him up to score on Jurickson Profar's RBI single. Tanner Scheppers closed out Houston in the bottom of the ninth, and the Rangers had their 87th victory of the season, dropping their magic number to eight to win the American League West.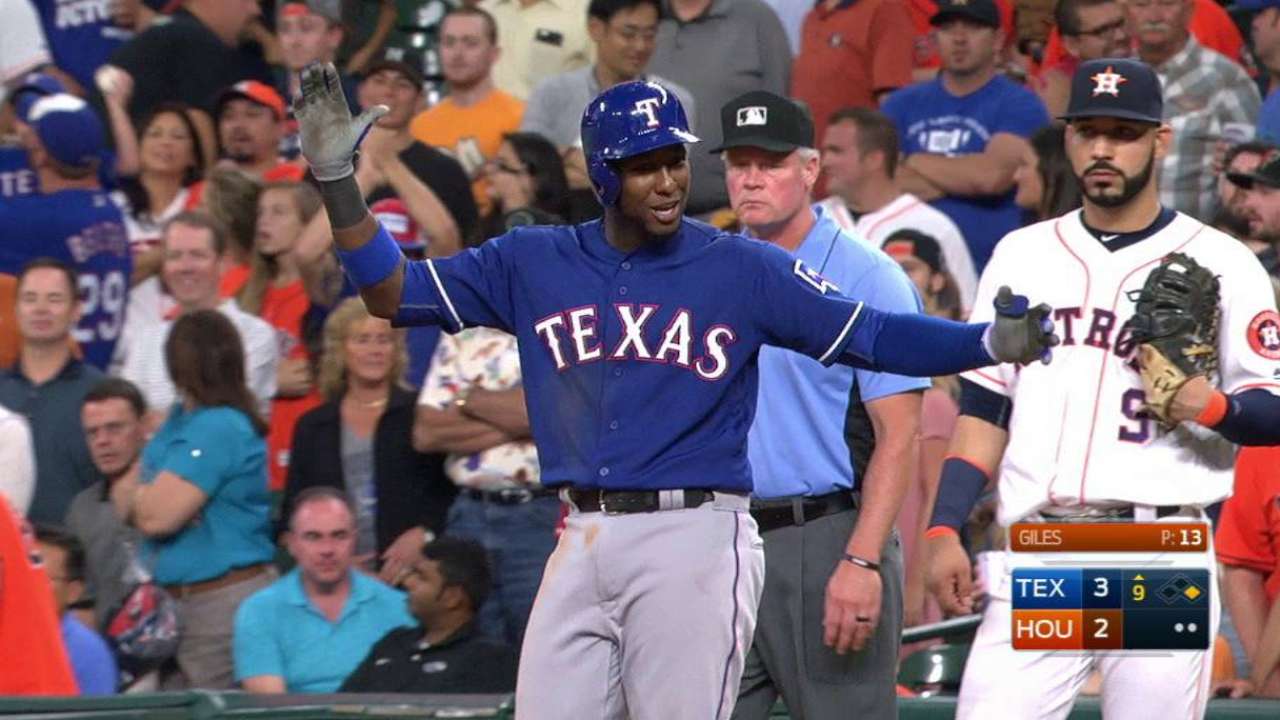 With one out and nobody on base in the top of the ninth, Texas' win expectancy sat at only 8.7 percent, according to FanGraphs. On top of that, Houston closer Ken Giles was 9-for-9 in save opportunities since moving back into the role, although the right-hander had just thrown two innings in Monday's game.
But the Rangers got a break, and took advantage of their speed, to set up Andrus' big hit. Rougned Odor struck out swinging but reached first on Giles' wild pitch. With Mitch Moreland at the plate, Odor then swiped second base, reaching a top speed of 21.3 mph, his fastest on a steal attempt this season.
It helped Odor that Astros catcher Jason Castro managed a modest pop time of 2.1 seconds, his fifth-slowest of 28 that Statcast™ has tracked by him in 2016. While the pitcher's ability to hold a runner and deliver the ball quickly to the plate plays a big role in preventing stolen bases, the catcher can improve the chances of an out with a fast pop time -- the period from when he receives the pitch to when his throw arrives at its target.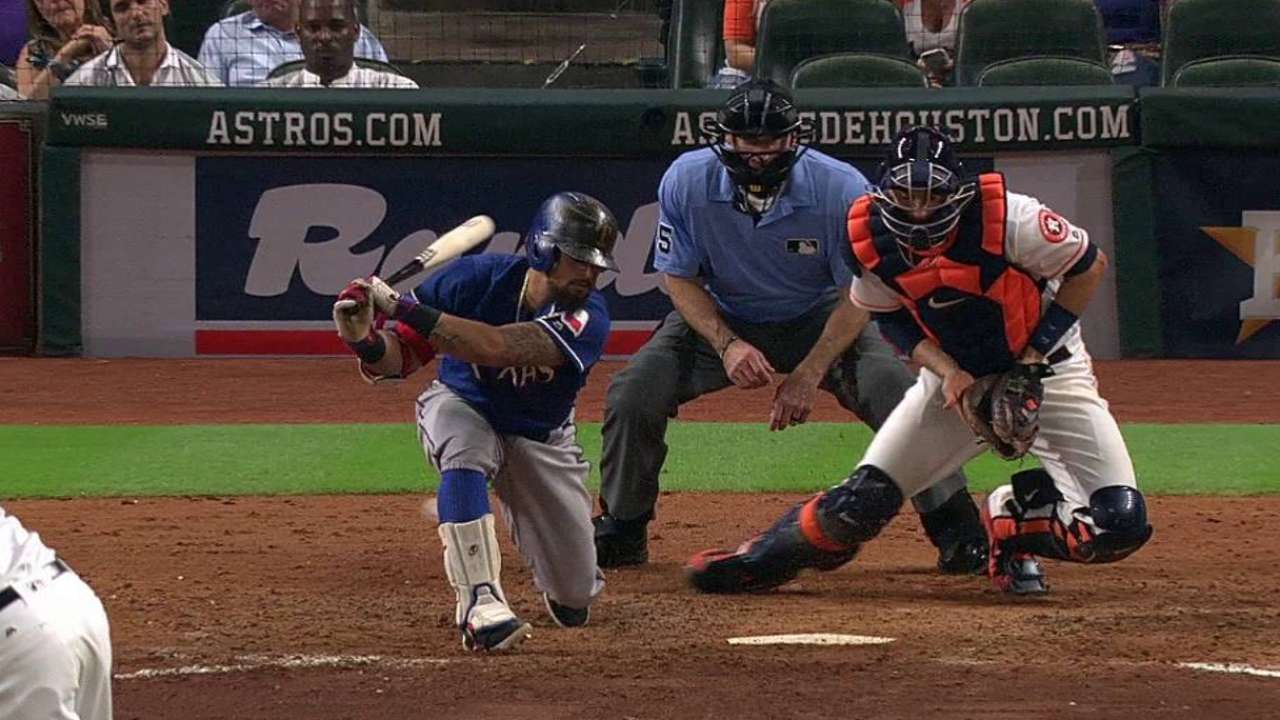 After Moreland struck out, Andrus struck the big blow of the inning. On a 1-0 count, Giles tried to fire a 97.7-mph fastball past the Rangers shortstop, but he was all over it, smacking a deep drive to center field. Andrus connected with an exit velocity of 103.3 mph at a launch angle of 20.8 degrees. Batted balls with those traits had gone for a hit 69.5 percent of the time, with 25 home runs and 42 doubles but only two triples -- until Andrus.
Andrus' drive was projected to travel 405 feet, tied for his farthest hit this season with an upper-deck home run to left field he hit in Seattle last Tuesday. It just so happens that Minute Maid Park is a friendly environment for triples on well-struck balls to center, likely due to the big dimensions and existence of Tal's Hill. Of 74 triples hit at least 400 feet this season, according to Statcast™, 18 (24.3 percent) have come in Houston, and all but two of those went to center.
"I knew [Andrus] hit it really good, and in this ballpark, it's really huge in center field, so I knew that ball was going to get down," Odor said. "That was really huge for him and for the team."
Andrus' swat sailed over the head of Astros center fielder Jake Marisnick, bounced on the warning track in front of Tal's Hill and went to the wall. While Marisnick had a 98.7-percent route efficiency on the play, his starting position might have doomed him.
Astros center fielders, on average, have played 314 feet from home this year, but Marisnick was at 303 feet on the play, likely due at least in part to the fact that Andrus is not a power threat. Of the 12 Rangers with at least 100 balls in play this year, Andrus' average batted-ball distance of 205 feet ranks 10th, ahead of only Delino DeShields and Profar. It's also possible that the desire to prevent Odor from scoring on a single contributed to Marisnick's positioning.
Either way, Marisnick would have needed to cover 102 feet to get to the ball's landing spot, in less than the five seconds it was in the air. Since his largest distance covered on a ball with a hang time of less than five seconds is 92 feet, one could argue that Marisnick playing Andrus 11 feet shallower than average made all of the difference on the play.
Once Andrus caught the Astros off-guard with his burst of power, he turned on the jets, reaching a top speed of 20.9 mph and making it safely from home to third in 11.5 seconds. That is his fastest such time in the past two seasons and the third-fastest by a Rangers player in 2016.
One pitch later, Profar singled home Andrus. With that, the Rangers improved to 33-10 (.767) in one-run games, putting them on pace to break the record set by the 2012 Orioles, who went 29-9 (.763).
Andrew Simon is a reporter for MLB.com. Follow him on Twitter @AndrewSimonMLB. This story was not subject to the approval of Major League Baseball or its clubs.