Rockies' Bettis perfecting the fast finish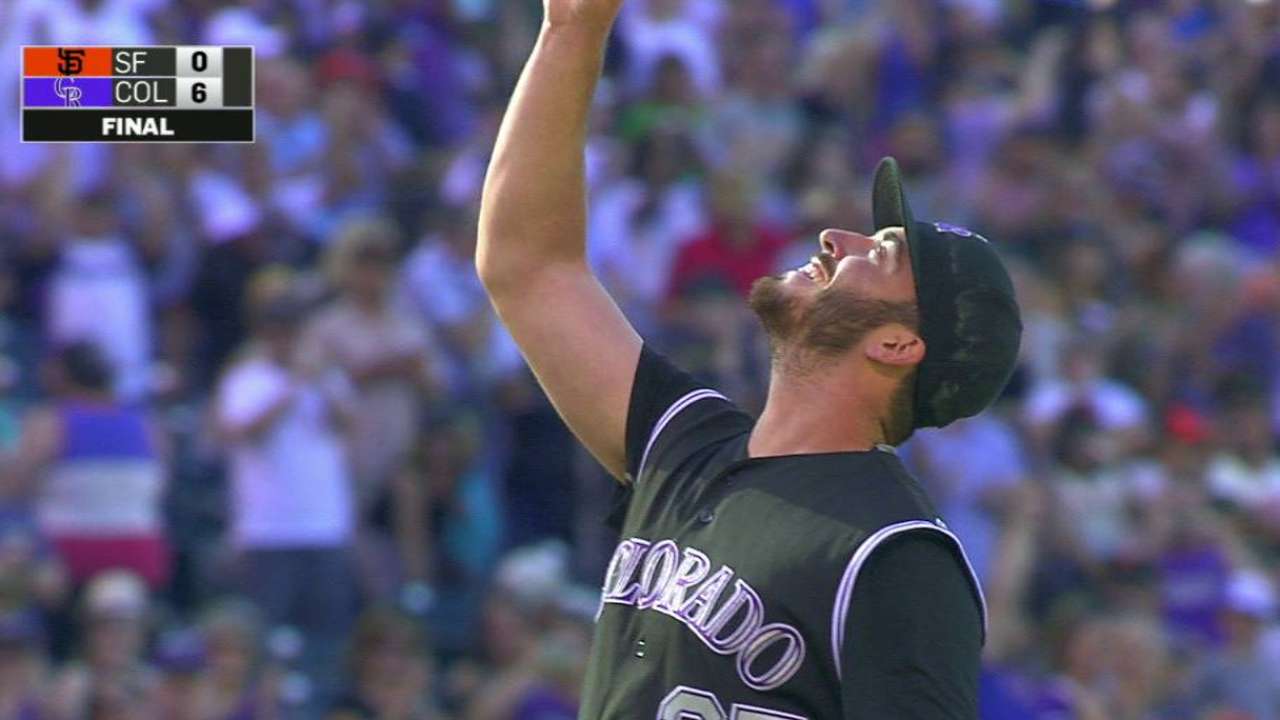 PHOENIX -- Playing the what-if game is like expecting good dreams while wrapped in a thin, wet blanket, but it's a little more fun when it comes to Rockies right-handed starting pitcher Chad Bettis.
Last year, Bettis went 4-2 with a 3.33 ERA from July 12 to season's end, and compiled a 1.50 ERA in his final four starts. This year, from June 15 to Monday, Bettis was 8-1 with a 3.99 ERA. His wins were tied for third-most among National League starters, behind the Cubs' Kyle Hendricks (11) and the Nationals' Tanner Roark (9).
So, let's play the game:
• What if Bettis (12-7, 4.78 ERA) can sustain this pattern?
• And, what if the Rockies find their way into contention in the next year or so?
That's not a bad way for Rockies fans to dream away the winter.
This year's solid season has included a couple of down periods -- a four-start slump in late May and early June (0-3, 11.57 ERA) and a three-start blip (0-1, 6.92) that included a career-high seven walks in his loss at Milwaukee on Aug. 22. Each time he corrected his issues to become a strong finisher again.
"I don't think, consciously; I try to pitch the same way all year," Bettis said. "I just happened to hit a little skid early on, learned some stuff, grew from it and moved forward. That was a big growth opportunity for me and it helped me to where I am now.
The notion of Bettis, 27, as staff leader emerged during his late surge last year. Bettis reinforced it with his reaction to his slumps.
The first time he corrected a pattern of predictability -- too much cutter, too little curve, not using his changeup at the appropriate time. The second time Bettis listened when fellow pitchers critiqued his mechanics.
The challenges revealed Bettis' key trait, consistency. Bettis was a leader in off-field conversation and enforcing a standard. He didn't cut himself a break, but also didn't isolate himself.
"I didn't see him change his personality," Rockies pitching coach Steve Foster said. "A lot of times in life, whether it's on the baseball field or off, we become reclusive and lose our ability to communicate, ashamed of where we're at or whatever it is that causes us to not be ourselves. To me, that's the consistency part. He remained the same guy while recognizing some of the things he was doing that caused him to not be consistent on the field."
Bettis doesn't want to stop with merely a strong finish.
"This is a stepping stone to where I want to be, where I expect myself to be," Bettis said. "There are some things that I can get better at -- you have to be aware of what's going on and the adjustments you need to make, then make them as quickly as possible."
Thomas Harding is a reporter for MLB.com. Read his blog, Hardball in the Rockies, follow him on Twitter @harding_at_mlb, and like his Facebook page, Thomas Harding and Friends at www.Rockies.com. This story was not subject to the approval of Major League Baseball or its clubs.