D-backs overpower De La Rosa, Rockies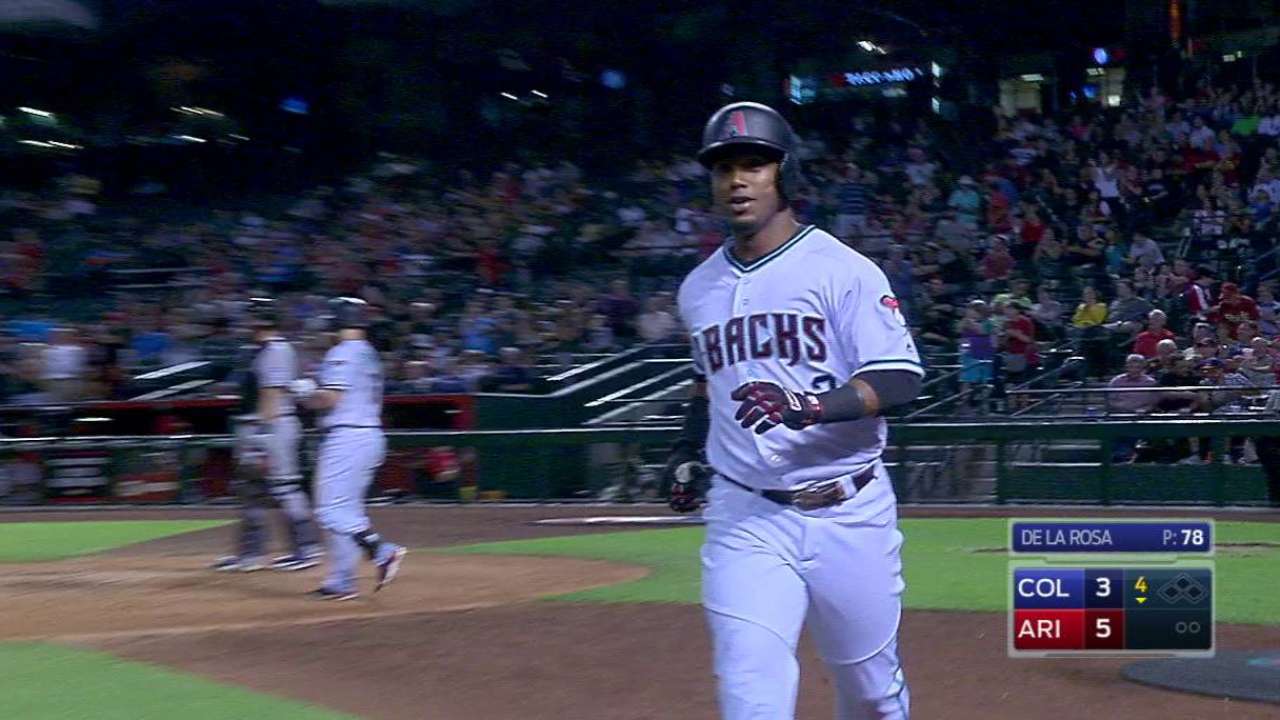 PHOENIX -- When the Rockies and D-backs combined for seven first-inning runs it looked like it might end up being a slugfest Tuesday night at Chase Field. But after the first, it was the D-backs that did most of the slugging as they rolled past the Rockies, 11-4.
After the Rockies scored three runs in the top of the first off Robbie Ray (8-13), Jean Segura got the D-backs going with a homer to lead off the bottom of the first as part of a four-run rally against Jorge De La Rosa (8-8).
"Obviously, the first inning was like getting punched in the nose there," D-backs manager Chip Hale said. "I thought the offense coming in and scoring four gave him [Ray] a lot of life. Gave him a lot of time to sit and get it back together. If we had had a quick first it might have been tough for him."
Segura hit his second homer of the game in the fourth and the D-backs blew things open in the fifth, sending 10 men to the plate while scoring five runs. Brandon Drury homered during the frame, sending a ball into the pool beyond the right-field fence. More >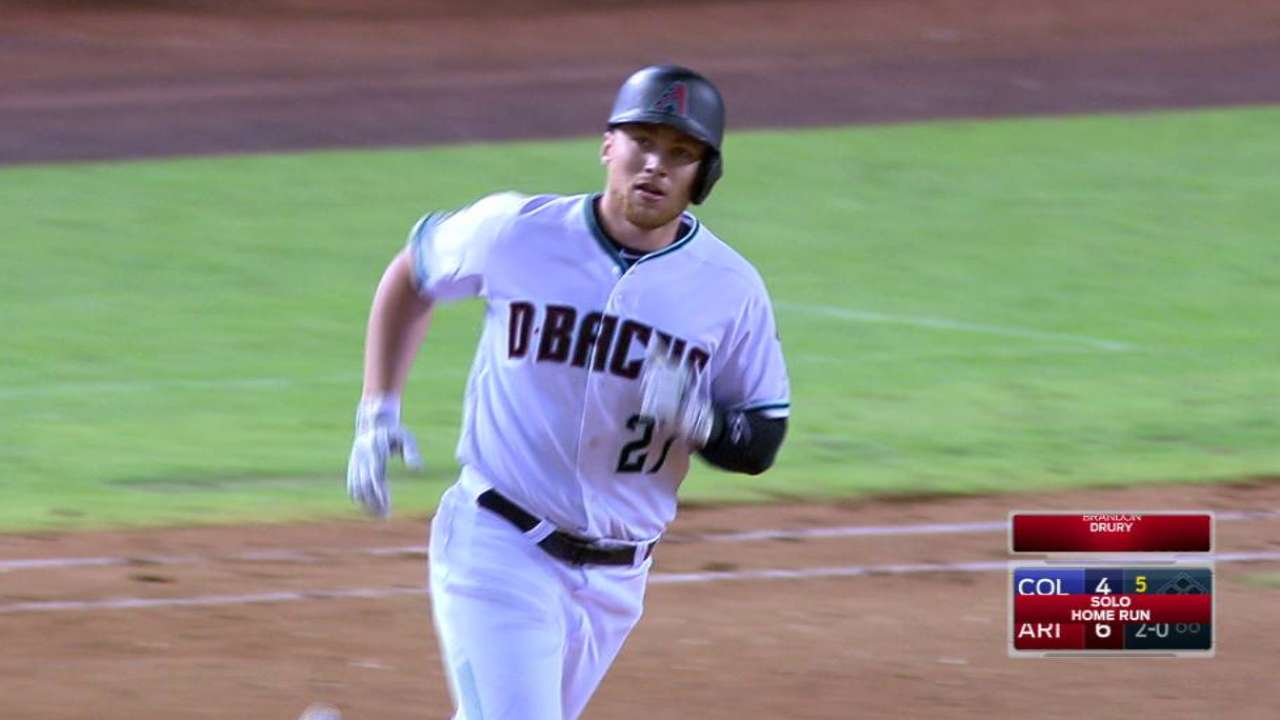 Following the first-inning outburst the Rockies offense could only muster a solo homer by Charlie Blackmon the rest of the way.
"We've just got to pitch better," Rockeis manager Walt Weiss said.
MOMENTS THAT MATTERED
Ray's K's: Ray's strikeout of De La Rosa to end the fourth was his 200th of the season making him just the fourth pitcher in club history to accomplish the feat, as he joined Randy Johhnson, Curt Schilling and Dan Haren. Johnson did it five times while Schilling and Haren each recorded two 200-plus strikeout seasons.
"I knew I was close and I knew if I put up a decent number that I'd get to it," Ray said. "It's a huge accomplishment, there's not a ton of guys I don't think -- I don't know, I haven't looked -- in the game that have 200 strikeouts. To be mentioned in the same group with those guys, it's very humbling."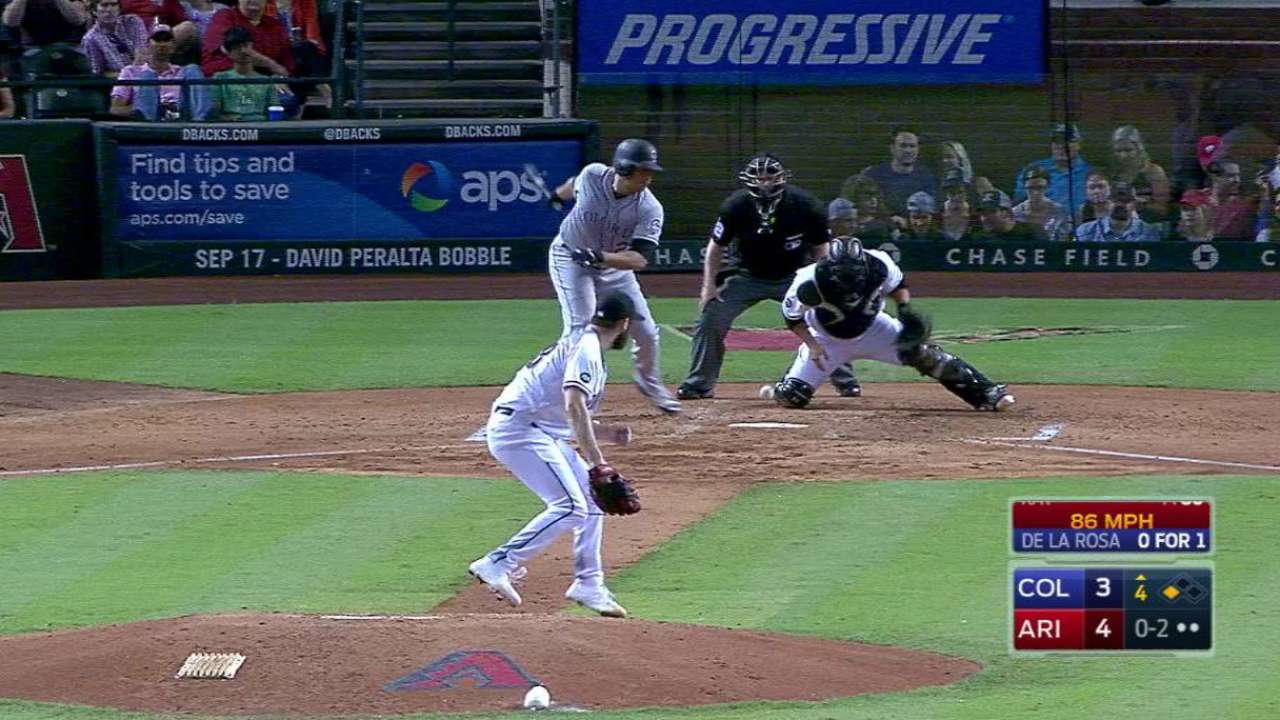 Fun while it lasted: In Monday's 12-9 loss, the top four hitters in the Rockies' lineup had 12 hits. They continued to produce in the first inning, when Blackmon (who would later homer) walked, DJ LeMahieu doubled him home (to extend his career-best on-base streak to 30 games), Nolan Arenado tripled, and Carlos Gonzalez's RBI fielder's choice gave the Rockies a 3-0 lead. But it all was washed away during De La Rosa's ineffective bottom of the first.
Jean is a HR machine: The two-home run game by Segura was his second of the season and the third of his career. Segura, who has 14 homers on the season, also hit two against the Cubs on April 7 this year and his other two-homer game came against the Rockies in 2014.
"Obviously, he's been our starter all year," Hale said of Segura. "He's been a phenomenal leadoff hitter for us and again, we want him to finish strong. We want him to have a great year and get his 200 hits and do some special things."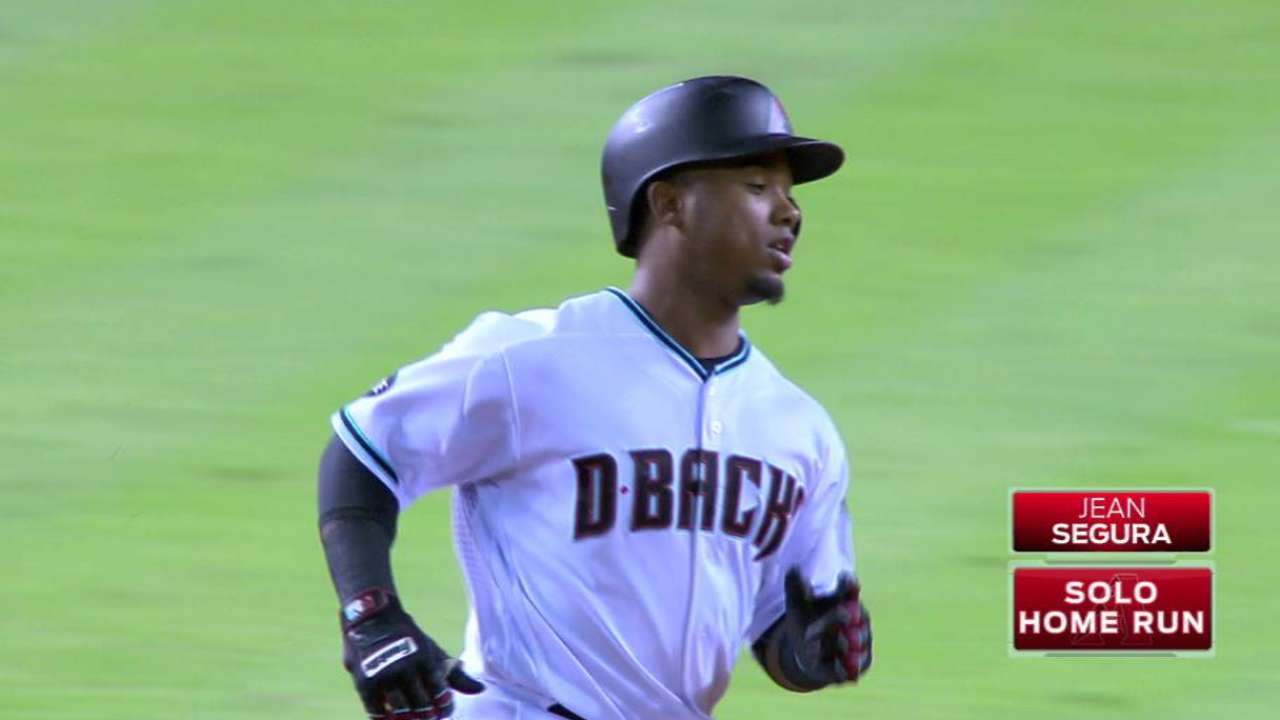 Finding a place: Righty Eddie Butler, a supplemental first-round pick in 2012, has struggled in various opportunities as a starter, so relief work is on the table. He entered with one on and one out in the fourth. Although he gave up an RBIs single, he put down the inning with two strikeouts. But Butler was touched for five runs on five hits, mainly because of poor counts, while managing two outs in the sixth.
"It's an opportunity to get innings, show them what I can do, and an opportunity to win a 'pen possibly for next year or as a starter next year," said Butler, who threw three scoreless innings at San Diego in his previous relief outin
SOUND SMART WITH YOUR FRIENDS
The D-backs have recorded 10-plus hits in 13 consecutive games against the Rockies. The last team with a streak at least that long was the 1930 Brooklyn Robins, who collected 10-plus hits in 17 straight games against the Phillies.
OOPS
Ray did not get to keep the baseball from his 200th strikeout. Since it ended the inning and was a dropped third strike, catcher Welington Castillo threw to first baseman Paul Goldschmidt to record the out. As he always does when he catches the final out of an inning, Goldschmidt flipped the ball into the stands not realizing it was Ray's 200th strikeout.
FINALLY ON THE MOUND
Righty Jason Motte signed during the winter for two years and $10 million, but two stints on the disabled list with rotator cuff issues have limited his availability and effectiveness. But Motte entered in for one batter in the eighth, for his first outing since July 25. He had to duck Mitch Haniger's hard liner, but second baseman Tony Wolters fielded and threw Hainger out at first. More >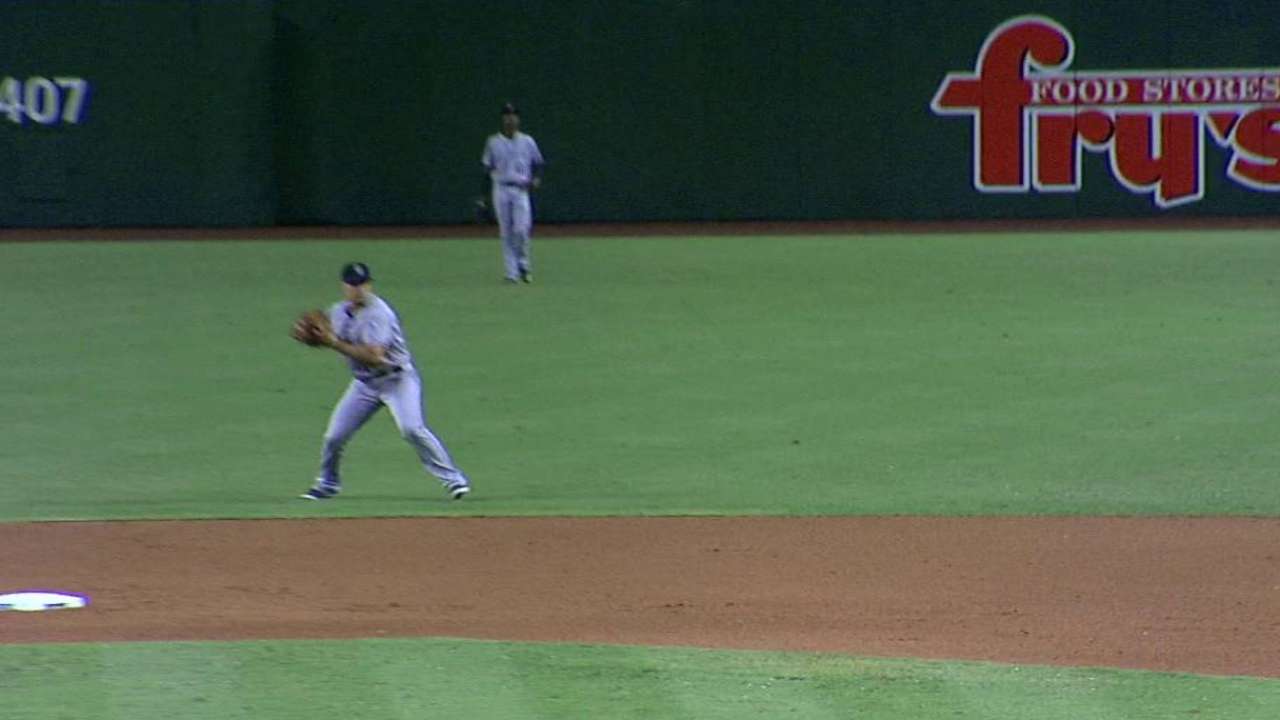 WHAT'S NEXT
Rockies: Righty Jeff Hoffman (0-3, 5.60 ERA), seeking his first Major League win, is looking for better than his last outing when he wasn't charged with an earned run but gave up seven unearned in 2 2/3 innings of a loss at San Diego. Game time is 7:40 MDT.
D-backs: Rubby De La Rosa will get the start Wednesday night at 6:40 p.m. MST in the series finale against the Rockies. De La Rosa will be making his second start since coming off a three-plus month stint on the DL. With De La Rosa on a limited pitch count, Braden Shipley figures to follow him to the mound.
Watch every out-of-market regular-season game live on MLB.TV.
Thomas Harding has covered the Rockies since 2000 for MLB.com since 2002.

Steve Gilbert has covered the D-backs for MLB.com since 2001. This story was not subject to the approval of Major League Baseball or its clubs.