Simmons gets good news on injured hand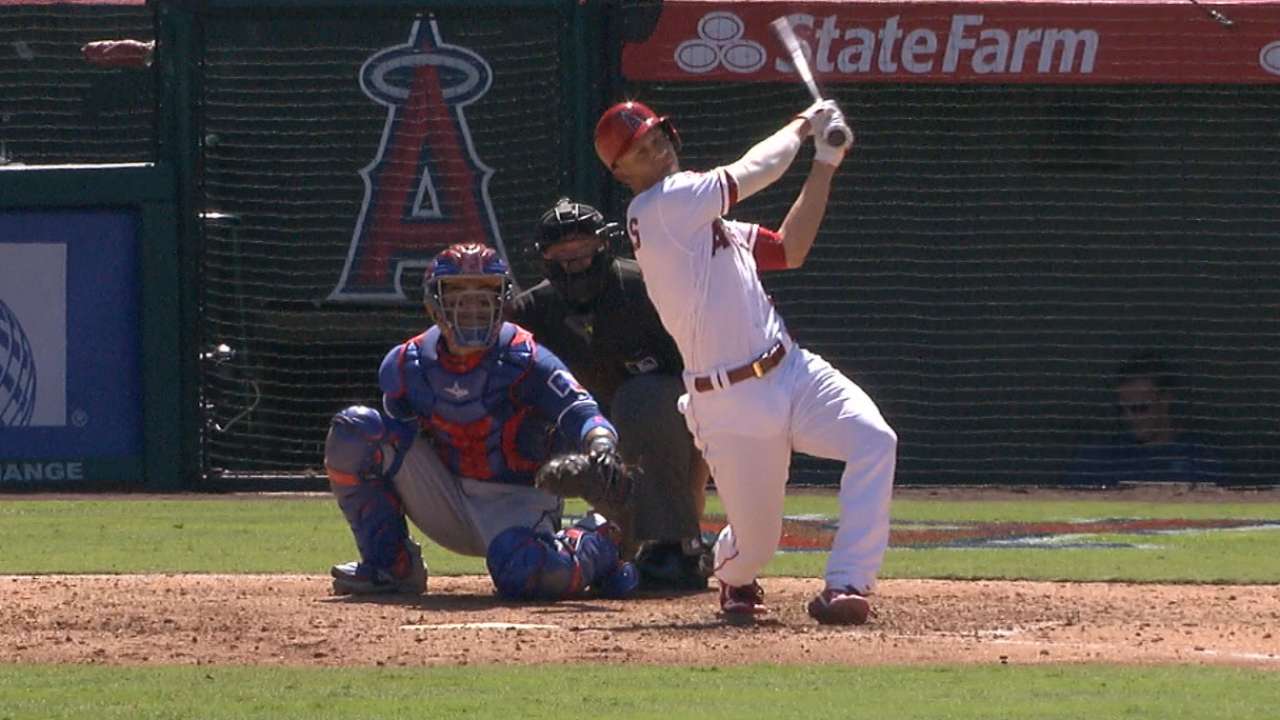 ANAHEIM -- Andrelton Simmons had a CT scan on his right hand Tuesday that came back negative, and the Angels' shortstop is considered day to day. He missed his second straight start on Tuesday night against the Mariners.
The CT scan results were positive news for Simmons and the Angels. He fractured the same hand as a rookie with the Braves in 2012 and missed 57 games.
Simmons injured the hand during Sunday's win over the Rangers, when he collided with Carlos Gomez on a rundown in the eighth inning. Simmons took part in pregame workouts Monday, but was scratched from the lineup about two hours before first pitch.
Simmons did not participate in baseball activities on Tuesday.
"It's still swollen," Angels manager Mike Scioscia said before Tuesday's game. "Feeling a little better, but still sore. So he'll be day to day, probably try to pick up a bat tomorrow and see how it feels and we'll go from there."
Simmons was swinging a hot bat at the time of the injury, with two home runs on Sunday to extend his hit streak to eight games. He's hitting .368 (25-for-68) over his last 17 games.
Soto has a setback
Catcher Geovany Soto (right knee inflammation) rolled his left ankle during an extensive workout Monday and will be set back a few days in his rehab program, Scioscia said. The Angels are still optimistic Soto can return from the disabled list and play before the end of the season.
"He rolled his ankle a little bit yesterday, so he's going to be probably set back a couple days," Scioscia said. "But he had a real good workout up until that. So we're still hopeful."
Winter ball candidates
The Angels have begun discussions regarding which players would be best served playing winter ball over the offseason, with Scioscia mentioning infielder Kaleb Cowart, catchers Carlos Perez and Juan Graterol, outfielder Rafael Ortega and first baseman/outfielder Ji-Man Choi as candidates. Rookie catcher Jett Bandy might take time off after playing winter ball the last two years.
The Angels would like Cowart to play second base over the winter. It's a position of need for the Angels moving forward.
"He's exploring it," Scioscia said of Cowart playing winter ball. "I think he would be a great candidate for it. I think that that's probably best served for him going down there to play second base. He's still a third baseman, but that's the position he needs to keep growing with."
Austin Laymance is a reporter for MLB.com based in Los Angeles. This story was not subject to the approval of Major League Baseball or its clubs.