Mariners muscling up in home run department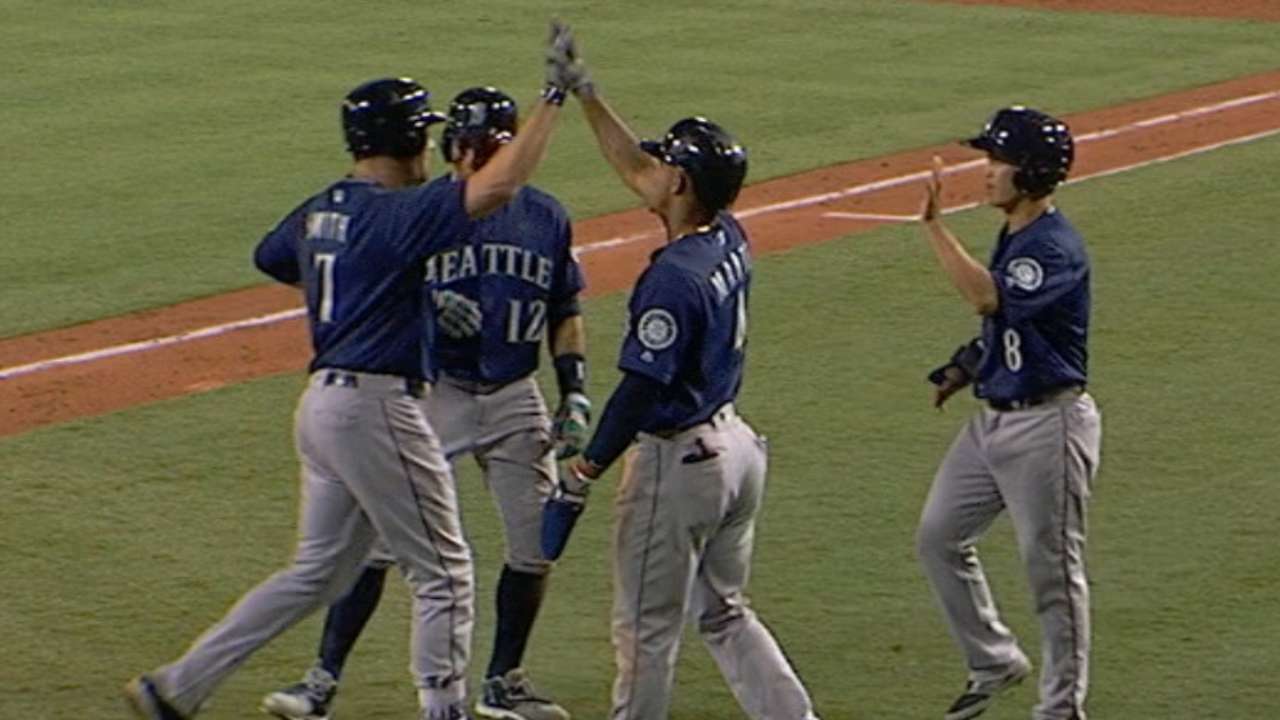 ANAHEIM -- A funny thing happened with a Mariners team being built more toward speed and defense this season. Despite the emphasis of general manager Jerry Dipoto's offseason additions, the club keeps hitting home runs.
After hitting three home runs in Tuesday night's 8-0 win over the Angels, including a sixth-inning grand slam by Seth Smith, the Mariners have 202 homers on the season, already the most of any Seattle team since the club played its first full season at Safeco Field in 2000.
With 17 games remaining, the Mariners are fourth in the Majors in home runs and have really turned up the offensive heat in September, leading the Majors in scoring with 87 runs while hitting .305 with 23 home runs and a .524 slugging percentage in their first 12 games of the month while powering back into the postseason hunt.
• Grand slams mean 40% off pizza
"It wasn't what we set out to do when the whole thing was put together," manager Scott Servais acknowledged. "It was to be more athletic, create more opportunities, control the strike zone and get on base. But along the way, we got production."
Slugger Nelson Cruz again leads the club with 36 long balls, but he's had plenty of help. Robinson Cano has already equaled his career-high with 33 homers, Kyle Seager has exceeded his career best with 28, and Adam Lind is at 20.
Add in a career-best 14 from Leonys Martin, another 14 from Franklin Gutierrez and Dae-Ho Lee, 14 from Smith and 11 from midseason addition Mike Zunino and you've got power up and down the lineup.
"We probably got a little more out of Dae-Ho Lee than we anticipated when we left camp," said Servais. "Leonys Martin has 13 or 14 homers and we really didn't see that coming. Seager is at a career high. You kind of thought or hoped Nelson could continue at the same pace. Zunino has been a nice chip in with his 10 or 11. They've come from different spots.
"The Guti-Smitty platoon has been a pretty productive platoon when you look at it there. It's not just one or two guys hitting 40, it's a number of guys that have chipped in. And they've been big home runs, too, to help win games and put us ahead. And they've come from everywhere. That's the way you do it."
The Mariners are adding another potentially big bat to the mix with the September callup of first baseman Dan Vogelbach, a 5-foot-11, 250-pounder with pop.
"He has big power," Servais said after watching Vogelbach's initial batting-practice work. "Big power. We have a few guys on our team with big power. Cruz and Zunino can hit them as far as anybody. And Adam Lind if he's going right. And you can put [Vogelbach] right in that group.
"Now, he's young and he's going to have some swing-and-miss and there'll be some other things. He does it a little differently. Everybody's swing is different. But he's big and strong and there's a lot of power."
The club record for home runs in a season is 264 in 1997, when Ken Griffey Jr. hit 56. Only three other Seattle teams have topped 200, with 245 in '96, 244 in '99 and 234 in '98. All those came in the Kingdome days with the Griffey, Edgar Martinez, Alex Rodriguez and Jay Buhner core.
Last year's team finished with 198, but the Mariners hit only 136 in 2014 and have hit as few as 101 in 2010. This is a different lineup, top to bottom, than Seattle has run out in many years.
"We've got some guys that can really drive the baseball," said Zunino. "I think it comes with a whole bunch of stuff. There's guys that know how to work counts and know themselves. When you can get in good counts and put your 'A' swing on a ball, you're going to drive the ball and home runs are a part of that.
"And for us, it's really helped. We've had a lot of games determined by homers and it's kept us in games. It's nice to have that. You can't live off that, but it's nice to see the whole team doing it."
Greg Johns has covered the Mariners since 1997, and for MLB.com since 2011. Follow him on Twitter @GregJohnsMLB and listen to his podcast. This story was not subject to the approval of Major League Baseball or its clubs.