Soria's struggles in big spot continue vs. A's
Royals reliever yields go-ahead double in decisive 8th inning
KANSAS CITY -- Another game lost. And another game when Royals reliever Joakim Soria sat in front of his locker afterward explaining what went wrong.
Soria suffered his seventh blown save when pinch-hitter Yonder Alonso scorched a two-run double to the wall in center, part of a four-run eighth inning for the A's that gave the Royals a crushing 5-4 loss on Tuesday night.
Soria did avoid tying a franchise record for losses (nine) by a reliever because he inherited two runners, who eventually scored the tying and go-ahead runs. The loss went to Matt Strahm.
But that will matter little in the standings as the Royals are fading from postseason contention -- dropping five games back of the Orioles in the American League Wild Card race -- and it certainly won't matter to an upset fan base.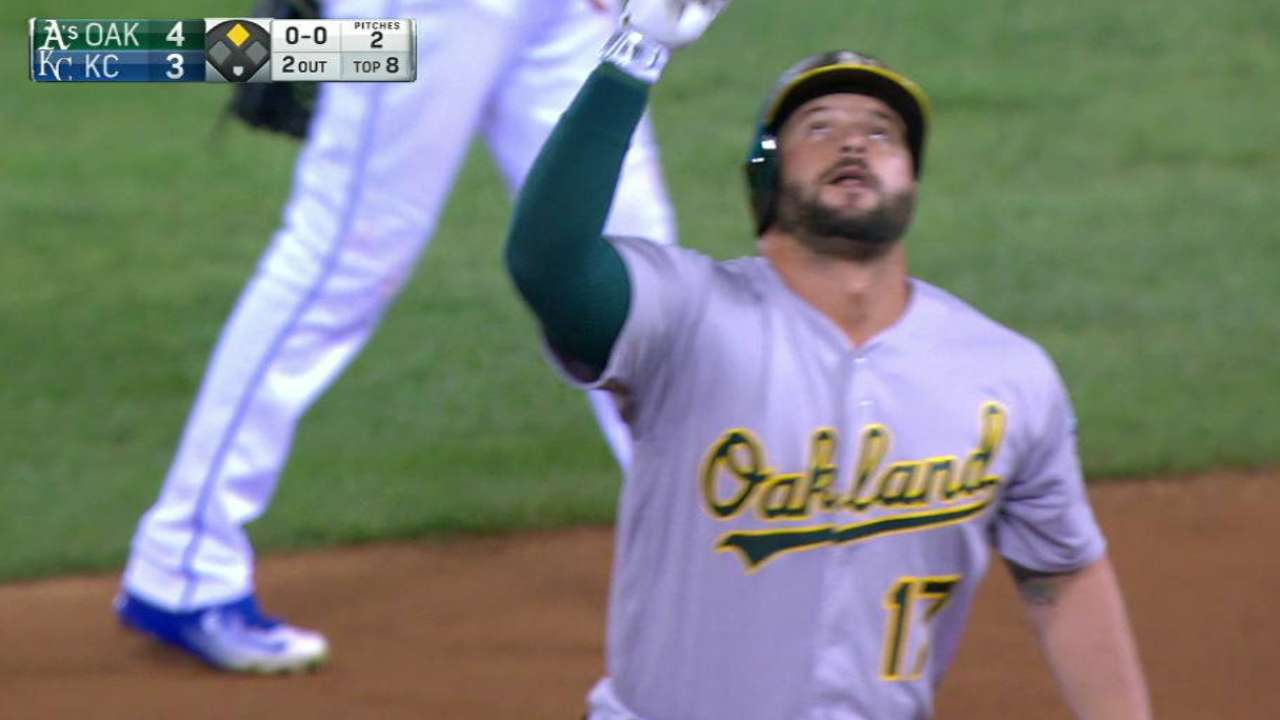 To set the stage: Soria entered with runners on first and second and two out and the Royals clinging to a 3-2 lead. Manager Ned Yost was without closer Wade Davis, who threw over 50 pitches in saves on Saturday and Sunday and has battled forearm issues. Thus, Kelvin Herrera had to be saved for the ninth.
Yost said he wasn't interested in a possible four-out Herrera save because he liked the matchup with Soria vs. Alonso.
"I got confidence in all my players," Yost said. "That's just the way it is. If I don't have confidence in a player, I'm not going to have him on this team. I had confidence in Jack. I thought the situation was a good situation for him. I didn't mind the matchup with Alonso. I thought that we improved our odds -- [Alonso is] .315 against a lefty, .265 against a righty. Jack's had two days off.
"Ultimately, it's my plan. I'm responsible for my plan, and that was my plan, and it didn't work."
Soria said once again he thought he made a decent pitch that burned him, a changeup low and inside.
"It wasn't up," Soria said. "It was a changeup down. He hit it well. He cleared [Jarrod] Dyson. Basically that was it.
"It wasn't a bad pitch. It wasn't a pitch right down the middle. It was a changeup down. He got a good swing on it."
Soria came into the game having given up the tying run or the go-ahead run an astonishing 11 times this season. Tuesday's blown save actually won't increase that figure because he faced inherited runners.
"The whole season has been weird," Soria said. "It's been different. Broken-bat hits. Today, it was probably supposed to be no-doubles defense and he gets a double right to the middle of the field. Overall it's a weird season. It's tough to figure it out."
But Soria is well aware of the damage that has been done.
"It's tough to pretend nothing is happening," he said. "It's actually happening."
Yost said he wasn't ready to make any decisions on how to use Soria going forward.
"I don't make decisions right after the game," Yost said. "I'm going to go home and sleep on it."
Jeffrey Flanagan has covered the Royals since 1991, and for MLB.com since 2015. Follow him on Twitter @FlannyMLB. This story was not subject to the approval of Major League Baseball or its clubs.